Shuttle Shuffle
Winners and losers in the game of "who gets the orbiters"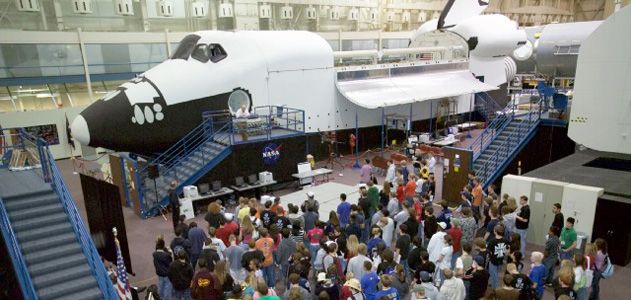 It's all over now but the whining.
Yesterday, after months of suspense and often intense lobbying by museums vying to display one of NASA's four retiring space shuttles, agency head Charles Bolden announced the winners: the Smithsonian National Air and Space Museum's Steven F. Udvar-Hazy Center in Washington (Discovery), NASA's Kennedy Space Center Visitor Complex in Florida (Atlantis), the California Science Center in Los Angeles (Endeavour), and the Intrepid Sea, Air & Space Museum in New York (Enterprise, the atmospheric test vehicle that will move from the Smithsonian).
There, done. Whew. Right?
Not by a long shot.
Here's Ohio Senator Sherrod Brown, complaining that the National Museum of the U.S. Air Force in Dayton lost out: "NASA ignored the intent of Congress and the interests of taxpayers….The fight is not over, which is why I'm calling for a federal investigation into a flawed selection process."
Senator Kay Bailey Hutchison of Texas, home to NASA's Johnson Space Center, wasn't much happier, but stopped short of demanding an official inquiry: "It is unthinkable that the home of human space flight would not represent the ideal home for a retired orbiter," she said in a statement. Even Michael Coats, the ex-astronaut who heads the Johnson Center, felt free to dump on his boss's decision: "I am personally disappointed that the Houston area was not awarded one of the space shuttle orbiters."
Even if most of the 21 bidders for the shuttles ended up disappointed, NASA's decision had a logic to it. The Smithsonian traditionally has first right of refusal for NASA artifacts. Kennedy is where the vehicles were housed and maintained for 30 years. Los Angeles is where they were built. And New York, is, well, New York, the nation's biggest city and top tourist attraction.
Besides, not all the losers were shut out entirely. Senator Brown's wrath notwithstanding, the Air Force Museum will receive some pretty primo shuttle hardware, including the crew compartment trainer used by hundreds of shuttle astronauts over the years to practice for their missions. Hard to believe they can't make a good exhibit from that.
The Museum of Flight in Seattle gets the full fuselage trainer, which was also used extensively for astronaut training. Meanwhile, other simulators—worth millions of dollars—will go to the Adler Planetarium in Chicago, the Evergreen Aviation & Space Museum in McMinnvile, Oregon, and Texas A&M's Aerospace Engineering Department.
Another 2,500 smaller items, from spacesuits to shuttle tires, are still to be allocated to museums, schools, and other qualified institutions around the country. So by the time NASA's rummage sale is over (actually, the items are being offered for free), just about every museum in the country should have some small piece of the shuttle program to call its own.