Shepard's Shot
The first American spaceflight was a triumph—for an astronaut and for a nation.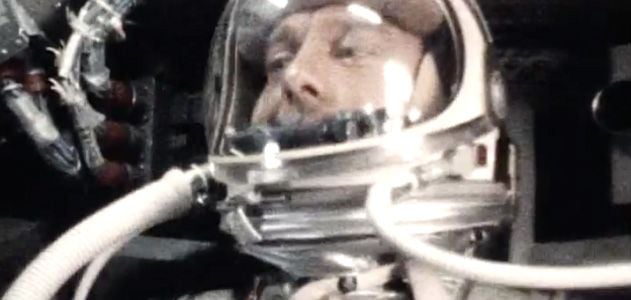 It only lasted 15 minutes and 28 seconds. But Alan Shepard's Freedom 7 flight—officially designated Mercury-Redstone 3—proved the soundness of man and machine to travel beyond the atmosphere. It also demonstrated that the United States was not far behind the Soviet Union after all in the race to the new frontier of space.

Shepard's May 5, 1961, flight was suborbital: His Mercury capsule popped like a cork to an altitude of 116 miles, then splashed down in the ocean 300 miles east of Cape Canaveral. The astronaut was weightless for about five minutes, and felt no ill effects. Shortly afterward, he told debriefers, "Even though I did not accomplish every single detail that we had planned for the flight, I still did much better than I had originally thought I would."

Encouraged by the Mercury success, President John F. Kennedy proposed, in a speech delivered to Congress on May 25, 1961, that the United States undertake a mission to land a man on the lunar surface. Just 20 days after Shepard's flight, with only 15 minutes of spaceflight under its belt, NASA was on its way to the moon.

Pictured above: Shepard during the Mercury-Redstone 3 flight.
Mercury Seven
Americans didn't learn the name of the county's first space man until three days before his launch. In February 1961, NASA had announced that one of three men would fly the mission—either Alan Shepard, Gus Grissom, or John Glenn (the center three in this lineup, flanked by Gordon Cooper and Wally Schirra on the left and Deke Slayton and Scott Carpenter on the right). News reporters were betting on Glenn. But the astronauts had already been told in January that Shepard would be first. When NASA finally revealed his name after a launch scrub on May 2, Shepard wrote later, "I was relieved....It was getting to be a strain keeping the secret."
Geniuses Behind Project Mercury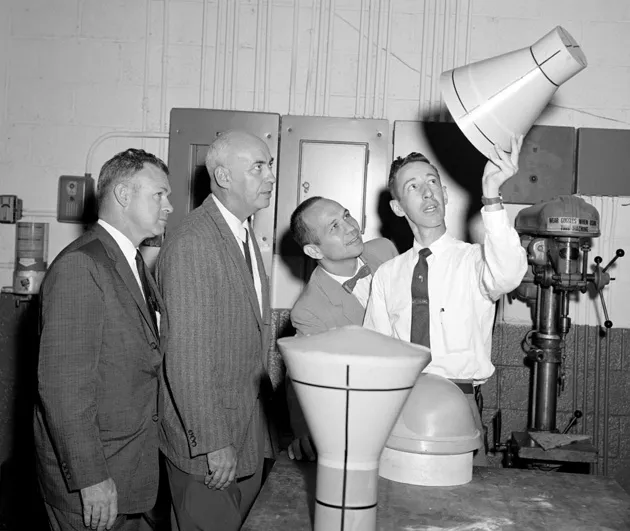 The geniuses behind the Mercury spacecraft were located at NASA's Langley research center in Virginia. Engineer Max Faget (in the bow tie) was among those who realized that a blunt capsule was better for space travel than the pointy rockets of science fiction. As head of NASA's Space Task Group, Robert Gilruth (second from left) was responsible for executing Project Mercury, and it was Gilruth who decided that Shepard should make the first suborbital flight.
Human Body in Space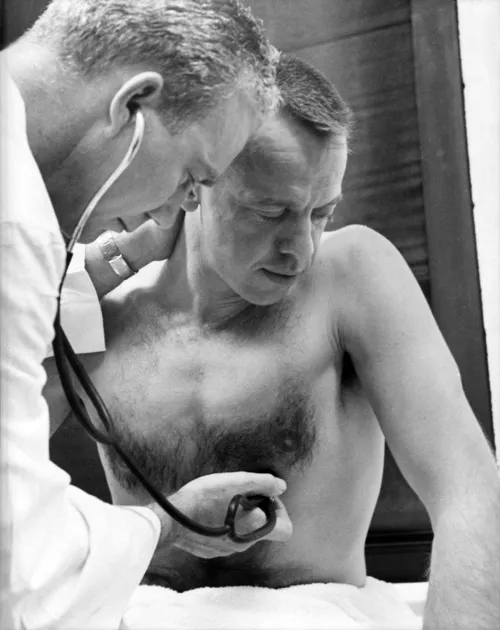 Even though Yuri Gagarin had returned safely from orbit just three weeks earlier, NASA biomedical experts were still very concerned about how a human being would fare in the new environment of space. Shepard was subjected to every test, measurement, and probe the doctors could dream up—before, during, and after his flight. The doctors recorded every aspect of his physical state, dutifully noting the astronaut's loose toenail and peeling sunburn on launch day. He traveled into space with several sensors attached to his body, including one in his rectum for monitoring temperature.
MR-3 Launch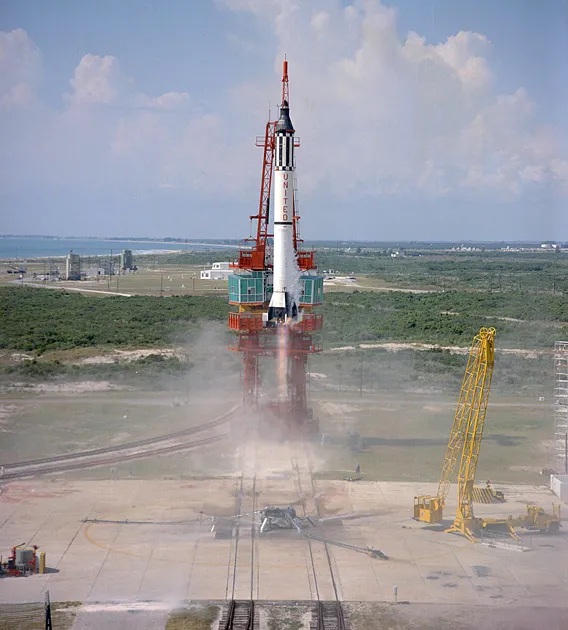 Launch of the Mercury-Redstone 3 rocket with Alan Shepard onboard, 9:34 a.m., May 5, 1961. The Redstone had been used to launch missiles, but not people, and had to be modified for the Mercury program. Shepard's rocket had a longer fuel tank than previous Redstones, and—most importantly—an escape system that would quickly separate the capsule from the booster in case of a launchpad explosion.
Shephard View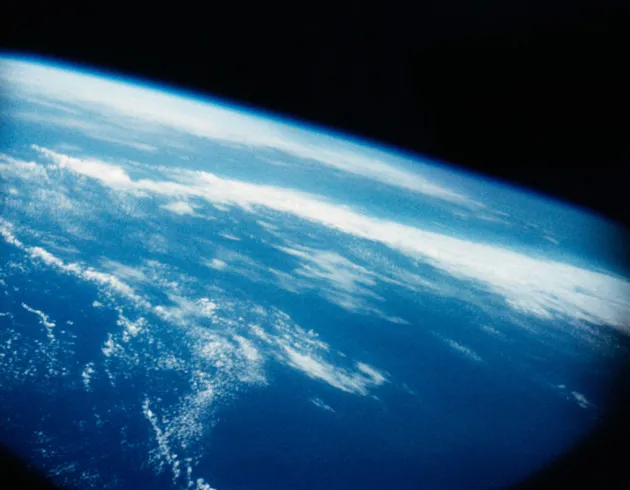 "What a beautiful view," Shepard radioed to the ground, trying to sound upbeat. But really, what he saw through a periscope (not out the window, as in this picture from an onboard camera) was disappointing. He had left a sun filter in the periscope he used for looking outside the spacecraft (he had been afraid to adjust the filter before launch for fear of accidentally bumping an abort handle), and most of what he saw appeared washed out as a result. He was, however, able to see landmarks in Florida and the Bahamas. "I expected to be able to see the stars and planets, which I did not do," he said later. "I think I could have found them with a little more time to look."
Recovery Operations
The U.S.S. Lake Champlain had seen combat in Korea and would go on to participate in the 1962 Cuban blockade. But years later, many of the aircraft carrier's veterans recalled recovery operations for Freedom 7 as a favorite memory of their time on the ship. Here members of the crew cheer as Shepard arrives onboard after his helicopter ride from the splashdown point.
Debrief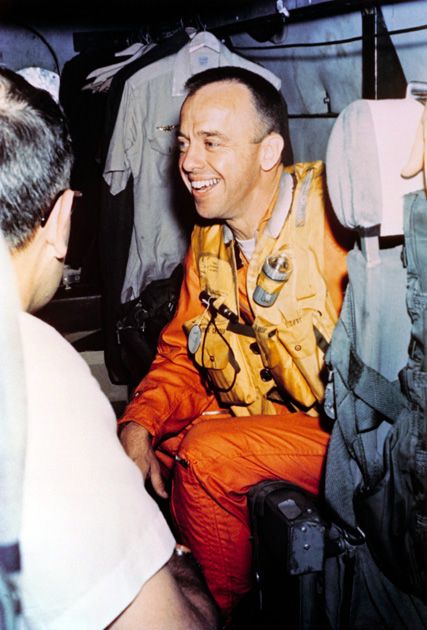 A still keyed-up Shepard jokes with doctors on the flight from his recovery ship to the Grand Bahama Islands, where he continued debriefings begun on the aircraft carrier. Shepard told the debriefers that the only time he felt anxious that day was when technicians sealed him in the capsule before launch. "It appeared that my heartbeat quickened just a little bit as the hatch went on."
First Astronaut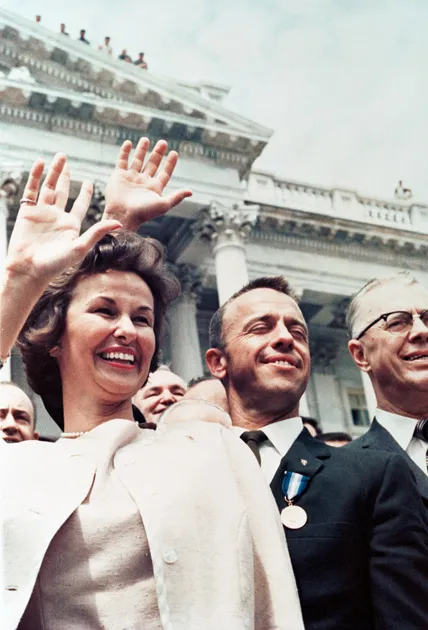 The First Astronaut (with wife Louise, in front of the U.S. Capitol three days after his Mercury flight) received a hero's welcome and a medal from the President. But there was no ticker tape parade in New York, as there would be for John Glenn a year later. NASA Administrator James Webb was careful in using Shepard for propaganda purposes, and even turned down a request by the astronaut's home town of Virginia Beach, Virginia for him to appear as Chairman Marshall of the Armed Services Day parade. Webb also vetoed a joint television appearance with Yuri Gagarin in New York, which had been proposed by the ABC network.
Freedom 7 at Smithsonian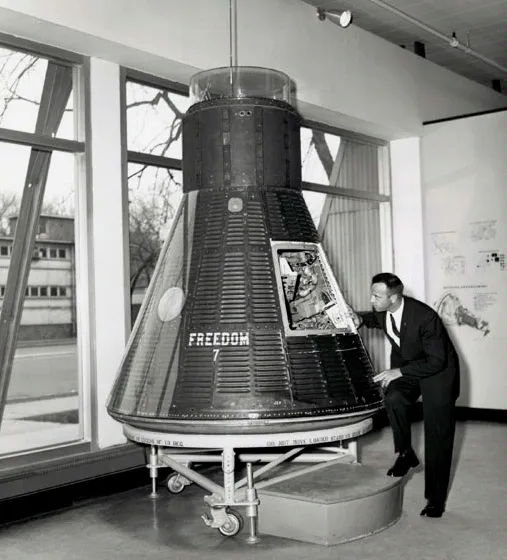 Shepard's Freedom 7 spacecraft went on display at the Smithsonian in October 1961, only a few months after launch.
Return to Space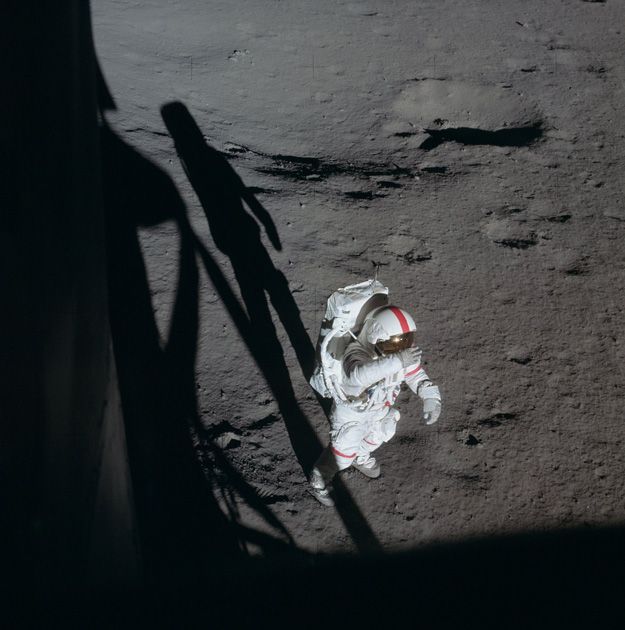 After Freedom 7, much of Shepard's NASA career was spent in frustration. Although he had hoped to fly the first two-man Gemini mission, flight doctors sidelined him due to an inner ear condition, and he was relegated to office jobs. In 1969 he had corrective surgery and returned to flight status. Two years later, at the age of 47, he stood on the moon's surface as commander of the Apollo 14 mission.
A New Age of Astronauts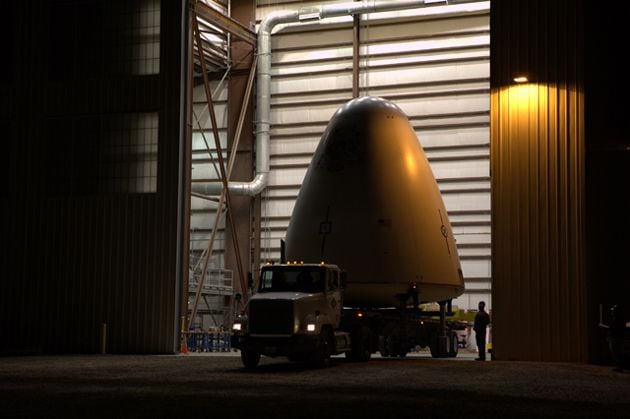 Fifty years after Shepard's first U.S. spaceflight, and 13 years after his death at the age of 74, Blue Origin of Kent, Washington is vying to be one of the first private companies to send tourists into space on suborbital joy-rides. The name of their launch vehicle: New Shepard.