Sex and the Airlines
The evolution of the stewardess, from airborne homemaker to aerial sex kitten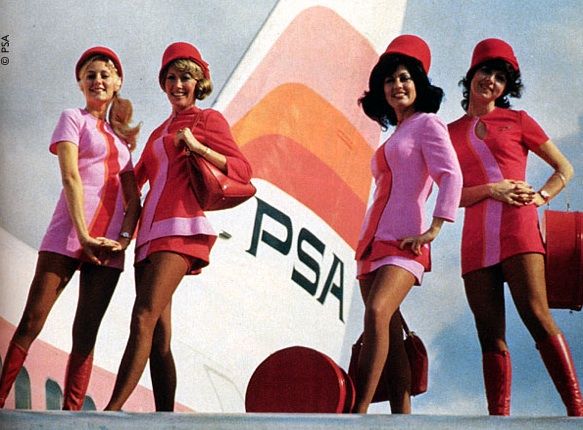 As early as 1919, airlines in Europe hired attendants—all male—to serve passengers during flights. But it wasn't until 1926 that Stout Air Services in the United States engaged stewards for its service between Detroit and Grand Rapids, Michigan. Over the next few years, the in-flight attendant job was deemed best suited for female nurses. As Victoria Vantoch writes in her new book The Jet Sex: Airline Stewardesses and the Making of an American Icon (University of Pennsylvania Press, 2013), the decision was influenced by the family of William Patterson, a vice president at Boeing. Patterson's wife and children, says Vantoch, always got airsick when traveling: "My mother and I didn't want young boys holding our hair when we got sick—no customer wanted that—so we told my dad to hire women instead," recalls Patricia, Patterson's daughter.
When the DC-3 arrived six years later, Vantoch writes, passenger miles increased 600 percent between 1931 and 1941. With the DC-3, "the airline industry began to focus on passenger service and the stewardess was catapulted to new importance," and the number of flight attendants rose from below 400 to 1,000.
By the mid-1940s, "stewardess candidates had to be twenty-one to twenty-eight years old," writes Vantoch, "unmarried, 5'3″ to 5'6″ tall, no more than 125 pounds, with good posture and an 'attractive appearance,' and preferably with some college education." (The nursing requirement had been dropped because nurses were required for the war effort and could not be spared for airline service.) "Stewardess training was also arduous," notes Vantoch, "with strict rules, fifty subjects (including flight physics, emergency procedures, radio navigation, and meteorology), and a series of intense exams."
The transformation of the stewardess from all-American girl next door to a sexier image, was largely the work of the Burnett advertising agency, which won the United account in 1965, and Mary Wells, the advertising director of Braniff Airlines. Leo Burnett's team realized that young consumers were an emerging market—and appropriating aspects of the 1960s counter-culture "could help market United to older Americans who still wanted to feel young and hip." At the same time that the Burnett agency was struggling with its campaign, Branniff kicked off its "Air Strip" television ad, in which a stewardess slowly removed pieces of her Pucci uniform during the flight. Shortly after, United's ads promised consumers that stewardesses would "go all out to please you!" The sexual revolution had infiltrated the airlines, and other carriers soon modified their images as well.