For Service Above and Beyond
Pilots who won the Medal of Honor, from WWI to Vietnam.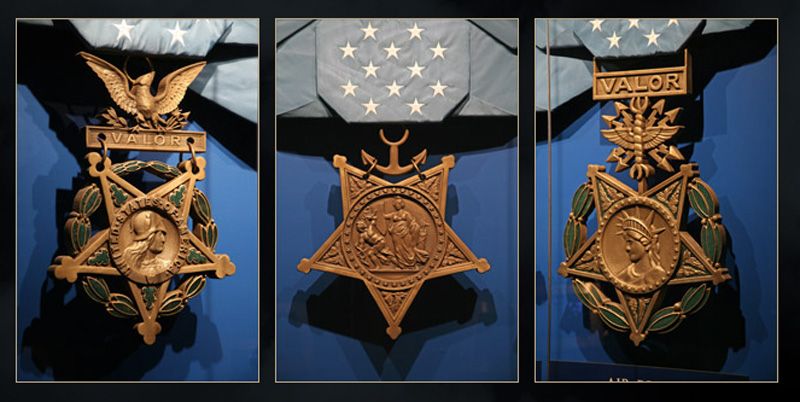 It has been bestowed in wartime and peacetime, to nearly 3,500 men and one woman. Charles Lindbergh, machinist Floyd Bennett, and Commander Richard Byrd were all recipients. The Medal of Honor, this country's highest military distinction, was created in 1861 and first awarded on March 25, 1863.
The first aviator to receive the honor was Charles Hammann, says Laura S. Jowdy, an archivist with the Congressional Medal of Honor Society. On August 21, 1918, Hamman, flying a Macchi M.5, took part in a patrol with three other seaplanes near Pola, Austria. The Navy patrol was attacked, and Ensign George M. Ludlow was shot down. Hammann's citation notes that he "immediately dived down and landed on the water close alongside the disabled machine, where he took Ludlow on board. Although his machine was not designed for the double load to which it was subjected, and although there was danger of attack by Austrian planes, he made his way to Porto Corsini."  Hammann was killed while on active duty less than a year later. 
The stories of some recipients are collected in The Medal of Honor: A History of Service Above and Beyond, by the editors of Boston Publishing Company (Zenith Press, 2014). Here's one of many stories that caught our attention: Michael J. Novosel, who served as a B-29 pilot during World War II, returned to active duty during the Korean War, and, in 1963, asked to be sent to Vietnam. After being told he was too old for the Air Force at 42, Novosel enlisted in the Army as a warrant officer. "Neither age nor size (he barely met the five-foot, four-inch minimum height for pilots) deterred him: 'Given enough cushions,' he joked, 'I could fly anything.' "
On October 2, 1969, Novosel and his three-man crew had already been flying missions for seven hours when they received an urgent call. A South Vietnamese strike force had been pinned down since early morning and now needed immediate medical evacuation. Novosel's Huey, "Dustoff 88," headed to the Cambodian border west of Saigon.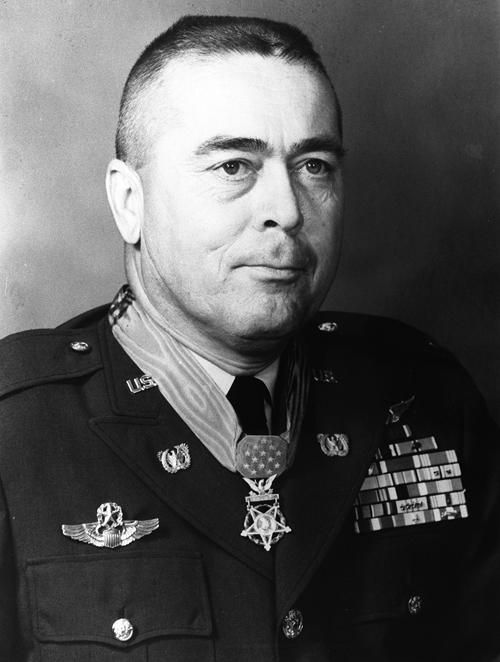 Novosel and his crew, under enemy fire, searched for wounded. One man started running toward the helicopter and was pulled on board. Soon nine or 10 men were loaded into the Huey. Novosel headed for the base at Moc Hoa, unloaded the wounded, refueled, and headed back. He did this three times.
He was about to head back [to Moc Hoa] with his third load when he saw a wounded soldier lying in front of an enemy bunker. Novosel turned his craft around, warned his men to stay down, and gingerly backed toward the bunker. This tactic would allow for a quick getaway and also put the tail between the passengers and enemy bullets. The chopper reached the man, and the crew chief grabbed him to pull him aboard. At that moment, an enemy soldier jumped up from the grass in front of the Huey and fired directly at Novosel. An AK-47 round shattered the Plexiglas windshield, sending fragments into his leg and hand. Novosel momentarily lost control of the aircraft, then regained it…. Dustoff 88 headed back to Moc Hoa. In all, Novosel had carried 29 men out of the Plain of Reeds….
On June 15, 1971, President Nixon presented the Medal of Honor to Chief Warrant Officer Michael Novosel as his son, Michael Junior, who served with his father as a dustoff pilot, looked on. (The two Novosels were the only father-son flying team of the war, evacuating more than 8,000 wounded men.) On March 1, 1985, Michael Novosel Sr., the last World War II Army aviator on active duty, retired after 44 years of military service. 
The last action by a pilot to be awarded a Medal of Honor was by Air Force Captain Steven L. Bennett, who died while saving his back-seater during the Vietnam War. Bennett and his observer were flying an artillery adjustment mission in an OV-10 Bronco over Quang Tri, Republic of Vietnam, on June 29, 1972. While defending a friendly unit from enemy forces, Bennett's aircraft was hit by a surface-to-air missile. As his observer's parachute had been shredded by the missile impact, Bennett chose to ditch the Bronco in the Gulf of Tonkin. Bennett died in the crash; his observer was rescued.
Images and text posted with the permission of the publisher.