One of the World's Most Famous Air Racers Retakes the Trophy
Dreadnought, a race-crowd favorite, is backed by a family tradition.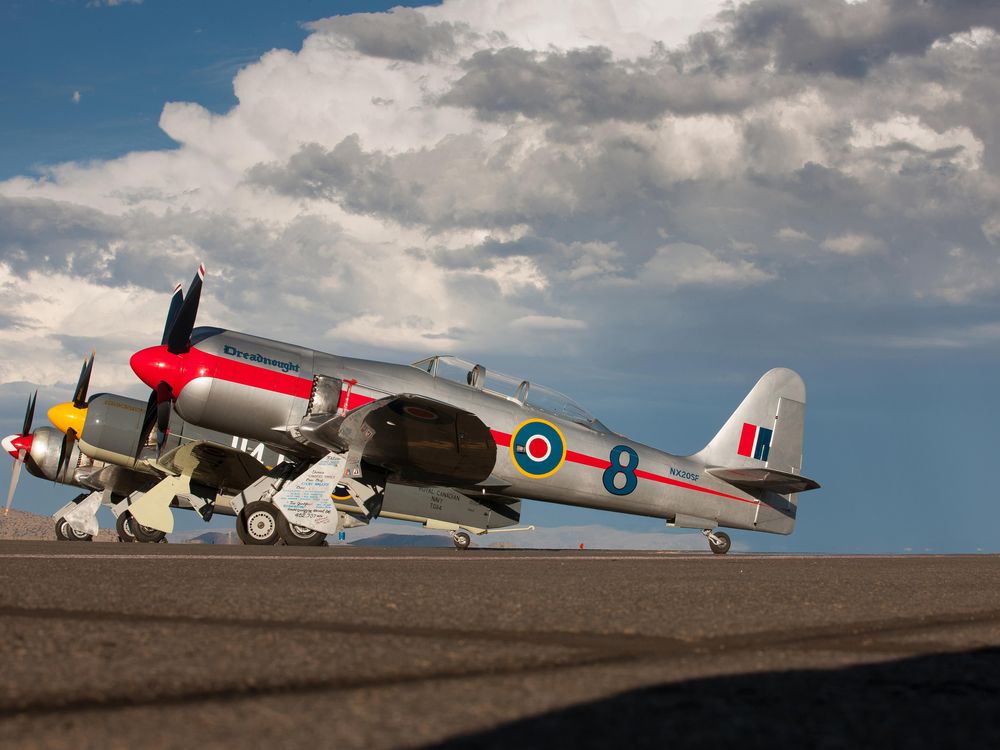 There's no roadside sign for Sanders Aeronautics in Ione, a remote, bucolic town in northern California Gold Rush country. The only hint that you're in the vicinity is a derelict T-33 parked near Dennis Sanders' house. Another indication, if you're lucky, is the sound of a Hawker Sea Fury buzzing the runway of the airfield nearby at 400 mph. In the 1980s, the Sanders name became synonymous with Sea Furys. The family currently flies three, has a fourth awaiting restoration, and has worked on nearly a dozen more, including celebrated raceplanes such as Furias, Critical Mass, and September Fury. "We didn't set out to become the Sea Fury guys," Sanders says. "But you do one, you do two, and then they all seem to flock home."
First among equals is Dreadnought, the brawny warbird that changed the game when it debuted in 1983 at the National Championship Air Races in Reno, Nevada. Built by Dennis' father, Dreadnought won a series of showcase races in the mid-1980s and has been a fan favorite ever since. Last year, after a three-decade drought, it returned to the winner's circle. Like its signature Sea Fury, the Sanders family is still making history.
* * *
When Frank Sanders was killed—the T-33 jet trainer he flew in airshows crashed during a training flight, also killing another pilot in the back seat—his company was a successful warbird restoration firm that also did an international business in smoke generators used in airshows. It was May 4, 1990, a Friday.
The following Monday, Sanders' widow, Ruth, held a meeting with her two grown sons, Dennis and Brian. Sudden death isn't uncommon in the warbird and airshow communities, where highly stressed airplanes and low-level flying are the norm, so all three of them understood the risks. "We can sell what we have or we can continue," Ruth said. "But this is your life. So I will do whatever you want to do."
"Do we make money?" Dennis asked.
"We do make money," said Ruth, who kept the books and ran the business.
"Okay, well, I know the airplane stuff. Brian does all the smoke generator stuff. Then we're going to go."
"Okay, let's go."
"That meeting started out at about 6:50 in the morning," Dennis recalls, "and by 7 o'clock, the guys were showing up for work, and we went to work. The funeral was Wednesday. We took Wednesday off, and we worked Thursday, Friday, and Saturday."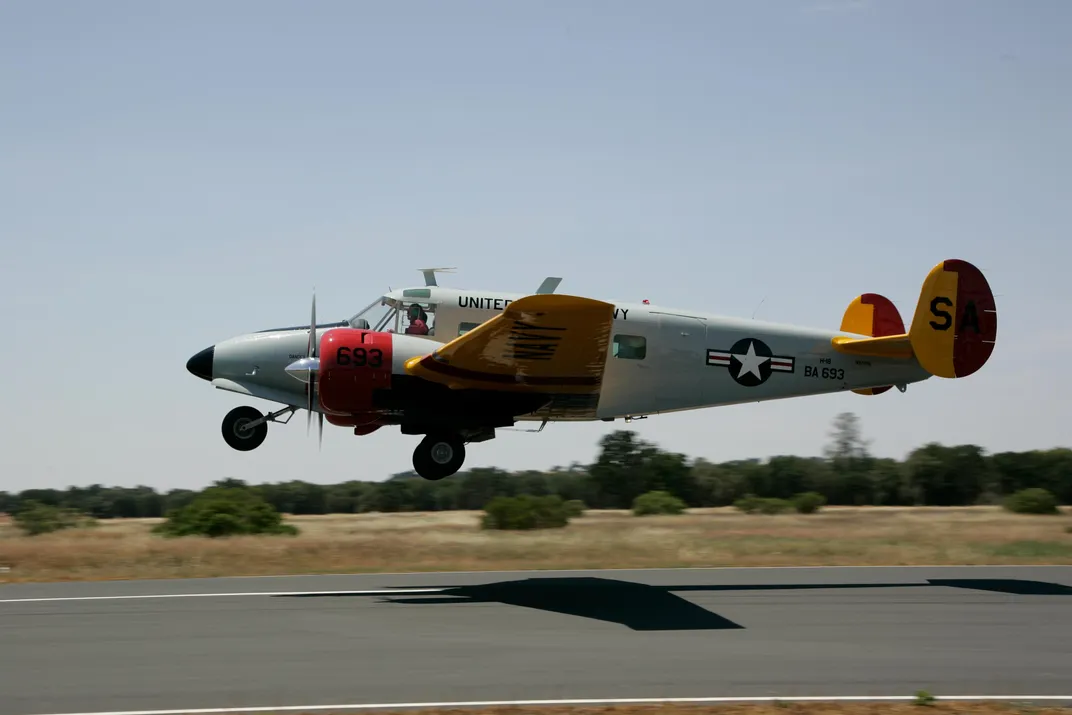 Nearly three decades later, the Sanders family is busier than ever. Despite Frank's death and Brian's recent retirement, the clan is universally regarded as the first family of air racing and still the world experts in the restoration and operation of Sea Furys. Sanders-owned Sea Furys accounted for three of the top five qualifiers in last year's Unlimited field at Reno, the field that almost exclusively features modified World War II fighters. In the race, Dennis flew a fourth Sea Fury, owned by a Sanders customer.
In many respects, time seems to have stood still at the Sanders shop. Ruth still comes into the office three days a week. Dennis still climbs in and out of cockpits. Warbirds are still being refurbished to award-winning standards. (Active projects include a Sea Fury, a Goodyear FG-1D Corsair, a Grumman Goose seaplane, and a Grumman F7F Tigercat.) Smoke generators are still being built and shipped all over the world.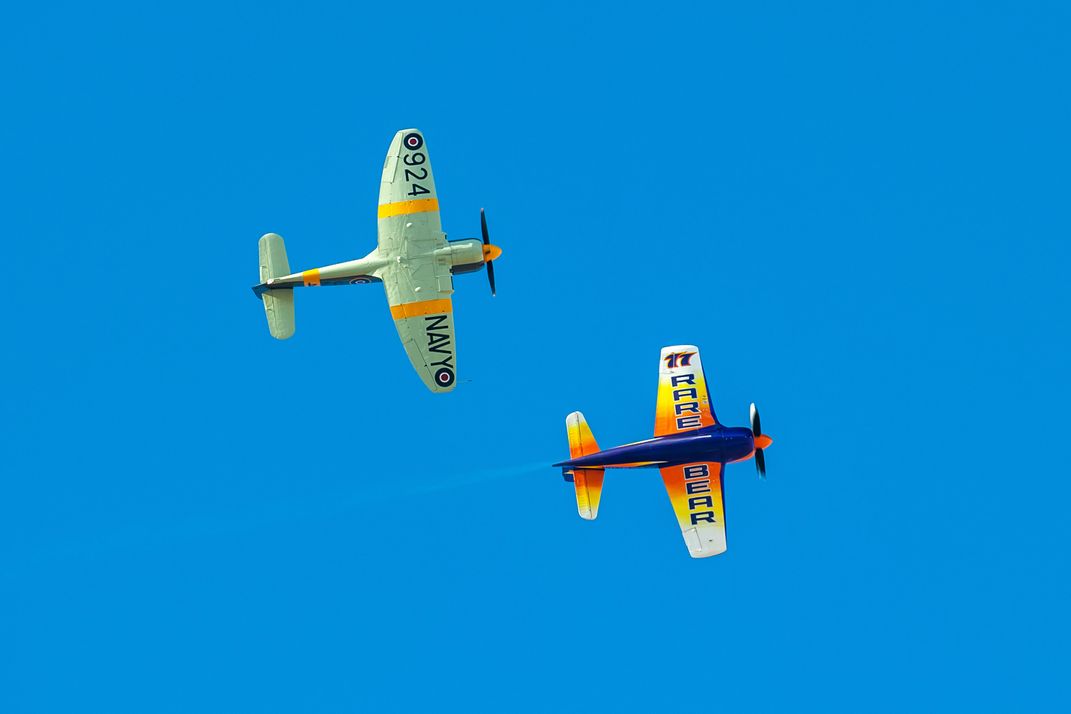 But there's new blood at Sanders Aeronautics and Sanders Smoke Technologies. Ruth's role as business manager is being assumed by her granddaughter, Shannon, Dennis' daughter, who earned an MBA two years ago. And Shannon's husband, Joel Swager, is being groomed to succeed Dennis.
And the fourth generation is already in line. When the Swagers come to work each morning, they arrive with their son, Owen, a toddler who got his first airplane ride when he was four weeks old. As Dennis says, "For the last six years, whenever something's come up, I've told Joel, 'Well, it's going to be your problem someday.' And he's thinking, hopefully, 'It's going to be Owen's problem someday.' " Dennis' laughter reverberates through a spotless hangar housing some of the Sanders family's personal stash. Besides Dreadnought, there's another dual-control Sea Fury known simply as 924, a fabric-covered N3N biplane, a TBM Avenger, a North American T-6, an adorable Aeronca Champ (that was a gift to Owen on his first birthday), a Lockheed Lodestar, and a Twin Beech that serves as the family station wagon. Don't let the glasses and salt-and-pepper beard fool you. At 60, Dennis still has the energy of someone half his age. Swager is as placid as Dennis is exuberant, but if he has any reservations about eventually taking control of one of the oldest and most respected shops in the warbird world, he doesn't betray them. "We're not going anywhere," Swager says. "This is what we're going to do as long as they'll let us."
* * *
Frank Sanders devoted his life to speed. But he first came to prominence not in the air but on the ground. Driving a wicked Chevy Impala factory lightweight, Sanders won a National Hot Rod Association points championship in 1963. He also was the founder of S & S Headers, which was one of the first companies to create tuned exhaust systems for hot rods and drag racing.
But Sanders grew up with an abiding passion for aviation. His father was a prewar flight instructor who flew B-17s and other airplanes during World War II. Sanders himself learned to fly while he was in high school. In 1966, he traveled from his home in Phoenix to Los Angeles to buy a T-6—a World War II trainer built by the manufacturer that created the P-51 Mustang—for $2,500.
He flew it home the same day, and Ruth was in the back seat. "I remember thinking, 'I don't know how smart this is, to be back here and not know anything about flying,' " she says. She soon earned her pilot's license, and in years to come, the Sanders family would caravan in two airplanes, Ruth flying a T-34 with one son and Frank in 924 with the other. Although she never officially checked out in the Sea Fury, she flew it from the back seat so often that Frank called her "his autopilot." "We'd take off from Chino, and it would be my airplane until we got to the next airport," she recalls. "But there was no gear handle in the back. So if something had happened to Frank, we would have crashed." She laughs. "But it would have been a controlled crash."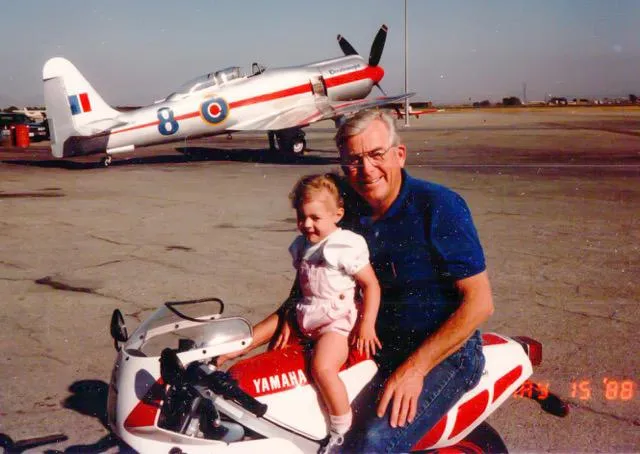 Ruth is 81, straight-backed, and vivacious. She taught high school until 1981, then became an equal partner in her husband's aviation business. She supported Frank's decision to trade the T-6 and $5,000 for a P-51 Mustang, and he got involved in air racing by building exhaust stacks for the F8F Bearcat that Darryl Greenamyer flew to six Unlimited Golds at Reno. (Today the Bearcat is on exhibit at the Smithsonian's National Air and Space Museum.)
By the end of the 1960s, the couple had traded cars and Arizona for airplanes and southern California. Frank's first warbird project for a customer was a P-51 that had bellied in at Reno. Next came a P-40. Then in 1970, in what would be a life-changing decision, Ruth took out a $3,500 loan to buy a crate containing one-and-a-half Sea Furys salvaged from a field in Canada.
Working initially in the alley behind his house, he rebuilt one of the Sea Furys—232—and later flew it to victory in the California 1000 at Mojave in 1971. Later, the airplane would be transformed into a full-on racer and, owned by Mike Brown and known as September Fury, go on to win the Gold Unlimited race at Reno in 1996. (Today, coincidentally, 232 is back in the Sanders shop, being returned to closer-to-stock form.)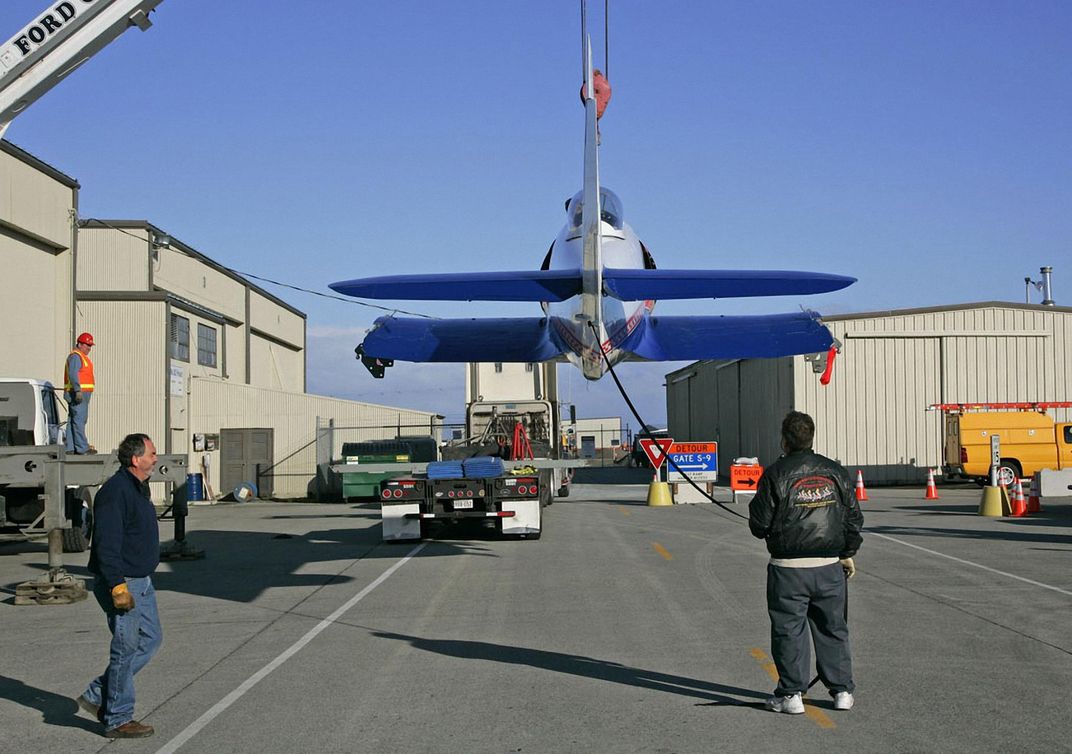 Like its American analog, the Grumman F8F Bearcat, the British-built Sea Fury arrived too late to see action during World War II, but represented the apogee of fighter technology prior to the jet age. It is one of the fastest production single piston-engine aircraft ever built. It's big—almost three feet longer than a Mustang with 45 more square feet of wing area. (That ample wing provided the lift required for carrier launches and landings but imposes a weight penalty on a racer.)
Blind in one eye, Frank chose not to race the airplane at Reno, but he logged countless hours in 232 on the airshow circuit. He later picked up another Sea Fury, a dual-control model christened 924. After returning it to airworthy shape, he happened to be flying alongside Jim Maloney, son of the founder of the Planes of Fame Air Museum in Chino, who was at the controls of a so-called Super Corsair hot-rodded with a Pratt & Whitney R-4360 Wasp Major. (The Maloneys and air racing legend Steve Hinton made the modifications.)Maloney's Corsair was able to walk away from the Sea Fury even after Sanders went to full power. "Oh, my god!" Frank thought. "What would a Sea Fury do with that engine?"
Frank owned a spare Sea Fury that he'd bought after it had been surplused by the Burma air force. Fitted with the stock sleeve-valve Centaurus engine, it lacked the grunt to compete for victory in the Unlimited class. Shoehorning a massive four-row, 28-cylinder Wasp Major into the existing airframe required major reengineering. By that time, both sons—who'd started bucking rivets and turning wrenches as kids—had quit college to join their father in the shop. The three of them worked flat-out for the next year, taking off only on Christmas Day. The finished airplane was Dreadnought.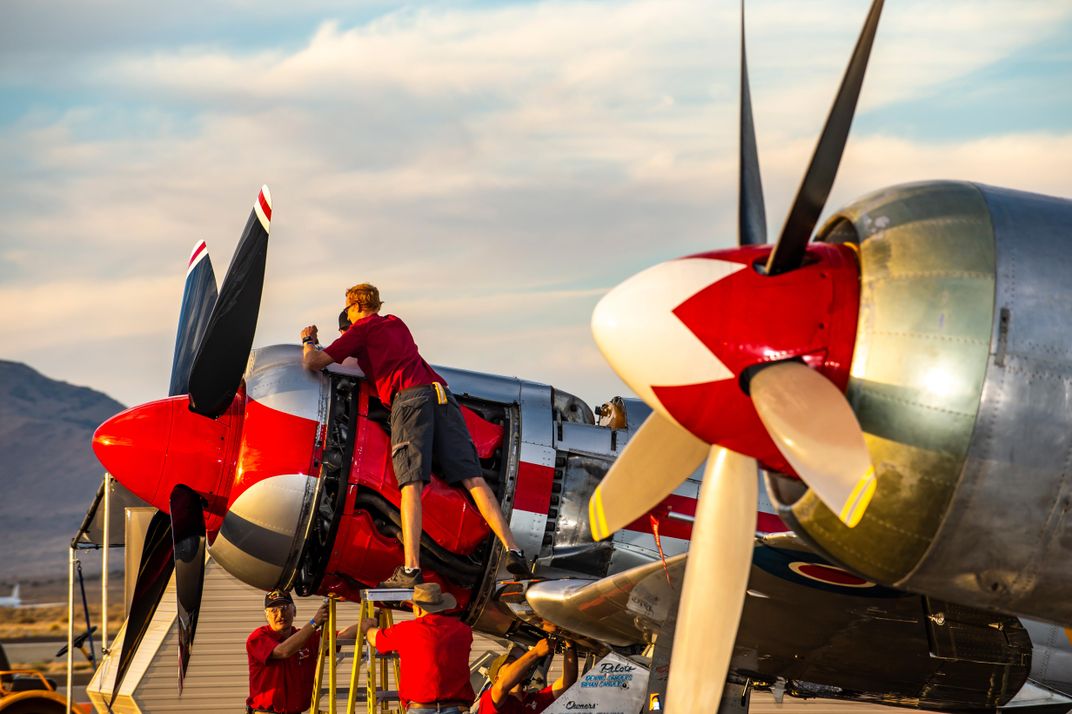 Since neither Dennis nor Brian had enough experience to handle such a hot-blooded airplane in competition, General Dynamics test pilot Neil Anderson was installed in the cockpit. (Anderson is best known as the F-16 demo pilot who belly-landed the prototype—with barely a scratch to airplane or pilot—after a gear stuck.) In 1983, Anderson qualified fastest at Reno and struck Unlimited Gold while setting several speed records. Engine problems sidelined the airplane the next year, and in 1985, Anderson in the lead cut the final pylon on the final lap, gifting the win to Steve Hinton in the Super Corsair. In 1986, seasoned racer Rick Brickert piloted Dreadnought to a second Gold. "The Sanderses raised the bar," says longtime racer Matt Jackson. "When they came to Reno with Dreadnought in 1983, they were unchallenged. The airplane eclipsed everything there."
Later, Dreadnought itself was eclipsed by a new generation of much more extensively (and expensively) modified airplanes. But the Sea Fury was usually the best of the rest, accumulating a dozen second-place finishes. And Jackson, who has flown more Unlimiteds than any pilot in history, confers on Dreadnought another accolade: the best ride he ever had at Reno.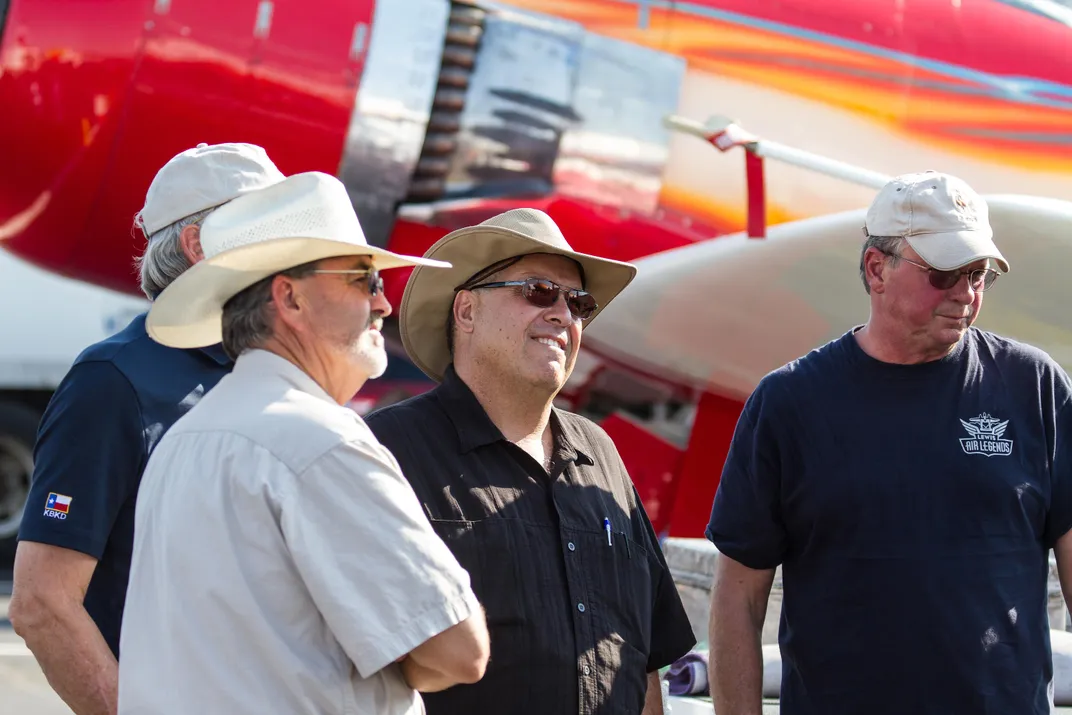 "The Sanderses are so professional," he says. "They run a tight ship. They are fanatical about their airplanes. They are the best-prepared team. Their airplanes are mechanically superb. That's good to know when you're going down the chute on a stick of dynamite with fuses at both ends."
* * *
The office at Sanders Aeronautics, at the end of a bumpy gravel road, is dark, modest, and dominated by race trophies, old photographs, and Owen's playpen. Shannon grew up steeped in aviation lore. "Some of my earliest memories are coming out to the airport in pajamas with my dad," she says. "I wasn't playing with Barbie dolls. I was playing with old G suits." While attending the air races, she met Swager. Both were teenagers, and both were "prop heads."
Raised on a dairy farm across the street from the Planes of Fame in Chino, Swager had started volunteering at the museum when he was 12, and he began working in Steve Hinton's Fighter Rebuilders restoration shop while he was in high school. After earning an A&P airplane mechanic certificate, he became a full-time employee and mastered a broad range of skills. "He can do pretty much anything aviation-related," says Steve Hinton, the son of the Super Corsair Gold-winning pilot of the same name and an Unlimited Gold winner in his own right, who served as the best man at Swager's wedding (and vice versa).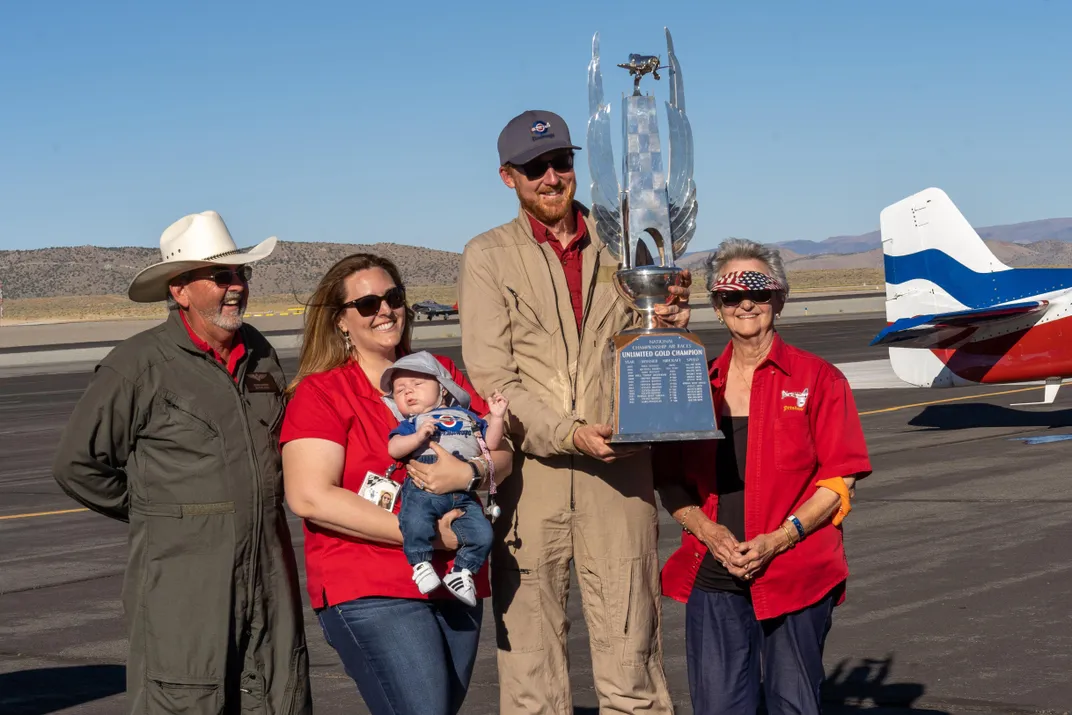 Swager married Shannon eight years ago. "I sat on my hands for about two years and didn't say a word," Dennis says. "Then I called a family meeting. My mom was 75 and needed help. The shop was getting bigger, lots going on, so we needed help there too. I told Shannon, 'There's all kinds of ways to do this. Learn how to do it the way my mom does it. Then, as time goes by, you can start making small changes.' The same with Joel. He's got six or eight guys working for him, and I've got a couple working for me, and we meet every morning over a Dr Pepper. But he's running the majority of the shop."
At the moment, 18 people are working for the two family companies. A third of them are assigned to smoke generators, which Frank developed to spice up his airshow routines without covering his airplane with oil. Typically smoke is produced by pumping oil directly on the exhaust stacks of the engine—with predictably messy results. So Frank invented a self-contained unit that vaporizes the oil. The system worked so well that NASA placed an order for smoke generators so engineers could see and study wake vortices during early flight tests of the 747 that would carry the space shuttle.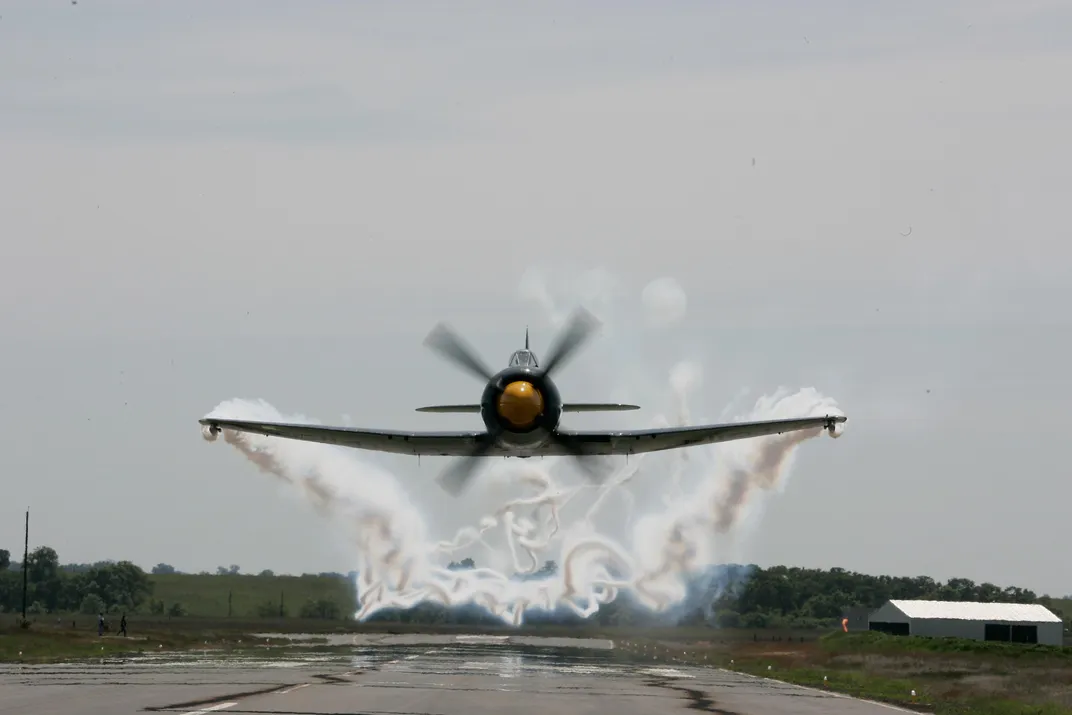 Frank's next customer was General Dynamics, which wanted to wow the crowd when it debuted its YF-16, piloted by Neil Anderson, at the Paris Air Show in 1975. The smoke generators were so successful that Frank later unveiled the Smokewinder, a wingtip-mounted model that resembles a Sidewinder missile. Both models have sold well. "I think we're up to a thousand units by now," Dennis says. But warbirds remain the company's core business. The family has restored about 40 over the years. Engine overhauls are farmed out to specialty shops, and the Sanderses chose not to invest in ultra-expensive computerized machinery to create reproduction parts. But the company is able to do virtually everything else in-house with an assortment of traditional mills, lathes, welders, and English wheels, not to mention several master craftsmen.
One cavernous hangar is crammed not only with airframes awaiting restoration—an ex-Iraqi Air Force Sea Fury, a second Grumman Goose, another N3N, a Harvard Mark IV, a Pilatus P-2, two TG2 gliders—but also a treasure trove of magnificent…stuff: F-102 brake rotors; a Skyraider prop; Aeronca L-3 wings; unused TBM wheels in the original boxes; a Snap Cat R-1340, one of Pratt & Whitney's first engines; a self-sealing Sea Fury fuel bladder; a brand-new Corsair drop tank with the factory desiccant pack to prevent moisture buildup. "We found it accidentally in a car junkyard," Swager says. "One thing I've learned is that you don't throw anything away."
This is especially true of Sea Fury components. "Thirty years ago, at my dad's passing, I made a conscious decision to start buying parts, pieces, projects," Dennis says. "So when a fuselage appears, we go buy it. When a wing appears, we go buy it. Anything that would pop up, even parts that we didn't need. You put a pile in a corner, and then you put a fuselage there, and then a wing shows up, and then another wing, and a tail, and pretty soon you go, 'Hey, that's a Sea Fury there in the corner!' I've actually done that on three airplanes already."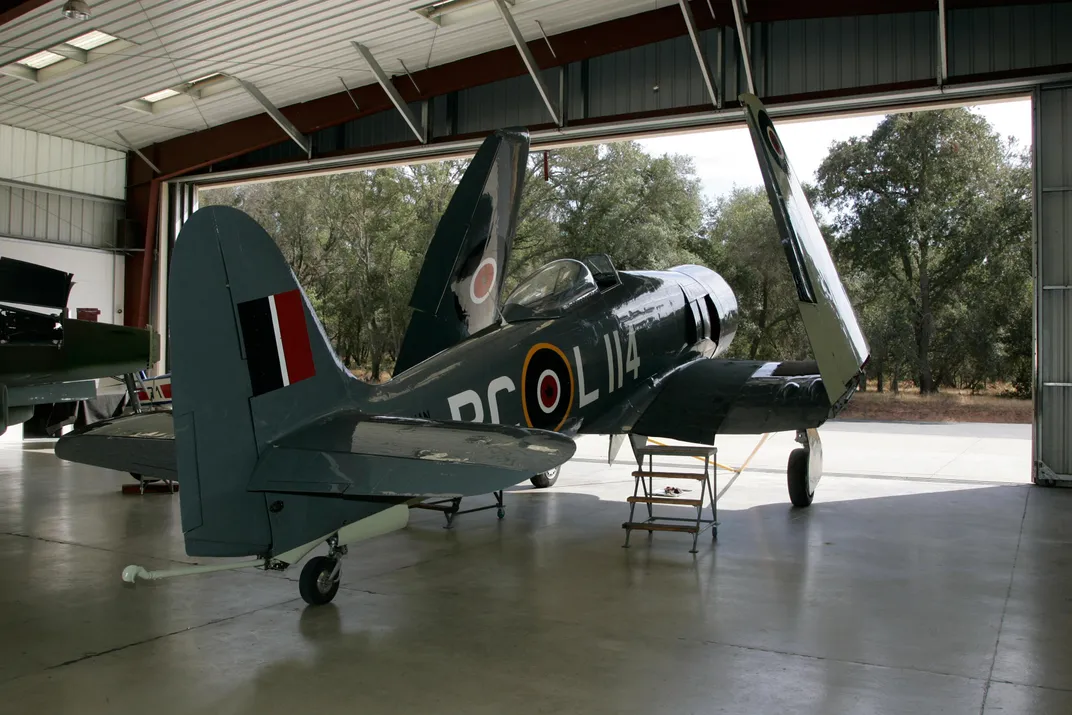 Argonaut is a case in point. The airplane started as the half of a Sea Fury in the crate that also contained what eventually became 232. Fitted first with a Wright R-3350, which was later replaced by a less troublesome Pratt & Whitney R-2800, Argonaut has been a regular competitor at Reno since 1994. (For many years at the annual races, Dennis and Brian alternated as the pilots of Argonaut and Dreadnought.) And while Argonaut is not competitive in the Gold class, in the Silver, the airplane has been as reliable as a Toyota Camry.
Dreadnought is significantly quicker, though not quite strong or slick enough to outrun the Mustangs. But whereas the Merlin V-12s in the fastest P-51s are so highly stressed that they have to be overhauled at the end of every race week, at a cost of $250,000, Dreadnought's radial engine has been rebuilt only once, after a catastrophic failure in 1995 forced Dennis to make a heart-stopping dead-stick landing less than a minute after a rod broke and the 4360 started spitting fireballs out the carburetor inlet. The engine in the airplane now still carries the crankshaft and 21 pistons that Frank used during the original build 25 years ago.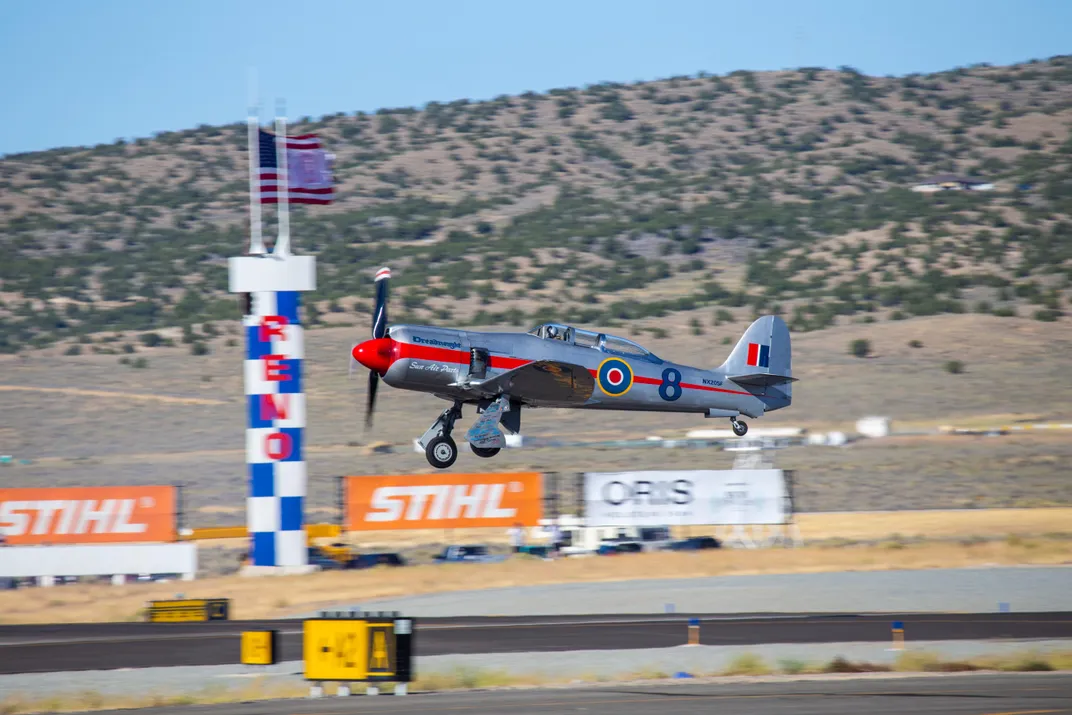 These days, the biggest threat to Dreadnought is dwindling interest in air racing. As warbird values rise and purses shrink, Unlimited entries have declined, and a lot of people wonder if Reno can survive. "It would have long passed if not for the Sanderses," says Pete Law, who has been providing engineering support to air racers since 1966 (see "How Reno Racers Keep Their Cool," Sept. 2012). "They have supplied airplanes every time it looks like there's not going be enough."
In 2018, with several of the fastest Unlimiteds on hiatus, Dreadnought once more became the odds-on favorite, which meant that Dennis would be in position to earn his first Gold. But to his son-in-law's dismay, Dennis insisted that Joel fly the airplane. "I've run hard," Dennis says. "I've had my shot at winning. I've got a bunch of second-place finishes, and I've led Sunday's Gold. In my opinion, it was time to let somebody else have a shot at it."
Swager qualified fastest, well clear of another Sea Fury—Sawbones, packing an R-3350—and led every lap of both heat races. Still, the team was worried about Miss America, a P-51D with the potential to match Dreadnought's pace. Swager remembers the conservative strategy: "The idea was to stay far enough ahead so that if I cut a pylon, I wouldn't lose a position." Sure enough, in the Gold race, Miss America powered past Sawbones and took off after Dreadnought. But Swager maintained the gap and won by nearly nine seconds. "I'm not an excitable person," he says—a commendable understatement—"so I wasn't jumping up and down." Dennis, on the other hand, says that watching Swager win was his proudest moment in aviation.
Dennis is planning to race at Reno in 2019. And 2020. And 2021. "As long as they put on an air race, I will commit to come," he says. "My dad took me to my first one in 1968, and I've been to every one since. Reno is an uphill battle for everybody. The warbirds are getting older. Everything is getting harder and more expensive. But even if they stop the air races, come the second weekend in September, we're going to load up the truck and the trailer and the barbecue, and we're going to drive up to Reno, and we're going to park in the same spot we always park. We're going to fly all three airplanes, and then we'll sit around and drink beer, and we'll invite all our friends for barbecue on the ramp."
There's more than one kind of Reno Gold.