A Ride on the World's Largest Passenger Jet
My first trip on an Airbus A-380, at a time when the giant airliner's future is in doubt.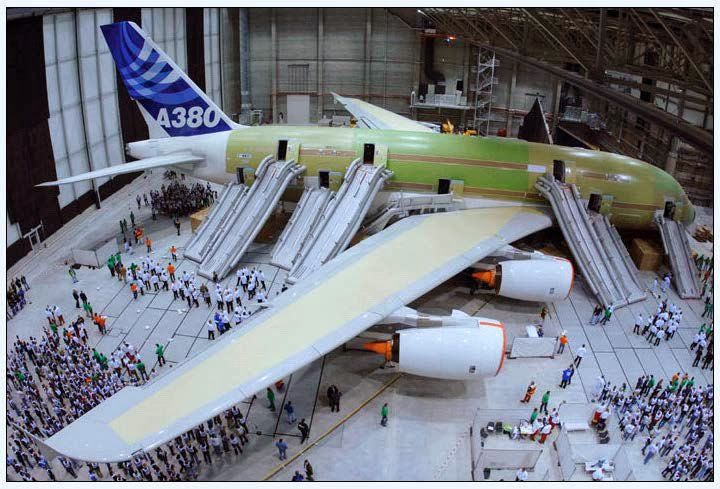 More than 50 million passengers have flown on an Airbus A-380 since it entered service in 2007, but until recently, that number hadn't included me. Even though I owned a neat die-cast model of the jumbo jet from my tour of the plant in Hamburg, Germany a year ago, I never thought I'd step aboard a real one, especially on a holiday flight with every seat booked. Yet there I was at New York's JFK airport last month, about to take my first trip on the world's largest passenger aircraft.
I knew about the cracks, and they didn't bother me. They first appeared in the A-380 wing spars in 2012, at which time Airbus called them "tiny." Last January, Singapore Airlines made an emergency landing when it lost cabin pressure after passengers noticed a noisy door, which may also be a sign of micro-cracks affecting the cover plates and seals. Airbus says that fatigue and vibration may cause micro-cracks earlier than predicted, and asked airlines to check for them in their next exhaustive overhaul at six years rather than 12 years as originally planned.
No, the reason I had avoided the A-380 was because that's just a lot of people on an airplane. When the type was being certified, 873 volunteers entered a dark hangar in Hamburg to see how quickly they could evacuate the airplane using only half of its 16 exits. Within 80 seconds all were out—10 seconds ahead of the goal.
In some ways the A-380 feels more like an ocean liner than an airplane. Its upper and lower decks are connected by two grand staircases, six bars are staggered as hangouts, and the roominess feels grand as long as you're not seated. The A380 has 50 percent more floor space than a 747. Air France says it's happy with the wow factor.
The airline has configured its cabin for only 516, which is still plenty of ticket holders ahead of me. Soon after the announcement to board the flight to Paris, a line stretched hundreds of feet. I knew that only a handful of airports could handle the A-380, which requires boarding bridges that simultaneously reach its upper and lower decks, as well as catering trucks with a scissor lift to raise a 10,000-pound container 26 feet to the upper galley. Which is where I was headed—seat 91E at the rear of the upper deck, in what the online chart showed as an exit row, but on arrival proved to be one knee-busting row behind it. Air France says that its seating charts with some ticketing partners are "not correct" and is working on a fix.
I had wondered how it would be to watch the jet struggle to get airborne with all that humanity on board. But only a few of its 200 window shades were open at the time of takeoff, and I was left to watch the external video view (there's a camera mounted near the top of the airplane's 79-foot-tall tail), which is piped to every seat.
Nothing happens quickly in an aircraft of this size, from its virtually unnoticeable pitch-up to climb, to barely-banked turns, to a slight lag between seeing or hearing certain flight events and actually feeling them. You watch the landing on camera, and you know the wheels have touched tarmac, but can count seconds before the sensation reaches your pants. You sense the onset of turbulence from somewhere below, which might cause rattle and porpoising on a smaller airliner, but on the A-380 results in a slow hula of oscillation and undulation. The aircraft sways and shudders like a bobblehead—if the bobblehead weighed 619 tons.
Overall it's a nice feeling, and if someday I manage to sleep on an airplane it might be this one. It seemed to me that more people drifted off on this flight than on my last few hundred airline trips. But it's hard to count; the A-380 cabin is so frequently subdivided by curtains that it feels like a series of small, dark clubs for video gamers.
Maximum range of an A-380 is 8,500 nautical miles, so chances are you'll take a toilet break. In economy section the lavatories lie near the outer walls of the fuselage, so any activity performed while standing other than at the sink may bop your forehead against the sharply sloping walls. Lavatories near the premium seats are more rectangular.
I didn't notice any of those pesky cracks in the airframe, but the cabin is different. Because the width of the aisle varies from section to section, the walls are subject to occasional hit-and-runs by the beverage cart, and this A-380 was no exception. The Air France crew repaired it with duct tape, which may explain how the airline saves a reported 15 million Euros per year in operations costs relative to other models.
Even though the A-380 experience was new to me, Airbus itself has questioned whether the giant airliner is already past its prime. Last month chief financial officer Harald Wilhelm said that the A-380 will break even at best, and couldn't assure shareholders (who invested $25 billion in its development) that the company would ever come close to building the 1,200 units it predicted at launch. As of December, only 147 copies had been delivered. Airbus has 317 firm orders in hand, and has committed to fill 30 per year through 2017. But analysts doubt all of those 317 will actually fly.
Cutting production may be the answer, but may lead customers to consider smaller twin-engine airliners, like Airbus' own A-320, that are more flexible to schedule. The company's new model A-350, due in 2017, seats "only" 369 passengers versus 500+ for the A-380, but already has nearly 800 orders.
Another path for Airbus reimagines the aircraft as the A-380neo, with economical new engines. Airbus CEO Fabrice Bregier promises such a model in a few years, maybe even with a stretch version.
The A-380's best customer to date has been Emirates, with 55 copies sold and 85 more on order. Emirates flies between Europe and Asia using Dubai as a hub, and its route system is critically dependent on the model, so the airline is frustrated that Airbus publicly frets about the A-380's future.
Most carriers configure the A-380 to hold about 500 passengers in three classes of service. But Airbus says the model delivers the best cost per seat mile when its two decks are configured as all economy and the airline flies it only on routes where all 853 seats are filled. Emirates is stripping the first-class section from some routes.
Air France wanted to connect to Sao Paulo, Brazil, for last summer's World Cup, but that airport could not provide the infrastructure to board and service the A-380. Rio expects to land it for the 2016 Olympics. Airports like San Francisco and Washington Dulles have the infrastructure, but only enough demand to accept the A-380 during peak summer season.
An A-380's main deck alone is the same size as a Boeing 777-200ER, while its upper deck is comparable to an Airbus A-340. "It's a very large aircraft which makes people dream," says Nicolas Bertrand, director of long-haul operations for Air France. "The problem is that if you have a technical problem or delay, you immediately have to accommodate 516 passengers."
Flying two airplanes' worth of passengers on a single flight may be efficient, but means a crush at boarding and baggage claim. It's been decades since I left town with more than a carry-on, but there's good news for those who pack it all: Last month during peak travel, Air France opened a drop-off center for A-380 baggage in downtown Paris, just like the ocean liners.