Ride-Sharing With the Rich
How fractional jet owners get out of flying coach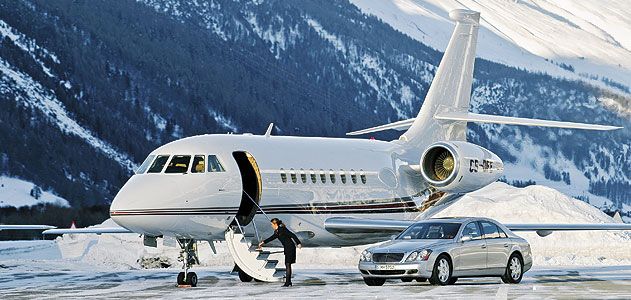 The rich and famous can tell you: As with yachts, horse farms, and prenuptial agreements, a private jet can be a huge money drain. So why not split those costs with others who wouldn't be caught dead waiting in airport security lines? Such is the appeal of fractional jet ownership.
Over the past 25 years, a small number of companies have sprung up to meet the needs of the jet-sharing set, mixing air transportation with inflight dining and lavish passenger compartments to rival the swankiest hotel. The most prominent of these ventures, with more than 6,300 employees globally, is NetJets.
Each day without relent, teams of NetJets dispatchers, meteorologists, reservationists, and other specialists at the company's sprawling operations center in Columbus, Ohio, marry the movements of NetJets' more than 600 U.S.-based aircraft, 2,500 pilots, and 270 flight attendants (found only on larger airplanes) to the unpredictable travel needs of the company's well-heeled customers. The final product is a domestic flight schedule that unforeseen vagaries, from mechanical malfunctions to snowstorms to the occasional volcanic eruption, will likely reduce to little more than junk before the sun sets the next day.
"An insane ballet that requires constant attention to detail" is how Lynn Wombacher, NetJets' manager of emergency communications, describes the daily process.
It's no way to run an airline. But then, NetJets, which in fleet size is the nation's fourth largest domestic air carrier—behind Delta (722 aircraft), United (710), and American (618)—is no ordinary airline. Ordinary airlines operate flight schedules that change little from one day to the next. Like Avantair, CitationAir, Flexjet, Flight Options, and other competitors, NetJets functions in effect as an airline on demand, where no two days are the same. Trying to meet that demand, company officials assert, is one of aviation's most logistically complex endeavors.
"If you talk to people in the airline industry, it's funny to hear them describe their challenges," says Bill Noe, who worked his way up from a $26,800-a-year first officer in 1993 to become president and chief operating officer of NetJets North America. "I always go, 'But wait a minute, you know exactly when you're leaving, right?' 'Oh yeah.' 'You know exactly where you're going, right?' 'Oh yeah.' 'And how's that difficult?' "
In the early days, the company tracked aircraft on metal boards imprinted with a 24-hour grid and magnetic bars representing aircraft. Today's NetJets planners employ a proprietary, in-house-designed, Windows-based program called IntelliJet II, which took several years to create and is maintained by NetJets' more than 200 information technology employees.
IntelliJet II constantly factors in virtually every conceivable variable—from weather and aircraft weight to runway lengths to sunrise and sunset restrictions—for all airports. If, for example, IntelliJet sees that a scheduled landing at a small airport in Kentucky will take place in the rain, and the aircraft assigned to the trip requires a longer runway than what is available to land safely in slippery conditions, the software will automatically downsize to a smaller airplane that can handle shorter runways and alert the change in aircraft to the NetJets dispatcher assigned to the flight. Or if a flight is going to land earlier than anticipated, IntelliJet II helps ensure that the client's limousine shows up at the destination airport earlier by notifying owner services representatives of the discrepancy in arrival of aircraft and limo. With its omniscient grasp of the unfolding picture, the software requests action from its human users only when necessary. "Without a system so advanced, it would be virtually impossible to coordinate and manage every aspect of every flight," says Doug Henneberry, NetJets' senior vice president for scheduling.
But no software, regardless of sophistication, could ever account for the curveballs the company's employees commonly field from NetJets' fractional owners and Marquis Jet Card holders, who buy the use of NetJets aircraft in 25-hour blocks.
" 'I think I might want to leave at eight but it could be 10,' " says Noe, describing the kind of calls NetJets sometimes receives from its customers. " 'I may have four people but it could be eight. I may have a dog but I may not. I could forget to tell you one of those things and just show up. And oh, by the way, I don't want to go from Palm Beach to New York. I want to go Palm Beach to Moscow.' "
Each NetJets airplane, regardless of make or model, sports the same basic exterior color scheme: white with an elegant trio of slate, raspberry, and charcoal gray stripes. Interiors are nearly identical. Same supple leather seating. Same glossy wood appointments.
"It's all designed to convey the impression to the owners that the aircraft they are flying on is, in fact, theirs," says Wombacher. Of course fractional owners can't personalize an aircraft's interior the way an individual jet owner could. And owning an entire aircraft allows you to go pretty much wherever you want, but with a fractional ownership, the company might well deny your request as too risky (if you ask to fly to a country in the midst of an uprising, for example). And if a fractional owner gets into a tiff with the flight crew or a cabin attendant, he can't fire them.
NetJets' operations center, a modernistic office and hangar complex, overlooks Runway 10-Left at Ohio's Port Columbus International Airport. Inside the operations center is the hub of NetJets' efforts, its flight center, which sounds more pulse-pounding than it is. It's a cavernous, 16,500-square-foot room with a towering ceiling rimmed by massive television monitors showing CNN and the Weather Channel, and abuzz with workers on telephone headsets, tapping away at computer keyboards. It is here that NetJets' clients call in toll-free 24 hours a day on their own uniquely assigned 800 numbers to speak with their own personally designated teams of service representatives who arrange their flights. NetJets also offers flights in Europe, via an operations center in Lisbon, Portugal. The U.S. and Europe divisions of NetJets provide service to more than 7,000 clients.
NetJets guarantees fractional owners that an aircraft will be available four to 10 hours after they call in to request a flight. Customer service representatives bend over backward to satisfy any special need an owner has. "We don't say no—ever," says Doug Henneberry.
NetJets has more than 20 owner services teams, each available 24 hours a day, 365 days a year. Clients deal with the same team on every flight, and each team keeps highly detailed dossiers on each owner. How do they like to be addressed: Mr.? Ms.? Mrs.? Your Excellency? Vegan diet, kosher, low-salt, no-salt? Do they welcome interaction with the flight crew or prefer a "silent service"? NetJets tracks their birthdays and anniversaries to ensure that crews have a bottle of champagne handy. Pilots and flight attendants also learn to keep a close eye on the news of the day, to know when to offer congratulations if their passenger has won the World Series or condolences if they've gotten skunked at the Academy Awards.
And if you're a fractional jet owner, there's no need to fret about the type or number of carry-ons. If you can squeeze it inside the cabin, it can be secured, and it does not affect weight and balance, on it goes.
Senior vice president Mary E. Flynn, who heads owner services for NetJets' U.S. operations, remembers an owner asking to bring an exercise bike on board "to get their cardio done" during a six-hour flight. "I try to keep our owners happy," says Flynn, but in that case, she had to say no. (There was no way to keep the bike from moving about the cabin during flight.)
Flying a dog across the country, however, is much easier than shipping him commercially if you own part of a jet. Matthew Eckert, who flies Hawker 400XPs for NetJets, recalls jetting an eight-week-old Great Dane puppy from Saratoga Springs, New York, to Cody, Wyoming. The pooch was his only passenger. "[The company] even went as far as catering a cheese-and-steak tray for the puppy," says Eckert.
Other canine flights have not gone so smoothly. In 2008, NetJets flight attendant Lisa Wilson filed suit against entertainer Jennifer Lopez and her husband, singer Marc Anthony. Wilson wanted $5 million for an injury she said she sustained on a Gulfstream jet bound from New York to Los Angeles when she tried to pass a fork to Anthony and Lopez's German shepherd guard dog lunged at her. As Wilson jerked away, she twisted her back, which she said prevented her from continuing to work as a flight attendant. The case eventually settled out of court for an undisclosed amount.
Yet for all the tales of self-indulgence on the part of fractional owners, there are instances in which owners have used their jets for admirable purposes, company officials are quick to note. Consider NetJets fractional owner Michael Heisley. In 2010, Heisley, who owns the Memphis Grizzlies basketball team, learned that his physician, who lives in California, needed a kidney transplant. After a donor kidney was located in New York, Heisley had the organ airlifted to Los Angeles on a Cessna Citation X—the fastest aircraft type in the NetJets' fleet. The doctor was in surgery within hours, and made a full recovery.
NetJets will position aircraft in certain high-demand areas to help shorten pickup times: Teterboro, New Jersey (convenient for Manhattanites), West Palm Beach, Florida, in winter, Aspen, Colorado, in ski season, and wherever the Super Bowl is being played. But, unlike most of the airlines, the company has no operational hubs beyond the one in Columbus. Nor, unlike the airlines, does it maintain centralized crew bases, so NetJets pilots and flight attendants can live virtually anywhere in the U.S. The company's travel services section buys commercial airline tickets to fly them to the private jet they are assigned that day. Indeed, NetJets purchases more than 35,000 hotel rooms each month and more than 130,000 airline tickets every year to get its flight and cabin crews where they need to be.
To fly for NetJets is to work a set schedule: typically one week on and one week off. Accordingly, air crew members can plan their off-duty time far in advance. While they are on the job, however, the same predictability is all but nonexistent. The evening before they are scheduled to fly, NetJets pilots and flight attendants, like characters on an episode of "Mission: Impossible," receive a message on their company-issued BlackBerrys telling them where to meet their aircraft and the particulars of whom they'll be transporting. By morning, the plan may well have changed completely. For the next week, NetJets crew members will often have no idea where they're flying next until literally minutes before takeoff. They pack appropriately.
"I always have a pair of flip-flops and a coat," says flight attendant Diana Hart, who used to fly for Continental. "You can be in the Bahamas one day and Canada the next."
The lack of routine—flying where they've never flown before—is an inescapable part of the job. Those who are not "Gumby-flexible," as one NetJets captain who flies Gulfstreams put it, don't last long.
"The not knowing is half of what excites most of us to be here," says Matthew Eckert, the Hawker 400XP pilot. "It's not the same Cleveland to Newark, back to Cleveland, back to Newark every day."
The variety of airports and countries a NetJets pilot may fly into on any given week is not the only aspect of the job that bears little resemblance to working for the major airlines. NetJets pilots routinely load and off-load luggage. And between pick-ups, they also clean passenger compartments until they're spotless. The goal is to make the jet look, feel, and smell factory-fresh for every passenger. Eckert has resorted to leaving out coffee grounds overnight to soak up the smell of cigarettes (fractional owners are allowed to smoke on board). And when pet hair clings to his jet's suede ceiling, he uses duct tape to remove it.
The company maintains supply lockers at 29 airports across the country, from which air crews, between flights, can replenish onboard provisions, everything from Oreos to fine wines. And if the lockers aren't stocked with a client's requested food and beverages, the crews will do their utmost to get the desired items via a nationwide network of about 150 contracted caterers. Surprise: It's not always lobster thermidor and Dom Perignon. Sometimes it's hash brown casserole. Biscuits and gravy. Frozen Snickers bars. "I've seen us drive 120 miles to get a specific bag of chips an owner wanted," says Henneberry.
NetJets officials and air crew members, who all sign agreements prohibiting them from publicly naming names, point out that most of their fractional owners are successful corporate types, not recognizable entertainers and athletes. They are, as a rule, down-to-earth people who savor their anonymity and require little pampering. That doesn't mean they lack certain expectations.
Before takeoff to San Diego, Hart discovered to her dismay that the "fabulous" crab claws her passengers had ordered had not been cracked. "So I took full responsibility, just knowing that no owner is going to want to sit there and battle with these claws," says Hart, who demanded the caterers do the cracking. (They did.)
Given the money the average fractional owner shells out for his or her piece of a private jet, pre-cracked crab claws are a perfectly reasonable expectation. A Hawker 400XP, an airplane that seats up to seven passengers and that NetJets markets as "the ideal entry-level business jet," will run a Marquis card holder $115,900 for 25 flight hours (television personality Kelly Ripa holds a Marquis card). Buying a 1/16 share in one of NetJets' larger airplanes, a nine-passenger Gulfstream G200, guarantees the fractional owner 50 hours of flying time annually, and costs approximately $600,000, depending on the age of the airplane (newer aircraft cost more). In addition to these one-time payments, owners pay fees to help offset operating expenses: pilot salaries, fuel, insurance, hangaring, aircraft maintenance, catering, landing fees, and so on. Those charges run owners $20,000 a month or more.
If a fractional owner decides that it's all just too much, he can sell his share back to the company after five years for an amount based on his or her airplane's fair market value.
There are other, less expensive ways to fly aboard private jets these days. A new company, Social Flights, allows users to book seats on chartered jets for point-to-point service for about the same price as flying a scheduled airline. Still, more than eight of 10 NetJets customers renew their contracts, says a company spokesperson.
Returning clients no doubt get hooked on the attention, especially when compared to the impersonal, cattle-car-like service that most commercial airlines offer. To accommodate owners afraid of turbulence, for example, NetJets pilots will navigate routes that steer clear of projected patches of rough air. For those fearful of flying over water, pilots have been known to follow shorelines for as long as possible, even if the route added hundreds of miles to a transoceanic trip. Good luck getting love like that from Delta or United.
NetJets traces its Ohio roots to 1964, when U.S. Air Force Brigadier General Olbert Fearing Lassiter, who had retired in Columbus, came up with the idea of selling chartered jet transportation to civilians, affording them the same kind of swift, luxurious air service to which Lassiter had become accustomed while a flag officer. He secured financing, acquired some Learjets and Dassault Falcons, hired mostly former Strategic Air Command pilots, and assembled a high-profile corporate board of directors that included, among others, actor Jimmy Stewart, himself a former bomber pilot and one-star Air Force Reserve general. Thus was NetJets' predecessor, Executive Jet Airways, born.
Within 17 months, according to a June 1966 Time magazine story, EJA (later Executive Jet Aviation) had 87 clients and was earning nearly $3 million a year. IBM and Xerox executives regularly chartered the company's aircraft. So did Playboy founder Hugh Hefner.
Paul Tibbets, pilot of the Enola Gay, the Boeing B-29 that dropped the atomic bomb on Hiroshima, took over as EJA president in 1976. Before the end of the decade, the company's client list had nearly tripled.
Wall Street investment banker Richard Santulli saw plenty of room for growth. In 1986, two years after acquiring EJA, Santulli was credited with conceiving what remains today the secret sauce of fractional jet ownership: All owners sign a "master interchange" agreement, allowing each to use any of the others' jets, and vice versa. No longer wedded to one airplane—which can pose problems when you've got a big investor meeting in San Francisco on the same day your co-owner wants to fly his kids to Disney World—the fractional owner under Santulli's model suddenly had at his disposal an entire harem of airplanes.
"That's when everything took off like crazy," says NetJets' president Noe.
By 1998, the list of fractional owners had grown to more than 1,000. One owner, Berkshire Hathaway chairman Warren Buffett, liked the arrangement so much he bought the company. Three years later, Executive Jet changed its name to NetJets, in part, says Noe, to distance itself from negative news reports that used the phrase "executive jet" anytime a private business aircraft was involved in a mishap.
Amid the Great Recession, NetJets and its competitors have struggled. As business travel in general dropped, so did fractional jet ownership. NetJets was forced to cut staff, furlough 495 pilots, and shift its headquarters from New Jersey back to Ohio. Santulli stepped down in 2009 and was replaced by one of Buffett's top lieutenants, David Sokol, who resigned in March from Berkshire Hathaway and as NetJets' chief executive officer under suspicion of ethics violations in stock trading. NetJets' new CEO is Jordan Hansell.
The company these days averages 330 flights a day, up slightly from 2010, but still down from a high of approximately 400 three years ago, says Henneberry.
Banking on economic good times ahead, NetJets is building a corporate headquarters complex across the road from its present operations center in Columbus. It has also embarked on a plan to modernize its fleet: Last year the company announced that it will buy as many as 125 Phenom 300 light business jets from Brazilian manufacturer Embraer, a deal that could be worth more than $1 billion. Then in March, NetJets placed an order for up to 120 Bombardier Global business jets worth in excess of $6.7 billion.
Upgrading its air fleet may well help position the company for future success, but no gains, says Bill Noe, can ever be realized without the kind of Gumby-like flexibility that he believes allows NetJets' employees to take on and solve the Rubik's Cube-like challenge that running an airline on demand represents. Noe admits that the process, with all its unforeseen variables, can often prove baffling even to him."I know exactly what we do," Noe muses, "and sometimes, I don't know how we do it."
David Freed is a screenwriter, instrument-rated private pilot, and former reporter for the Los Angeles Times, where he shared in a Pulitzer Prize. His first novel, Flat Spin — a mystery-thriller featuring Cordell Logan, a former Air Force pilot turned civilian flight instructor — will be published next April.