Return of the Caribou
The B-29 stayed in Greenland, but the caribou made it (barely) home.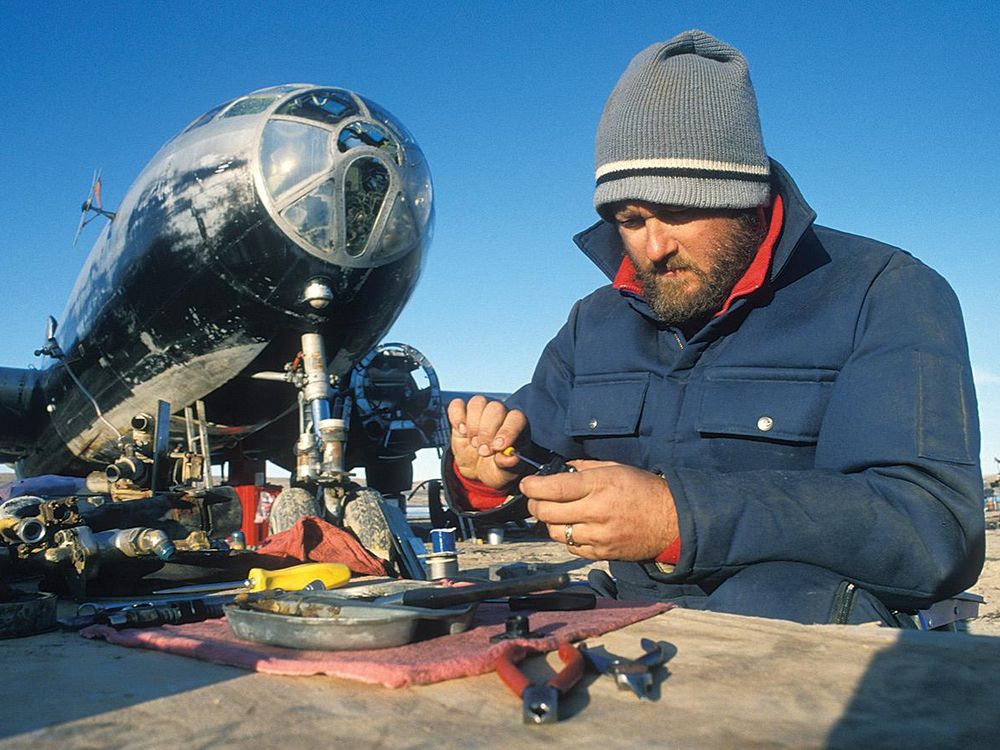 I'm part of the crew who in 1995 tried and failed to revive the B-29 bomber Kee Bird after it had languished for half a century on a frozen lake bed in Greenland, about 700 miles shy of the North Pole. This reclamation project was the dream of aviation superstar Darryl Greenamyer, who test flew SR-71 Blackbirds, revolutionized pylon air racing, set absolute speed records, and built his own F-104 Starfighter, before his death in 2018. Back in '95, Darryl had gotten the B-29's engines started and was bounding over the snow when the auxiliary power unit started a fire that ended up destroying the airplane.
We were stunned. But we had to get home. We got everyone on our crew and all our gear to Thule Air Base and onto a C-141 Starlifter headed to McGuire Air Force Base in New Jersey—everyone except Darryl, John Cater, and me. We were taking the slow road back in the 1962 de Havilland C-7A Caribou that had brought us to Thule three years before, when we'd begun our recovery attempt.
We had abused this Vietnam-era transport. In 1992, we had driven a bulldozer onboard that so overloaded the airplane that the flap actuators jammed and blew out all the seals. Tom Hauptmann and I repaired them using a pile of O-rings Tom had found at Thule that were god-knows-how-old and every color you can imagine. We also buried the nose gear in mushy tundra on more than one occasion while the aircraft was loaded to the brim and massively overweight.
Darryl, John, and I loaded everything we could carry into the Caribou, including eight 55-gallon drums of gasoline, two 55-gallon drums of 60-weight oil, a 55-gallon drum of hydraulic system oil, plus tools and camping gear. A battery-powered system one of our crew had built would pump oil or gas into the appropriate tanks while in flight.
Darryl told John and me that he was going to base ops to announce our departure. He said to be ready to go when he returned, because the airport closed at 3 p.m., which sounded crazy for a place that had 24 hours of daylight.
I told Darryl I wanted to test the pump rig since we had no backup. The rig was failing my test just as Darryl returned. "Let's go anyway!" he barked. I declined, telling him I'd borrow a pump somewhere and be right back.
I raced to the maintenance barn, only to find all the guys had gone to lunch. Figuring I was a good tax-paying American, I borrowed a few of my tax dollars back in the form of a barrel pump, some pipe fittings, and a few rags.
It was 3:05. We rolled onto the runway without so much as a nod to the tower. By the time we were climbing over Dundas Bay to the west, I was chasing fittings rolling all over the cabin and praying that I had collected everything I'd need to get fuel or oil into this little darling before we ran out.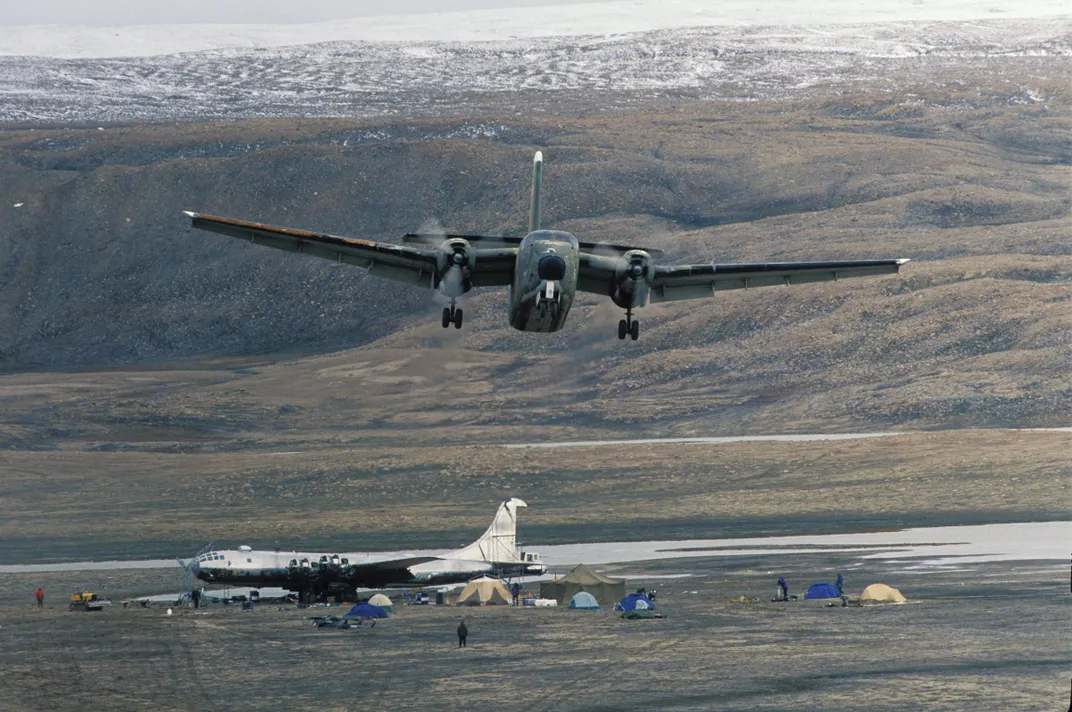 Once we leveled off, I asked Darryl why he took off in such a wild-ass rush. He said there was a storm coming in from the west and we were going to have a 70-knot headwind very soon. He was right; anything over 1,500 AGL [above ground level] was puffing hard on the nose. We were getting the crap beat out of us.
I went to the back and tried to relax on the troop seats, but that was a joke, so I just sat wide awake with my eyes closed, listening to every tick the engines made.
Eventually, I peeked out a window. We had covered the 600 miles across Davis Strait to Baffin Island and were flying into a small fjord, not far off the waves. The mountains jutted straight up out of the water and we were headed through a narrowing gash between them.
I went up to the cockpit thinking I might as well see it all coming, but all I could see was granite as Darryl wove us through the headwinds. Around the next bend, the fjord ended in a giant wall. There was nowhere to go but up.
Darryl eased us up over the top as though he'd planned this crazy route. He smiled like there wasn't anything to it, but all the blood had drained from my face and from John's.
With that crisis past, Darryl glanced at the panel and suggested I make our fuel-and-oil rig work, ASAP. I dug through boxes to find Teflon tape, wrenches, hose, heater hose clamps—all the components of my Frankenfuel contraption.
It was cold, bumpy, and dark in my workspace. To get to the spot in the cabin where the fuel and oil system taps were, I had to reach over my head. Once I'd affixed the plumbing to the manual barrel pump, I let Darryl know I was ready. The Caribou was ready, too—the needles on the gauges were bouncing off the bottom and the low-fuel warning lights were starting to flicker.
With 150-mph wind leaking in and scouring my bare hands, I removed the plug in the fuel-system tap. My insulated Carhart overalls were already saturated in 60-weight oil, but I was too motivated to feel cold or scared. For what seemed like forever, I hand-pumped through eight barrels of fuel. There was no way for me to know if I was keeping pace with the engine's demand. All I could do was pump, pump, pump. Just after midnight, we saw the Iqaluit Airport tower in the distance. We landed with less than 15 minutes of fuel left, nine hours and 886 miles from Thule.
A man emerged from the terminal. "You're the Kee Bird guys, aren't ya?"
We asked how he knew. He worked for the Canadian Broadcasting Corporation and had been told to ask how our project was going. Darryl showed a gift for diplomacy, politely dodging the question and asking the reporter if he could recommend food and lodgings nearby.
That Burger Shack made the best hamburger I ever ate.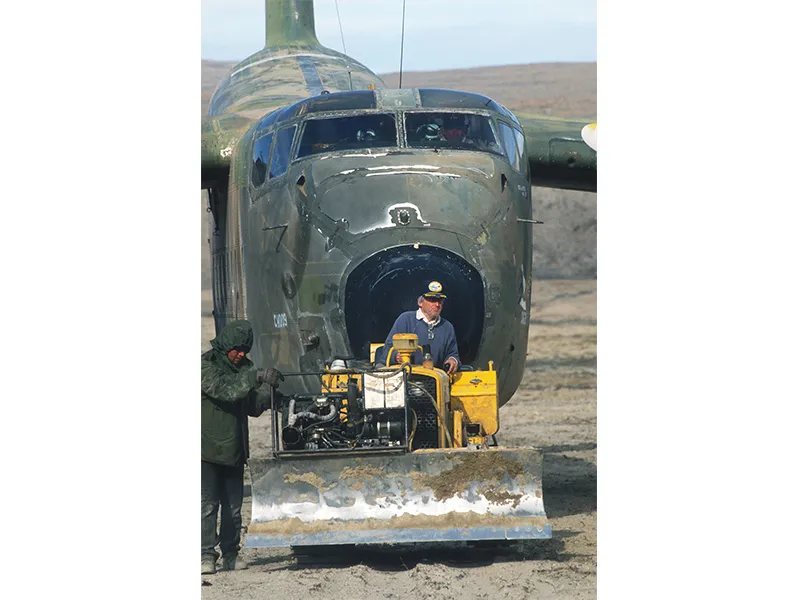 On our next leg to Churchill, Manitoba, 911 miles away, I glanced out a window and noticed the outboard right landing gear door was open, swinging freely. I went up front to tell John.
"When that breaks off, it will hit the tail and we are done," he said calmly.
John and I asked Darryl if we could ease over to the west shore and at least crash on land.
"Sure, why not?" he said, banking in that direction. He looked at the fuel gauges and told me I'd better get pumping again. Then he straightened up and pointed the nose of the Caribou directly toward Churchill. For the rest of the flight, I stared at the broken gear door and simply willed it to stay put.
After a pleasant night in Churchill, we took off for customs in Glasgow, Montana, 888 miles away. The low-oil-level light for the right engine had come on, so I pumped oil the consistency of cold molasses the entire way to Glasgow, fearing I would snap the pump shaft off.
In Glasgow, we opened the cowl and patched the leak while waiting for the customs agent. When she finally arrived, she seemed excited to have an official task to perform. Not much goes on in Glasgow, Montana, evidently, even though it's an international port of entry.
We were happy to be back in the USA. Billings would be another 188 miles. There were other close calls before we all made it home, but if Darryl had asked, I would have flown the whole trip again.
Vernon Rich is a master fabricator from Shreveport, Louisiana. He has worked on the Nemesis raceplane, among many other projects.