Restoration: USS Intrepid
Cleaning up an aircraft carrier.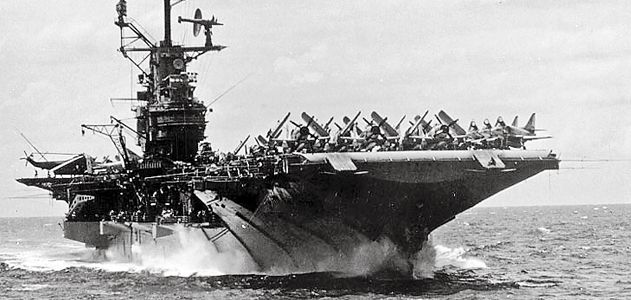 AFTER SPENDING 24 YEARS tied up at Pier 86 on Manhattan's west side, the aircraft carrier Intrepid and its pier both needed a good cleaning—$60 million worth. During the highest of high tides, on November 6, 2006, the ship was to be moved into drydock. In preparation, dredges pumped out 15,000 cubic tons of muck from its sides and path, and crews pumped 600 tons of water from the carrier's ballast tanks. The move was covered live on CNN. Dignitaries spoke, and then 80-year-old retired Rear Admiral. J. Lloyd "Doc" Abbot Jr., the Intrepid skipper from 1960 to 1962, ordered the mooring lines cast off. Six tugboats, with a combined 30,000 horsepower, shoved the ship into the Hudson River. Intrepid made it all of 15 feet before its screws—its propellers —got stuck in the mud.
The tide went out, the dignitaries went home. Finally, a month later, after further dredging, the ship budged, and tugboats towed it downriver to Bayonne, New Jersey, for a few months in rehab. There its hull underwent repairs, its problem-prone screws were removed, and its exterior got a new paint job. After the hull and deck dried, the ship was once again moved, this time to nearby Staten Island, for the restoration of more than 80,000 square feet of its top three decks.
Intrepid was one of 24 Essex-class carriers cranked out in East Coast shipyards during World War II. Barely slim enough to squeeze through the Panama Canal, each carried up to 100 airplanes and 3,000 men and played a critical role in the Pacific theater. Four survive today, all as museums: The Yorktown at Mount Pleasant, South Carolina; the Hornet at Alameda Point, California; the Lexington at Corpus Christi, Texas, and the Intrepid. Known as the "Fighting I," the Intrepid was home to a variety of aircraft: Grumman F6F Hellcats and TBF-TBM Avengers in World War II, F9F Cougars and F11F Tigers during the 1950s, Douglas AD Skyraiders and A-4 Skyhawks on the ship's cruises during the Vietnam War. In all, the carrier survived five kamikaze attacks, three wars, three decommissionings, and a near-scrapping before real estate developer Zachary Fisher rescued it and had it towed from Philadelphia to New York City in 1982.
Of the four carrier-museums, the Intrepid was the least ship-shape. By the time the carrier was sent for restoration, worn, stained, indoor-outdoor carpeting covered the hangar deck, and generations of ad-hoc wiring and lights dangled from the ceiling. "Over the years, things had gotten confused," explains chief curator John Zukowsky. And a lot of color had been lost: Everything neither carpeted nor painted battleship gray had been given a coat of institutional white. "Ships were colorful, lively places," Zukowsky adds. "In naval vessels, pipes were color-coded to be easily identifiable in emergencies."
Now a small team of electricians is removing wiring and installing new, unobtrusive but energy-efficient fixtures. Then Navy-regulation paint colors will be applied, the carpeting will be stripped, and the deck will receive a fresh coat of gray in preparation for a new exhibit about World War II, the carrier, and the men who fought and died on it.
Other parts of the Intrepid are being restored to near-original condition. During more than 30 years in service, Intrepid underwent several major modifications, including a new angled deck and steam catapults. The restoration work will maintain those modifications. During the ship's last cruise, in the early 1970s, the mess was divided into smaller rooms that were decorated with homey touches. Restorers are using photos to re-create two of them, as well as several quarters for officers and enlisted men.
During the restoration, most of the aircraft remained on the ship, wrapped in material to protect against overspray. When restorers did turn their attention to the aircraft, they mostly did corrosion repair and prevention, replaced damaged Plexiglas canopies, researched historic paint schemes, and, when feasible, returned an airplane to its original colors.
This fall, the restoration will be finished, and on October 2 the ship is scheduled to be towed back to Pier 86, where 46th Street meets the Hudson. On the new hangar deck an exhibit of aircraft will focus on the ship's history, with a Grumman TBM Avenger, a North American FJ-3 Fury, a Piasecki HUP-2 Retriever, and a Douglas A-4B Skyhawk. On the flight deck will be other historic favorites, including a General Dynamics (now Lockheed Martin) F-16, a Lockheed A-12 , and a McDonnell F-4 Phantom. The ship is scheduled to be reopened to the public on November 8. This time, though, there won't be any problem with the screws: They'll be on exhibit, topside.