Return of the MiG-17
The high-speed, high-G Soviet classic showed airshow fans why Phantoms feared MiGs.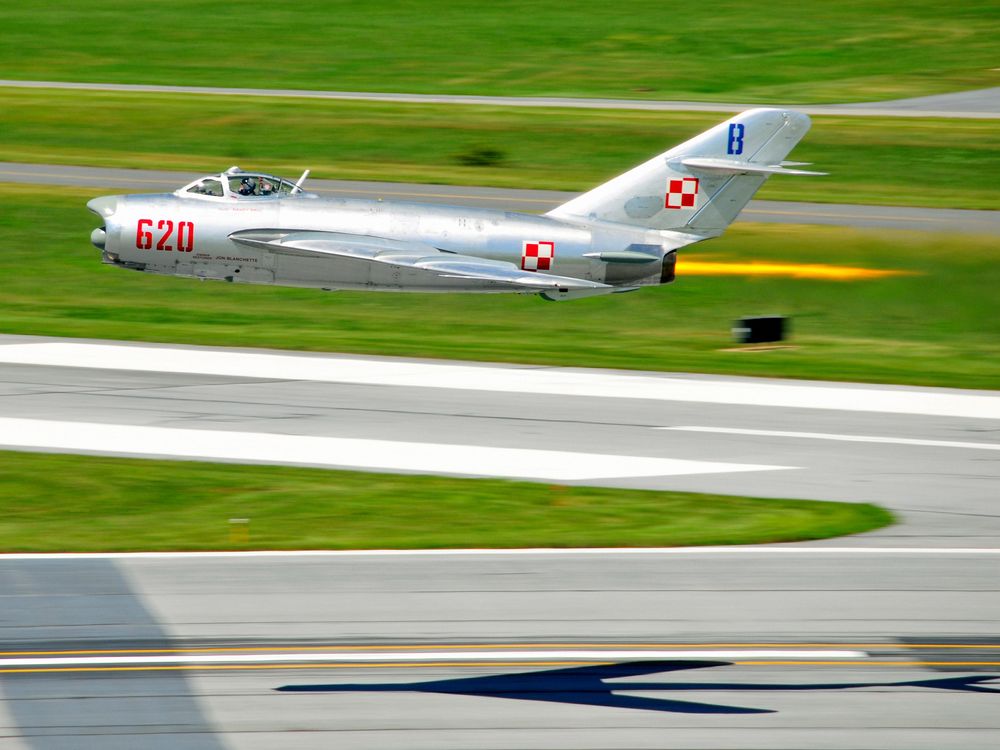 Jon Blanchette is not the kind of guy to give up on a project once he's started it. In 1953, he took a job as an engineer with General Motors and stayed with the company for 34 years. During that time, he took a five-year leave of absence to serve as an officer in the U.S. Navy in charge of ship construction before returning to GM and transitioning to the Naval Reserve for another 19 years. So when he became the owner of a MiG-17 that was destined for a scrapyard in Poland, he was going to finish its restoration, no matter what obstacles he ran into. And he ran into a bunch.
Without corporate sponsorship or private donors, Blanchette worked on the single-engine, swept-wing jet fighter for more than 17 years. He not only finished its restoration, he turned it into an airshow star. Along the way, he learned a thing or two about MiG-17s.
As a volunteer "working on other people's planes" at the National Warplane Museum in Geneseo, New York, Blanchette began to think he'd like to have a jet of his own, and he started shopping for a fixed-wing fixer-upper in 1993. "A friend of mine was overseas buying aircraft," Blanchette recalls. "He called me one day and said that he had a couple of MiGs there that had funny noses on them, and he wondered if I wanted one." Blanchette bought the MiG sight unseen. He says that the post-cold war abundance of Polish aircraft made them affordable: He bought his MiG for $16,000.
The MiG's unusual nose, it turned out, was shaped by two radomes: to house a search and a tracking radar (both radars were removed before the aircraft left Poland). The MiG-17P was the first Soviet fighter capable of defending Soviet airspace at night and during inclement weather. Blanchette's model was a MiG-17PF. Its "F" designation refers to the engine, a Klimov VK-1F. Equipped with the VK-1F, the MiG‑17 was the first Soviet fighter with an afterburner.
After the collapse of the Soviet Union, MiG-17s flooded into the United States. Their significance in the Vietnam War made them attractive to both collectors and museums alike. During the war, the F model was the first jet fighter flown by the North Vietnamese Air Force. "The strength of the MiG-17F was its small size, which made it difficult to visually locate, as well as its ability to launch from primitive airstrips," says Ilya Grinberg, a professor of engineering technology at the State University of New York in Buffalo and an expert on Soviet aviation. "North Vietnamese pilots spoke highly of the MiG‑17's maneuverability, simplicity of construction, and effectiveness of armament."
In his latest book, Rolling Thunder 1965-68: Johnson's Air War Over Vietnam, aviation historian Richard P. Hallion writes of the MiG-17: " [Its] afterburner-sustained turns in a close-in 'fur-ball' could be lethal. 'That little airplane can give you a tussle the likes of which you've never had before in your life,' Colonel Robin Olds, Rolling Thunder's most successful fighter pilot, told a study team in 1967, adding 'Their turn radius has to be seen to be believed. It's incredible.' "
In 1958, Poland received a small shipment of Soviet MiG-17PFs. In need of more, the Polish government licensed the aircraft from the Soviets and began building them in Mielec, where the jet was known locally as the Lim-5P. Only 129 Lim-5Ps were built in Mielec over a period of two years. Blanchette's aircraft rolled off the line near the end of the run in December 1960, the 20th aircraft in the sixth production batch. It was then delivered to the Polish Air Force, with part of its serial number—620—stenciled in red on both sides of the nose. "Red 620," as the aircraft is informally known today, stayed with the air force for about six years before being sent to a training facility for students studying how to be aircraft mechanics.
After being disassembled in Poland during the winter of 1994, the MiG arrived Stateside. To Blanchette's disappointment, the poorly-packed crates arrived full of cut-up and damaged pieces. "The parts that they dropped into the snow never got picked up and put into the container," he says. "So I wound up with many fewer parts than the plane should have had. Many of the parts on the plane are hand-fitted, so I had to make everything that was missing."
Blanchette had restored cars, but this was his first time restoring his own aircraft. During the MiG's journey from Poland, the fuselage had shifted and buckled. The wingtips were crushed. "We had to put new wingtips on," says Blanchette. "The trailing edges of the wings were corroded. We had to make trailing edges. Those were difficult jobs."
Still, Blanchette was determined to see the project through. He enlisted the help of two MiG-savvy mechanics from Poland, who periodically came to the United States to assist MiG owners with their restorations.
Keeping a roof over the project proved a challenge. The MiG moved four times. "All the heavy dirty work—cleaning, power washing—was done in the first facility at the National Warplane Museum in Geneseo," says Blanchette. When that facility closed, he moved the jet to a building in Lakeville, New York, where he refurbished the cockpit and wheel wells.
"Then I moved back to the Warplane Museum at their new facility in Horseheads," says Blanchette, who had to move again when the museum moved back to Geneseo. He recalls the day in Horseheads when technicians from Worldwide Aircraft used a crane to mount the wings. He says: "That's when we assembled the plane and really made it an airplane."
"I don't hurry anything," says Blanchette. "I look at the job as an engineer. I see what has to be done, and then I just do it." For much of the restoration, he learned as he went. "I took hydraulic cylinders to hydraulic repair shops and asked them what about this, what about that, and I'd get all sorts of tips and information," he says. Aware of the severe stresses the jet would undergo in flight, he took the added precaution of having every structural part of the aircraft inspected for cracks.
Though he kept a list of restoration expenses over the years, Blanchette has never totaled them. "I didn't notice it because everything I bought, I just did it as I went," he says. "I just kept working."
As the restoration neared completion, Blanchette tapped seasoned airshow pilot Randy Ball to fly the aircraft. Ball, an airline captain, was impressed with the restoration. "It was literally like looking into a brand new airplane," says Ball. "I've seen very few vintage jets look like that, much less a MiG."
In 2008, 14 years after he started the restoration, Blanchette watched Ball guide the MiG down a runway at Elmira Corning Regional Airport and take off, the first it had flown in 30 years. "That was a very exceptional moment," says Blanchette, who was now the owner of the world's only airworthy MiG17-PF. "We stood there, and all of a sudden the wheels lifted off and he blasted into the sky." Though the first flight went well, it would be another four years before the MiG was ready to fly its first airshow (Niagara Falls in 2011).
Tired of working in freezing temperatures, Blanchette built a heated hangar at the airport in Elmira, New York. It is there that mechanic Ed Knitter prepares the MiG for the airshow circuit, where it has dazzled crowds.
The tight-turning fighter is ideal for aerial displays. "As long as you don't mind punishing your body pulling Gs, you can keep the aircraft pretty much in front of the crowd," says Ball. He relies on his crew chief, Erin Mae Kelley, to ready the aircraft before he performs a full aerobatic routine that features inverted flight and tight 8-G turns.
On the ground, Blanchette feels the stress of these performances. "I sweat to the waist every time he's up," he says. "He's going 600-plus miles an hour and anything can happen." But Ball has complete confidence in Blanchette's restoration. "I've met very few individuals on the planet who are so consumed with perfection when they restore something," says Ball.
Yet with all the work he has done to restore the jet, Blanchette decided not to alter one part of the aircraft: Etched into the aluminum skin is a poem written in Polish. "I can't read it," says Blanchette, "but the Polish mechanic said, 'Oh, this guy is lovesick for his girlfriend.' I love that, I love that. That's why I'd never paint it."
Ball's last flight in Blanchette's MiG was in September 2017, and the aircraft did not fly during this year's airshow season. Blanchette says that airshow appearance fees don't begin to cover the costs of operating the historic jet. In fact, he is trying to sell the MiG, which is still in flying condition.
"My goal was to turn a piece of scrap into a flying aircraft," he says. "I did that—plus more. Now it's time for someone else to have some fun."