Restoration: Mach 2 Heavyweight Champion
The North American RA-5C Vigilante.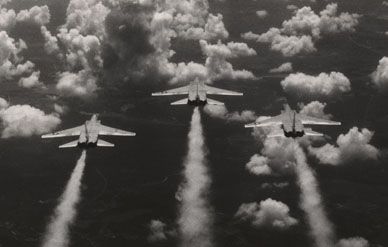 "It's not just a committee, it's a community," says Patty Mahany, describing the efforts of a Sanford, Florida group restoring a North American RA-5C Vigilante reconnaissance aircraft for display in a park at Orlando-Sanford International Airport. The Vigilante began as a nuclear bomber and ended up launching off carrier decks to fly Mach 2 reconnaissance missions over North Vietnam.
Developed in the late 1950s and initially designated A3J-1, the "Vigi" made its first flight on August 31, 1958. While production of the A-5A was under way, North American Aviation began work on the A-5B, which had additional fuel capacity and other upgrades. Among other innovations, the Vigilante was the Navy's first production aircraft with an operational head-up display for the pilot, as well as the first U.S. production aircraft to introduce fully-variable-geometry intakes for its two General Electric J79-GE-2-8/10 turbojet engines. In 1960, an A-5A set a world altitude record when it zoom-climbed its way up to 91,451 feet.
The Navy ultimately abandoned its dream of a strategic nuclear force operating from carrier decks—the submarine-launched Polaris missile gave the service a better tool in the strategic nuclear business—but the Vigilante was ideal for reconnaissance. Crewed by a pilot and a reconnaissance/
attack navigator, the RA-5C photo-reconnaissance model became the version made in the greatest numbers, with just over 100 built or produced by the conversion of earlier Vigilantes.
"Landing the A-5 on an aircraft carrier was quite an experience," says retired Navy commander Don Brumbaugh. "It was a heavy aircraft [nearly 80,000 pounds maximum takeoff weight] with a high approach speed. Being a landing signal officer instructor, I can confidently say it was the hardest aircraft to land aboard the carrier. Night carrier operations were particularly tense, and I can honestly say I never got used to them. I was darn near shaking every time I climbed out of the cockpit at night."
"It was initially discomforting when you put the canopy down," says Bob Thomas, a former reconnaissance/attack navigator. "Apart from those two little windows, you really felt shut out from the outside world. You learned to view the world through your radar. You developed other senses to fill in. When something goes wrong, like a generator problem, you learned to detect it from the very slightest sound in your earphones." Thomas later moved on to the F-14, in which he "discovered what it was like to see out."
Sanford is where every Vigilante crew trained, from 1960 to 1968. The Orlando-Sanford Airport was a naval air station from 1942 to 1968 (with a five-year respite between World War II and Korea) and trained pilots in three wars. Three years ago there was not one landmark in the town commemorating the long Navy presence. Promoting Sanford as "Celery City"—a sobriquet less accurate today than it was 90 years ago—was wearing thin for the local chamber of commerce.
During a chamber meeting two years ago, Captain Jack Dow, a retired A-6 Intruder pilot, was named president of the Memorial Committee. "We wanted to avoid mistakes of the past," Dow says. "There had been two disappointing attempts to find a Vigilante and restore it. We wanted to do better."
The National Museum of Naval Aviation at Pensacola, Florida, identified an RA-5C Vigilante at China Lake, California, that could be salvaged. "The Navy had been using the plane as a target," Mahany says. The Memorial Committee is now rebuilding the aircraft in a hangar at the Sanford airport and preparing to mount it in an airport park dedicated to the town's naval aviation heritage. "We're about halfway finished," says Mahany. "The committee is working on corrosion control and preparing to paint, and after that the wings and the horizontal and vertical stabilizers will be reassembled. There's a Vigi reunion here next May, and we promised to have the aircraft ready for dedication."
The Sanford airplane is number 156632, the 12th from last aircraft in the RA-5C production run. If you flew or worked on Vigilantes, especially 156632, the committee would like to hear from you. Contact Patty Mahany, Sanford Airport Memorial, One Red Cleveland Blvd., Suite 1200, Sanford, FL 32772, or e-mail [email protected].
—Robert F. Dorr