Restoration: Kentucky Panther
Grumman's first jet honors a son of the Bluegrass State.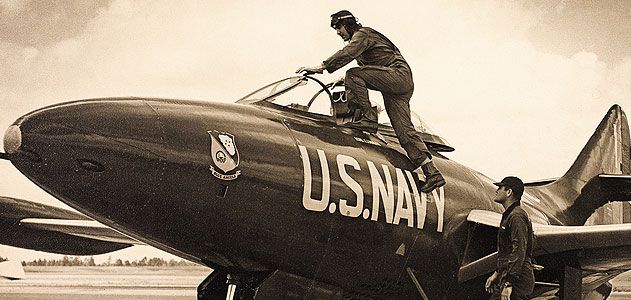 Half a century of Winona, Minnesota winters had made a weary sight of the Grumman F9F Panther. When Dan Cherry saw a photo of it at a Web site that aviation artist Jerry Anderson alerted him to, he decided to rescue it. "I looked at all the grass growing up around it," says Cherry, director of the Aviation Heritage Park, a new aviation museum in Bowling Green, Kentucky, "and I thought, Wow, they probably don't want that airplane." Cherry wanted to honor fellow Kentuckian John Magda, who flew Panthers as the lead pilot of the U.S. Navy Blue Angels. Born in 1918 in Kentucky, Magda flew at the Battle of Midway and survived a ditching and five days in a life raft. In March 1951, North Korean anti-aircraft fire critically damaged his Panther, and Magda died trying to ditch the airplane. He was 32, and left a widow and two children. In 2007, he was inducted into the Kentucky Aviation Hall of Fame, and Cherry wanted to mark Magda's legacy with a Panther display. Though Cherry never knew Magda, he greatly admires his record of service. Cherry flew the McDonnell F-4 Phantom II in Vietnam, and was a flight leader for the U.S. Air Force Thunderbirds.
Panthers entered service in 1949, and a total of 1,385 were built. The Navy took delivery of this Panther, Bureau of Aeronautics number 125992, on April 24, 1952, and assigned it to Marine Fighter Squadron 224 at the Marine Corps Air Station at Edenton, North Carolina. In 1953, it went to Japan, serving at Naval Air Stations Atsugi and Yokosuka. After stints at California's NAS Alameda and MCAS El Toro, it ended up in the Naval Reserve at NAS Minneapolis. In July 1959, having logged 2,343 hours, it was retired.
For the next couple of decades, the Panther squatted at Winona's Lake Park. In the 1980s, it was moved to Max Conrad Field, where it eventually roosted in the grass between the runway and the ramp, the Mississippi River occasionally rising into the wheel wells. In January 2008, All Coast Aircraft Recovery showed up, sent by the Heritage Park, and took off the wings and part of the tail, then loaded the pieces onto a flatbed truck for the three-day drive to the Bowling Green-Warren County Regional Airport. There, All Coast reassembled it, and Heritage Park's volunteers went to work. "The tires had been in the mud axle-deep," says Larry Beam, the Park's restoration chairman. "The brakes were rusted together. There was a lot of grinding, but we got them turning." The group removed sticks and cans, pressure-washed the airplane, then rolled it indoors to a donated corner of a maintenance hangar. They began taking off pieces of the skin—"Those screws have been in there since 1952, and they do not want to come out," says Beam. The team found blows from an axe. Some of the gouges had been patched in the 1980s during a quick fix by a technical college in Winona.
The group removed more grime and rust by blasting it with an ingredient that doesn't heat and warp the airplane's skin, as sand blasting would. With a micro-aluminum epoxy compound that, once dry, can be sanded, they repaired hundreds of dents and holes. They acquired a canopy from a collector in Texas, but may have to cut a new tailhook if they can't find an original. They'll paint the airplane—PPG Aerospace donated all paint—in Blue Angel colors, with Magda's name lettered near the cockpit. He led the Blues flying F9F-2s. The Park's Panther is an F9F-5, which the squadron flew from 1951 to 1954. The -5 is 17 inches longer and 10 inches taller. Although it has no engine, Cherry appreciates the wording in the Navy's restoration compliance documents: "It should look like it could fly." The jet is on loan from its true owner, the National Naval Aviation Museum in Pensacola, Florida.
As the first of Grumman's jet fighters, the Panther was the last of its straight-wings. Those wings came in handy one day in September 1951 for Neil Armstrong, barely 21 years old. On a low bomb run over a North Korean target, Armstrong struck a cable that sheared off six feet of his right wing. The future moonwalker was able to climb and head south, applying lots of aileron to maintain level flight long enough to eject over the South Korean coast.
Magda's daughter Marni, now a retired English teacher in California, is writing a book about her father. "Growing up, I knew him as a war hero only," she says. But through letters Magda wrote to her mother, who died in January 2009, Marni is seeing her father's human side. "I've found he was so concerned about family, so worried about his wife and kids. I'd never known that side of him."
At the Aviation Heritage Park's annual hangar party in June 2008, retired naval aviator Richard Bradberry, who had flown as Magda's wingman the day he was shot down, walked around the half-restored Panther, his blue eyes gleaming. "This was just a sweet-flying airplane, like most Grummans," said Bradberry. "And tough, like all of them." He laughed. "The Grumman Iron Works!"
Barrett Tillman's next book is Whirlwind: Bombing Japan 1942–45, due from Simon & Schuster in March.