Delightfully de Havilland
The last flying D.H.89 Dragon Rapide in the United States.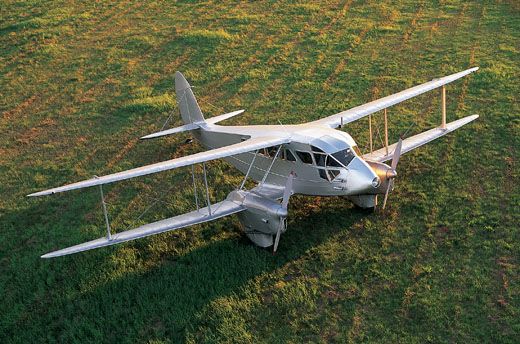 He traded a DC-3 for it. That's how much John Schell wanted a Dragon Rapide, a lovely little 1930s British airliner manufactured by de Havilland. In 1992, Schell swapped airplanes with his friend Mike Kimbrel, a Delta Air Lines captain. To pick up his Dragon, Schell drove from his home in Puyallup, Washington, to Kimbrel's place in Oakville. There, Schell disassembled the wood-and-fabric biplane, loaded its wings and tail feathers on a flatbed trailer, and returned to Puyallup, leaving behind the fuselage, which was too large to move by road.
At his shop, Schell and sons, Kevin and Toby, and grandson Jake worked steadily for four months to restore the Dragon's tail and wings, replacing wood ribs where needed. They then brought those parts back to Kimbrel's place, where they reassembled the airplane and flew it home to Puyallup. But Schell wasn't satisfied with just an airworthy craft; he wanted to restore the airliner to its vintage luster. For the next 12 months, Schell and his team went to work on the fuselage.
The prototype of the D.H.89 Dragon Rapide first flew on April 17, 1934, and a total of 727 aircraft were manufactured between 1934 and 1946. During its heyday, the D.H.89 served as a transport for oil companies, as a commercial airliner in Canada, and as a courier between England and France during World War II. Schell's Dragon had served as a survey platform in India, where it was purchased by airplane dealer Buzz Gothard of Curtis, Washington. Kimbrel bought it from Gothard in 1976.
Compared to today's airliners, the Dragon Rapide was tiny, carrying only eight passengers and a modicum of luggage. The only crew was the pilot ("It's a captain's airplane" says Schell. "You don't have to share the flying with anybody.") Passengers were transported in an unpressurized cabin at altitudes of 3,000 to 6,000 feet. No meals were served, and many Dragon Rapides, which flew for three hours without stopping, had no bathrooms.
Schell retired from Northwest Airlines in 1992 as a Boeing 747 captain; during his 28-year career he also flew the DC-7 and DC-10 and the Boeing 707 and 727. Though he loved flying jetliners, he raves about the propeller-driven Dragon. "This is a real lady to fly," says Schell. "It's a beautiful airplane. Everybody that's ever had a ride in it, they just—like a lot of my friends that fly for the airlines—they get in and go for a ride and they come back and they think, Oh my gosh, this should be an airliner. This is really a real airplane."
Schell's first job was to refabricate the entire fuselage. Though the original fabric was either cotton or Irish linen, Schell went with a synthetic, lapping and gluing it over the 34.5-foot-long fuselage. "On these polyfiber finishes, you don't do like they used to do with cotton," says Schell. "It used to take four coats of dope to bring it up taut. Okay, these [polyfibers], there's three sessions with a hot iron. And it just slowly draws it up, just like a drum." To protect the cloth from sunlight, Schell painted on a layer of silver-colored dope.
When Schell took possession of the D.H.89, it still had the original seats. "It had horsehair seats that were extremely heavy, and they didn't smell very good," he says. He painted the seat frames and fashioned new seat cushions with synthetic foam. The rest of the Dragon's cabin had been stripped, so Schell installed a blue and gray interior.
As for the airliner's two de Havilland Gipsy Queen 3 engines, they ran well and only required cleaning, new spark plugs, oil changes, and fireproofing of the fuel lines. When the restoration was complete, Schell had spent only $13,000 for materials, but he estimates that the labor was worth at least $200,000.
He has taken the Dragon to airshows all over the West coast and to the annual fly-in at Oshkosh, Wisconsin. "You know, you take it to an airshow, and it doesn't matter what's there—it's even been beside a B-17 and a B-24-and the crowd just seems to go to it," he says. "And of course, everybody wants to take a ride in it." It is the only flying Dragon Rapide in the United States.
Still, Schell feels it is time to move on, and he's looking for another airplane to restore. First, though, he'd like to sell the D.H.89 to a buyer who would appreciate it. "I've had this one for over 10 years," he says, "and I think it's time for somebody else to have some fun."