Restoration
"That Big Biplane" | 1929 Zenith Z6A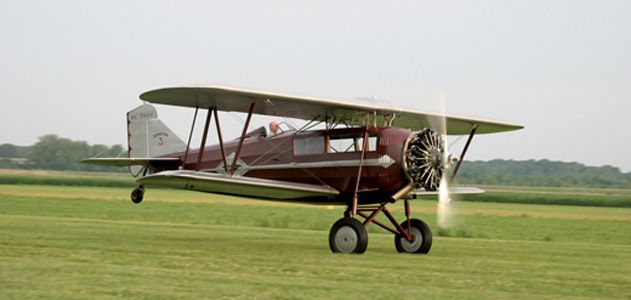 We've all heard of airplane restoration projects that drag on until people begin to suspect the restorer doesn't really want to finish; he's happy just to be tinkering. This isn't one of those projects. It did drag on—for 17 years—but knowing Glenn Peck and the late John Mullen, the two men responsible for it, I never doubted that one day the airplane would fly.
In 1986, Mullen, an electrical engineer from St. Louis, bought a rare and battered biplane at an auction in Boise, Idaho, and trucked it home to Creve Coeur, a small Missouri airport with a paved runway and a grass landing strip that he owned with two partners (see "The People and Planes of Creve Coeur," June/July 2003). Creve Coeur was already home to dozens of antique aircraft and today has a large collection of Wacos, Stearmans, Staggerwings, rare or one-of-a-kind types, and one particularly stunning Fairchild 24 (mine). But compared with the others, Mullen's Zenith biplane was a monster. It weighed almost 4,400 pounds with a full tank and full complement of pilot and cargo, and it had a 41-foot wingspan and an enormous cabin in front of the pilot. Around the airport, most people referred to it as "that big biplane of John's." We think seven were built, and only Mullen's survived—barely.
The airplane Mullen brought to Creve Coeur was a daunting project: It had wings, a fuselage, and a whole bunch of parts. With scant records from the manufacturer, nine old black-and-white photos, and a 30-second film clip, he gradually pieced together the airplane's history and decided what the restoration should make it look like.
The Zenith Aircraft Corporation built the airplane in 1929 at the request of A.A. Bennett, a transport pilot who needed a sizable craft to get men and materials up to the mines in Idaho and Alaska. Zenith had been manufacturing farm implements in Midway City, California, until Charles Lindbergh's 1927 Atlantic crossing convinced its owners—as it did many entrepreneurs around the country—that there might be something to this airplane thing. The company's first airplane was a tri-motor the builders called the Z-12 Albatross. It barely got airborne. They tried again with the Zenith Z6A before the Depression took its toll and they went back to farm equipment.
Bennett bought the third and fourth Z6s, which he used to haul everything—sheet metal, saws, pianos, cows—to the Idaho miners. In 1946, Bennett sold the Zenith to the Blue Moon Sky Ranch in Boise, Idaho, where it was put to work flying supplies. It passed through a handful of owners before ending up with a cropduster named Pete Fountain. He flew the airplane until 1964, when operating expenses forced him to park it alongside the runway in Boise, where it stayed until the auction in 1986.
Mullen took the airplane apart, cut the fiberglass hopper (for insecticide) out of the fuselage, and built the fuselage back up. He cleaned up the landing gear and had a new tail wheel assembly and gas tank built. And that's about as far as the restoration got when the 1993 Missouri River flood shut down the airport and halted the effort. Mullen, focused on lining up financing for repairs to the airport, turned to Glenn Peck.
Peck is the director of maintenance for the Historic Aircraft Restoration Museum at Creve Coeur and one of the finest craftsmen I've ever known. I've seen him transform a half-dozen airplanes—including a 1928 Curtiss Robin that in 2001 was recognized in a restored classic category at the Experimental Aircraft Association's Oshkosh, Wisconsin fly-in. In his 25-year career, he's restored 30 tube-and-fabric aircraft. He started work on the Zenith in 1996, and, because it had been outside for three years, took the airplane back to the point where no two pieces were connected. For eight years, he worked in his free time on weekends and in the evenings, whenever he had the chance, putting the pieces back together.
By spring 2004, Peck had made enough progress on the airplane that he and Mullen thought he could finish it in time to show it at Oshkosh that July. Peck hurried to overhaul old instruments and install modern ones, like a moving-map GPS receiver. He installed brakes from a Vultee BT-13, a heavy World War II Navy trainer, but found that even these were marginal when trying to hold the airplane during the run-up of the 550-horsepower Pratt & Whitney R-1340 engine (from a Curtiss SOC Navy Scout).
With the deadline drawing near, I pitched in now and then. One day I was cleaning the flying wires in preparation for attaching the wings when I noticed some pitting. When I showed it to Glenn, he realized that what had appeared to be stainless steel wires were actually chrome-plated plain steel. With those pitted wires, we couldn't fly. Peck placed a rush order with Bruntons in Scotland, the sole manufacturer of flying wires. The new wires arrived on July 10, two weeks before the fly-in.
The engine runs took several days to finish: The primer was too small and not putting enough fuel in the engine. After this was fixed, Peck taxied the airplane twice before calling the Federal Aviation Administration's designated airworthiness representative, who certified the Zenith to do what it hadn't done in 40 years—fly.
Frequently restorers will need a deadline like Oshkosh to make the final push to finish a project. At Creve Coeur, we were thankful for the extra pressure because it gave John Mullen the chance to taxi his airplane. A few days later, John died. Today, Mullen's son Shaun owns the aircraft and is looking for a buyer.
Whoever buys the Zenith will have the third of the series and sole survivor, but another exists. Zenith Number 5 flew in Alaska for several years until its crew landed it on a frozen lake and walked to a shoreline restaurant. While they were eating, they heard a cracking sound and came out just in time to see Number 5 sink in 600-foot-deep Lake Cordova, where the airplane remains to this day.