Reel Aviation
Newsreels brought the excitement of aviation to millions of moviegoers in the 1930s. Now read the lost scripts.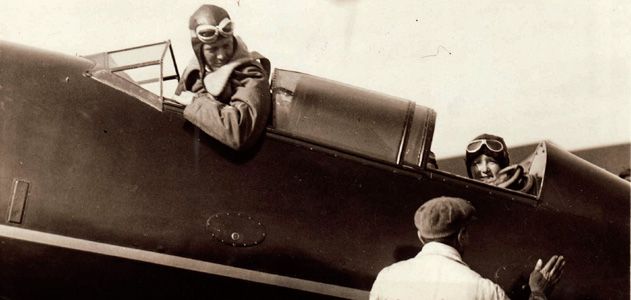 Before television, there was the newsreel.
From the late 1920s to the mid-1960s, the major American sound newsreel companies filmed just about any person, thing or event they thought might attract an audience—including the early stars of aviation. Newsreels like Fox Movietone News, Pathé News, and Hearst Metrotone News were important sources of information for millions of people, and the main way that most Americans learned about rapid advances in the world of flight.
The newsreels typically appeared twice a week at the local movie palace, averaged nine minutes in length, and featured up to a dozen stories, which were then packaged together with cartoons and feature films. Today these mini-documentaries provide a unique window on aviation's past, in glorious black and white.
Despite the number of companies that produced newsreels, today only one series— the Universal Newsreel—is accessible for review and royalty-free use at the National Archives and Records Administration (NARA) facility in College Park, Maryland. Overall, this treasure trove of 35-millimeter celluloid includes more than 14,800 motion picture film reels.
Regrettably, these old newsreels usually don't have sound. They were filmed in the era of talkies, but the custom at the time was to destroy the narration and music tracks (which were on film stock containing silver) to recover the silver soon after a story was released. While the company usually kept a couple of release prints with the complete audio track for reference purposes, few of them survive today. As a result, the Universal Newsreel stories held at the National Archives that were filmed prior to the mid-1950's are usually silent and missing the golden-toned narration of Graham McNamee, and later, Ed Herlihy (hear Herlihy's narration of a 1963 newsreel story about a Titan missile launch).
Stand by, though….
After extensive digging in NARA's files, I was able to find original, as-recorded narration scripts for most of the aviation-related Universal stories produced in what to me is one of the most intriguing periods of aeronautical history, the span from 1930 to 1931. Information on the five newsreel stories presented here came from catalog cards, related paper documents, microfilm records, and a review of all 186 of the surviving 1930-1931 aviation-related news stories. They are representative of the kinds of human interest stories that Universal producers believed would draw paying customers. Not all would be considered newsworthy today.
About the video captions: After each story's title and before the script is a summary of the story line based on the Universal Newspaper Newsreel Synopsis Sheets. These single-page flyers were sent to movie houses to inform theater managers of what was coming in the next Universal release.
Roll film!
(Play the videos above for a sampling of Universal newsreel stories from 1930-31).
Phil Stewart is an award-winning author of six motion picture-related reference books. His most recent is Aerial Aces of the Universal Newsreel: A Researcher's Guide to the Aviation Stories Released Nationally by the Universal Pictures Company, 1929-1931. He can be reached through his website at www.pwstewart.com or via email at [email protected].