"Re-Blued" at the U.S. Air Force Academy
A quick, inspiring visit to the Academy's campus in Colorado Springs
The final stop on my family's western vacation this summer was the U.S. Air Force Academy (USAFA) in Colorado Springs, Colorado, where we stayed a night before my wife, Margaret, and my kids, Ian and Eve, headed back to Miami. I was prepping to report for another week of Reserve duty at Buckley AFB near Denver—my new assignment.
Unlike the stately brick edifices of the 19th-century U.S. Naval Academy (located in Ian's hometown of Annapolis, Maryland), the U.S. Military Academy at West Point, New York, or the U.S. Coast Guard Academy in New London, Connecticut, USAFA is a 20th-century chrome-and-glass tribute to modernity. The severe beauty of its famous silver chapel, designed by Walter Netsch, was meant to suggest both the skin of aircraft and the Colorado mountain peaks that provide a dramatic backdrop.
After you pass through one of USAFA's gates, there are miles of winding roads through 18,500 acres of forests. There's a walking trail from the visitors' center and gift shop that takes you to the chapel and "Cadet Area," as the many signs on the facility call it, which is a small part of the overall expanse. As we walked, we noticed plaques; I expected tributes to Jimmy Doolittle, Robin Olds, or other aviation luminaries, but instead they noted the environmental diversity of the academy grounds, including the many species of wild animals there.
The chapel and surrounding terrace is raised above the "Terrazzo," the vast area between the academic buildings and dormitories. Fourth Class Cadets (Freshmen) can only use the Terrazzo's square paths—moving at right angles to get to where they need to go—and must greet any upperclassmen, who are free to walk at any angle. We watched the drama play out. Ian and Eve watched intently. I loved the opportunity for them to imagine being down there—or anywhere that requires goal-setting—in their fast-approaching young adult lives.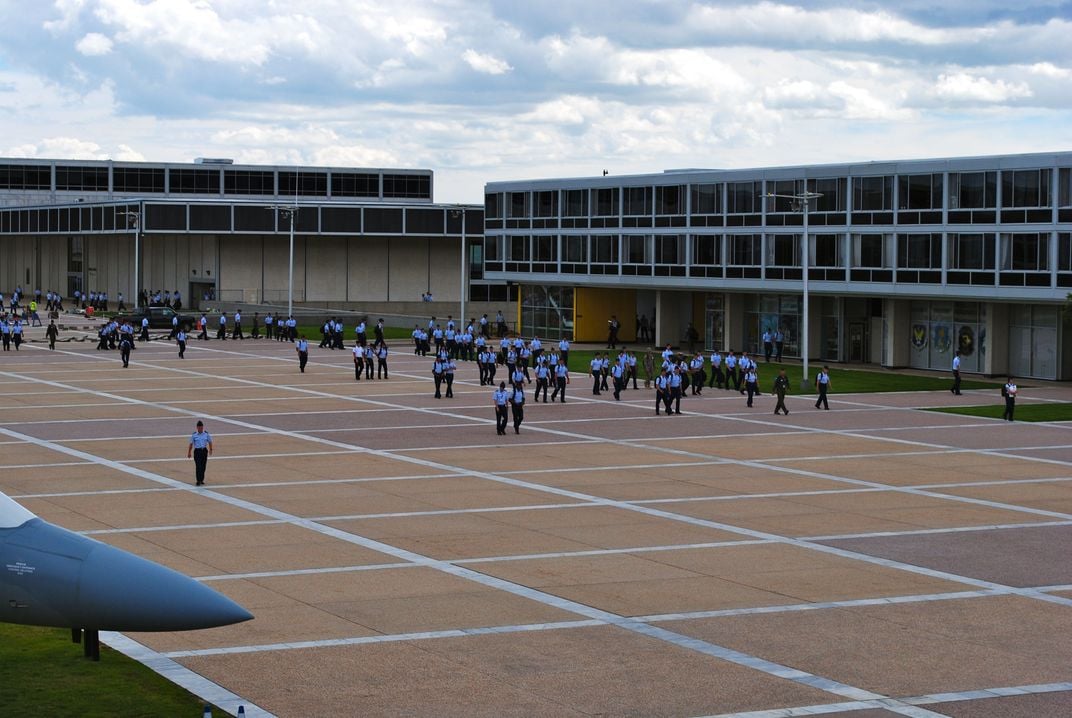 I told the kids about my last visit to the Academy, in 2002 for an Air Force Security Forces conference. I was a young squadron commander, there with my senior enlisted operations chief. We were watching the incoming class, still in civilian clothes and about to embark on six weeks of pre-Fourth Class basic training. A thick-accented and distraught couple, who I soon learned had emigrated from India, asked me how they could find their daughter on the Terrazzo. I'm not an Academy grad, so I did the best I could to explain what was happening. And I assured them we'd find her.
Their panic had unfocused them; I suggested they start with the first formation, and work their way through the ranks. I watched their eyes, peering desperately from cadet to cadet. Suddenly, the mom's face melted—she'd spotted her. Soon their daughter passed below, marching with her new cadet squadron. I asked them her name—I wish I could remember it. Her teary-eyed parents and I shouted encouragement, even as the daughter proceeded ramrod straight, unable to break her military bearing to respond. These immigrant parents were entrusting a priceless gift to their new country. It was perhaps the most uniquely American moment I've ever experienced, and I got a bit lumpy in the throat as I retold the story to my family.
We walked around Arnold Hall, the student center, then headed back to the visitors' center and drove back to Denver. On Friday morning my family departed, and I donned the uniform again to head to Peterson AFB in Colorado Springs for the retirement of a good friend, USAFA alum Colonel Tarn Abell. I'm an unabashed community college and state university liberal arts grad, who spent two semesters living in a fraternity house. A fun year, but it earned me a free fall from the Dean's List to academic probation. By contrast, Tarn's career was recounted at his retirement, which included all four years on the highly coveted Superintendent's list, awarded for both academic and military achievement, even as he earned a grueling astronautical engineering degree. Also noted was his excellence as a hand-picked C-5 aircraft commander who spiraled his Galaxy into Baghdad during some of the conflict's first resupply missions. I felt "re-blued"—Air Force shorthand for an experience that inspires and energizes you.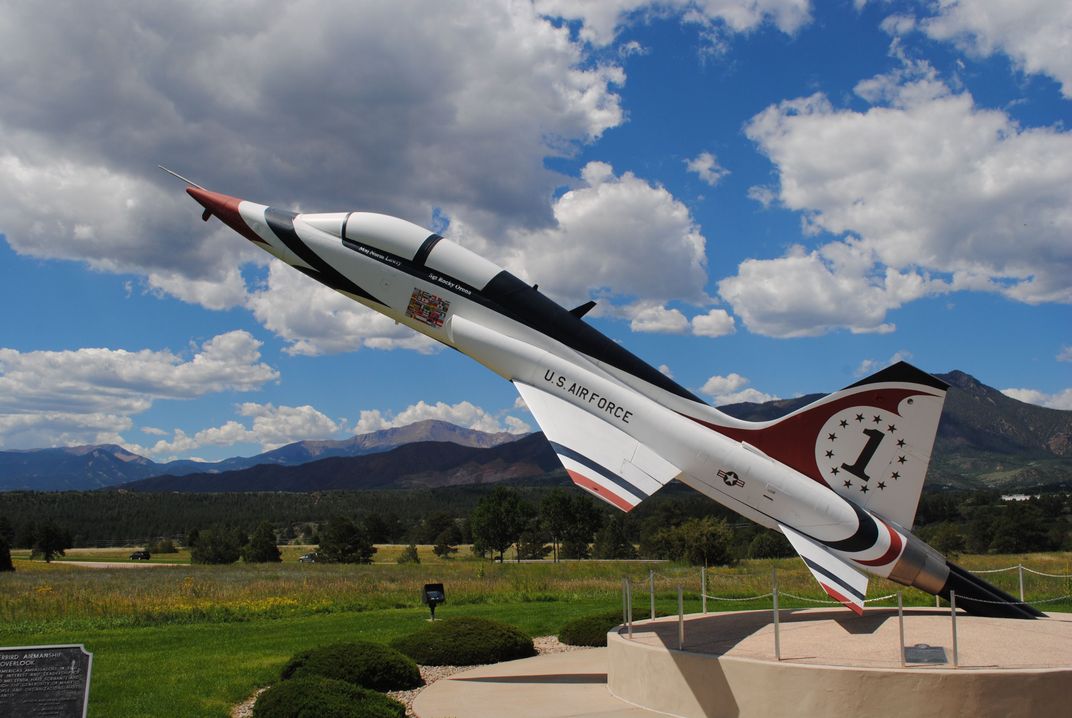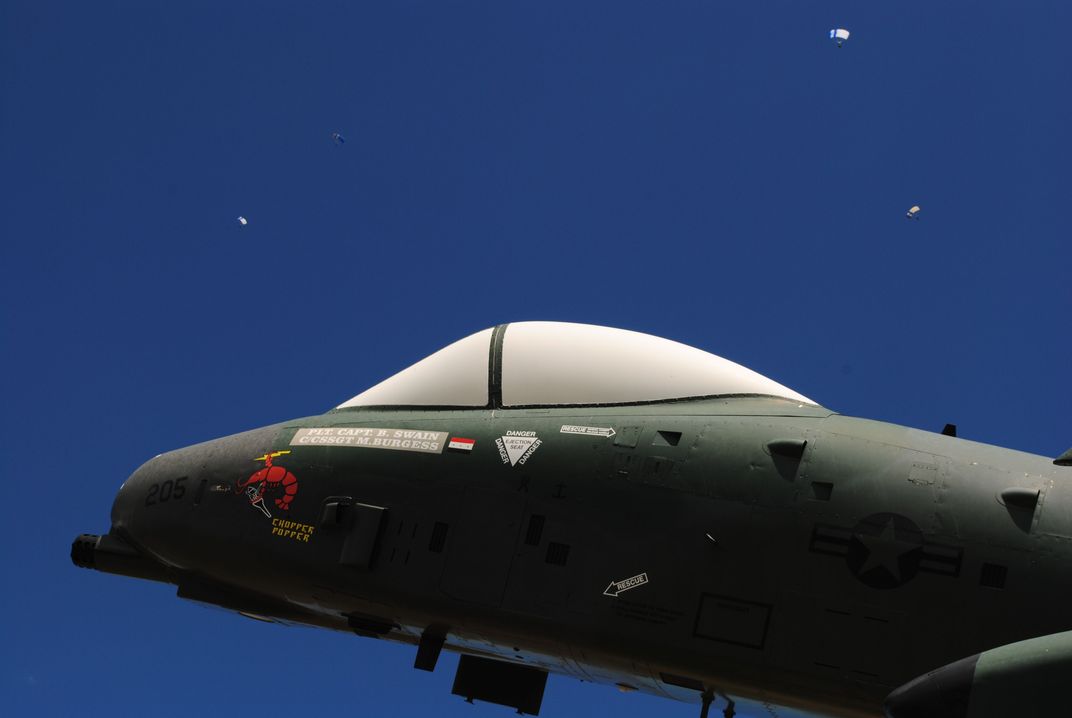 I stayed one more night, this time solo, at the Academy. On Saturday morning, I headed to the Thunderbird Overlook, which allows a great view of USAFA's airfield, the most active Visual Flight Rules aerodrome in the Air Force. Here, a constant procession of yellow tow aircraft drag TG-16s and other types of gliders aloft. About 360 cadets participate in basic soaring training every year, and about 60 advance to earn their instructor pilot certification. Some of USAFA's three UV-18B jump planes were dropping cadets in steerable canopies. I watched dozens of cadets land in the grass fields next to the runways. There are two static displays here—the "Chopper Popper," the Reserve A-10 flown by USAFA grad Captain Robert R. Swain, which scored the first Warthog air-to-air kill when it downed an Iraqi helicopter during Desert Storm, and a T-38 painted in Thunderbird Air Demonstration Team colors. 
If you're traveling near Colorado Springs, take the time to visit the Academy. You'll be moved by your cadets, moving silently across the Terrazzo and toward their Air Force careers.