Poster Boys (and Girls)
Astronauts show a lighter side in their unofficial crew posters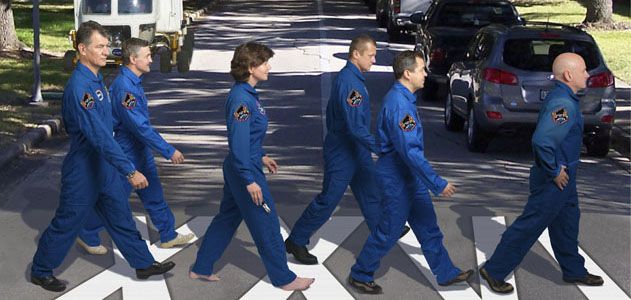 When you think of astronauts, several descriptions come to mind: Brave. Intelligent. Heroic. Probably not "humorous." But once you've taken a look at their crew posters, you may change your mind.

Shuttle and space station crews customarily take a series of photographs near the end of their pre-mission training, all shot on the same day. There's a group photo, individual photos, family shots, and pictures taken with co-workers, foreign aides, and the crew secretary. But the last 15 minutes of the photo shoot are set aside for what has come to be known as a "fun photo." Over time, the fun photo has transformed into a parody, due to the efforts of one man, Sean Collins, the graphics technical lead at NASA's Johnson Space Center.

The Space Station Expedition 26 poster (above) is typical of Collins' meticulous work. Having decided it should parody The Beatles' "Abbey Road" album cover, he contacted EMI Music in England to ask about the original photo. Unfortunately, Iain Macmillan, who had done the Abbey Road shoot, died in 2006, and it wasn't clear who retained the copyright to the image. "So I went over to Building One at Johnson Space Center," says Collins, "and talked the guard into blocking off traffic. That street was the closest thing I could find that looked like Abbey Road." In place of the white Volkswagen in the Beatles' original, Collins inserted a lunar electric rover, and he changed the crosswalk to the Roman numerals 26.

Then he posed the astronauts, with careful attention to posture and hand placement. From left to right are European astronaut Paolo Nespoli and Russian cosmonaut Alexander Kaleri as "George Harrison"; Cady Coleman as "Paul McCartney" ("Cady was a real good sport," says Collins. "She took her shoes off and said 'Can you fix my toenail polish? It's chipped on one side.' Instead of a cigarette, I had her hold a shuttle pin that I had in my office."); Dmitry Kondratyev and Oleg Skripochka as "Ringo Starr"; and station commander Scott Kelly as "John Lennon."

See more crew posters below, and learn how the tradition started.
Think Safety: STS-98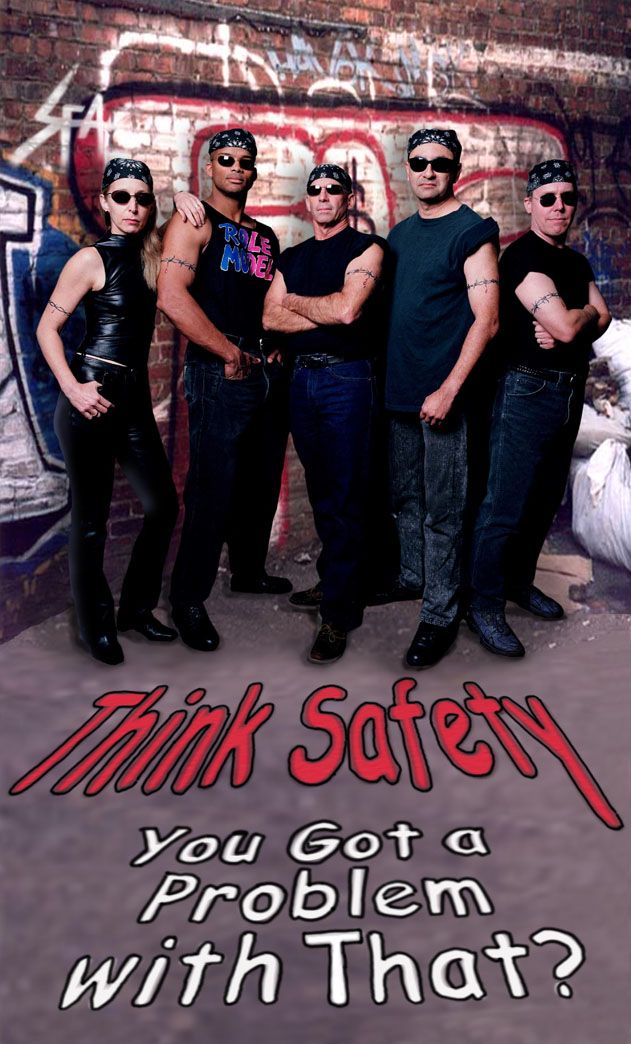 Collins' 2001 creation for the STS-98 shuttle crew began the "fun poster" tradition. The crew had been asked to make a safety poster for the space shuttle work force, and astronaut Marsha Ivins decided to think outside the box. "It was Marsha's idea for the crew to wear leather," says Collins, "and she asked me to paint barbed-wire tattoos on everyone." While the image was shot against a plain background, Collins searched the Internet for graffiti ("making sure there weren't cuss words in it"), and added the trash bags. "All of a sudden, everybody's loving it, and ordering extra prints," he says. "The original run was probably 200, and we wound up printing something like 10,000 copies. And then the policy came out—no more 'joke' posters. Maybe they were afraid it made the astronauts look bad. But then that policy went away because the poster was so popular."

From left to right are STS-98 crewmembers Marsha Ivins, Robert Curbeam, Ken Cockrell, Mark Polansky, and Tom Jones.
The Matrix: Expedition 16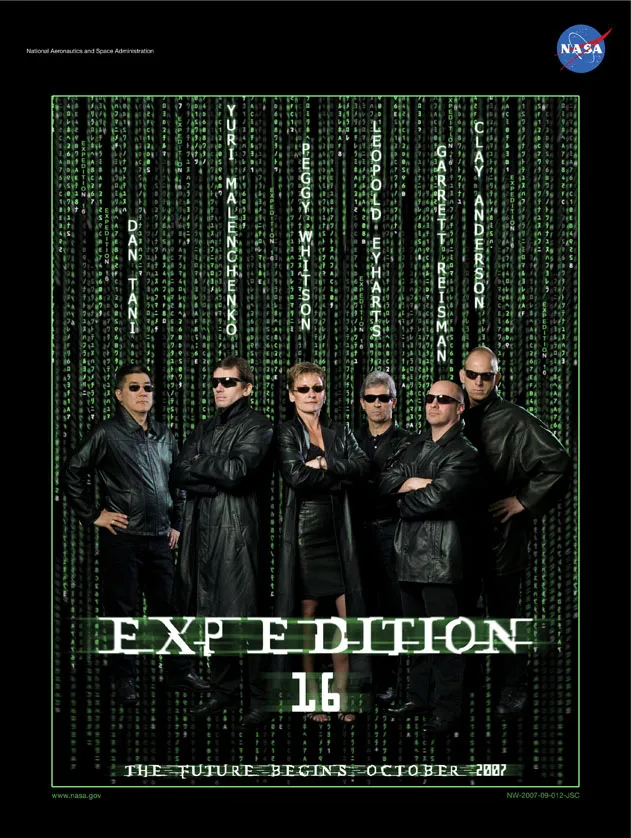 The members of space station Expedition 16 asked Collins to come up with a similar "tough" look for their fun poster in 2007. Once they donned dark glasses, Collins had an inspiration: "I told them they looked like the Matrix cast." He pulled up on his computer the green background used in the 2003 film Matrix Reloaded, and showed the crew how it would look. "They loved it," says Collins, "and they showed it to Space Flight Awareness [the department that approves all astronaut images]. They loved it, and so the SFA parody movie posters began, and have been a big hit ever since."

From left to right: Dan Tani, Russian cosmonaut Yuri Malenchenko, Peggy Whitson, ESA astronaut Léopold Eyharts, Garrett Reisman and Clay Anderson.
Harry Potter: STS-124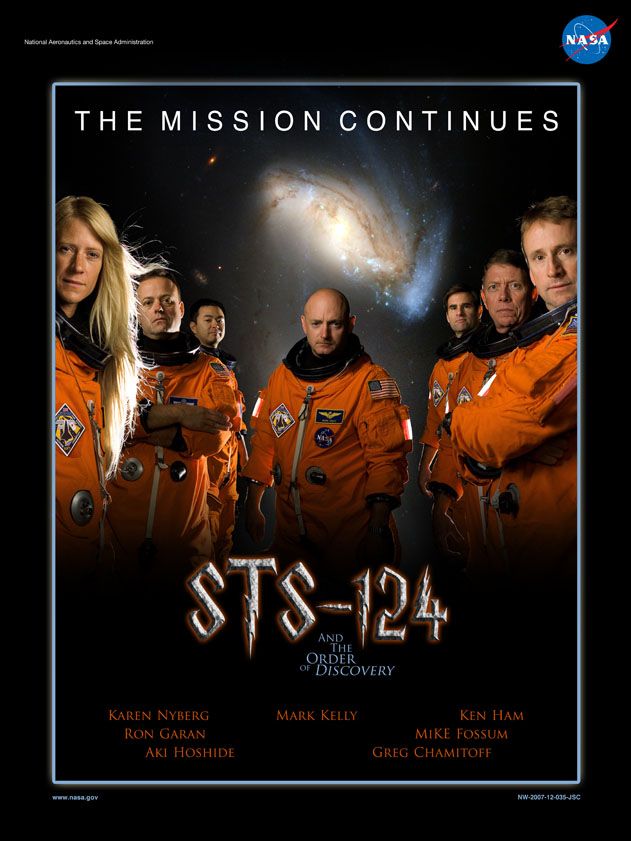 For the crew of STS-124 (Discovery, May 2008), Collins chose to parody Harry Potter and the Order of the Phoenix. He had to change the cast order slightly: "[Astronaut] Karen Nyberg was originally on the right, like Hermione Granger, but her hair just wouldn't blow right. I held a fan on it, but because of the way her part was, it just kept covering her face. So I had to switch her." Commander Mark Kelly "really got into it. He was doing the Harry Potter pose," says Collins.

The artist's eye for detail extends even to the fonts used on the posters: "The font was just a free font that I downloaded, but it was similar to the Harry Potter font. We are under the rules of the Communications Materials Review board at headquarters, and I'm the bad boy, always going against [the rules]," he explains. "Now they're used to me. 'Here's Sean again, using a weird font.'"

From left to right: Karen Nyberg, Ron Garan, Japanese astronaut Akihiko Hoshide, Mark Kelly, Greg Chamitoff, Mike Fossum, and Ken Ham.
Indiana Jones: STS-119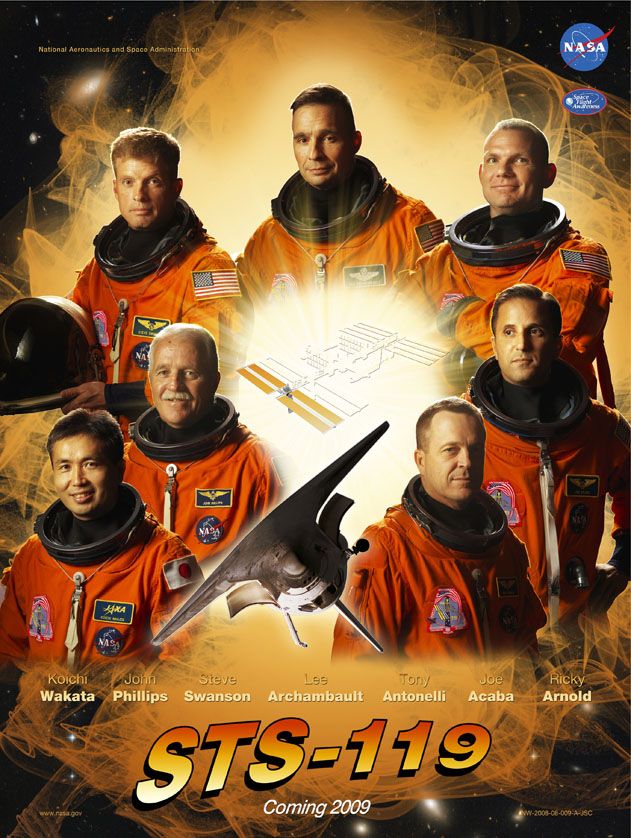 The other members of Collins' graphics team get to design posters as well. Amy Gish, a former contractor at Johnson who is finishing her graduate degree in speech-language pathology, designed this 2009 parody for the crew of STS-119. The 2008 blockbuster Indiana Jones and the Kingdom of the Crystal Skull was her inspiration. "The original design of the Indiana Jones poster showed the characters in different sizes," says Gish, "but it was important to the crew that nobody be singled out. They all wanted to be part of the team, so they all wanted to be the same size. So it kind of got away from the original poster design."
Clockwise from lower left: Japanese astronaut Koichi Wakata, John Phillips, Steve Swanson, Lee Archambault, Tony Antonelli, Joe Acaba, and Ricky Arnold.
Ocean's 12: STS-125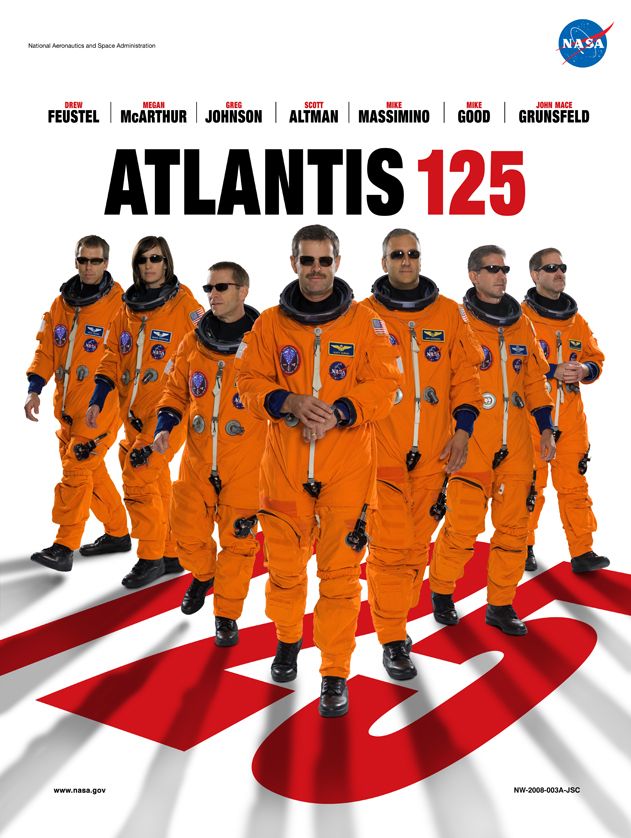 Trying to find a design for the seven crewmembers of STS-125 led Sean Collins to think of the 2004 comedy Ocean's 12. "I thought, I could make the 12 into a 125," he says, "and I could do the shadows. And I had Commander Scott Altman checking his watch, just like the lead character, George Clooney. And Mike Massimino is awesome—he kept saying 'I wanna be Brad Pitt! I wanna be Brad Pitt!' " It's a benefit if the crewmembers are interested in the parody. "Think about it," says Collins. "They're not actors, they're not models, they're just regular Joes that you've got to make look cool."

Looking stylish from left to right: Drew Feustel, Megan McArthur, Greg Johnson, Scott Altman, Mike Massimino, Michael Good, and John Grunsfeld.
Star Trek: Expedition 21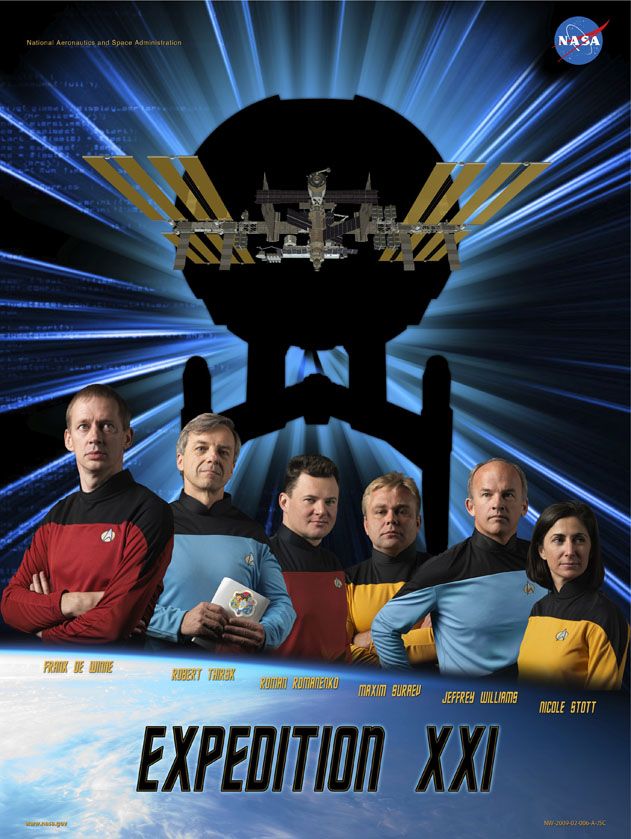 Occasionally ideas are suggested by a crewmember. "Frank De Winne [of space station Expedition 21] said he wanted to take the pictures in 'Star Trek' shirts," says Collins. While Collins got permission from Paramount Pictures to use the silhouette of the Enterprise in the background, he was unprepared for the Wrath of the Trekkies. "They said that particular Enterprise wouldn't go with those suits," he recalls. "They also said, 'NASA's got so much money, they could have gotten some non-cheesy suits.' I had only red and yellow shirts, so I took two of them and colorized them blue—and then the Trekkies said it wasn't the right color blue." And while he went to the effort of downloading a "Star Trek" font, "it was a newer 'Star Trek' font used in the new movies, not the old 'Star Trek' series—as was pointed out to me by a Trekkie," Collins sighs.

Going where no one has gone before, from left to right: European astronaut Frank De Winne, Canadian astronaut Robert Thirsk, Russian cosmonauts Roman Romanenko and Maxim Suraev, Jeff Williams and Nicole Stott.
Reservoir Dogs: Expedition 23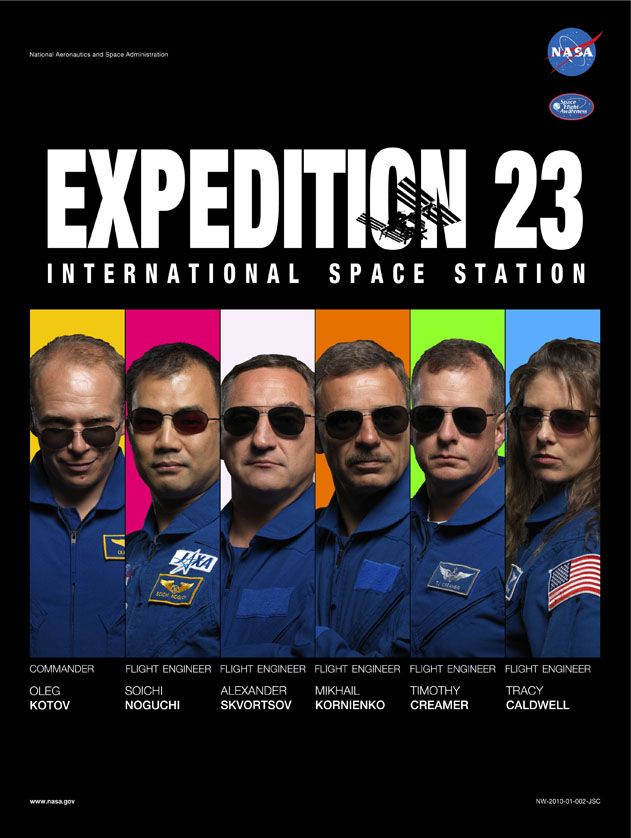 Designer Amy Gish was inspired by the 10-year anniversary edition of Reservoir Dogs when she created the Expedition 23 crew poster. "I wanted a design that was fluid, so I would be able to switch out crewmembers if needed," she explains.

Gish remembers her time at NASA with great fondness: "I worked with some amazing artists," she says. "It was an amazingly positive experience. And it was fun—I got to color all day; you can't complain about that!"

From left to right: Russian cosmonaut Oleg Kotov, Japanese astronaut Soichi Noguchi, Russian cosmonauts Alexander Skvortsov and Mikhail Kornienko, Timothy Creamer and Tracy Caldwell.
Armageddon: STS-131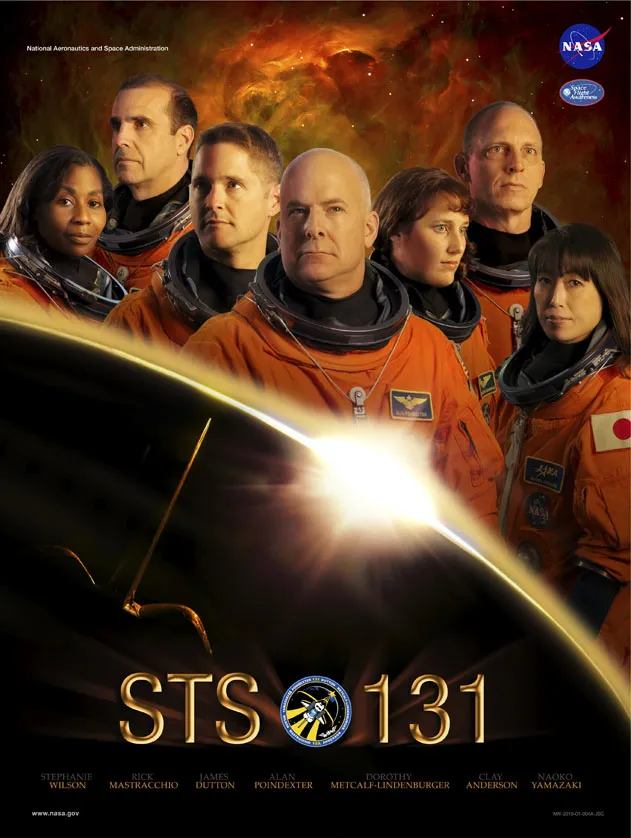 Who knew STS-131 commander Alan Poindexter would make such a good Bruce Willis? The 1998 action film Armageddon inspired graphic artist Cindy Bush to design the STS-131 crew poster in April 2010.

From left to right: Stephanie Wilson, Rick Mastracchio, Jim Dutton, Poindexter, Dorothy Metcalf-Lindenburger, Clay Anderson, and Japanese astronaut Naoko Yamazaki.
Astros: STS-132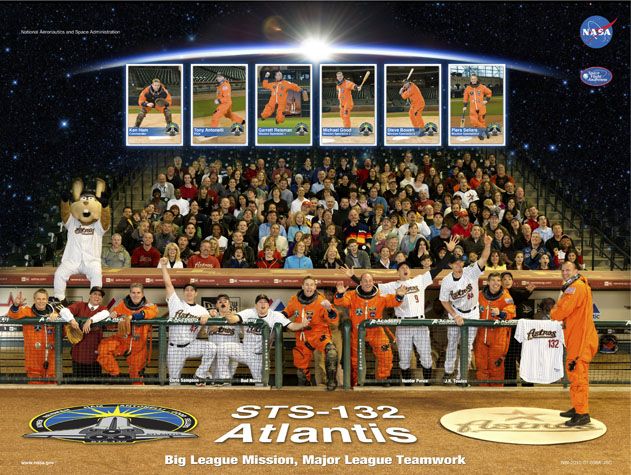 STS-132 commander Ken Ham came up with the concept for his crew's poster. (Click here for a larger, high-resolution version.) "He had some friends out at Minute Maid Park [in Houston]," recalls Collins. "The Astros people were really helpful, and gave us full run of the park. It was our first off-site photo shoot." Collins filled the stands with family, co-workers, and the crew's support teams. He remembers the day of the photo shoot as stormy; not enough people showed up to populate the stands, so he had to Photoshop in additional crowd members later. "Some real Astros were there," he says, "and the mascot was there in costume. He also came in ahead of time, so we took a picture of him in regular clothes. He's in the photo as the mascot, and as himself, sitting right next to him." The crew is shown in the dugout, and at the top of the poster as baseball cards. Note that Piers Sellers holds a cricket bat, in a nod to his British heritage. You can see graphic designer Sean Collins (black sweater, beard) in the middle of the stands.

Shown in the dugout, left to right: Piers Sellers, Michael Good, Ken Ham, Garrett Reisman, Steve Bowen, and Tony Antonelli.
Star Trek: STS-134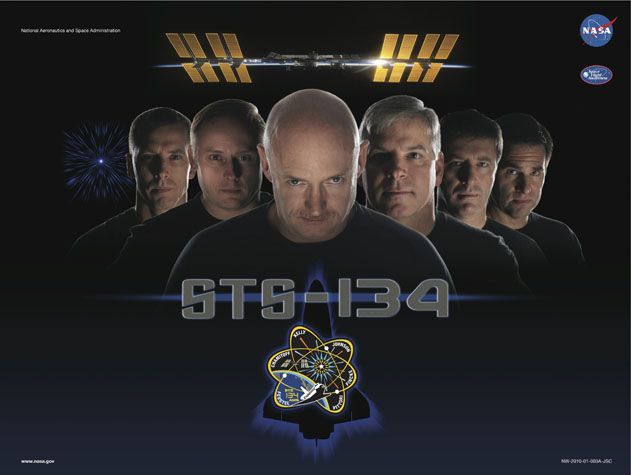 Despite his experience with the Trekkies, Collins decided to use another "Star Trek" theme for the crew of STS-134, using the 2009 movie as his inspiration. The starburst on the left represents the Alpha Magnetic Spectrometer, which was mounted on the International Space Station by the crew of STS-134.

From left to right: Drew Feustel ("Scotty"), Mike Fincke ("Bones"), Mark Kelly ("Captain Kirk"), Greg Johnson ("Spock"), European astronaut Robert Vittori ("Sulu"), and Greg Chamitoff ("Chekov").
Tron: Expedition 29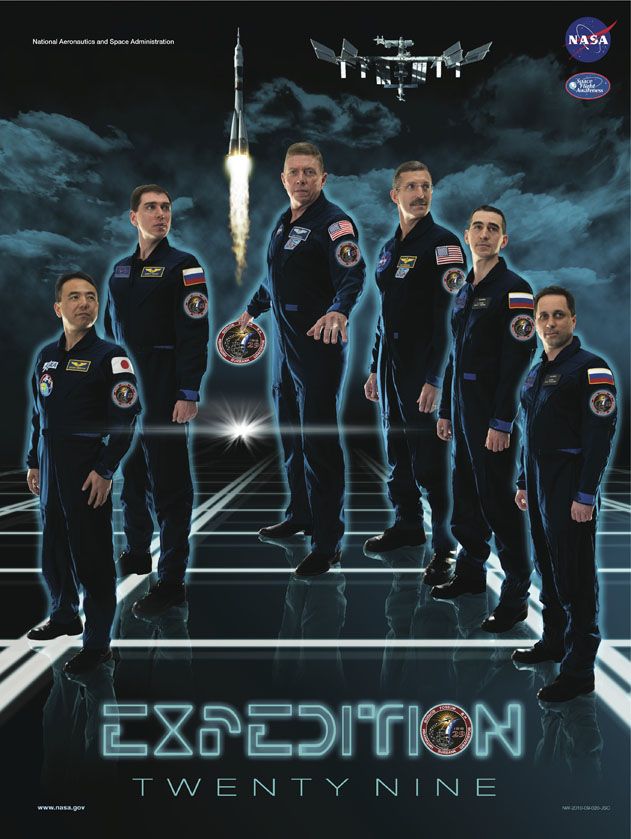 Expedition 29 is scheduled to head to the International Space Station in September 2011, launching from the Baikonur Cosmodrome in Kazakhstan. Collins used an international version of the movie poster of the film Tron: Legacy for this parody. From left to right: Japanese astronaut Satoshi Furukawa, Russian cosmonaut Sergei Volkov, Mike Fossum, Dan Burbank, and Russian cosmonauts Anatoly Ivanishin and Anton Shkaplerov.

What's next for Collins? He's already thinking about a parody for Expedition 30, scheduled to head for the ISS in December. He's going to use the 2011 film Pirates of the Caribbean: On Stranger Tides, and title the parody "Pilots Over the Caribbean." "Oh, yeah," he says, "I'm going to get in there and 'pirate-ize' them. Get ready for eyeliner and pits."

Want more? Here are all the crew posters produced by the artists and photographers of NASA's Space Flight Awareness division.