Popularity Contest
Which one of six past champions would have gotten your vote?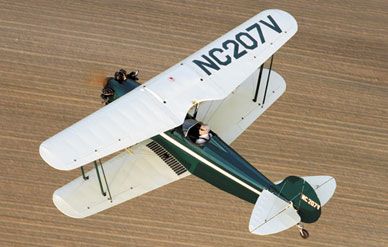 [Update: The tallies are in. Chuck Greenhill's 1939 Grumman Duck Oshkosh) took first in our online poll, followed by the 1939 Spartan Executive and the Duck. See below for details on all the worthy contenders.]
Any visitor to an aviation museum has probably had the same experience. Mine took place many years ago at the Air Mobility Command Museum at Dover Air Force Base in Delaware, when I stood in front of a Douglas C-47, the military version of the DC-3. A curator told me its story: It had dropped paratroopers into France on the first night of the 1944 Normandy invasion and resupplied them in the days following. It was one of the first airplanes enlisted to deliver food to Berliners when the Soviets blockaded their city in 1949. It flew for a few years Stateside doing this and that. In its last job, it suffered the abuse of student pilots in CH-54 helicopters: More than a few dropped it trying to learn to lift it. Though it had survived D-Day and the Berlin Airlift, it was in a sorry state, the museum curator told me, when his restoration team got it. But there it was, chin lifted in that stance DC-3s are famous for, restored and exquisite in its olive drab paint and black-and-white invasion stripes. And even though I told myself that what I was looking at was merely a collection of aluminum sheets riveted together (into an admittedly very pleasing shape), I felt elated that it had "survived." What's more, I thought it looked "valiant," and a man standing next to me thought so too. He added "proud."
We're nuts, of course, but so what? Why not lay on these objects the human emotions of struggles and triumphs? They help us understand history, and, maybe more important, feel it.
Nothing celebrates the emotional power of airplanes more enthusiastically than the People's Choice competition of the National Aviation Heritage Invitational, created by Rolls-Royce Vice President Ken Perich. For 10 years, Rolls-Royce North America Inc., the Smithsonian Institution's National Air and Space Museum, the National Aviation Hall of Fame, and the Reno Air Racing Foundation have sponsored a competition for aircraft owners who restore vintage airplanes to encourage the preservation of aviation history. Trophies are given in several categories for the most historically accurate restoration. But one trophy—the People's Choice—rewards charisma. What earns the votes is almost always the airplane's story.
This summer at the Experimental Aircraft Association's Oshkosh, Wisconsin fly-in, six past champions are vying for the hearts and votes of aviation fans in what the Rolls-Royce team calls the "National Aviation Hall of Fame Best of the Best."
These are their stories.
Celebrity - Lockheed P-38 Lightning
If trophies were awarded for fame, the winner would surely be Glacier Girl, a Lockheed P-38 that has been drawing crowds at airshows for the past five years. Just about everyone knows the story of the airplane's 1942 emergency landing in Greenland, its burial under 260 feet of ice, its miraculous 1992 rescue, and its award-winning restoration (see "Glacier Girl," Feb./Mar. 2004), crowned by the completion of its mission: a flight to England begun 65 years earlier.
Glacier Girl is a P-38F, the third revision of the fighter that Kelly Johnson and his team continued to improve throughout the war. Despite being heavier than earlier models, it was also a little faster, able to reach 395 mph. (Later models of the Lightning pushed past 400 mph in level flight, the first U.S. fighters able to do so.) Though no Luftwaffe pilot was ever happy to see a P-38, the fighter's reputation was made in the Pacific, where pilots like highest-scoring U.S. ace Richard Bong bested Japanese Zeros.
The Lightning is sometimes overshadowed by the Mustang to which it handed off the job of escorting bombers to Germany. But though the North American P-51 is considered by many the more capable fighter, the odd-looking P-38 somehow has more panache.
When owner Rod Lewis, president of the Lewis Energy Group in San Antonio, Texas, bought the famous fighter last year, he was committed to the costly transatlantic flight. "Mainly I'm interested in preserving the heritage and history," he says. (Lewis owns seven other warbirds, including Rare Bear, a Grumman F8F Bearcat racer and record holder.)
And Glacier Girl's future? "We plan on attending a few airshows a year," says Lewis, "and people can see her in San Antonio. We're not going to cover her up." Good news for an airplane that spent 50 years under ice.
History - Grumman J2F-4 Duck
Every airplane competing for the National Aviation Hall of Fame People's Choice award has a claim to history, but the only one to have had a ringside seat at an event that changed the world is Chuck Greenhill's Duck. On December 7, 1941, the Grumman J2F-4 was serving with U.S. Navy utility squadron VJ-1, stationed at Pearl Harbor, when the Japanese bombed Ford Island. Undamaged by the attack, the Duck and other squadron aircraft took off that day to search for the Japanese fleet. The morning after, the J2F-4 returned to doing what it had always done for the Navy: a little bit of everything. Ducks transported officers, searched for and rescued downed airmen, flew photo missions, even dropped bombs now and then, but they won little glory for their trouble. (When you hear "Grumman" and "World War II," your next thought is Hellcat, Bearcat, or Wildcat — not Duck.) Greenhill, the president of Smalley Steel Ring Company in Lake Zurich, Illinois, owns three other Grummans, two Goose and an Albatross, and has owned a Widgeon. "I just love old seaplanes," he says. "It's the freedom of just going anywhere, of being away from the airport environment. Sometimes," he continues, "I go down to the hangar and walk around. I just love looking at them."
Courage - 1943 Piper L-4 Grasshopper
In 2005, the National Aviation Heritage judges gave June and Colin Powers top honors, a reward for three years of painstaking work on their little liaison craft, the military version of a Piper Cub. The restoration was accurate right down to the alpha-numeric codes that manufacturers stenciled on airplanes bound for World War II service. (The codes identified the manufacturer and other details to expedite repairs.) "My goal was to make it as best I could a museum-quality restoration," says Colin Powers. In fact, sometime after the Oshkosh fly-in, the airplane is indeed headed for a museum: the Evergreen Air Museum in McMinnville, Oregon, where Powers is now the director of restoration.
Although Powers was gratified by the judges' recognition, what sticks in his memory from that weekend at the Dayton airshow was another moment: meeting Carol Apacki, the daughter of an L-4 pilot, and putting her in the cockpit.
"The thing that most impressed me is the courage of the pilots who flew [liaison craft] in World War II," says Powers. During the war, pilot-observer pairs in L-4s and Stinson L-5s would scout frontlines in order to direct Army artillery fire and report enemy movements. "No armor, no arms. I came to respect those people," says Powers. (Spotter aircraft were frequently shot up by German fighters and ground fire, and if you've ever flown in the 75-mph Cub, you can imagine being out there in the breeze with a couple of Messerschmitts bearing down on you.) Powers was especially respectful of one pilot, Major Charles Carpenter, who bucked regulations to equip his L-4H with bazookas and took out half a dozen German tanks. "Bazooka Charlie" won an air medal, became famous, got promoted to lieutenant colonel, survived the war, and returned to teaching in Urbana, Illinois. He died in 1966.
His daughter, Carol Carpenter Apacki, had seen photos of the airplane her dad had loaded for bear, but had never seen the real thing — until she sat in the cockpit of June and Colin Powers' L-4. "It just seemed like a toy. I thought, How could somebody be flying this in a war? Before I never really got what all the fuss was about, how vulnerable he was."
Fun - 1927 Waco 10T
My favorite story about the Weaver Aircraft Company, which gave the name "Waco" to its 1920s biplanes, takes place in 1927, after the company had become the Advance Aircraft Company and moved to Troy, Ohio. The Air Commerce Department had issued the first structural standards that aircraft were required to meet in order to gain an Airplane Type Certificate. By that time, the Waco 9 had won several cross-country races, carried hundreds of passengers, and made some money for its designers, Clayton Bruckner and Elwood Junkin. But Bruckner and Junkin weren't trained as engineers, and when the government required that an aircraft withstand stress equal to 6.5 times its own weight, they got worried. What if their airplane could not? As it turns out, the Waco 9 tested by the U.S. Army in 1927 stood up to loads 7.5 times its weight, and subsequently the good old common sense of Bruckner and Junkin brought forth such hearty designs as the Waco UPF-7, which the Army bought as a basic trainer, and the estimable Waco 10T.
"It's very responsive, very quick on the controls because of the taper[ed] wing," says owner Alan Hoeweler, who runs a business with his father and brother in their hometown, Cincinnati, Ohio. Hoeweler likes Wacos because he likes history, especially local history, and the fact that his Wacos (he also owns a UPF-7) are homegrown, so to speak, suits him. They represent a transition in American aviation, he says, between the delicate, wire-braced oddities of the Wright brothers and the mass produced monoplanes of the 1940s. And Hoeweler is just the customer that Wacos were designed for: He flies not for a profession but for fun.
Elegance - 1939 Spartan Executive
Kent and Sandy Blankenburg admit right away that they bought their airplane because of its looks. "It has the best Art Deco lines of any airplane flying," Kent says. The Spartan Executive is a luxury model, a 200-mph sedan manufactured in 1939 by a company begun by an oil tycoon with a product targeted at a niche market: other oil tycoons. Blankenburg's Spartan spent part of its career in the corporate fleet of the Texas Fuel Company, known today as Texaco.
The Spartan Aircraft Company, founded in Tulsa, Oklahoma, amid the wealth from oil reserves that created Gulf, Standard, and Sinclair oil companies among others, was acquired in 1935 by oilman J. Paul Getty. Six years later, when the United States entered the war, Getty tried to enlist in the Navy but was asked to instead manage production at his new airplane factory, which he steered toward the manufacture of parts for the warplanes built by other companies.
The Blankenburgs' aircraft did its part in the war effort on the homefront: It flew for the Royal Air Force, which had a number of training bases in the United States. And it participated in an advertising campaign to urge private pilots to loan their airplanes for government use. In one print ad, actress Betty Grable stands on the wing of the Blankenburgs' Spartan, urging aircraft owners to help Uncle Sam. The Spartan and the glamour girl seem made for each other.
Evocative of the 1930s embrace of the Modern, the Spartan Executive has inspired the Blankenburgs to surround it with fashions of the time. In their hangar home at Pine Mountain Lake Airport in California, 180 mannequins dressed in period clothing surround the airplane. "We get accused of being a museum, and we take that as a compliment," Kent Blankenburg says. Although the airplane had no need for a major restoration when the Blankenburgs acquired it — for more than half of its life, the Executive, like many luxury automobiles, had had one owner who treated it well — the Blankenburgs had the interior reupholstered in leather and the fuselage stripes repainted in a tasteful Texaco green. The airplane, says Kent Blankenburg, flies like a champion and is an exemplar of the exquisite workmanship and sophisticated design that the American heartland was capable of in the 1930s.
Explaining why Betty Grable was a favorite pin-up girl among GIs during World War II, biographer Doug Warren once made a statement that could also describe the 1939 Spartan Executive: "It was more than the sexy picture that enamored them of her," Warren wrote. "There was a magical wholesomeness and substance they saw beyond the curves of her figure."
Sport - 1930 Kreider-Reisner KR-21A
Becoming the owner of an extraordinary airplane from aviation's Golden Age is sometimes a matter of extraordinary luck. For his rare biplane, Pat McNerney owes his luck to Jack Tiffany's son Nicholas. "Nick is ate up with antique aviation," says Tiffany. "He finds most of our airplanes for us" — "us" being Leading Edge Aircraft in Spring Valley, Ohio: four airplane lovers who restore and eventually sell vintage aircraft. "We're not a business," says Tiffany. "We're more of a cult."
At the 1995 Oshkosh fly-in, when Nick was 16, he spotted flyers advertising an airplane his dad had long wished for: a 1930 Fairchild KR-21. Of 49 built, only 14 are still registered with the Federal Aviation Administration. The biplane started out as a sportier offering in the line of trainers built by the Kreider-Reisner Aircraft Company of Hagerstown, Maryland, which became part of Fairchild in 1929. Fairchild promotional materials of the time call the airplane "alert and sparkling" and say the Kreider-Reisner designers "were well 'fed up' with trying to wish a sluggish airplane over a line of trees." With a loaded weight of only 1,500 pounds and a 125-horsepower Kinner engine, the pretty little airplane can jump into the air and climb at 800 feet per minute.
Nicholas Tiffany wanted his dad to have a shot at the KR-21, so he removed all the flyers that owner Mike Butler had posted except one, which he presented to his father. Jack Tiffany bought the airplane and spent three years restoring it with his partners. The wings were the biggest challenge: They are tapered and no two ribs are alike. "Rib number 3 on the left side wouldn't fit on the right," he says.
McNerney had also looked at a Waco biplane, but the KR, he says, "is a little more delicate than the Waco, and the cockpit is huge. Compared to a Great Lakes [biplane trainer], it's like sitting in a hot tub."