To nail the air-to-air shot, pilot and photographer have to work together like, well, this pair
Pointer and Shooter.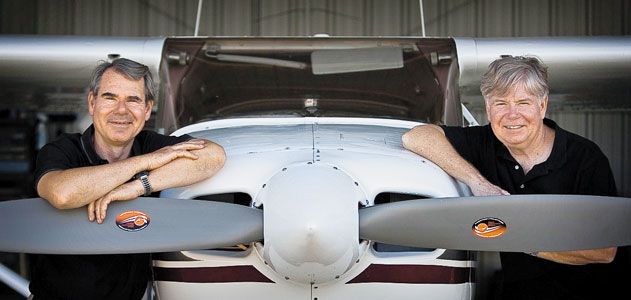 It is an unlikely morning for a sunrise photo shoot. A ghostly veil of fog hangs over Steve Wittman Regional Airport in Oshkosh, Wisconsin, leaching the brightest colors from the airplanes parked all around us at the Experimental Aircraft Association's annual AirVenture fly-in. But pilot Bruce Moore and EAA chief photographer Jim Koepnick are undeterred, and soon after Moore removes the Cessna 210's left rear door, the sky clears and we are trundling down runway 27 in formation with two Bücker aircraft: a white Jungmeister and a pale gray Jungmann, vintage aerobatic airplanes typical of the beauties that show up here every year. And every year, for the past 20, Moore and Koepnick have worked together to capture air-to-air portraits of the airplanes flown to Oshkosh—and to Lakeland, Florida, for the Sun 'n Fun Fly-in—for EAA's four membership magazines.
This morning, I fly along in the right front seat as safety pilot and observer, taking notes on the pair's teamwork and steady-Eddie style. Koepnick, with a safety harness around his waist and several cameras slung around his neck (he uses a digital single-lens reflex camera, most of the time with a 70- to 200-mm lens), sits in the open doorway of the baggage compartment. The opening offers him a chest-high window from which to survey the passing scene.
As we turn north, away from the airport and well clear of the area to the southwest where hundreds of airplanes stream into the traffic pattern all day long, Koepnick and Moore begin their working patter. Moore does most of the talking; he radios coded directions to the airplanes beside us and gives Koepnick a running commentary on upcoming scenery highlights. Their dialogue is cryptic, and sometimes it seems telepathic. Once Koepnick is absorbed by shooting, he says almost nothing.
"Gray Bücker, go to the rear," Moore says over the radio. The Jungmann slides out of the picture frame. "David, start a right turn." We are following aerobatic champion David Martin, who flew his Jungmeister in the airshow yesterday. The pilot-photographer pair know Martin; he is the only pilot Moore calls by name. All the rest of the flying subjects—five to seven a day—are addressed by their airplane types.
Moore directs, choreographs, suggests scenes, and puts the airplanes in the best light, while Koepnick shoots and shoots and shoots. Scanning the horizon, Moore says, "Cornfield coming up. Delta where the Fox River comes in. Sparklies on the water but the water's kind of dark." Cornfields and the sun's reflection on water make photogenic backdrops for airplane portraits; Moore constantly watches and advises.
"David, level off," he says. "That where you want him, Jim?"
"Yeah, we got…" Koepnick trails off.
"Straighten out, David. The photo plane has the lead," Moore says. The Jungmeister slips behind our left wing, and Martin flies formation on us. He is a pro, but most of the people who fly with Koepnick and Moore are amateur pilots who have built or restored some marvelous machine that the EAA editors want photographed and shared with the members. The editors scour the airfield for interesting airplanes and owners who will agree to be photographed, then give the names to Koepnick; Moore prepares the pilots for the flight.
Yesterday, I sat in on Moore's daily, hour-long pilot briefing. He is a longtime formation flying instructor and has been a guest instructor since 1996 at the U.S. Naval Test Pilot School in Patuxent River, Maryland. With military precision, he previews the flights and delivers the simple but critical basics of formation flying: Maintain eye contact with the photo plane at all times, match your wings to the leader's bank, do everything slowly and in small increments…
Since I used to fly formation aerobatics for a living, I know how much concentration, practice, and precision are required. When I learned that the Jungmann pilot had never flown formation, I had misgivings about the photo flight's success. Now in the air, I try not to take my eyes off the other airplanes.
Moore explains to me, "We watch how they are flying, very carefully, especially in the beginning. Then that is Jim's job for me. He is looking at them more than I am because, once I take the lead, I look for fields and backgrounds, where the sun comes from, and watch for traffic.
"A few times we've had problems," he continues, "and I got on the radio and said, 'Look, you've got to watch us all the time.' If the pilots truly can't fly formation, I will fly on them even though that means being in the lead position looking back, craning my head over my shoulder so Jim can get all the different shooting angles he wants."
Usually things go smoothly, but occasionally someone will fly a little carelessly, zigzagging too much, or not paying attention to the photo ship, like the man who refused to wear a radio headset because he wanted his portrait in his 1930s airplane to look authentic. During the flight with no-headset man, Koepnick said, "Bruce, he isn't looking at us." The man kept his head down, looking at some distraction in his cockpit instead of at the nearby photo plane. Without a headset, he could not hear an alarm call, so Moore added power and zoomed away to their next encounter.
While they are flying with one airplane, another one or two orbit above a pre-determined landmark. Moore's Cessna takes off with the first aircraft and spends about 20 minutes with that subject, then flies on to the next, a sequence that has been planned the day before. In the air, Koepnick shoots the airplanes from the rear, side, front, top, level, turning, backlit, sun on the cowl, prop a blur, above the nubby tree tops, over glittering water, in the curve of a shoreline. Then he says, "I'm all done here," and the two rendezvous with the next airplane, whose pilot by then will have radioed from the rendezvous point.
The operation is smooth and efficient, but it didn't start out that way. Koepnick was a reporter and photographer for the Oshkosh Northwestern before coming to the EAA in 1984. A couple of his AirVenture ground shots became Associated Press photos of the month, but he did not do aerial photography before joining the EAA. When he began, he flew with any pilot who would donate time and an airplane. The results varied with the pilots' experience and cooperativeness. When he tried to direct one pilot into the positions he needed for photographs, he was told, "You shoot the pictures and let me fly the airplane."
Moore, on the other hand, is not only a willing pilot but also a serious photographer. (One of Moore's photographs was exhibited for several years at the National Air and Space Museum.) The two met at Sun 'n Fun in 1991 and hit it off immediately.
After Martin and his friend in the Jungmann peel away, two American Champions—a red Decathlon and a black-and-white Citabria—take their place to our left. I recognize airshow pilot Greg Koontz in the Decathlon.
The photo area is busy now. "Debbie, watch for airplanes," Moore reminds me. Two P-38s slip by under us. Airshow pilot Greg Poe's MX-2 and his photo plane, a Bonanza, pass low to our left. Then we see a couple of Corsairs. "Must be the Warbird Digest guy," Koepnick says, then asks about the Champions, "Whose assignment is this?" Moore tells him it's for the EAA's Sport Aerobatics magazine, the publication of the International Aerobatic Club, adding, "So we need a vertical for a cover."
"Red Champion move to 7 o'clock for in-trail shots," Moore says, then resumes his background chatter. "Well-defined fog over [Lake] Poygan; interesting clouds over [Lake] Winnebago; warm clouds over there."
Koepnick says, "Need him five right, two down, then five forward." Pause. "Just waiting for the light." Pause. "I think Reggie [the Sport Aerobatics editor] will like that."
The numbers are a code the two use to approximate distance. "Five means a little bit," Koepnick says later, "and ten is twice that. Two is a smidgen." A World War I replica builder who flew a photo shoot with the pair later gave them small models on stands inscribed "Five right, ten back. That's perfect."
Meanwhile, the next airplane checks in: "Photo One, this is the Monocoupe at 3200 feet." And after the Champions wander off, he is beside us, a creamy yellow Monocoupe floating on the air like a gently bobbing seagull in the wake of a fishing boat. When they are done with the Monocoupe, Koepnick leans forward and looks over my shoulder at my notes. "Hey, she is stealing our secrets!" he says and I laugh.
According to Moore's logbook, he and Koepnick have shot 885 airplanes over the years. (Koepnick shoots air-to-air with other pilots as well, and has photographed 535 EAA covers and more than 1,000 airplanes.) This afternoon, they will fly with the Historical Flight Foundation's beautifully restored Eastern Airlines DC-7, but their last airplane this morning is a Stinson L-13 observation airplane. It has a skinny, stick-like fuselage and a radial engine. A little boy in a cap and sunglasses is on board watching us. The pilot and boy are on their way home. I see a folded lawn chair through their back window and imagine the boy and his dad camping among new friends and old airplanes.
As we head back toward the airport, the pair tell me a story about losing oil pressure on a flight. Since lack of oil pressure leads to engine failure, Moore chopped the power to save the engine. Miraculously, they glided back to the runway and coasted nearly all the way to their hangar. They climbed in a backup (a Cessna 180 that an EAA volunteer flies on aerial shoots) and even more miraculously, got back in the air in time to rendezvous with their photo subject, a rare Boeing C-40E. One of Koepnick's photographs from that flight won an award from Aviation Week & Space Technology magazine.
Up ahead I see busy Wittman airport, and when our wheels roll back onto the runway, my flying is done for the day. But late this afternoon when the sun is low and the light soft, Moore and Koepnick will be back in the air, looking for the next great shot.
Debbie Gary writes about airshows and flying from her home in Houston, Texas.