Pilots, Look Down
To find their way home, aviators used to be able to read the rooftops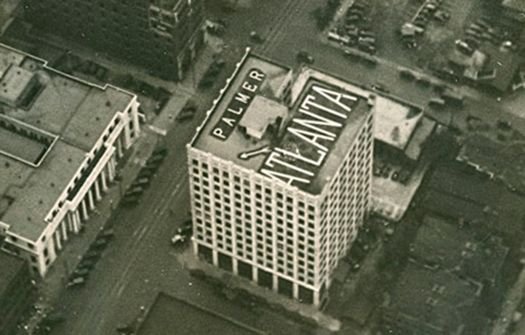 For a pilot delivering airmail in the early 1920s, navigation "technology" consisted of leaning out of the cockpit and using the landscape to find the way. "Follow the tracks of the Long Island Railroad past Belmont Park race track," read the 1921 U.S. Air Mail Service Pilots' Directions from Long Island to Cleveland. "Cross New York over the lower end of Central Park." Even after radio navigation aids were introduced in the late 1920s, pilots still used landmarks to complete their trips.
The arrow with the figure "9″ (above), according to National Air and Space Museum records, indicates the mileage and direction to the nearest airport, in this case, Grand Central. The official Department of Commerce sprocket-shaped marker (with a center star) signified that approved accommodations and services could be had at the airport indicated by the arrow.
In the photograph above, taken in Massachusetts, the "C" in the circle with arrow and numeral "3″ gives the direction and distance to the nearest airfield.
"By 1941, some 13,000 marks had been painted on barns, hangars, skyscrapers, oil tanks, and train stations," Roger Mola wrote for us in "Show Me the Way to Go Home." "Though federal aviation agencies regulated every aspect of letter size (10 to 30 feet tall) to paint (Chrome Yellow Number 4 on a black background) to distance between markers (one every 15 miles was the goal), they never lifted a brush," writes Mola. "Labor came from the Works Progress Administration, the Civil Air Patrol, the Civilian Conservation Corps, civic volunteers, scouting organizations, and the Ninety-Nines organization of women pilots."
Landscape markers were so common that their histories were sometimes conflated with other scenic features, such as giant hillside letters. As Guy Rocha, former Nevada State Archivist, wrote in 2004, "The folklore is that the hillside letters found principally throughout the American west were created to help early 20th-century airplane pilots navigate and identify communities, presumably when the aviators could see the letters during daylight hours, with good weather, and no snow cover. The truth is the hillside letters are first and foremost symbols of school and community pride dating back to 1905. Early-day pilots found the hillside letters useful at times; however, any aeronautical value associated with the school and community letters came after the fact."
Berkeley's 70-foot-high "Big C," notes James J. Parsons in Landscape, "as built by the freshman and sophomore classes over two rainy days in the spring of 1905 and finished in time for official recognition at the annual Charter Day celebration. The traditional brawl between the two classes had degenerated into something close to guerrilla warfare, a kind of primal savagery known as 'the rush' that was likened by one contemporary to Anglo-Saxon raids on the British coast…. In a well-publicized truce, the classes…agreed to devote their energies to constructing a masonry C on the steep, grassy slope behind the campus."