People and Planes of Creve Coeur
In the department of flood recovery, Noah and his ark got nuthin' on the folks at this little airport-except that many of the aircraft they saved are ones, not twos, of a kind.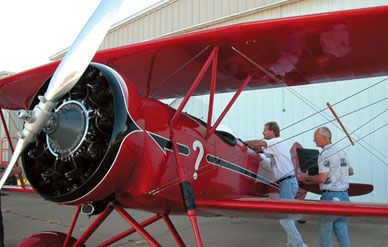 "Dan's going to fly The Question Mark tomorrow," says Terry Chastain to a small group gathered near his hangar. Heads nod approvingly and a few words of encouragement are directed toward Dan Mueller, who seems slightly uncomfortable-either with the attention or with the thought of flying the airplane. The Question Mark has a 500-horsepower modified Wright R975 engine, a lot of engine for a Waco Taperwing. The airplane was built in 1932. The following year, it crashed during a race in Oklahoma City, and its pilot was killed.
At Creve Coeur Airport, everybody knows the little red Waco with the big engine. Everybody knows its caretaker, Terry Chastain, its owner, John Cournoyer (who is also part owner of the airport), and Dan Mueller, the pilot about to be initiated. In small-town Creve Coeur, everybody knows everybody else and what they fly-and how often.
Creve Coeur Airport is on the outskirts of busy, sprawling St. Louis, Missouri, and it's a world away. To drop in for a weekend is to step back to a time when flying was not a way to cross continents but a pastime to enjoy with friends and a chance to raise a little hell. It's not just that the airplanes you see puttering around the airport are almost all classics from the period between the world wars (the airport hosts one of the largest collections of vintage aircraft in the country-more than 75 Monocoupes, Stearmans, Travel Airs, Stinsons, Fairchilds, and rarer types). And it's not just because the setting is so lovely, a checkerboard of fields and farms with two great rivers, the Mississippi and Missouri, converging nearby. Creve Coeur evokes nostalgia because it, like most of the small airports profiled in this series, has found a way to keep the noise of modern life away from the airport grounds-or at least a way to drown it out with the continual cough and hum of Continentals, Lycomings, and the rarer powerplants of an earlier time.
When I visited Creve Coeur last fall, everybody I talked to told me that the chief reason the airport has managed to hang on to its small town quality is Al Stix, who bought the airport with two partners, John Cournoyer and John Mullen, in 1983. The three created enough airplane energy to draw others in, but Stix, a St. Louis businessman, is the social director who keeps them coming. Every Sunday between 50 and 60 people show up at the airport for meals that Stix cooks on giant grills. Stix also hosts an annual Halloween costume party, a Christmas party, and several fly-in parties throughout the year.
The American Waco Club has come to Creve Coeur for its fly-in every year since 1993. "Why would we want to go anywhere else?" says club president Phil Coulson, who flies a Waco UPF-7, the last open-cockpit biplane the Waco Aircraft Company built. "Creve Coeur is a rare airport, one of the best-kept secrets in general aviation," he says. "And it's not just the museum they have. Every hangar has something special in it."
Wacos seem to fit Creve Coeur: They were built in the 1920s and '30s, and they are perfect for joyriding (most can accommodate two passengers and a pilot). Despite their almost endless variations, Wacos are simple, reliable, and "great fliers," according to Stix. The airport's Historic Aircraft Restoration Museum, which comprises three hangars packed with 50 airplanes, features several Wacos. There's also a 1916 Sopwith Pup with the original 80-horsepower Le Rhône rotary engine, a Taylor E-2, father of the Piper Cub, which cruises at 65 mph, and the only flying de Havilland Dragon Rapide in the country (see "Restoration: Delightfully de Havilland," Feb./Mar. 2002). All but a couple of the aircraft are flyable-"the two or three that no one has yet had the nerve to try," says Stix. He has written a clever catalogue (on sale in the admin building) with affectionate descriptions of the aircraft handling characteristics, but the occasional tours he leads through the hangars are gruffly unsentimental. "Of course, if these airplanes were any good, [airplanes would] still look like this," he says.
Cournoyer usually has several aircraft under restoration at once, and his energy as a collector thrills the airplane voyeurs around Creve Coeur. "How many do you own?" I ask him. "I don't even know," he says. (A quick Web search turned up 21 Wacos and a like number of other types that he owns or co-owns.)
Terry Chastain, a retired oil well troubleshooter, has restored many of Cournoyer's aircraft. "We finished five airplanes in three years," he says. "John does a lot of the work." Chastain, who got his pilot's license on his 16th birthday, owns the only 1933 Flagg F-13 ever built. Designed by Claude C. Flagg of the short-lived LaSalle Aircraft Company in nearby Joliet, Illinois, the aerobatic airplane is only 16 feet from spinner to tail and has a 145-hp Warner Super Scarab engine. Chastain spent 11 years restoring it from pieces to the jewel-like sportster it is today: "5,263 hours and 15 minutes," he says.
Perhaps his greatest work of art is in the hangar next door: a 1952 Rawdon T-1, which he and his brother Phil, today a corporate pilot, helped their dad, Jack, restore in the late 1970s. The Rawdon has won seven awards, including Reserve Grand Champion in the Classic category at the Oshkosh, Wisconsin fly-in three years running. The late Jack Chastain, who worked for Rawdon Brothers Aircraft Company in Wichita, Kansas, had demonstrated a similar tandem-seat trainer to potential customers, including the governments of Colombia and Ecuador in 1952. On that trip, his wife May Belle occupied the Rawdon's back seat. (Colombia bought three.)
As Chastain tells the story of the Rawdon, I'm watching him work on yet another Waco for Cournoyer, this one, Chastain says, for sale, "though John may have seller's remorse. He usually does. That's why we painted it yellow." Cournoyer isn't fond of yellow airplanes, explains Chastain, so it's easier for him to let them go; Stix loves yellow.
Cournoyer is taciturn, Stix is talkative. Cournoyer loves Wacos, Stix goes for Stearmans. Both are married to women named Connie. Connie Stix managed the airport for years and is there every Sunday. She helped Stix, Cournoyer, and John Mullen transform a 34-acre airport into a 285-acre one with a 4,500-foot concrete runway and a 3,120-foot grass strip, which the owners maintain because the airplanes equipped with tail skids can't operate on pavement and because some pilots think it's fun to land on grass. They've built about 100 hangars.
Stix says he and his partners originally decided to sell rather than rent the hangars because they needed the income to make payments on the $540,000 note they took on the airport. It turned out to have been a providential decision.
The 1993 Mississippi River flood, which claimed 50 lives and caused $15 billion in damages nationwide, left the airport under 20 feet of water. "We flew over a few times," says Stix, "and we couldn't see any buildings. We thought they had washed away, but they were just under water."
To the people of Creve Coeur, time is marked "before the flood" and "after the flood." Everybody has photographs. Everybody remembers the call from the airport owners as the river was rising: "Whoever can move an airplane, move an airplane." Out of 200 aircraft, 12 were lost.
Stix's partner, John Mullen, who had worked as a physicist at McDonnell Douglas in St. Louis and was wise in the ways of government contracts, had managed to have the airport designated a reliever for Lambert-St. Louis International. The designation won them federal financial aid for clean-up and repairs.
When the waters receded, eight feet of Missouri river bottom was left behind. "If the hangars had only been rental units," says Stix, "the tenants would have most likely found other places to put their aircraft." As owners, the pilots stayed, cleaning and salvaging what they could.
The American Waco Club couldn't come in the summer of '94 (still too soggy). Stix moved his cooking operation to an airport in nearby St. Charles. "They came back, though," says Waco club member Ruthie Coulson of the people at Creve Coeur. "They fought hard. Al and Connie and all of them. They're real doers. They pulled together and now look at what they have."
The facilities at Creve Coeur are a reflection of what the owners were seeking when they bought the field: a better place than where they had been. Stix remembers working with his friend John Mullen on the Corsair they owned together at Arrowhead Airport, not 10 miles from Creve Coeur. "We were rebuilding the Corsair, and [when it rained] the hangar kept filling up with water," he says. "It was kind of an unsatisfactory situation to be in with power tools," he adds in characteristic deadpan. "We had this wonderful idea that all we had to do was just buy this airport. The more scotch-and-waters we had, the better it sounded."
The fact that an airport was there to buy is the result of a farmer's ambition for his son, according to retired machinist Jack Oonk (pronounced "unk"), who comes to his hangar at Creve Coeur almost every day to work on his Cessna 195.
Oonk's first airplane was a Luscombe, which he bought in 1953. That summer he hired an instructor for $3 an hour to teach him to fly it. Oonk went flying with two friends, Sid Coates and Aiden Cash. "Sid Coates-he had a Cub-was flying around in the evening west of Lambert," says Oonk, referring to what is now Lambert-St. Louis International Airport, "and the farmer waved him down. The farmer wanted his son to learn to fly, so Sid and the farmer struck a deal." The farmer, Norman "Ducks" Dauster, mowed a grass runway and put up a few shade ports on a 34-acre parcel of land. Coates, who was an engineer, designed a large hangar that today doubles as the party room, and Oonk designed the door for it.
"On a nice summer night, somebody would say 'Come on, let's go flying.' We'd park a car at each end of the grass strip with the lights on." To illuminate the runway's edges, they would fill six Coke bottles wth coal oil, stuff them with wicks, and use them as lanterns.
Eventually a 3,000-foot asphalt runway was laid. And that was pretty much the state of affairs when John Cournoyer, who had several airplanes based at the airport, learned the land was up for sale.
"The guy who owned the driving range across the street offered $1,000 more an acre than we did," says Stix, "but Ducks didn't want it to be a golf course. He wanted it to be an airport."
"This is a neat little airport here," says Bo Mabry, who has flown his Cessna in from South Carolina. "Ya'll are lucky. Ya'll are real lucky," he says to a group of Creve Coeur natives standing nearby. Like the chorus in a Greek drama, five or six Creve Coeur airport bums are usually close at hand to comment on events and accept compliments from visitors. They know they are lucky. They nearly lost the airport, and that brush with disaster undoubtedly brought them closer together. Unfortunately, another pair of tragedies brought them closer still.
Talk to folks at Creve Coeur for a few minutes, and inevitably somebody will mention Bud Dake. For a man who, his friends say, spoke so little, Dake had a tremendous impact. He was one of the first, there in the early days with Jack Oonk, and he was one of the gurus: Everybody at Creve Coeur learned something about airplanes from Bud Dake. Dake flew Monocoupes and said to an Air & Space/Smithsonian reporter the year before he died: "It's like Ford or Chevrolet. You decide which one you like and you stick with it."
Dake crashed in a Monocoupe on a fine Saturday afternoon in the summer of 2004; he and his friend Kenny Love were both killed.
Not three weeks after Dake's death, Creve Coeur suffered another shock. John Mullen died. The coroner reported that he had been poisoned with arsenic. The crime remains unsolved.
"We all felt like we'd been hit in the stomach," says Don Parsons, a corporate pilot who spends every weekend ("every chance I get") at the airport. "We just couldn't breathe."
In addition to having secured Creve Coeur its reliever designation, Mullen started a project at the airport that everybody felt a little pride in: Where else but at Creve Coeur would you find a 1929 Zenith Z6a being restored? A six-passenger biplane that Mullen bought at an auction in 1986, the Zenith was built at a time when every town seemed to have an airplane manufacturer; this one was in Midway City, California, and it stayed in business long enough to build seven airplanes.
Glenn Peck, who restored the aircraft for Mullen (he had worked on it for eight years and had finished its taxi tests just before Mullen died), believes the Zenith is airplane no. 3, one of two purchased by Bennett Air Transport of Boise, Idaho, and used to haul freight.
A.A. Bennett's nephew Ed Burnett, now in his 80s, was seven years old when he spent time with his uncle at the company in Idaho. Mullen found him while he was researching the airplane's history, and Burnett came to the airport to see the airplane he used to fly in as a kid. He told Peck that the maroon color was wrong. "He said this was much prettier than the original," Peck says. Burnett told Peck stories about the air transport business, including his memory of helping his uncle load a cow in the airplane's cabin. "He'd carry anything he could get through the door," says Peck, who restored the airplane based on nine black-and-white photos. "Mining equipment, groceries, tourists, supplies to the miners. And of course the cow."
Peck, who restores and maintains the aircraft in the airport's museum, has restored 16 airplanes since 1975. He is at work now on a de Havilland D.H. 4, the workhorse of early airmail service in the United States.
Don Parsons tells me I can't really appreciate Creve Coeur unless I see it from the air, and offers to take me with him to a Sunday pancake breakfast at nearby Shelbyville airport, just across the river in Illinois. Parsons, the very proud owner of a 1946 Fairchild 24R, a high-wing monoplane with a comfortable cabin, has become the unofficial-that is, volunteer-airport photographer. (Some of his photographs accompany this article; others can be found at www.airspacemag.com.) "Al helped me buy my airplane," he says. As with several airplanes on the field, Stix is part owner of the Fairchild.
Under the Fairchild's wing, Creve Coeur looks particularly orderly on this beautiful calm morning. The hangars are arranged in eight neat rows along taxiways. Later, the doors will open and people will stroll from one hangar to the next or cruise on one of several bicycles propped at hangar doors to make the circuit among their friends.
Clouds reflect in the lake by the airport and in the ponds of surrounding farms. We fly over a tiny church, its parking lot full. To the south lie a ghost of a runway and abandoned hangars-what remains of Arrowhead airport, a warning that it takes a lot of hard work to keep little airports going.
After the shortest hour I've ever spent, we bounce down on Shelbyville's grass strip. Bob Howie shows us his collection of Wacos. Standing next to one 1927 beauty that has flown some 450 hours in almost 80 years, Parsons says, "Hear that?" I hear nothing but the skreeking of grasshoppers in the adjacent field. "That's all they heard when they were first flying these airplanes," he says. No noise from interstates, no noise from anything.
Back at Creve Coeur, Stix has the industrial-strength barbecue going, and I'm sitting at one of the picnic tables across from the two Connies and next to Greg Kuklinski, a Piper Tri-Pacer man, currently airplane-less. Kuklinski has been telling stories of what he calls "the Chastain dynasty" with occasional mirthful contributions from May Belle Chastain, who's at the next table. Kuklinski says that if you hang out at the airport enough you can get a ride or even borrow an airplane, but it helps if you're good-looking. At that moment Phil Chastain taxis by in a Yak 52 military trainer that he co-owns with Stix. Caroline Sheen, the magazine's picture editor, is waving to us from the back seat. "See what I mean?" Kuklinski cries out. "I've never gotten a ride in that airplane."
"Me either," says 81-year-old May Belle. "I can't get in. I can't climb that high."
Dan Mueller, having survived The Question Mark, has joined the group around the picnic tables, and people are talking about Les Heikkela, who has recently bought a P-51 Mustang. "He's flying the hell out of it too," says Kathie Ernst, a corporate pilot and engineer who's swinging on the porch swing. The chorus nods its approval. This is life as it should be, think the people of Creve Coeur. Work hard to buy the airplane of your dreams, then make the time to fly it as often as you can.
Haus, the airport dog, is lying motionless on the porch. He belonged to a family who lived next door. After they moved and took the big black Labrador with them, he ran away and made his way back to the airport. The family fetched him, but Haus came back again. Finally, the family gave up and left him to the care of airport manager Bob Cameron.
Everybody at Creve Coeur understands why Haus kept coming back, and any one of them could give you a dozen reasons. But I think they'd be happy to let Bud Dake have the last word. When a reporter for Air & Space asked him a few years ago why he owned a hangar at the airport, he said, "It's so quiet down by the river bottom."