Paris Air Show 2013
Photos from Le Bourget's 50th extravaganza.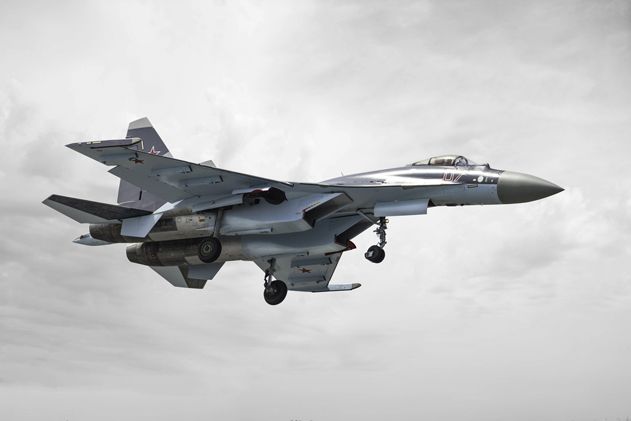 The first Paris Air Show, in 1909, was described by the New-York Tribune as a "fairyland" surpassing all expectations. Twenty-four airplanes were displayed in the Grand Palais, with the Blériot monoplane that flew across the Channel the centerpiece of the show. Pear-shaped balloons and yellow dirigibles floated gracefully above the crowds.

One hundred four years later, more than 110 aircraft were on display at the 50th Paris Air Show, held at Le Bourget airport from June 17-23, 2013. Wisconsin photographer Adam Senatori was on hand, and you can see some of his shots in the gallery above.

The lack of U.S. military jets (due to budget sequestration) meant that most of the crowd focused on the Sukhoi Su-35, above, making its first appearance outside Russia. The demonstration flight of the single-seat, twin-engine fighter by test pilot Sergei Bodan (see video here), was remarkable to watch, said Senatori. "That was something I'd never seen before, and I probably won't have the chance to see it flown by that particular pilot in that manner again. Pugachev's Cobra, the Dead Leaf, and the Frolov Chakra. The aerobatics defied traditional aerodynamics—at least the aerodynamics that I was taught!"

The Su-35 was on Senatori's list of must-see aircraft. "I always prioritize what I want to shoot," he says, "based on how hard and how rare it is for me to actually encounter these aircraft in the wild."
Sukhoi Su-35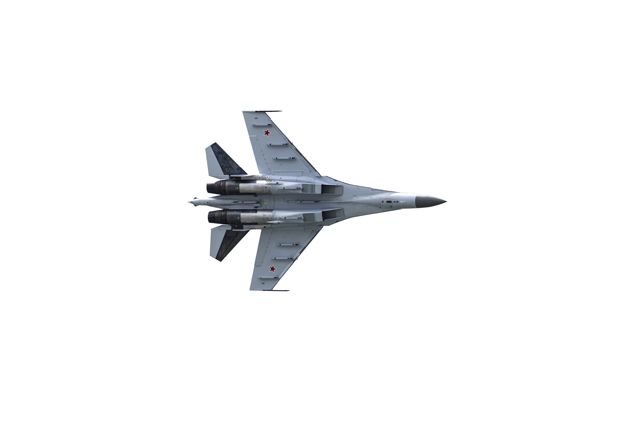 Russian fighters had been absent from the airshow's static display since 2001. On the list this year were the Yakovlev Yak-130, the KA-52 Alligator Attack Helicopter, and the sleek and highly maneuverable Sukhoi Su-35, shown here.

Senatori is drawn to simplicity in his aerial photography, hence the stark white backgrounds. "I also like clouds in the background if they have painterly qualities," he notes. "I'm very inspired by the Dutch sea painters of the 17th century, and how they handled clouds in their land- and seascapes."
Air India 787 Dreamliner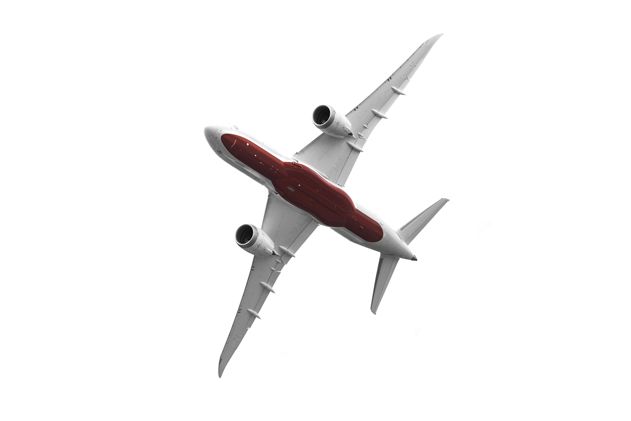 Air India's 787 Dreamliner flies over the crowd on June 18. The airline plans to inaugurate a four-times-a-week Birmingham (U.K.)-to-New Delhi route, starting August 1. Air India ordered 27 Boeing 787s in 2006; it will also start a New Delhi-Rome-Milan route in October, and a New Delhi-Moscow schedule next year.
Airbus 380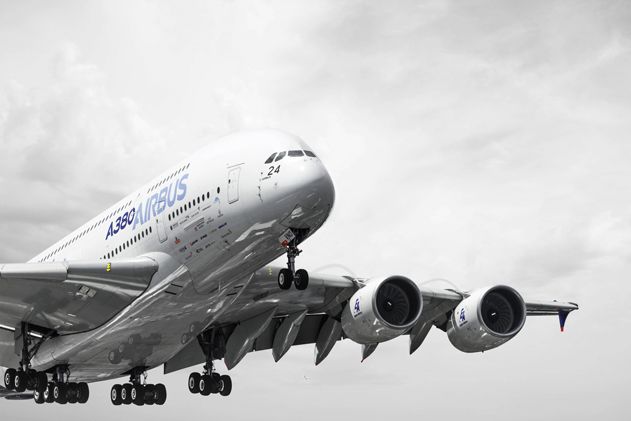 An Airbus 380 flies over Le Bourget on June 20. Getting close to the aircraft appeals to Senatori. "I could get within 100 yards of the A-380 while it landed," he said. "The Paris Air Show is a very professional, very polished event. It had almost a Wall Street feel to it. It's geared toward people interested in buying aircraft and aircraft engines." While figures aren't yet available for the 2013 show, 204,000 spectators attended the last show in 2011, along with more than 151,500 industry professionals. (The first four days of the biennial airshow are for potential customers only; the general public can attend the final three days.)
Boeing 787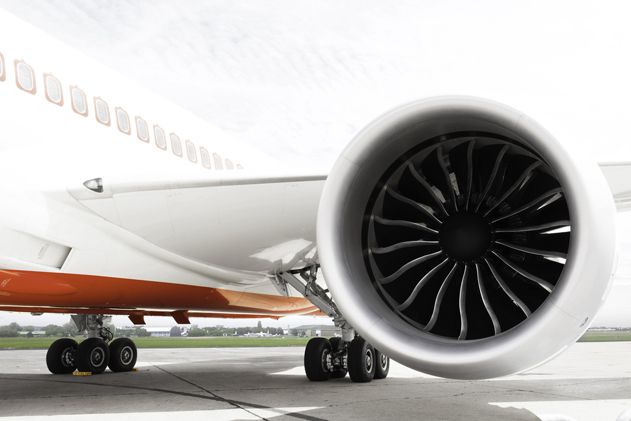 "I spent the majority of my time focused on the Boeing 787," said Senatori. "The engines on that aircraft are GE's flagship engine, the GEnx."

Senatori has worked as an aviation photographer since 2004. He's also a pilot, racking up 6,100 hours in the Saab 340 and British Aerospace 146, although these days you're more likely to see him in a Piper Archer. When he's not working as a photographer, Senatori is a flight instructor in Madison, Wisconsin.
Airbus A-380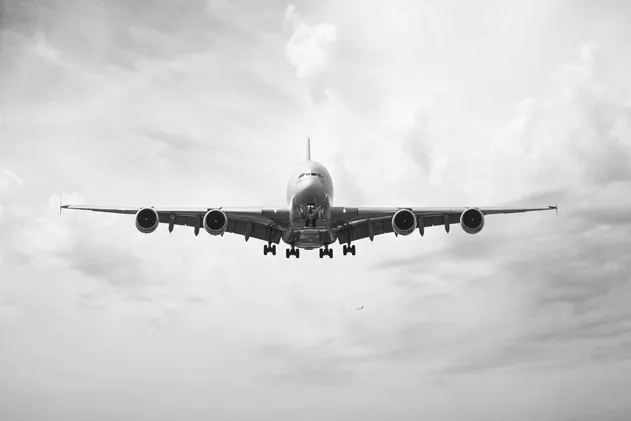 An Airbus A-380 arriving at Le Bourget. The 2013 event was a far cry from the 1909 airshow, when Flight magazine reported on the Santos Dumont airplane "which, apart from the question of the engine and the propeller, costs next to nothing to make, nor should any lengthy wear be expected out of it. It does not strike one as being a high-class engineering proposition or a machine built to outlast more than one brief season; [it is,] to quote M. Dumont's own phrase, 'un aeroplane de vulgarisation,' [and] it is bound to enjoy a widespread vogue."
Boeing 787 at Farnborough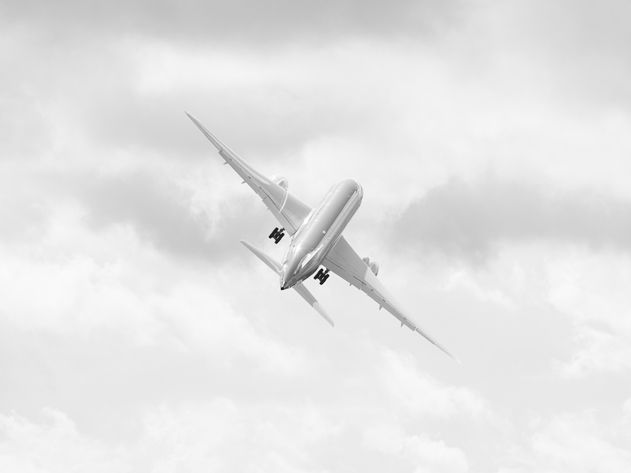 Senatori is a veteran airshow photographer. Here, a Boeing 787 banks over the crowd at last year's Farnborough International Airshow in England.
F/A-18F Super Hornet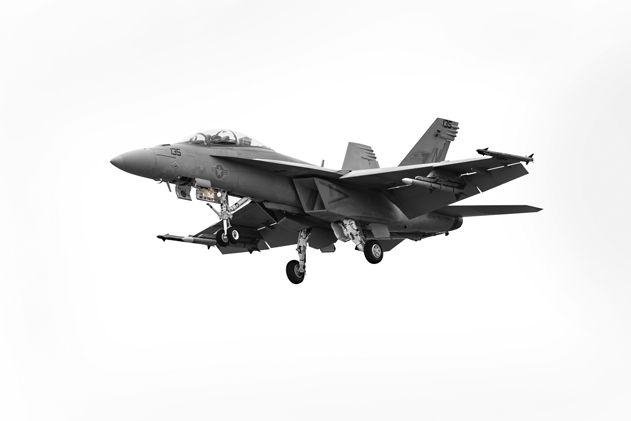 U.S. military jets were also on display at Farnborough last year, and the show resulted in $72 billion in aircraft orders. More than 150 aircraft were on hand, including this F/A-18F Super Hornet.