Panther Paint Job
Watch a 57-year-old warbird go from Winona rags to Blue Angel royalty.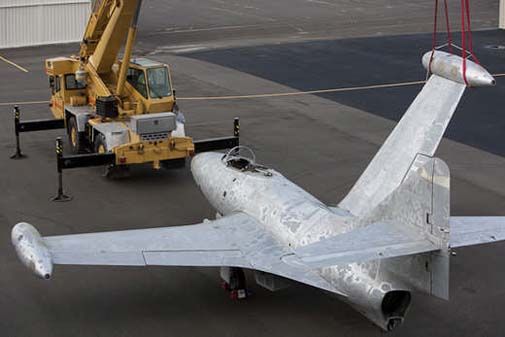 It's amazing what a fresh coat of paint can do for an airplane. That's especially true for this Grumman F9F Panther, shown above, going through a wing-folding test in the late summer of 2009. The airplane will go on permanent display with its wings level at the Aviation Heritage Park in Bowling Green, Kentucky, in the summer of 2010, but they'll need to fold for the three-mile trip from the Bowling Green-Warren County Regional Airport, where the restoration took place, to the Aviation Heritage Park.

Dan Cherry, Director of the Park, has shepherded the restoration in honor of the late U.S. Navy Cdr. John Magda, who flew an F9F as flight leader of the Blue Angels in 1950. Though Magda never flew this specific Panther, which Grumman delivered in April 1952, he died in Korea in March 1951 trying to ditch a Panther damaged in combat.

The sequence of pictures below, by photographer John Fleck, shows the Panther, retrieved after decades in a park in Winona, Minnesota, in its final stages of a restoration to Blue Angel number one, with Magda's name on the cockpit.
Wing Inspection
Wings held high, the Panther appeared ready to take flight like a bird flapping its wings. The wings folded to maximize space aboard aircraft carriers in the early 1950s, and were usually positioned nearly vertical. On this day, the staff was testing special wing struts they had fabricated from an original piece. Numerous patches were visible on the airplane where holes and dents had been filled with an aluminum epoxy compound, then sanded.
Primer
By late September 2009, a coat of grey primer signaled that the airplane was headed for the paint barn. The ports in the nose of the aircraft would later be fitted with new barrels, manufactured by a local metal working shop, that recreate its four 20-millimeter cannons. The real guns could be fired all at once, or could be restricted to a pair for saving ammunition.
Tack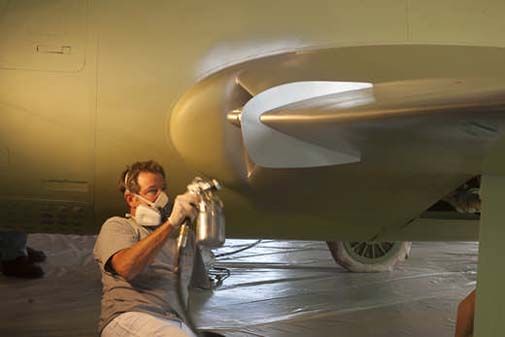 In October, Davey Bowles of On-Site Electrostatic Painting put a silvery coat on the Panther's wing fence, the vertical fin in the wing's leading edge that maintained stable airflow over the surface and delayed stalls when the Panther pulled high-G turns or flew at high angles of attack. By then the airplane had received a green primer called a tack coat to help the final blue paint adhere well.
Final Coat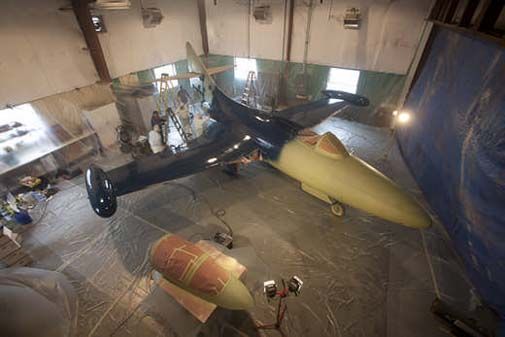 In the last week of October, workers began to apply the final blue coat. This took about five hours, and was followed quickly by a clear coat to seal it and add shine. PPG Aerospace donated all paint for the tack, blue, and clear coats. This required an ordinary paint gun to fill seams and fissures around patched locations, as seen on the vertical stabilizer; then an electrostatic paint gun that reduces over-spraying, an environmentally sensitive and economical method of painting airplanes. There was plenty of prep work first, including covering the canopy and tires with tape and coating the walls and floor of the hangar with plastic.
Photo Opp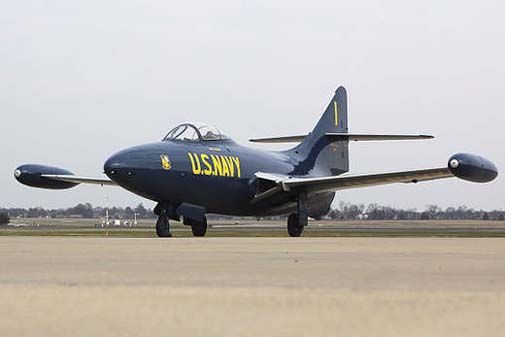 The Panther was rolled outside for a photo opp on Sunday, November 15, 2009. All markings and logos were designed by Jack Morris of JDMC Aviation Graphics, who came up with all the authentic specifications and dimensions, including Magda's name. He supplied digital images of these to Mike Fevold of Signature Signs, who then cut and applied the vinyl decals with colleague Robert Brown. All three men donated their labor. "The decals are so thin," says Cherry, "you can rub your hand across them and barely feel them. And it's amazing to me how real the airplane looked once we added the canopy and the cannons." The Panther will be unveiled to the public at an event on June 26, 2010, attended by Magda's children and possibly representatives of the Blue Angels.