Night of 500 Drones
Is this the first step to flying billboards?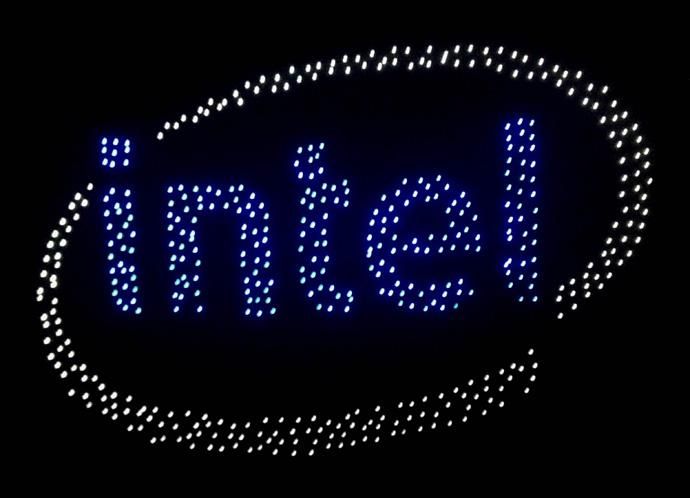 Intel recently announced that the company achieved a new world record by flying 500 drones simultaneously in a finely coordinated aerial light display that evoked a fireworks show (except without the explosions, noxious smoke, and burnt paper littering the ground). At the end of the spectacle, the drones did something not even the most skilled pyrotechnics specialists could ever achieve: They formed the number 500 in the sky, then changed formation and flashed the Intel logo.
Is there a point to the display other than breaking a record (Intel also held the old record)? Or was it just showing off?
The company that introduced the world's first microprocessor in 1971 has been steadily embracing UAV technology over the past few years, including producing their first commercial drone, the Falcon 8+. Intel's 500-drone demonstration used the company's latest creation, the Shooting Star, designed and built specifically for users to create stunning nighttime aerial lightshows for entertainment purposes.
Engineers at Intel had to pack in some cutting-edge technology to achieve that goal. The quadcopters, which weigh just over half a pound each, are water-resistant and have soft foam cages around their propellers and bodies for safety. With a 20-minute average flight time, which is roughly the length of a typical fireworks display, the Shooting Star packs a bank of light emitting diodes, or LEDs, that can produce an astonishing variety of colors due to the type of LED used, an RGBW.
What really puts the Shooting Star in a class of its own is the "composer" software and the control interface. Intel's software allows a user to quickly sketch out an animated light show. The system then determines for itself how each individual drone will fly throughout the show, and how many drones will be needed. For the actual show, only one operator is needed.
Beyond producing a stunning light show, technology developed for the Shooting Star may one day be used for other purposes, like flying billboards.