One-and-Onlies: The Complete List
All the Smithsonian's one-of-a-kind aircraft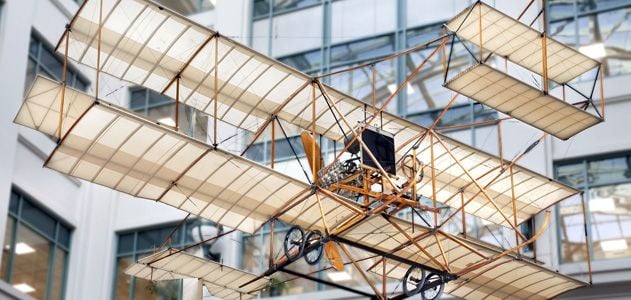 As National Air and Space Museum aeronautics curator Jeremy Kinney noted in our September 2012 issue, the NASM collection includes nearly 150 unique aircraft, many of them "not so well known."
Indeed. Who knew there were four incarnations of the Langley Aerodrome? Ever hear of a Maupin-Lanteri Black Diamond? Martin Tadpole? Nagler Rolz NR 54 V2?
This list, with links to the museum's aircraft database, classifies all of NASM's unique aircraft by type and era:
Early Flight
Commercial and Civilian
General Aviation
Gliders and Sport Aviation
Lighter-Than-Air Gondolas
Military Aircraft by Nation
Special Purpose, Research, and Racing
Vertical Flight.
"One of a kind" means the only one ever built. "Sole survivor" means the only example of the type remaining. "One of two survivors" means one of the two examples of the type remaining.
EARLY FLIGHT
Baldwin Red Devil (sole survivor)
Benoist-Korn Type XII (sole survivor)
Curtiss Flying Boat hull (sole survivor)
Curtiss Model D Headless Pusher (sole survivor)
Ecker Flying Boat (one of a kind)
Fowler-Gage (one of a kind)
Herring-Burgess (one of a kind)
Langley Aerodrome, full size (one of a kind)
Langley Aerodrome #5 (one of a kind)
Langley Aerodrome #6 (one of a kind)
Langley quarter-scale Aerodrome (one of a kind)
Martin K-III Kitten (one of a kind)
Maupin-Lanteri Black Diamond (one of a kind)
Montgomery Evergreen glider (one of a kind)
Montgomery Santa Clara glider, parts only (one of a kind)
Olmsted Pusher (one of a kind)
Shoemaker-Channonhouse (one of a kind)
Wiseman-Cooke (one of a kind)
Wright EX Vin Fiz (one of a kind)
Wright Flyer (one of a kind)
Wright Military Flyer (one of a kind)
COMMERCIAL AND CIVILIAN
Boeing 307 (sole survivor)
Boeing 367-80 (one of a kind)
Douglas M-2 (sole survivor)
Northrop Alpha (sole survivor)
Northrop Gamma Polar Star (sole survivor)
GENERAL AVIATION
Abrams Explorer (one of a kind)
Bellanca C.F. (one of a kind)
Curtiss Hawk 1A Gulfhawk (one of a kind)
Extra 260 (one of a kind)
Farman Sport (sole survivor)
Grumman G-22 Gulfhawk II (one of a kind)
Helio No. 1 (one of a kind)
Laser 200 (one of a kind)
Rutan Voyager (one of a kind)
Stout Skycar (one of a kind)
Verville Sportsman AT (sole survivor)
Waterman Aerobile (one of two survivors)
Waterman Whatsit (one of a kind)
GLIDERS AND SPORT AVIATION
Bowlus du Pont Sr. Albatross Falcon (one of two survivors)
Franklin Eaglet (one of a kind)
Horten III f (sole survivor)
Horten III h (sole survivor)
Horten VI V2 (sole survivor)
Lippisch DM-1 (one of a kind)
Stanley Nomad (one of a kind)
Stits SA-2A Sky Baby (one of a kind)
Story Little Gee Bee (one of a kind)
LIGHTER-THAN-AIR GONDOLAS
Breitling Orbiter III (one of a kind)
Double Eagle II (one of a kind)
Eddie Allen Smoke Balloon (one of a kind)
Explorer II (one of a kind)
Spirit of Freedom, Fossett (one of a kind)
Goodyear Pilgrim (one of a kind)
Goodyear ZPG-3W (one of two survivors)
Strato-Jump III (one of a kind)
MILITARY AIRCRAFT, BRITISH
Sopwith Snipe (one of two survivors)
MILITARY AIRCRAFT, FRENCH
Caudron G-4 (one of two survivors)
Spad XVI (sole survivor)
Voisin Type 8 (sole survivor)
MILITARY AIRCRAFT, GERMAN
Albatros D.Va (one of two survivors)
Arado Ar 196 A-5 (one of two survivors)
Arado Ar 234 B-2 Blitz (sole survivor)
Bachem Ba 349 Natter (sole survivor)
Blohm und Voss Bv 155 V2 (sole survivor)
Dornier Do 335 A-0 (sole survivor)
Focke-Wulf Fw 190 D-9 (one of two survivors)
Focke-Wulf Ta 152 H-0 (sole survivor)
Gotha Go 229/Horten IX (sole survivor)
Heinkel He 219 A-2 (sole survivor)
Junkers Ju 388 L-1 (sole survivor)
Messerschmitt Me 410 A-3 Hornisse (one of two survivors)
MILITARY AIRCRAFT, ITALIAN
Macchi C.202 Folgore (one of two survivors)
MILITARY AIRCRAFT, JAPANESE
Aichi B7A2 Grace (sole survivor)
Aichi M6A1 Seiran (sole survivor)
Kawanishi N1K1 Kyofu Rex (one of two survivors)
Kawasaki Ki-45 Hei C Nick (sole survivor)
Kugisho MXY7 K-2 43-B (sole survivor)
Kugisho MXY7 Ohka 22 (sole survivor)
Kugisho P1Y1 Ginga Frances (sole survivor)
Kyushu J7W1 Shinden (sole survivor)
Nakajima B6N2 JILL (sole survivor)
Nakajima C6N1S MYRT (sole survivor)
Nakajima J1N1-S IRVING (sole survivor)
Nakajima Ki 115a Tsurugi/Sabre (one of two survivors)
Nakajima Kikka (sole survivor)
MILITARY AIRCRAFT, UNITED STATES
Boeing FB-5 Hawk (one of two survivors)
Boeing X-45 UCAS (one of two survivors)
Consolidated PBY-5 Catalina (sole survivor)
Curtiss (NAF) TS-1/2/3 (sole survivor)
Curtiss F9C-2 Sparrowhawk (sole survivor)
Curtiss N-9H (sole survivor)
Curtiss NC-4 (one of a kind)
Curtiss XP-55 Ascender (sole survivor)
Douglas World Cruiser DWC-2 Chicago (one of two survivors)
Felixstowe (NAF) F-5-L hull (sole survivor)
Fokker T-2 (sole survivor)
Lockheed Martin X-35B JSF Technology Demonstrator (one of a kind)
Lockheed XC-35/10E Electra (one of a kind)
Loening OA-1A San Francisco (sole survivor)
Martin Model 162 Tadpole Clipper (one of a kind)
Martin PBM-5A (sole survivor)
North American FJ-1 Fury (one of two survivors)
Northrop XP-56 Black Bullet (sole survivor)
Sikorsky JRS-1 (sole survivor)
Sperry-Verville M-1 Messenger (sole survivor)
SPECIAL PURPOSE, RESEARCH, RACING AIRCRAFT
Bell X-1 (one of a kind)
Curtiss R3C-2 (sole survivor)
Hughes 1B Racer/H-1 (one of a kind)
MacCready Gossamer Albatross (one of a kind)
MacCready Gossamer Condor (one of a kind)
MacCready Solar Challenger (one of a kind)
Mahoney Sorceress (one of a kind)
North American X-15 (one of two survivors)
Northrop M2-F1 (one of two survivors)
Northrop M2-F3 (one of a kind)
Northrop N1M (one of a kind)
Ryan NYP Spirit of St. Louis (one of a kind)
Sharp Nemesis (one of a kind)
Turner RT-14 (one of a kind)
Virgin Atlantic GlobalFlyer (one of a kind)
VERTICAL FLIGHT
Autogiro Company of America AC-35 (one of a kind)
Bell Model 30 Ship 1A Genevieve (one of a kind)
Bell Model 65 ATV (one of a kind)
Bell XV-15 (sole survivor)
Bensen B-6 (one of a kind)
Berliner 1924 Helicopter (one of a kind)
Cierva C.8W (one of two survivors)
Convair XFY-1 (one of a kind)
Curtiss-Wright X-100 (one of a kind)
Gyro 2000 Ikenga 530Z (one of a kind)
Herrick HV-2A (one of a kind)
Hiller Model 1031-A-1 (one of a kind)
Hiller XH-44 (one of a kind)
Kaman K-225 (one of two survivors)
Kellett XO-60 (sole survivor)
Kellett XR-8 (sole survivor)
McDonnell XHJD-1 (one of a kind)
McDonnell XV-1 (one of two survivors)
Nagler Rolz NR 54 V2 (one of a kind)
Pentecost HX-1 Model 100 Hoppi-Copter (one of a kind)
Pitcairn-Cierva PCA-1A (sole survivor)
Platt-LePage XR-1 (one of a kind)
P-V Engineering Forum PV-2 (one of a kind)
P-V Engineering Forum XHRP-X (one of a kind)
Ryan X-13 (one of two survivors)
Vertol VZ-2 (one of a kind)
Vought V-173 (one of a kind)
Vought-Sikorsky XR-4C (one of a kind)