Oldies and Oddities: Tinseltown's Training Base
Oldies and Oddities: Tinseltown's Training Base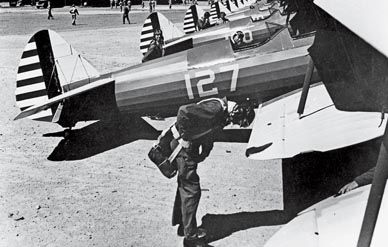 During World War II, a complex in Arizona served as one of the world's busiest centers for training military pilots. With four privately owned airfields in and around Phoenix, the Thunderbird facility, named for the Native American mythological spirit, ran roughly 20,000 pilots from some 30 Allied nations through primary training, an achievement made possible by a confluence of military necessity, business opportunity, and Hollywood star power.
Even as late as 1940, the United States military was woefully unprepared for the coming war. The Army Air Corps had only two training fields, both in San Antonio, Texas, and General Hap Arnold begged civilian operators to provide primary instruction for military aviators. His plea was music to the ears of Leland Hayward and John H. (Jack) Connelly. Hayward was an A-list Broadway and Hollywood agent who later produced movies and shows such as Mister Roberts, The Sound of Music, and The Spirit of St. Louis. Connelly was a former Army aviator and Civil Aeronautics Administration inspector.
In 1940, they bought a training operation at Sky Harbor Airport in Phoenix and hatched plans to build a bigger field in nearby Glendale. They enlisted John Swope, a commercial pilot and photographer who had once shared a bachelor pad with Jimmy Stewart and Henry Fonda and who would later collaborate with John Steinbeck on the book Bombs Away. To oversee the venture, Connelly, Hayward, and Swope founded Southwest Airways (no connection to Southwest Airlines).
Stewart and Fonda invested, along with Robert Taylor, Cary Grant, Hoagy Carmichael (who occasionally played the piano in the canteen), and Janet Gaynor. In 1942, director William Wellman (Wings, 1927) used the field to film the wartime drama Thunder Birds.
Ground was broken on January 2, 1941, and less than three months later Thunderbird Field opened with 14 flight instructors and 53 cadets—42 of whom would graduate—flying brand-new two-place Stearman biplanes leased from the Army. By 1942, Hayward and Connelly had opened a second Thunderbird field, managed by Swope, and Falcon Field, which was commissioned by Britain's Royal Air Force. The Brits appreciated Arizona's hospitable weather, which offered 673 consecutive flying days. Later, while piloting Spitfires over Western Europe, Royal Air Force Sergeant Philip Park wrote to his former instructor: "I'd give anything to be back in Phoenix and the sunshine."
Thunderbird achieved international prominence—and made the cover of Life—as the only U.S. facility to train Chinese pilots. Numerous languages and accents were heard at the fields. But most cadets who went through the nine-week program were Americans, many of whom earned their wings only months after their first flight.
"The area was pretty desolate," recalls Donald W. Marsey, Class 43-J graduate, who flew 35 missions in a B-17, Wisconsin Beauty. "But what I remember most is the exhilaration of learning that I could fly an airplane."
Even before the war's 1945 end, all four training facilities were closed. Thunderbird Field is today the site of the Thunderbird School of Global Management, which has nothing to do with aviation. Two of the original hangars still stand, along with two brick barracks and the administration building. The tower is being restored, with a pub on the ground floor. Visitors should soon be able to imagine the rumble of Continental R-670 radials and Hoagy Carmichael tinkling "Stardust" on the piano.