Oldies andOddities: Zeppo's Gizmo
Oldies and Oddities: Zeppo's Gizmo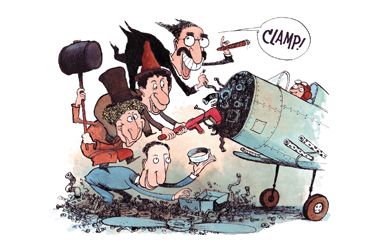 "…I tell you how we fly to America. The first time we started, we get halfway across when we run out of gasoline and we gotta go back."
— Chico Marx, A Night at the Opera (1935)
Aside from punchlines, what did the Marx Brothers have to do with aviation? Consider Marman Products, an aerospace manufacturing firm founded by Herbert (Zeppo) Marx in 1941. You may not remember Zeppo; he appeared in only five of the brothers' feature films. Yet perhaps befitting its origins, his story of aviation success plays like a Marx Brothers movie.
Scene 1: Zeppo, who was handy with tools, meets an aircraft executive at the racetrack. "We're very shy of machine shops and machinists," the Douglas Aircraft man confides, "and I hear you have your own shop." Before you know it, Zeppo is machining parts for DC-3s at his lathe in the family garage. So begins Marman Products. Inventory (in cardboard boxes) is piled on the dining room table. Work commences at one in the morning, after Zeppo's show business duties.
Scene 2: As Zeppo's business grows, he meets a starving inventor ("A terrible looking man; holes in his shoes!" Marx recalled in Hello, I Must Be Going by Charlotte Chandler.) The innovator has a new kind of aircraft clamp he wants someone to market. Not too different from those screw-on clamps you use to repair a garden hose, but with several improvements. Turns out the gizmos are perfect for joining flexible aircraft fuel lines. They stand high pressure so well that Marman band clamps are used to help make turbocharged wartime aero engines possible. They also secure air intakes, hydraulic hoses, and oxygen supplies aboard Boeing B-29 bombers and other aircraft. Extra-large clamps hold cargo.
To keep up with demand, Zeppo's machine shop expands out of the garage and into two large factories, employing more than 500. The production line employs prop men from RKO's special effects department and big-band musicians between gigs.
Clamps inspired by Zeppo's original find work everywhere in aviation, providing leakproof fuel, hydraulic, and other joinery; square versions fasten gauges to instrument panels.
Scene 3: The Marx Brothers in space? When John Glenn rode into orbit aboard Friendship 7 in 1962, a six-foot-diameter Marman-type clamp released the capsule from the Atlas rocket, with explosive bolts blasting open the clamp. (Harpo would have liked that.) Today, the use of Zeppo's fastening techniques at the separation plane of a spacecraft (the point where a satellite disconnects from its booster) is the standard method for deploying payloads from the space shuttle's cargo bay. In space, the clamp works both when it holds and when it doesn't. Or when it holds just a little. Like during Cassini's flybys past Saturn, which began in 2004. The orbiter's plasma spectrometer must turn to measure the planet's magnetic field; this was enabled by a Zeppo-inspired clamp that squeezes to hold the instrument fixed, then loosens to permit rotation.
When the European Space Agency's four Cluster satellites (which study Earth's magnetosphere), unofficially dubbed Groucho, Harpo, Chico, and Zeppo (and a spare named for Gummo), were launched in 2000, ground controllers were doubtless unaware how much their mission depended on the work of a real Marx Brother. To fit inside their launch vehicle, each identical Cluster satellite mated to its brother (an aerospace first) with a Marman-type closure. Once in space these fittings burst, releasing the orbiting formation of four to whirl around Earth.