Oldies and Oddities: Sikorsky's Piano Man
Oldies and Oddities: Sikorsky's Piano Man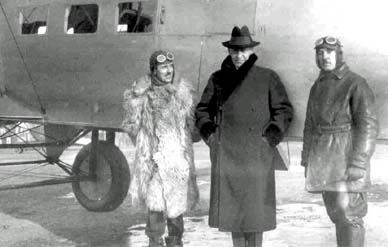 In the fall of 1923, Russian aviation pioneer and designer Igor Sikorsky was facing economic disaster. His newly established Long Island company, Sikorsky Aero Engineering Corporation, had nearly run through its meager resources.
Sikorsky, who was virtually unknown in the United States, was working on the S-29A ("A" for America), a twin-engine, closed-cabin, 14-passenger transport. His "factory" was set up on a chicken farm owned by his friend Victor Utgoff, a former lieutenant in the Russian navy. Aside from the money problem, the work had to be done by hand, since the farm did not have appropriate machinery. Sikorsky and his workers, mostly Russian immigrants, were raiding junkyards for parts for the airplane, which had to be constantly redesigned depending on the equipment and materials they found. The main structure of the fuselage was built with angle irons from discarded bedsteads. Turnbuckles, which were used to adjust wire tension, were found in a Woolworth's five-and-dime. The landing gear was installed with the help of Sikorsky's nephew, Dmitry (Jimmy) Viner, whose responsibilities included ditch digging. "Since there was no jack to raise the fuselage," Frank Delear wrote in Igor Sikorsky: His Three Careers in Aviation, "Jimmy dug under it to make space for the wheels and landing struts. With the gear installed, the plane was then pulled out of the ditch."
Since the work was done outside, cold weather brought it to a standstill. The enthusiasm of Sikorsky's men, who had worked for weeks without pay, was at its lowest, and the workforce dropped to a mere handful. The few dollars that could be raised by selling stock in the company were spent mostly on food.
One Sunday, a chauffeur-driven limousine drove up to the chicken house. A tall, slender figure in a long black coat stepped out of the car and walked up to the airplane. In total silence, he inspected the aircraft.
"Everyone on the farm got greatly excited," says Sergei Sikorsky, Igor's son and the retired vice president of Sikorsky Aircraft, who remembers well how his father described the event. "They all immediately recognized Sergei Rachmaninoff as their guest. My father went up to him and they began to talk. After about a half-hour visit, Rachmaninoff said, 'I believe in you and your plane and I want to help you.' " The composer wrote a check for $5,000 (approximately $100,000 today). With a smile, he gave the check to the stunned Sikorsky and said, "Pay me back whenever you can."
According to Sergei Sikorsky, Rachmaninoff was not just investing money. He was making a friendly gesture of help to one of the brightest of his countrymen, the first to build multi-engine aircraft, including the biggest aircraft at the time, the four-engine Il'ya Muromets. Somehow Rachmaninoff had come to find out that Sikorsky was pursuing his visionary path in defiance of many hardships.
Thanks to Rachmaninoff's support, the company managed to rent an old wooden hangar at a corner of Roosevelt Field, where the workers moved the airplane with the help of the local police, who had come to respect the hardworking Russians. A few days later, Igor Sikorsky and his family moved into a rented house in Westbury.
As a token of appreciation, Sikorsky asked Rachmaninoff to be the company's first vice president. The composer accepted, adding much to the company's prestige. Thus was Sikorsky's career in America launched, and thus began a close friendship. "My father felt very proud," says Sergei Sikorsky, "when in 1929 he sent Rachmaninoff a check for $5,000 plus interest."
Rachmaninoff made many visits to Sikorsky's house, and the Sikorsky family attended Rachmaninoff's concerts at Carnegie Hall in New York City. Sergei Sikorsky recalls that Rachmaninoff once brought fellow pianist and composer Josef Hofmann to see Sikorsky building airplanes at his Stratford, Connecticut plant. "I remember my mother had to prepare an impromptu lunch for them," recalls Sergei Sikorsky. "I also remember that there were two or three reporters that were following Rachmaninoff to the factory and then to our home, and I remember my father had to walk out to the front door and ask the press, 'Gentlemen, please don't walk in our front yard or back yard. Please don't try to peek through the windows and photograph, because it is very impolite. We are here just with friends.' "
On September 25, 1924, after one more year of tribulations, including a crash, the S-29A took off successfully, and with it the Sikorsky company. Many demonstrations and charter flights followed, but the company made its first real profit—$500—by using the airliner to transport, appropriately, two grand pianos from New York City to Washington, D.C.
—Vadim Prokhorov