AeroMartí Signs Off
The airplane that doubled as a TV station.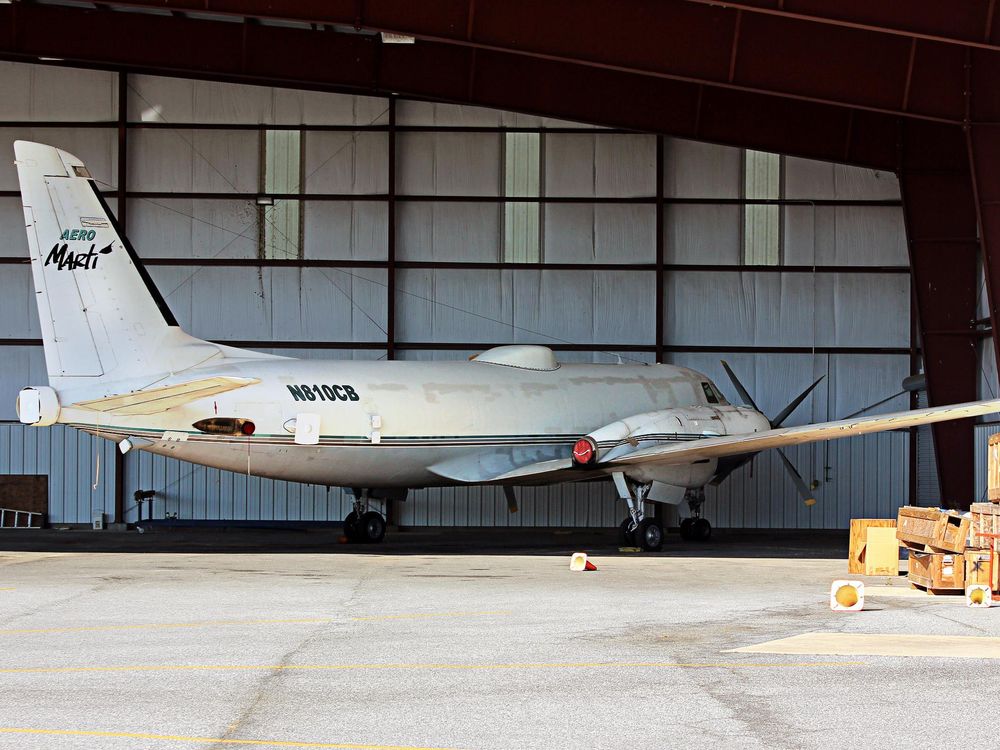 What does a Gulfstream G-1 turboprop have in common with a tethered blimp? They both broadcasted "the TV that no one sees"—la TV que no se ve—which is now completely living up to its reputation. AeroMartí, the mission that beamed anti-Communist radio and television into Cuban homes since the 1980s, was quietly axed for good this spring.
Originally called Radio Free Cuba when it began airing in the early 1980s, the U.S. propaganda network was renamed Radio Martí as a tribute to José Martí, a 19th century Cuban political figure and writer whose works extolling freedom and democracy played a key role in Cuba's independence from Spain.
The federal agency that ran the program, the Broadcasting Board of Governors, incorporated television in 1990 with news coverage, documentaries, and even live sports transmitted from Fat Albert, a blimp tethered a few miles outside Key West, Florida. When the weather turned windy, Fat Albert occasionally broke loose, taking its million-dollar cargo on joyrides; in 2005 it was destroyed by Hurricane Dennis. The next year, an Air Force C-130 Hercules took over, but its high operational costs caused the board to quickly replace it with a 1960s-era Gulfstream G-1, dubbed AeroMartí.
From 2006 until the 2013 federal budget sequester grounded it, AeroMartí flew six days a week, broadcasting during prime time—at any time reaching only about one percent of its potential audience. The Cuban government had been jamming the signal (which islanders could otherwise see on channels 13 and 20) since just a few minutes after it first appeared on televisions in 1990.
Why even bother? The members of Congress who supported the project believed that if Cuba was taking the effort to jam the signal, the broadcasts must have been effective. Until the aerial program was finally ended last April, it received an appropriation of more than $6,000 a month for rent in a rural Georgia hangar where the Gulfstream stayed after being grounded.
But you can't stop the signal, or so the government would like to think. The broadcasts continue, just in a modern, and much less expensive form: through the Internet and mobile apps.