Notes From Farnborough
Daily dispatches from one of the world's great airshows.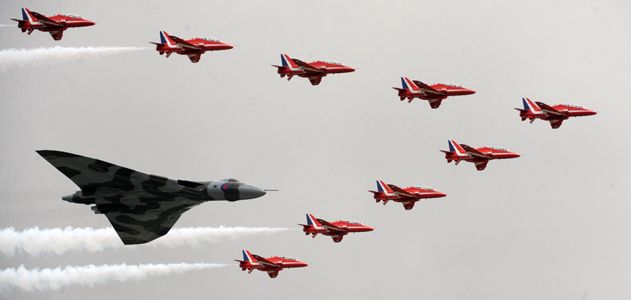 The biennial Farnborough International Airshow runs July 9 through July 15 in Hampshire, England. Irene Klotz will be on hand throughout the week, reporting on the aerospace industry's latest and greatest.
July 12
Russia opens new frontier in "Space Zone"
Tucked into the farthest hall of the massive Farnborough airshow exhibit area this year is "The Space Zone," a relative newcomer to the biennial event. It's twice the size it was for its debut at the 2010 show, due in no small part to the addition this year of Roscosmos and a half-dozen or so Russian space companies eyeing international sales.
RSC Energia, makers of the Soyuz spacecraft, featured a model of the International Space Station, enhanced with planned Russian hardware, as well as a replica of the Sea Launch system. Around the corner, Khrunichev showcased its sizeable family of rockets.
Displays at the Research and Production Corporation included wall-sized posters of laser trackers and satellite-studded retro-reflectors. The technology apparently also can be used to monitor objects that don't have reflectors, such as space junk, but not with the same precision, department head Vladimir Burmistrov, said through a translator.
Except for Virgin Galactic's SpaceShipTwo mockup, which is located outdoors, space will remain largely invisible to the general public at Farnborough. The exhibit hall, which attracted about 1,400 companies from 40 countries, shuts down on Friday. The public venue runs over the weekend.
---
July 11
Branson's Olympic wish
Among the newcomers to Farnborough this year is Virgin Galactic, a California-based offshoot of Richard Branson's London-based Virgin Group, which is developing a commercial suborbital spaceship for passenger flights.

The centerpiece of Virgin's exhibit at the show is a full-scale, high-fidelity replica of SpaceShipTwo, complete with tread on the tires.

"How lovely it feels to be showcasing our spaceship replica in the U.K., especially during such a historic year for Britain," Branson told an invitation-only crowd gathered to hear about the firm's new service, LauncherOne, which will send small satellites into orbit from an aircraft for less than $10 million.

"We would have loved to have flown (carrier aircraft) WhiteKnightTwo and SpaceShipTwo over from their current home, Mojave, for an actually flyby at Farnborough, but the vehicles are in the middle of an extremely important part of their test program which actually can't be interrupted," Branson said.

"But wouldn't it have been wonderful to have them stay on and fly over the opening ceremonies of the Olympic games -- especially since British Airways was sponsoring them."

By the time the biennial airshow returns in 2014, Branson may be able to speak first-hand about what it's like to fly on SpaceShipTwo. The 61-year-old entrepreneur said he expects to be aboard the first operational flight of the ship, along with his two children, next year.
---
July 10
Simulating Mars on the ISS -- with or without China

Having successfully completed a 500-day Mars simulation last year, Russia and Europe have plans for a follow-on, this time aboard the International Space Station.

But aside from the formidable logistics, the project presents a thorny political problem—whether to invite China.

"Russia would like to make the full-up Mars500 aboard the space station, which is a very different type of simulation, and the question is how can we associate with Chinese for that?'" European Space Agency director general Jean-Jacques Dordain said during a Tuesday briefing with reporters at the Farnborough Air Show.

A Chinese "astronaut" joined two Europeans and three Russian volunteers as test subjects for the 17-month dry run to Mars.

Not only is the People's Republic of China not part of the 15-nation space station partnership, Congress last year banned NASA from any joint scientific activities with the Chinese. That may sound like a show-stopper, but not to ESA, which is talking to China about various space collaborations, including cross-training of astronauts.

"We've not yet got any concrete recommendations from the meetings. We are interested in what they are doing and they are interested in what we are doing, so we talk," Dordain said.

Europe and Russia also are trying to convince the United States to consider China's space capabilities.

"Why ignore it?," Dordain said.

At the end of the day, nothing will happen aboard the space station without the full consent of all the partners, Dordain added.
---
July 9
Dreamliner's debut, and new Boeing designs

The first big sale of the 2012 Farnborough show went to Boeing—not for its 787 Dreamliner, but for more of its best-selling passenger aircraft, the 737. U.S. Air Lease Corp signed up for 75 of the company's 737 Max jets, an order worth $7.2 billion.
Boeing did show off its Dreamliner, though, hoping for more sales, and announced a new design, the 777X.
The elegant Dreamliner soared through the cloudy, grey skies over Farnborough on Monday, the opening day of the behemoth UK international air show. It was the first civil air show display for the 787, a long-range twin-engine jet that started commercial service in October.

The Dreamliner can carry between 210 and 290 passengers, and Boeing has even bigger planes in the wings. The company is working on the 787-10X, which can carry 300 to 330 passengers more than 7,800 miles.

Another plane on the drawing board is the 777X, which will require a new composite wing, new engines, and changes in the fuselage, according to Ray Conner, who took over as president and chief executive of Boeing Commercial Airplanes last month.

"What we're trying to do is give the airline operators as many options as they want," Conner told reporters. Boeing is in a heated competition for business with its European rival, Airbus, which is moving onto U.S. turf—literally. Airbus announced July 2 it was building an assembly plant in Mobile, Alabama. Conner quipped he was "really looking forward," to welcoming Airbus into the Aerospace Industries Association, a U.S. trade group.