"Not a Woman's Profession"
Elena Serova overcame more than the rigors of cosmonaut training to reach space from today's conservative Russia.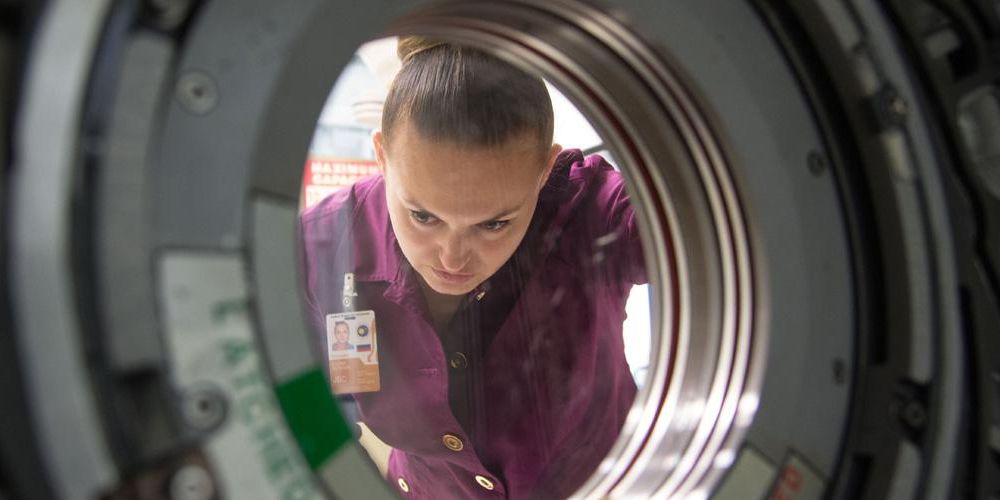 A Russian woman is preparing to break a stratospheric glass ceiling on Thursday, by blasting into orbit onboard the Soyuz-TMA-14M spacecraft from Kazakhstan. Elena Serova, 38, will travel to the International Space Station for a five-and-a-half-month-long mission, along with her Russian colleague Alexander Samokutyaev and NASA astronaut Butch Wilmore.
Serova won't be the first Russian woman in space, yet her feat should be considered historic. She will be just the fourth Russian female to go into orbit in more than five decades of human spaceflight, during which more than 100 Russian male cosmonauts have made the trip. And given the current social climate in Russia, Serova's road to space may have been rockier than any of her female predecessors.
Valentina Tereshkova became the first woman in space in 1963. Behind the egalitarian façade of Soviet propaganda surrounding her mission, her "failings" (both real and perceived) during the flight were criticized by the male-dominated Soviet space leadership, and as a result, the door to space was closed to Soviet women for the next two decades. Not until NASA prepared to let women astronauts fly and conduct spacewalks onboard the Space Shuttle in the early 1980s did the Kremlin rush to beat its Cold War rival with a spacewalk by Svetlana Savitskaya. An all-female Soviet crew was also scheduled to fly, but was eventually cancelled.
A decade later, Elena Kondakova blasted off on a 170-day mission aboard the Mir space station, probably not without some lobbying support from her husband, cosmonaut Valery Ryumin, who became a powerful official at RKK Energia, the prime developer of Soyuz and Mir. When she arrived at Mir, Russian medical researcher Valery Polyakov was near the middle of his record-breaking, year-and-a-half-long mission to space. Kondakova later recalled that upon her arrival, Polyakov jokingly complained to her that he would now have to shave daily and abstain from foul language!
It would take another two decades before Elena Serova came along as a member of the first post-Soviet generation. In the meantime, public interest in spaceflight waned in the land of Yuri Gagarin. And, as in other countries, Russian girls experienced social pressure to avoid science and not become "space geeks."
With the fall of communism, the gender-equality slogans of the Soviet era—no matter how fake—were replaced with unabashed conservatism. Russian orthodox priests began not only spraying Russian rockets with "holy water" before liftoff, but also preaching "traditional values" that restricted woman's role in the society to motherhood and housekeeping.
During last year's celebrations of the 50th anniversary of Tereshkova's flight, the first woman in space was shocked when she asked a large group of school kids, "Who wants to be a cosmonaut?" and not a single girl raised her hand. Even Serova's own pre-teen daughter, who was at first excited about her mother's unique profession, eventually favored typical "girls sports" like gymnastics and figure skating, Serova told a TV interviewer for the Russian program "Russkiy Kosmos" (Russian Space).
In recent years, with no Cold War competition to drive them, Russian space leaders have no longer felt the need to keep up with their western counterparts in terms of the number of women selected to fly. Anatoly Perminov, former head of the Russian space agency, Roskosmos, unapologetically told journalists that spaceflight is not a woman's profession, and jokingly implied that having women on a spacecraft was bad luck.
Unsurprisingly, "We can now say without any doubt that compared to previous years, fewer women are even applying for the (cosmonauts) group," Serova told the TV interviewer. "In our country, it is considered to be not a woman's profession." By the time of her selection for flight, Serova was the only female in the 35-person cosmonaut corps.
Even she has emphasized that she applied to become a cosmonaut only after fulfilling the "main purpose of a woman" (to bear a child). And she has sometimes had to defend herself when questioned about whether she can remain a good mother and a good wife.
Still, Serova insisted in that same 2012 interview that she was treated equally to her male counterparts during her training—a claim that's contradicted somewhat by an accompanying video interview with her parachute instructor, who makes the bizarre claim that he had to make (unspecified) "corrections for the woman's character." 
Serova seems to roll with all of this, and compares the situation to an old Russian belief that woman should not drive automobiles. "Possibly, the same way, a stereotype had developed within the space program that it is not a profession for women," she said.
"For the future, I hope very much that we will find girls and women who will want to join the group, who really love this profession, who is in love with space and who can do good for their country," Serova said.
See below for a NASA video profile of Serova, including scenes from her pre-cosmonaut life.