The National Air and Space Museum's DC-3 Goes Into Storage, But Only for a While
One of the world's most successful airliners makes a short trip to a temporary home.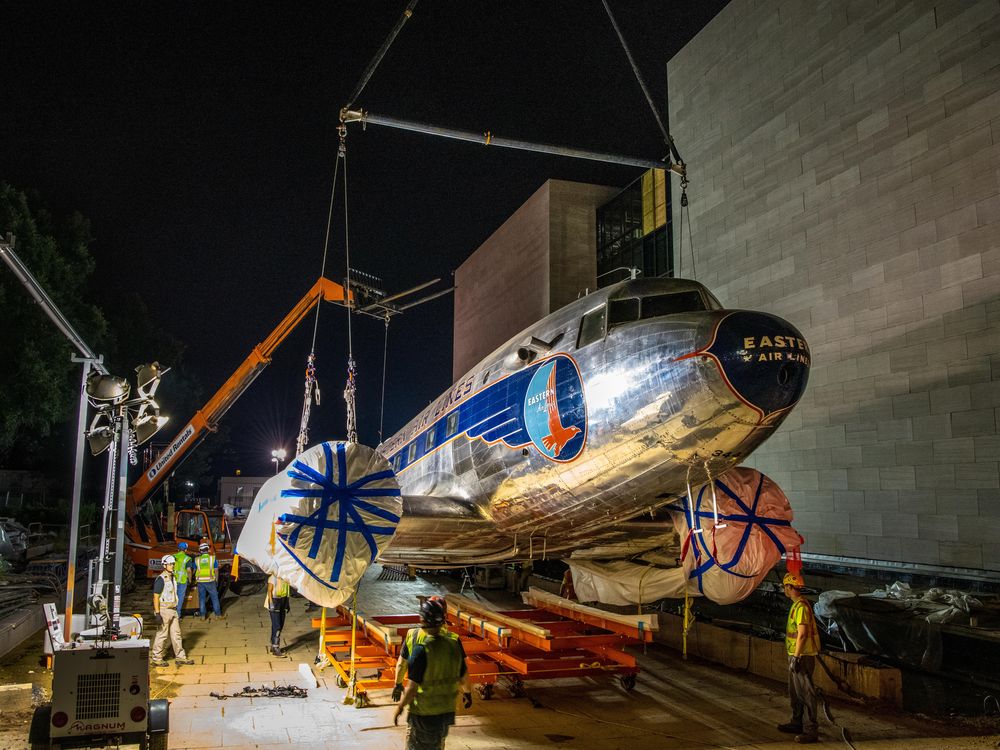 A Douglas DC-3's top speed is 230 mph, but on this particular journey the airplane was moving at a sedate 35 mph—still impressive for an aircraft whose wings had been removed.
The vintage airliner, transported at 2 a.m. on a flatbed trailer with a police escort, was being moved along a highway from the Smithsonian's National Air and Space Museum's Mall location to the Steven F. Udvar-Hazy Center in northern Virginia.
As the Museum on the National Mall undergoes a major, seven-year restoration—during which time much of it will remain open to the public—its aircraft and spacecraft must be moved so that construction crews have room to work. The artifacts are going to a storage facility near the Museum's Steven F. Udvar-Hazy Center.
Before the airplanes head to storage, however, visitors can see them undergoing conservation at the Hazy Center's Mary Baker Engen Restoration Hangar.
The DC-3 was presented to the Smithsonian in 1952 by then-Eastern Air Lines' president and former World War I ace Eddie Rickenbacker. The aircraft has been on display in the National Mall building since its opening in 1976.
"The DC-3 has been hanging for more than 40 years," says restoration shop supervisor Luke Jones. "In that time, it's received many layers of fast-food grease, dust, water, and dirt. We'll start by gently vacuuming the airplane, and follow that with water and a mild detergent. Once those steps are complete, the restoration team will evaluate the aircraft's condition and address any needs it may have in order to sustain it for another 50-plus years."
The Douglas DC-3—with its speed, safety record, and roomy (by 1930s standards) cabin—would transform commercial aviation. Before its advent in 1936, the U.S. commercial airline industry had been subsidized by the government through airmail contracts and other funds. "The DC-3 was the first airliner capable of making money without the subsidy, simply by carrying passengers," says Museum curator Robert van der Linden.
The aircraft had 21 seats (instead of the standard 10), cantilever wings, and all-metal construction. So successful was the original design that the basic specifications were never changed. Of the more than 13,000 DC-3s built (including the military version, the C-47), the Museum estimates that 400 are still airworthy.
The Museum's aircraft flew more than 56,700 hours with Eastern Air Lines, and its last commercial flight was on October 12, 1952, from San Salvador to Miami.
It will return to the Museum on the National Mall in 2022, when restoration of the America by Air gallery is complete.