The Next World Speed Record
Has a young Brazilian professor created the fastest raceplane in its class?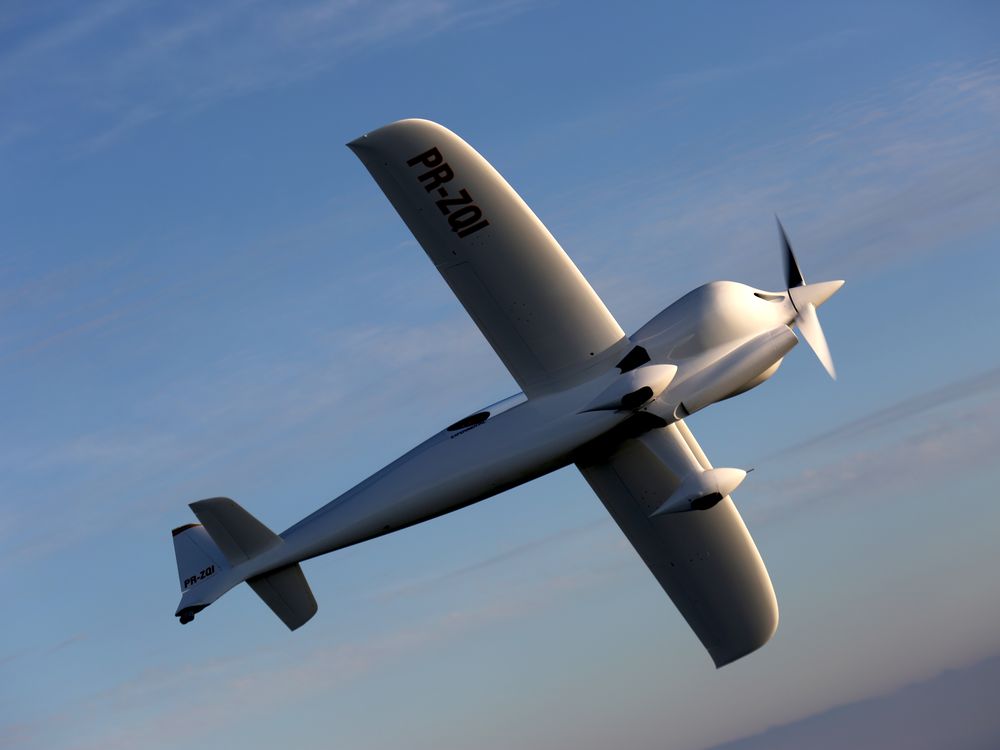 On an overcast morning late last year in Divinopolis, Brazil, a small, slippery raceplane took to the air for the first time in the experienced hands of former Brazilian aerobatic champion Gúnar Armin. Its name, Anequim, is Portuguese for mako, the fastest shark in the ocean, and this airplane is indeed a ruthless predator in form and function. From tip to caudal tail, it weighs less than 730 pounds—and nearly half that is the engine. Its fins are laminar flow airfoils, within 0.002 inch of perfect smoothness, with a third the drag of the conventional wings of a Cessna. A highly modified 278-horsepower, four-cylinder Lycoming will gnash through the air at nearly 350 mph. And when it rises up from the jungle into calm air, Anequim will be on the hunt for no less than five world records.
The first flight lasted 13 minutes and achieved a top speed of 269 mph on little more than half power. Armin reported it handled beautifully. But when he attempted to extend flaps to slow for landing, there was suddenly a loud pop.
The pop came from a flap pushrod that wasn't screwed tightly enough into its actuator and was ripped out when the pilot tried to lower the flaps. With no flaps, a plane as slick as Anequim eats up runway fast. Armin's first two attempts to land the aircraft were aborted—"This thing is hard to slow down!" he radioed—before he finally sideslipped an extended final to the short Divinopolis runway and brought Anequim to a stop just short of the grassy overrun. Nevertheless, in a post-flight interview Armin beamed: "It didn't fly the way I expected. It flew the way I wanted."
Overseeing the flight and landing was Paulo Iscold, 39, Anequim's designer and a professor of aeronautical engineering at the Federal University of Minas Gerais (UFMG by its Portuguese initials) in Belo Horizonte, Brazil. In the university's shop, his imposing six-foot-six frame pinballs from one project to the next, fueled by adrenaline and Coca-Cola. (Iscold jokes that America's greatest contributions to humanity are Coke and the P-51 Mustang.) He alternates between a mask of solitary concentration at his computer and a boyish mischievousness as he chats with students or visitors about the only topic that really matters: airplanes. Between teaching classes, consulting, and building airplanes with students, Iscold travels the world as race engineer for Paul Bonhomme's Red Bull Air Race team.
The story of Anequim begins, in a sense, when Iscold was 10, and Claudio Barros, a friend of his father and an engineering professor from UFMG, paid a visit. Barros was bitten by the aviation bug at an early age and, following the German model of aeronautical education, created at UFMG the Centro de Estudos Aeronáuticos (CEA), a shop for students to design and build experimental aircraft. In the university library, Barros had found a single book on airplane design: Stelio Frati's 1946 classic, L'Aliante (The Glider), which he and his students used as a guide to design and build Brazil's first glider in 1963.
The young Iscold knew Barros built airplanes, and when Barros mentioned to the family that he intended to retire the following year, Paulo objected. "In fact, I begged him to stay long enough for me to graduate from his program!" he laughs. "Many years later, Professor Barros told me he left our house shaking his head and thinking 'That kid is crazy!' I don't know whether it was for me or not, but the fact is he did not retire." Iscold became Barros' star pupil.
Iscold often worked late nights and weekends using a computer to assist Barros' research. (His mentor was more familiar with slide rules than PCs.) Early in 1998, on the morning of his 22nd birthday, Iscold knocked on Barros' door, prepared for a long day of work. Barros arrived at the door and gently pushed Iscold back toward the street. "Not today. Today is your birthday. Let's go have lunch. I have something to give you." He held a rolled-up magazine in his hand.
At lunch, Barros handed Paulo the January 1993 issue of Sport Aviation, featuring Mike Arnold's AR-5 raceplane, which had recently set the world record in its weight class, reaching more than 212 mph on a mere 65 horsepower. The feat had piqued the interest of the aerospace community, and according to one aerodynamicist, who said the airplane looked like "it was carved from a solid block of ivory," the aircraft had the least drag of any propeller-driven airplane ever built. "I think you can break this record," said Barros. "If you wish to try, I will be your adviser."
Barros donated $500 to his prodigy, and a friend forwarded $150—half his monthly paycheck—to get him going. The result was the raceplane 308, formed from a wood-foam substructure skinned in fiberglass, with all fittings machined and welded by Iscold, who is as at home on a lathe as he is on a laptop.
Barros' son Daniel, a corporate jet pilot, made the first flight of 308. It was an early winter morning in 2002, and the airplane was so tail-heavy it was almost uncontrollable. The canopy flexed as though it might depart in flight. The propeller was later discarded as poorly designed, and the two-stroke engine that turned it buzzed erratically. On a subsequent flight it would fail, as would the landing gear—not just once but three times. Daniel Barros accelerated, consuming the entire two miles of runway before hopping the threshold lights and descending into a valley, hoping to gain enough speed to climb back to the airport.
"Our first flights were not…comfortable," says Daniel diplomatically. Fortunately, after diving into the valley he was able to gain enough speed to climb back to the airport. With each test flight, Iscold and his team improved the airplane. But they were young, inexperienced, and dangerously pushing their luck. The elder Barros was forced to step in, imposing safer levels of airworthiness. "I think that saved the project," says Daniel, "and we matured in the process."
"I was trying to move too fast," Iscold admits. "An airplane almost has a life, like a racehorse, and you need to understand his personality. With 308 that became really clear to me. Whenever we had a problem, I wanted it fixed before I went to bed. Now, I change my way to think: I go to bed and sleep, and tomorrow I fix it. That was really a big change in the way I do these things. There is no race to build a racer."
308's old two-stroke aviation engine was notoriously finicky. Nevertheless, Iscold could not afford a new engine, and when 308's finally seized mid-flight, the aircraft crash-landed and was badly damaged. (Daniel walked away unharmed.) Lacking funds to rebuild it, Iscold shelved 308. It would not fly again for eight years.

In the meantime, Iscold advanced toward a Ph.D. In 2002, after attending numerous aerobatic competitions and gathering pilot input on desired handling and appearance, he began designing an unlimited aerobatic airplane for sponsor Marcos Geraldi (CEA sponsors pay for building materials and student scholarships in exchange for ownership of the finished aircraft). For reasons unclear to Iscold, Geraldi decided to name the airplane Mehari, Portuguese for camel. (Iscold now names the aircraft before turning them over to the new owners.) Originally constructed with a steel truss fuselage and wooden wing, Mehari came out heavy, so was refitted with a lighter carbon fiber wing. But control harmony—the balance of forces a pilot feels when applying elevator, aileron, and rudder inputs in various attitudes and G-loadings—has proven troublesome, and Iscold considers Mehari "unfinished business." Still, Geraldi is a talented aerobatic pilot, and in the advanced category at the 2014 Brazilian Aerobatic Championships, he took Mehari to first place. But Mehari didn't sate Iscold's desire for speed.
While Iscold was building Mehari, he contacted a South African company working on a similar project. As an unknown kid from Brazil, Iscold was not surprised when he got no response. Four years later, an email arrived from South African Glen Dell: Sorry for the late reply. They were not interested in collaborating on Mehari, but would he like to join Dell's 2009 Red Bull team as a race engineer?

The Red Bull Air Races, perhaps the most exciting event in air racing today, pits the world's best aerobatic pilots against a clock—and one another—through a low-altitude, highly technical obstacle course. Iscold jumped at the chance and was soon in Johannesburg designing parts for Dell's Edge 540, among them a half-dozen wingtips.
Why so many? The wingtips of Red Bull racers pose a dilemma for engineers: During part of the race, the airplanes fly relatively straight, and smaller tips minimize drag and maximize speed. But in several high-G turns in the race, huge, speed-sucking vortices form at the tips. Increasing the size of the tips (or using vertical tiplets) reduces these vortices but increases drag on the straight line. In the end, due to the large number of variables that affect an airplane's lap times, Iscold was unable to suss out the optimal tip shape. But he gained something more valuable: His computer program was eventually applied to the entire aircraft, using a data acquisition system that precisely monitors the position and speed of the aircraft as it slaloms through the racecourse. Immediately after a race, this information is downloaded to Iscold's computer, and Iscold is able to show the pilot how to adjust his flight path for the fastest line.
The following year, Dell retired from air racing. Iscold approached 2009 Red Bull champion and British pilot Paul Bonhomme about joining his team, but when he learned that Dell's spot would be filled by the Brazilian aerobatic champion Adilson Kindlemann, Iscold decided to join forces with his countryman. Unfortunately, in the second race of the season, Kindlemann crashed into Perth's Swan River, and, though uninjured, it ended his brief career as a Red Bull racer. After a midnight call from Iscold's old South African teammates, informing him of events on the other side of the world, Iscold hurriedly emailed the course optimization data to Bonhomme. "It's no use to Kindlemann now," he wrote. "Please use it to help you win."
The next race was in Rio de Janeiro, a five-hour drive south from Iscold's hometown, Belo Horizonte. The day before the race, Iscold telephoned Bonhomme, asking about joining the team in Rio. Bonhomme said he would call back in the morning, but Iscold sensed that the pilot was unconvinced, so he jumped in his car and drove through the night to Rio. There, Iscold faced a problem: The teams were hangared at a military base, and he had no way of getting in. Iscold thought for a few minutes, then pulled an old business card from his wallet: that of the Belo Horizonte air base commander. He nervously made a call he admits was a little too early for a Saturday morning.
An hour later, Bonhomme finally called Iscold. True to Iscold's intuition, Bonhomme equivocated, finally telling Paulo that there wasn't time to make it from Belo to the race anyway. "That's not true," laughed Iscold. "I just parked in front of your hangar!" Iscold spent the rest of the 2010 season with Bonhomme, who narrowly edged out arch-rival Hannes Arch for his second championship title. Iscold is now in his third consecutive season as Bonhomme's "secret weapon."

Iscold had never given up the dream of 308 setting a world record, and in 2009 he decided it was time for another shot. Iscold had by this time met aerobatics champion Gúnar Armin, who offered to finance 308's repairs and purchase a more reliable four-stroke engine. In exchange, Armin would acquire ownership of 308 and the opportunity to set the record (Iscold is far too tall to fit in either of his speedplanes). With his team of enthusiastic undergraduates, Iscold made the design changes and repairs necessary for 308 to attempt the record, and began a new series of test flights with Armin at the controls. But the airplane plateaued at 186 mph—well below the standing record of 218. Iscold suspected the problem was the propeller, and decided to contact the man whose handiwork had pulled Mike Arnold's AR-5 to fame.
Craig Catto has been building propellers since he was a teenager and may know more about squeezing efficiency from a prop than anyone today. His propellers have been used to set numerous world records, including that for altitude set by NASA's solar-powered, remotely piloted Pathfinder. "Paulo sent me all of the data he had designed his propeller around, and you could immediately see the issues and errors in it," he says. Loving nothing more than a good challenge and fast airplane, Catto sent not one but two propellers south to Brazil, gratis. And so 12 years after Professor Barros had handed him a dream rolled up in a magazine, Iscold and his students brought a record contender to a remote airstrip less than 20 miles from the birthplace of Alberto Santos-Dumont—the man credited with setting the world's first official aviation record (a 220-meter flight in 1906). Over two days, Iscold's 308 went on to set four world records in speed, distance, and climb, including a top speed of 223 mph on a mere 80 horsepower. The records remain unbroken.

For Iscold and Armin, once was not enough. In 2011, after Armin saw Paulo's preliminary sketches of an even faster record-setter, he again decided to sponsor an Iscold project. The current c1a class record (661-1,100 pounds, the weight class above 308's) of 290 mph is held by Jon Sharp's iconic Nemesis. It represents a formidable challenge; Iscold's answer, Anequim, represents everything he has learned about how to make an airplane go fast. Brian Utley, past president of the Soaring Society of America and member of the National Aeronautic Association Contest and Records Board, certified 308's records and has since become a good friend of the Iscold family. "Because of my personal background in advanced sailplane competition, I personally knew many of the German designers," says Utley. "I had an appreciation for design, and what I have found with Paulo is that he reflects that same sense of no compromise, of designing to the ultimate requirement of what the aircraft is supposed to do. I think his unswerving commitment to that sets him apart from almost everyone in the game, with the exception perhaps of Jon Sharp, who I would identify with that same kind of zeal and excellence."
Despite Anequim's radical appearance (Iscold names the Caudron C.561 and Sharp's Nemesis as inspirations), its design is in fact moderately conservative. Iscold is the first to admit that the raceplane has nothing technologically "new."
Whereas 308 and Mehari were entirely hand-built, Iscold and his students spent a full year designing Anequim on a computer before a single part was produced. The carbon fiber wing and monocoque fuselage were vacuum-bagged on CNC-machined molds, and even internals that might normally be fabricated by hand have been molded and machined. There are parts inside the airplane that will never be seen but that are nonetheless beautiful.
Surprisingly, Anequim is powered by essentially the same engine that pulls a Cessna 172 just over 140 mph: a Lycoming IO-360. "Professor Barros had a rule about engines," says Iscold. "New airplane, old engine; old airplane, new engine." Which is to say: Don't put an untested engine in an untested airplane. Iscold adds: "Lycomings may represent old technology, but my experiences with Red Bull made me feel these are reliable engines that can be pumped up without major issues."
Iscold labels Lycomings "old technology" because a traditional Lycoming engine gets its fuel from a carburetor (if you're under 30, you'll probably need to Google that) and sparks from a magneto (ditto if you're under 60). But to reach the design goal of 345 mph, Anequim will need almost 280 horsepower from an engine rated for only 180. That requires extensive modifications: fuel injection, electronic ignition, high-compression pistons, ported induction, and operation well above the 2,700 rpm redline. After a few initial hiccups, Anequim's engine has proven extremely reliable, enabling the team to proceed steadily with flight tests.
Those tests will show the team the personality of this new thoroughbred, to steal Iscold's earlier analogy. Armin (who as project sponsor is Anequim's owner and pilot) clearly loves his new ride. The flights also enable Iscold to gradually open up the speed envelope. If all goes to plan, Utley (the NAA records certifier) will once again get to enjoy a few days of balmy Brazilian weather in the presence of Iscold, Armin, Iscold's UFMG students, and a very fast airplane. Tentative plans are to attempt the records this August.
In the meantime, Iscold waits. Test flights are planned around Armin's schedule as a commercial pilot, as well as the weather. Iscold, as usual, has his fingers in a half-dozen aerodynamic pies: wind tunnel tests of a STOL (short-takeoff-and-landing) bushplane wing, blade fabrication for a small wind turbine, a flight simulator for the university, consulting work for Catto Propellers, an enhanced Red Bull data acquisition system. An unfinished aerobatic airplane designed by Joseph Kovacs, designer of the Embraer Tucano military trainer and Iscold's friend, has been delivered to CEA as the next student project.
But Iscold's patience barely runs the length of a long lunch, and the designer is already thinking about his next racer, the bigger record. The next weight category—c1b, encompassing aircraft from 1,102 to 2,204 pounds—would require him to build something capable of nearly 400 mph, and as racers say, cost goes up by the square of speed. But it is the all-time piston-powered speed record, 528 mph, set in 1989 by Lyle Shelton in Rare Bear, that gets Iscold's heart pumping. For that he would need a Rolls-Royce Merlin engine and an international team of professional builders and engineers. It wouldn't be a bad fourth airplane.
Eric Stewart has built a Van's RV-4 and is currently building a racer.