Next Stop: New York
Space shuttle Enterprise heads for Manhattan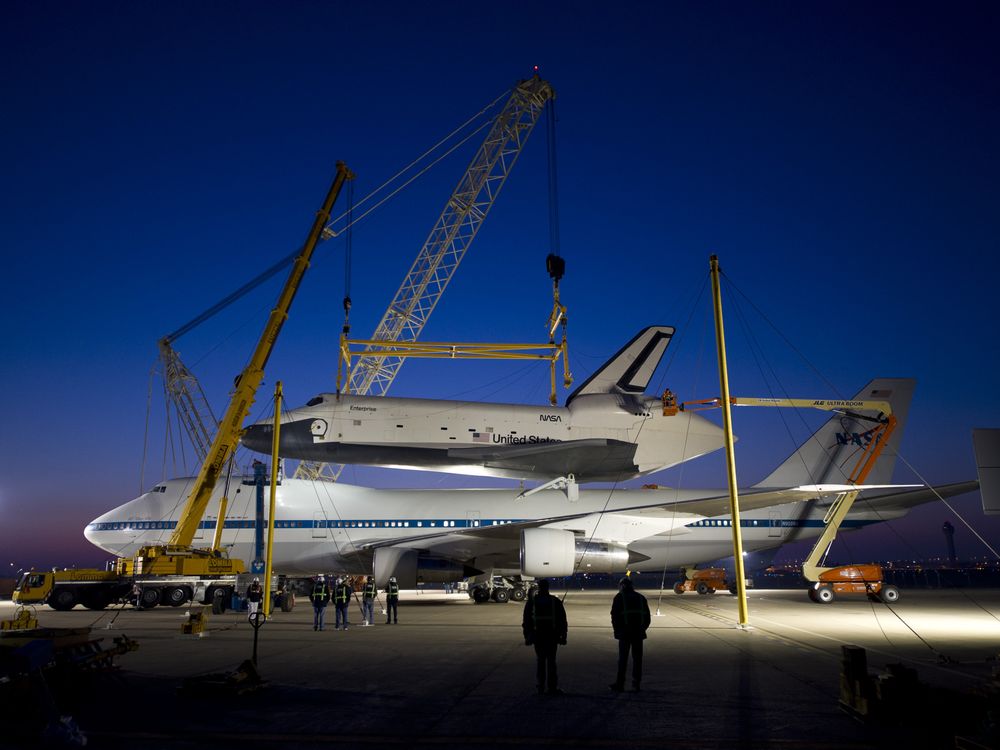 If the reaction of Washingtonians to last week's space shuttle flyover is anything to go by, New Yorkers are in for a thrill.
Space shuttle Enterprise is scheduled to fly over New York City between 9:30 and 11:30 on Friday morning, riding on the back of a Shuttle Carrier Aircraft on its way from the National Air and Space Museum's Stephen F. Udvar-Hazy Center to its new home at the Intrepid Sea, Air & Space Museum on the Hudson River. NASA and the Federal Aviation Administration won't say exactly what the flight path will be, but they intend to fly over familiar landmarks like the Statue of Liberty (photo op!). These folks claim to have advance knowledge of the route, and offer advice on the best viewing spots.
Honestly, though, it didn't much matter where you were standing in Washington last week. Discovery flew several slow loops over much of the metro area, and millions of people had the chance to get a close-up view, even if they hadn't expected to. I had stationed myself on the roof of our office building, just a block off the National Mall (a prime spot!) when I got a call from my daughter Eleanor, on a school field trip about 30 miles south of the city. "Hey Dad, we just saw the space shuttle fly right over our bus!" What??!
It's okay, I got a great view, too. And it's a visual spectacle you should be sure to catch if you're in New York tomorrow.
Washingtonians can now see Discovery for themselves on display at the Udvar-Hazy Center, or, if you really need to keep constant watch over it, bookmark this live webcam.
Also, the app-ized version of our Shuttle Collector's Edition is now available on iTunes: The Space Shuttle Era: Stories From 30 Years of Exploration. For the iPad, we were able to add lots more photos and multimedia—including a spectacular time-lapse video of Discovery being prepared for launch—to the in-depth features and dozens of first-hand astronaut stories that appeared in the magazine version.
We did not, however, include this panoramic photo of Discovery and Enterprise together at the Udvar-Hazy Center, taken during last week's ceremonies by photographer Mark Usciak of Lancaster, Pennsylvania. Usciak had shot more than 40 shuttle launches over 30 years, starting with STS-1. So you know he had to be there for Discovery's retirement.
Update, Friday April 27, 9:56 a.m.
Enterprise is in the air, headed for New York.
CNN has a live video feed here. And they're asking people to submit their photos here.