Neil Armstrong, In His Own Words
The first moonwalker's storied aviation career didn't begin or end with Apollo.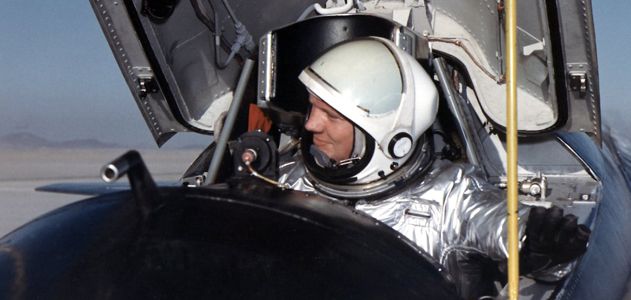 Neil Armstrong was always, first and foremost, an airplane guy. In an aviation career spanning more than six decades, the Apollo 11 commander, who died on August 25, 2012, at the age of 82, spent only eight years as an astronaut. The rest of the time he was a naval aviator, test pilot, bureaucrat, professor, aerospace executive, and consultant.

The public's focus on his 21 hours on the moon in 1969 seemed to puzzle Armstrong, although of course it shouldn't have. He will forever be known as our first extraterrestrial explorer, whether he saw himself that way or not. In 2005, he lamented to 60 Minutes interviewer Ed Bradley, "I guess we all like to be recognized not for one piece of fireworks, but for the ledger of our daily work."

Even the title of "first man on the moon" seemed an uncomfortable fit. He and Buzz Aldrin had landed on the lunar surface together, and Armstrong was always quick to acknowledge that Apollo 11 was a team effort. That was his style—never inflating his own accomplishments, always trying to tell it straight, unvarnished, to say only what the facts would support.

The characterization of him as a recluse was exaggerated. He wasn't Howard Hughes, growing his fingernails long. He appeared in public often, but never came through with the kind of showy, emotive performance some people may have preferred. In a press conference following the first lunar landing, a reporter asked the Apollo 11 crew "How do you propose to restore some normalcy to your private lives in the years ahead?" Armstrong answered, with a wry smile, "It kind of depends on you." In the 40-plus years that followed, the press never did stop asking him, What was it really like?


The astronaut's family called him "a reluctant American hero" and issued the following statement after his death: "For those who may ask what they can do to honor Neil, we have a simple request. Honor his example of service, accomplishment and modesty, and the next time you walk outside on a clear night and see the moon smiling down at you, think of Neil Armstrong and give him a wink."

See the gallery below for a recap of Armstong's career as pilot and astronaut, in his own words.

Armstrong at Age Six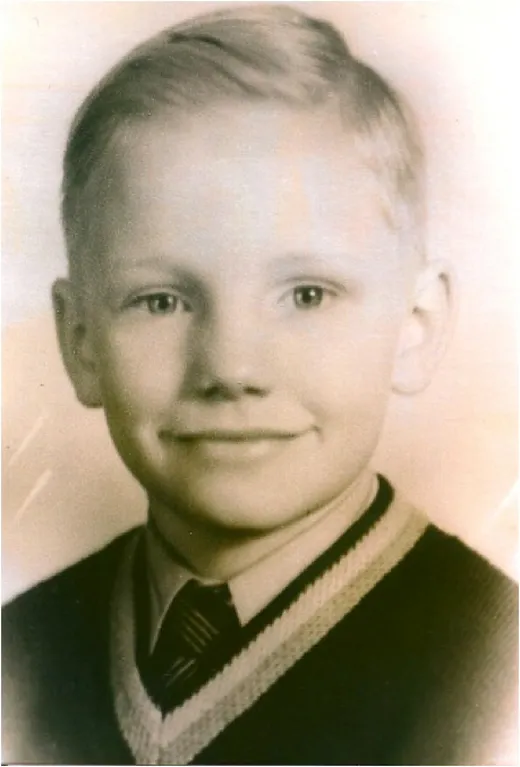 "I think [my] interest [in aviation] goes back farther than I can remember. My father tells me about going out to the Cleveland airport when I was two years old to see the 1932 air races, so I must have been a staunch aviation fan before I was even conscious of it. It was my father, also, who took me for my first airplane ride. I was six years old and we flew in a Ford Trimotor – the old "tin goose" – which was carrying passengers at Warren, Ohio. We were supposed to be at church, I think, but we sneaked off and later my mother caught us, just because of the guilty, and probably excited, looks on our faces. By the time I was nine, I was building model airplanes. They had become, I suppose, almost an obsession with me."

— From "First on the Moon" (Little, Brown, 1970)

Family photo from neilarmstronginfo.com.
Armstrong in 1956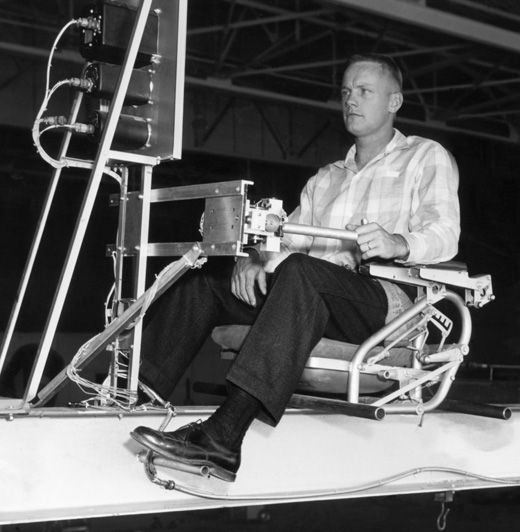 In the late 1950s and early 1960s, working as a test pilot at Edwards Air Base in California, Armstrong (pictured in a simulator in 1956) flew practically every high-performance airplane in existence, including the F-86E Sabre, the F4H Phantom, the F-102 and F-104, the X-1B, and most famously, the X-15. Yet, as he told biographer James Hansen, "Our principal responsibility was engineering work. We did not do a lot of flying. It was program development, looking at the problems of flight. It was a wonderful time period, and it was very satisfying work, particularly when you found a solution."

He wrote in 1970: "Having been in flying machines for many years and faced a lot of difficulty, [pilots] become accustomed to being required to solve problems as they arise …, and particularly test pilots who get a higher percentage of things going wrong than normal pilots. And I'm not saying that we did it perfectly in every case; I'm sure we didn't. But the experience that we'd had in flying a variety of different kinds of machines in difficult circumstances certainly enhances your ability to look at a situation, … analyze it and determine what your probable best course is and how much latitude you have to deviate from that best course. It's not an easy subject to describe adequately, but it seems to have worked."
F5D-1 Skylancer, 1962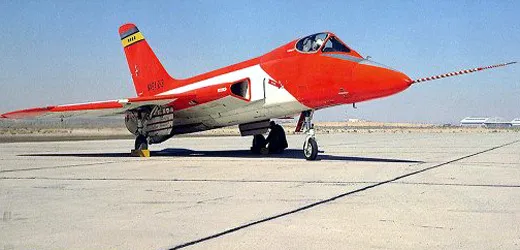 Armstrong was in the second group of astronauts selected in 1962, so he watched NASA's first Mercury flights from a distance. Working on the X-15 and Dyna-Soar programs, "We were far more involved in spaceflight research than the Mercury people," he told biographer Hansen. "I always felt that the risks we had in the space side of the program were probably less than we had back in flying at Edwards or the general flight-test community. The reason is that we were exploring the frontiers, we were out at the edges of the flight envelope all the time, testing limits. That isn't to say that we didn't expect risks in the space program. But we felt pretty comfortable because we had so much technical backup and we didn't go nearly as close to the limits as much as we did back in the old flight-test days."

Pictured: Armstrong preparing to fly a Dyna-Soar simulation in the F5D-1 Skylancer, 1962.
X-15 Cockpit, 1961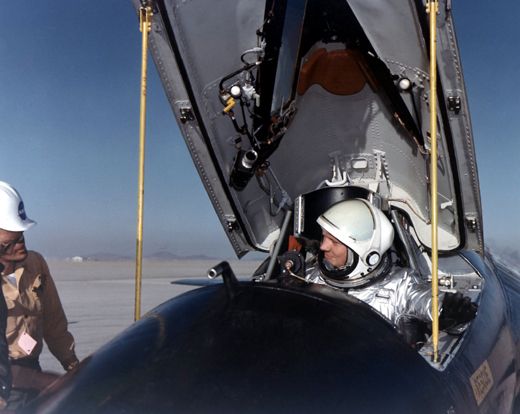 "What was [the X-15] like? That is a difficult thing to describe. You're very busy. The flight takes only about ten minutes and you want to get a lot of information while you're up there. It has taken a lot of time and money to get you there. There's very little time for wondering, but above two hundred thousand feet you have essentially the same type of view that you have from a spacecraft when you are above the atmosphere. You can't help thinking, by George, this is the real thing. Fantastic. You can see the curvature of the earth. And from the mountain house where we lived, Jan [Armstrong's then wife] could use her binoculars to see what was going on. She could see the X-15 drop away from the B-52 mother ship, and she could see the puffs of dust down in the valley as the X-15 landed."
— From "First on the Moon"
Pictured: Armstrong in the cockpit of an X-15 vehicle, 1961.
Gemini 8, 1966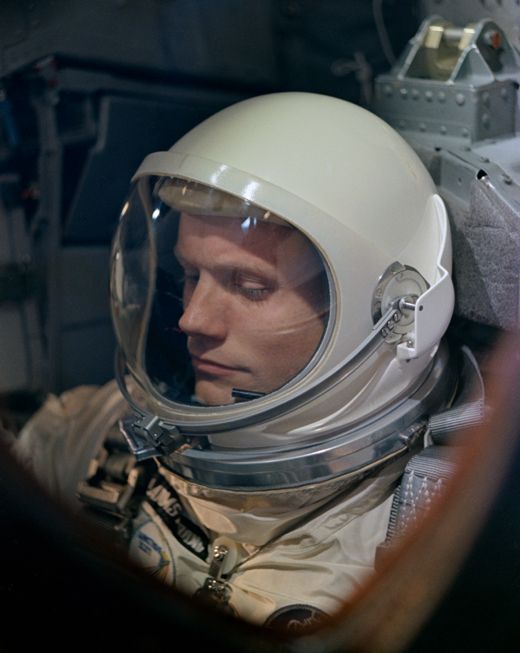 Armstrong preparing to launch on Gemini 8, his first spaceflight, in 1966. A little over three minutes into the flight, the onboard tape recorder caught this exchange between Armstrong and crewmate Dave Scott. Both were seeing the Earth from space for the first time:

Scott: Oh, there's the horizon!
Armstrong: We finally got to see it.
Scott: Okay. You're looking good, Coach.
Armstrong: Okay. The fuel cells are all solid as a rock.
Scott: Okay. Everything looks good on the right.
Armstrong: Fine. And needles are ... pitch is zero, yaw is about a quarter of a degree and steady.
Capcom: Roger. Your plots are looking very nominal here on the ground, Eight.
Armstrong: Roger. The second stage is a real good machine.
Armstrong: I was going to say a Cadillac, but I guess I better not say that.
Armstrong: Coming up on 4 minutes.
Scott: Cabin pressure is 5.5 psid and holding.
Armstrong: Roger. Accelerometers at 4 minutes.
Scott: Hey, how about that view!
Armstrong: That's fantastic!
Scott: They were right, weren't they?
Into the Ocean
On Gemini 8, Armstrong and Scott executed the first-ever space docking by linking their Gemini capsule to an Agena target vehicle in orbit. This excerpt from the onboard voice recording captures the astronauts' excitement as they slowly approached the Agena:

Scott: You're 900 feet [away]. 5 feet per second.
Armstrong: That's just unbelievable! Unbelievable! I can't believe it!
Scott: Yes, I can't either. Outstanding job, Coach!
Armstrong: Way to go, partner!
Scott: You did it, boy! You did a good job!
Armstrong: It takes two to tango.
Scott: Say again?
Armstrong: It takes two of us.

Shortly after docking, though, the astronauts found themselves in a full-blown emergency when a stuck thruster sent their spacecraft tumbling at 60 revolutions per minute. Armstrong struggled to regain control, as dramatized in the 1998 HBO miniseries From the Earth to the Moon, and their mission had to be aborted.

Scott (left) and Armstrong are pictured shortly after their ocean splashdown.
Crashing LLRV, 1968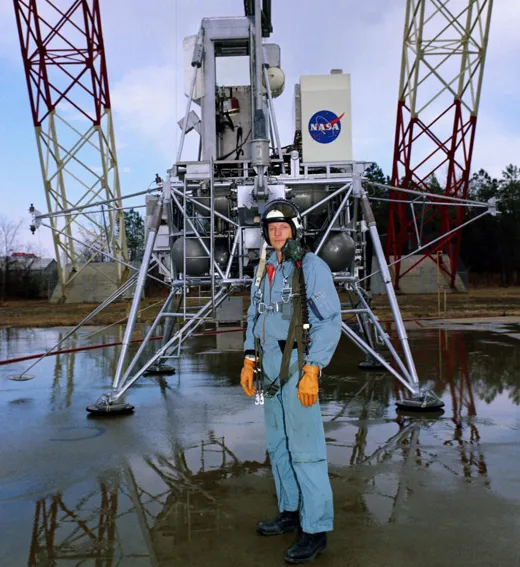 One of the more harrowing events in Armstrong's career was his ejection from a crashing lunar landing research vehicle (LLRV) in 1968. He described the accident in "First on the Moon":

"It was my twenty-first flight in the LLRV. I was flying the terminal portion of a simulated lunar landing profile; I lifted the vehicle off the ground and reached an altitude of about five hundred feet in preparation for making the landing profile. I had been airborne for about five minutes and was down to about two hundred feet when the trouble began. The vehicle began to tilt sharply. Afterward this incident was reported as an explosion, but that was erroneous. It's just that there are all the exhaust products of those rocket engines going off, and since there were a lot of engines firing at once people on the ground thought they were seeing an explosion. They were mistaken…

This particular vehicle was the first LLRV…and it had made about fifty flights at Ellington before the day of the crash. This day it fell straight down. The ejection system threw me somewhat east of the landing point of the machine, but the wind was from the east. At the time my chute opened I was a bit concerned that I might be drifting down into the fireball, because by now the vehicle had crashed and was burning. I started thinking about slipping the chute, but the wind was strong and I actually missed the flames by several hundred feet.

I got up and walked away after I landed. The only damage to me was that I bit my tongue."
Apollo 11, 1969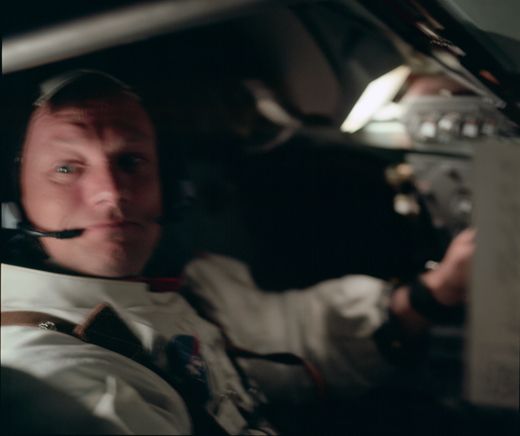 Years later, he told Apollo historian Andrew Chaikin:

"In my view, the emotional moment was the landing. That was human contact with the moon, the landing. The fact that we were eight feet...or ten feet separated from the surface of the moon rather than two inches at the time I was [standing on it]...didn't seem to me like a significant difference. It was at the time when we landed that we were there, we were in the lunar environment, the lunar gravity. That, in my view was the—that was the emotional high. And the business of getting down the ladder to me was much less significant. You know, I wouldn't have focused on that at all except that the press and everyone was making so much of a big thing about the exit from the vehicle and step on the surface with the boot."
Pictured: Armstrong on the way to the moon, Apollo 11, July 1969.
Landing on the Moon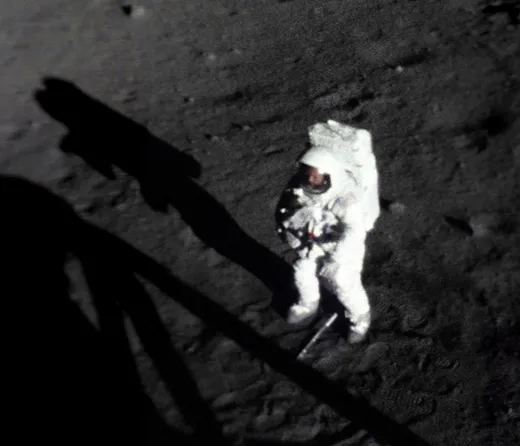 There are few photos of Armstrong on the lunar surface (he was operating the camera most of the time), but Apollo historian Andrew Chaikin uncovered this gem while looking at frames of 16 mm film shot during the first moonwalk: a picture of Armstrong with his gold visor raised, so that his face is visible.

During the Apollo 11 crew's debriefing following their mission, Armstrong gave this description of the first moonwalk:

"I went the farthest. While Buzz was returning from [setting up an experiment], I went back to a big crater behind us. It was a crater that I'd estimate to be 70 or 80 feet in diameter and 15 or 20 feet deep. I went back to take some pictures of that; it was between 200 and 300 feet from the [Lunar Module]. [Note: Armstrong's tracks are still visible on the moon, extending to the right of the LM in this image taken by the Lunar Reconnaissance Orbiter.] I ran there and ran back because I didn't want to spend much time doing that, but it was no trouble to make that kind of a trek—a couple of hundred feet or so. It just took a few minutes to lope back there, take those pictures, and then come back. …

I can best describe a lope as having both feet off the ground at the same time, as opposed to walking where you have one foot on the ground at all times. In loping, you leave the ground with both feet and come down with one foot in a normal running fashion. It's not like an earth run here, because you are taking advantage of the low gravity.

… It was fairly comfortable, but at the end of this trip, going out there and back, I was already feeling like I wanted to stop and rest a little. After about 500 feet of this loping with a 1-minute stop out there in the middle to take pictures, I was ready to slow down and rest. There were a lot of interesting areas within 500 feet or so to go and look at if we had had the time. It would have been interesting to take that time and go out and inspect them closely and get some pictures, but that was a luxury we didn't have."

Later Years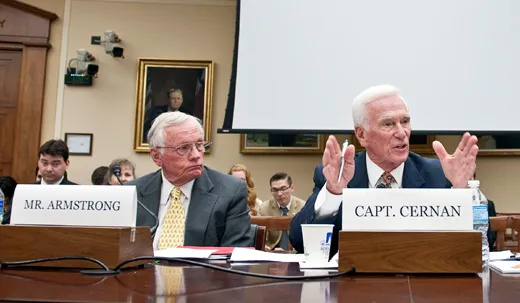 The first man to step on the lunar surface and the last man to leave it (Gene Cernan) testify before a Congressional committee in 2010.

In his later years, Armstrong was frustrated with the slow pace of NASA's efforts to return to exploring beyond Earth orbit. In a NASA interview conducted in 2001, he spoke to historians Douglas Brinkley and Stephen Ambrose about his time at NASA headquarters:

"I was glad to have the experience, although I think everybody should have to go to Washington and spend a little time—just to see how difficult it is to run this countr—and do penance there.

It's a frustrating place for me because so much coordination and greasing the skids goes on in Washington that by the time you've gotten around to everybody, the first guy's forgotten what the subject was. It's really hard to get things done there, and it's amazing to me that anybody can get things rolling from Washington, just because of the nature of the place."