NASA Art on Tour
A traveling exhibit from the space agency's right brain.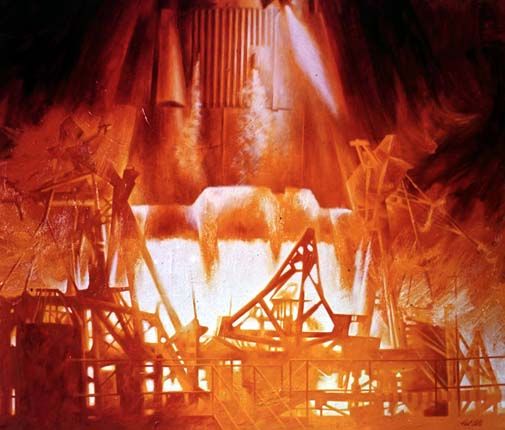 Four years after NASA's inception in 1958, agency administrator James Webb saw Bruce Stevenson's formal portrait of astronaut Alan Shepard, and came up with an unusual idea: to hire artists to illustrate and illuminate the agency's missions. "Important events can be interpreted by artists to give a unique insight into significant aspects of our history-making advances into space," Webb wrote in a 1963 press release. "An artistic record of this nation's program of space exploration will have great value for future generations and may make a significant contribution to the history of American art."

Since 1963, hundreds of artists (and musicians, poets—even one fashion designer) have interpreted NASA's aeronautic and space projects. The artists were given carte blanche to create what they wanted, in any medium, on any subject. In celebration of NASA's 50th anniversary in 2008, more than 70 diverse artworks from the program are touring the country as part of an exhibition titled NASA / ART: 50 Years of Exploration. Click on the images at right to take a closer look at some of the items in the traveling exhibit. Images and text are taken from the exhibition catalog of the same name, written by James Dean and Bertram Ulrich.

Pictured above: In Power, by Paul Calle (oil on panel, 50 x 58 inches, 1963), "The Atlas launch vehicle, producing 360,000 pounds of thrust, lifts the last Mercury astronaut, Gordon Cooper, into Earth orbit for a thirty-four-hour flight on May 15, 1963—at the time, an American long-duration record."

NASA / ART: 50 Years of Exploration is on tour through 2012 at
these locations:

The Lauren Rogers Museum of Art, in Laurel, Mississippi, April 8 to June 27, 2010;

The Museum of Florida History, Tallahassee, Florida, July 22 to October 10, 2010;

The "Arizona Museum for Youth, Mesa, Arizona, October 30, 2010 to January 23, 2011;

The Clay Center for the Arts and Sciences of West Virginia, Charleston, West Virginia, February 12 to May 8, 2011;

The National Air and Space Museum, Washington, D.C., May 28 to October 9, 2011;

Las Cruces Museum of Art, Las Cruces, New Mexico, November 4, 2011 to January 29, 2012;

Leigh Yawkey Woodson Art Museum, Wausau, Wisconsin, April 14 to June 17, 2012;

Figge Art Museum, Davenport, Iowa, July 7 to September 30, 2012.
Gemini Recovery
Robert McCall, watercolor on paper, 16 x 20 inches, 1965

In this painting, "The Gemini V crew, Gordon Cooper and Charles Conrad, bob in a life raft beside their spacecraft as a helicopter comes to the rescue after their Earth orbital mission, which took place in August 1965. It was the longest manned flight to date—7 days, 22 hours, and 55 minutes. Artist Robert T. McCall documented the return of the crew from the recovery ship USS Lake Champlain in the Atlantic Ocean."

McCall had also been in the first group of NASA artists covering Gordon Cooper's last Mercury flight in 1963. "Peter Hurd, who was with the group of seven at the Cape, marveled at the scenery: 'I am certain that I speak for all when I say we were, each of us, tremendously stirred and often awed by the things we saw and heard during those five crowded days.'
STS-49, Post-Landing Convoy Operations
Nathan Greene, oil on canvas, 45 x 60 inches, 1992

In this painting, "Space shuttle Endeavour landed on May 16, 1992, at Dryden Flight Research Center in Edwards, California, where Greene witnessed landing operations. The painting depicts convoy teams servicing the orbiter upon return, including the ground crew hooking up coolant lines (left) and purge lines (right)."
Servicing Hubble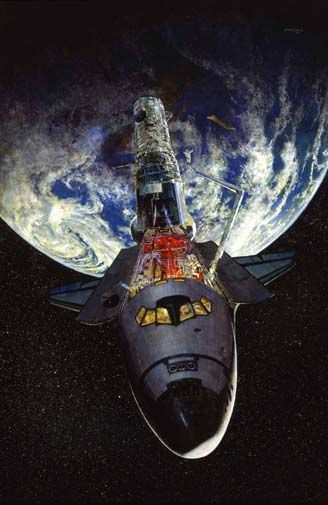 John Solie, oil on canvas, 53 x 36 inches, 1995

"The painting depicts the historic servicing of the Hubble Space Telescope in December 1992. Kathryn Thornton releases a defective solar panel into the heavens as another astronaut performs duties in the space shuttle Endeavor's cargo bay. The solar array and the wide-field planetary camera were some of the major units serviced during the STS-61 mission."
Eileen Collins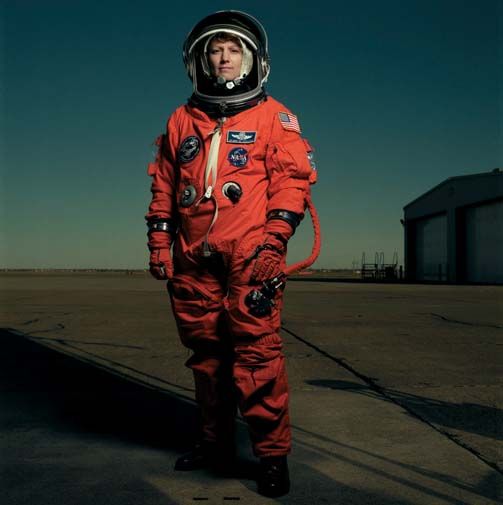 Annie Leibovitz, photograph, 24 x 20 inches, 1999

"Leibovitz photographed Eileen Collins of the Johnson Space Center in Houston, Texas, during training for the STS-93 mission in 1999. Collins was the first female pilot and first female commander of a space shuttle mission. She flew four missions in all before retiring from the agency in 2006."
X-43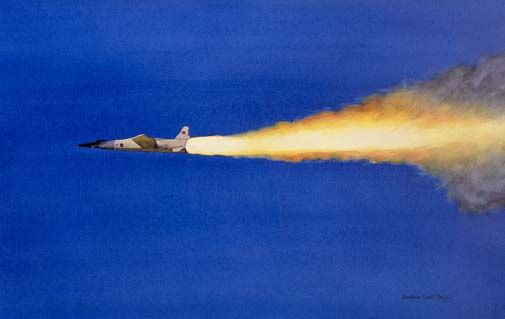 Barbara Prey, watercolor, 17 x 27 inches, 2005

"The X-43, a small experimental research aircraft, broke the Guinness World Record in 2004. During its testing, it reached almost 7,000 miles per hour [almost ten times the speed of sound] after being boosted to test altitudes by modified first-stage Pegasus rockets. The aircraft's scramjet engine technology enabled airflow passing through the engine to remain supersonic."
Dragonfly Above Io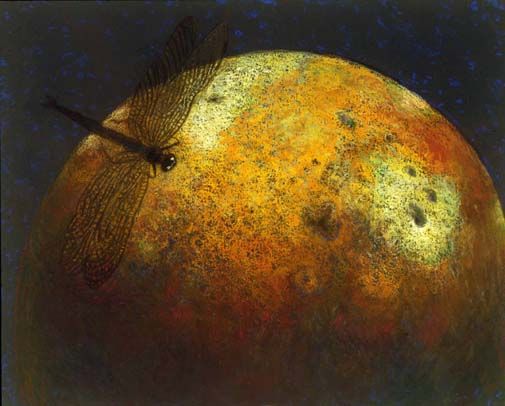 Yvonne Jacquette, pastel on paper, 14 x 17 inches, 2000

"Based on images of Jupiter's moon Io taken from the Galileo space probe, Jacquette adds a dragonfly, a kind of messenger from Earth. The dragonfly represents organic life, and its wings are symbolic of space flight and the Galileo spacecraft. The Galileo spacecraft reached Jupiter in December 1995."
Life on Mars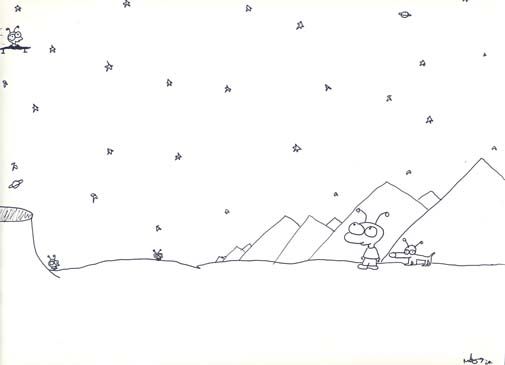 Moby, ink on paper, 9 x 12 inches, 2007

"Singer/artist Moby depicts a scene of potential alien life or a space community on a different planet replete with spaceship, spacemen, and space dogs."
Chip and Batty Explore Space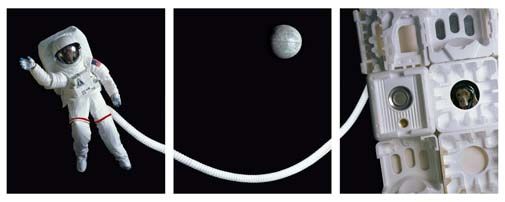 William Wegman, triptych, three 38 x 31 inch panels, 2001

"Wegman's Weimaraners pose as astronauts. One peers out of a space station while the other conducts a spacewalk. NASA loaned Wegman a model of a spacesuit to use in his work."