My Other Vehicle Was a Spacecraft
Now that the space shuttle has retired, astronauts are rediscovering the joys of flying airplanes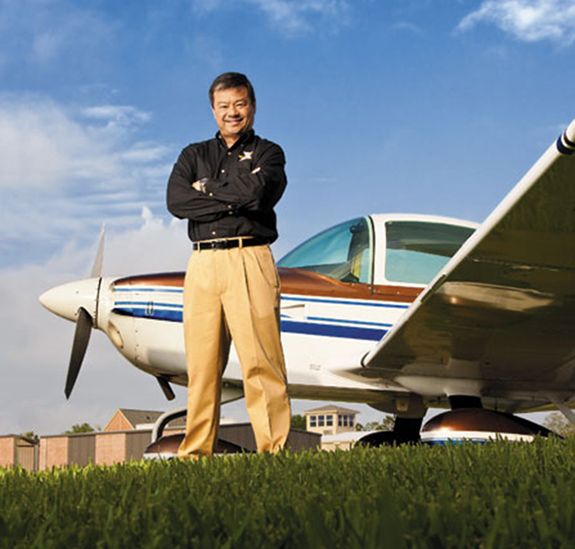 Astronauts can't stay astronauts forever. These days, the space shuttles are being readied for display in museums, and commercial space vehicles are years from being able to carry humans to orbit. Though nothing can match the rush of a rocket ride, ex-astronauts continue to experience the thrill of flight by turning to the thing that got many of them hooked on space travel in the first place: the airplane.

Today, even active astronauts—yes, those enviable pilots who routinely get to take one of NASA's T-38 Talons out for a spin—can find fulfillment by flying low and (relatively) slow. Which airplanes are astronauts turning to? Some of their choices may surprise you.

Leroy Chiao (pictured) is crazy about his Grumman AA-5B Tiger. "It has a sliding canopy—kind of sexy for a little airplane," he says. "It's got something about it. I like its handling qualities. It feels good, so intuitive. It's been a great airplane."

He's owned the Tiger for 12 years, and before he and his wife had children, they flew it everywhere. She loved it too, he says. "One incident: We were flying to her brother in Atlanta. Over the mountains we descended in the goo. All of a sudden, the stall warning horn starts going off. I looked at the airspeed, and the airspeed is fine. So I reached over and pulled the fuse out to stop it. The micro-switch had failed. She thought that was great fun."

Now they have five-year-old twins. "After the twins, the superstition thing kicked in," says Chiao, who flew on three space shuttle flights and was the commander of a mission aboard the International Space Station before leaving NASA in December 2005. "She said, 'I used up all my luck, and I don't want the kids to go up.' " So he promised to keep them out of the Tiger, though he expects they'll start clamoring to fly soon enough. "They are interested in airplanes and rockets," he says.

Chiao, now a speaker and aerospace consultant, flies his airplane about once a month, usually to attend a business meeting. But when the weather is nice, he takes the Tiger for an occasional joyride. His dream aircraft? A single-pilot business jet.

Phil Scott is the author of seven books, most recently Then & Now: How Airplanes Got This Way (Sporty's, 2011).

Robert Seale is a Houston photographer who specializes in portraits of athletes and celebrities. Recently, he has been photographing aviation personalities, including the Doolittle Raiders ("The Raiders Remember," Sept. 2011). His dream is to photograph Chuck Yeager.
Bill Anders - North American P-51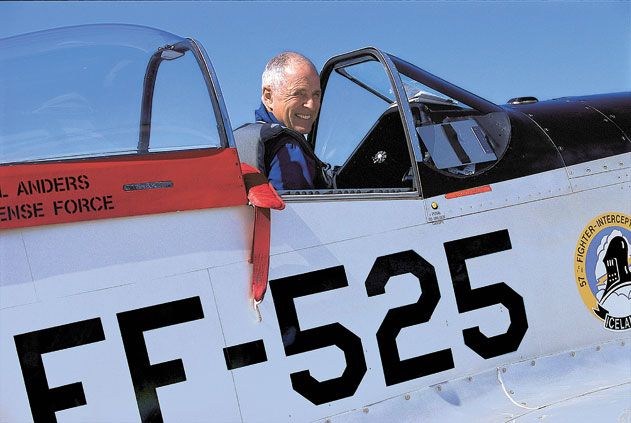 What does Bill Anders love about his P-51 Mustang? Speed. He also finds the Mustang fun to fly in formation. Takeoffs, though, can be tricky due to the aircraft's high-torque engine, says Anders, who was part of the three-man Apollo 8 crew that circled the moon on Christmas Eve 1968.

After Anders purchased his P-51, he oversaw a restoration that lasted several months and included rebuilding the engine and installing avionics. A U.S. Air Force pilot before he entered NASA, Anders decided to paint the Mustang in the colors of one of his old fighter squadrons, the 57th Fighter-Interceptor Squadron, which was based in Iceland. Since his wife's name is Valerie, he named the aircraft Val-Halla.

Anders flew Val-Halla for five years at the National Championship Air Races in Reno, Nevada, before donating it to his family's Heritage Flight Museum in Bellingham, Washington. At $2,500 an hour, the Mustang is not a cheap ride. Fortunately for Anders, he can still fly Val-Halla at airshows.
David Wolf - Christen Eagle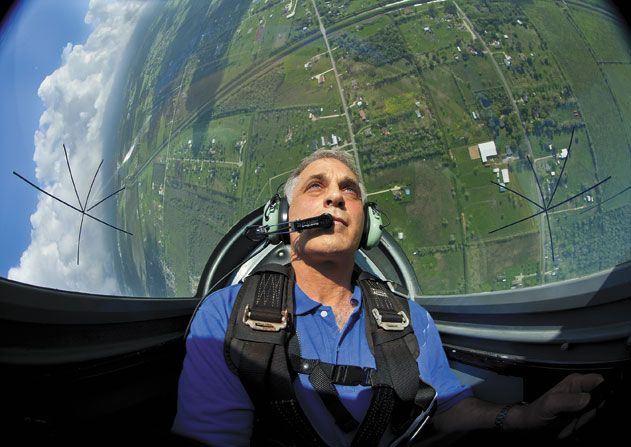 David Wolf's first memory is of sitting in his uncle's lap in an open-cockpit biplane (a Stearman). When he was 25, he learned how to fly in a Piper Warrior and a Pitts Special. A former U.S. Air Force flight surgeon, Wolf has flown on four space missions, including a 128-day stay aboard Russia's Mir space station, from September 25, 1997, to January 31, 1998. As an active-duty astronaut, he has access to NASA's T-38 Talon jets, which he flies a minimum of four hours a month. "Everyone I know who has flown the T-38, even those who fly advanced fighters, has a special attraction for the Talon," says Wolf. "It just looks exactly right."

When he is not flying the T-38 on official business, he takes to the air in his black Christen Eagle biplane, which he keeps at Pearland Regional Airport (formerly Clover Field), outside of Houston. Though he says the Christen "can be a bit loud" and difficult to maintain due to the many bolts on the access panels, Wolf appreciates the Eagle's "old-style biplane structure and its strength and safety record." The airplane is a good vehicle for the aerobatics he loves. An experienced aerobatics competitor, Wolf will resume flying at international meets when his schedule allows. His favorite maneuver? "I have always loved the gracefulness, and zero-G portion, of the hammerhead," he says.
Ed Lu - Yak-52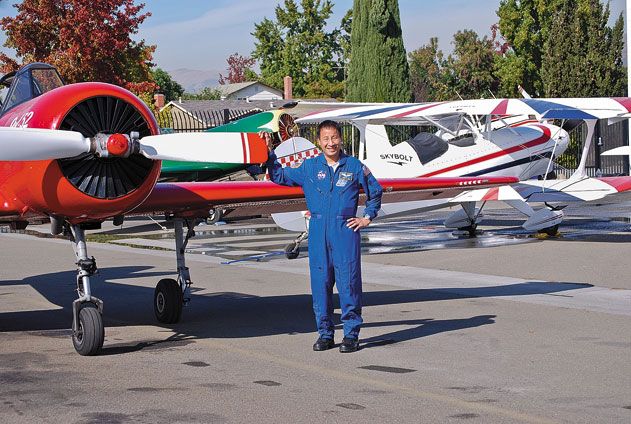 For a few years, Ed Lu owned a Van's RV-4 homebuilt aerobatic two-seater, which he kept in Galveston, Texas. Then in September 2008, Hurricane Ike blew through, "and it died an untimely death, so I no longer own an aircraft," he says. When Lu's wife noticed him getting grumpier and grumpier, she found a pilot who wanted his Yak-52 in the air a little more. They worked out a deal where she would pay part of the aircraft's insurance in exchange for access to the airplane, and she gave the flying time to Lu as a present. Now he flies it maybe twice a month.

The Yak is not the first Russian craft Lu has flown. In May 1997, he orbited Earth aboard Mir for a few days, and in 2003, he and cosmonaut Yuri Malenchenko rode a Soyuz spacecraft to the International Space Station (where they spent 185 days). Mir, Soyuz, and the Yak all have similarities, says Lu: "It's sort of the same basic design. Keep it simple, and that makes it strong, more robust."

Like most Russian craft, the Yak-52 is designed for cold weather. It doesn't come with an electric starter: The engine starts with compressed air, which also powers the brakes and flaps. "It's a trainer," says Lu. "It has a 360-horsepower supercharged radial engine and retractable gear. It's a strong airplane, built for heavy aerobatic use."

Although trained as an astrophysicist, Lu has joined a group of ex-military pilots who get together to fly formation and dogfight. "The idea is to become better pilots—and have fun," he says.
Garrett Reisman - American General Aircraft AG-5B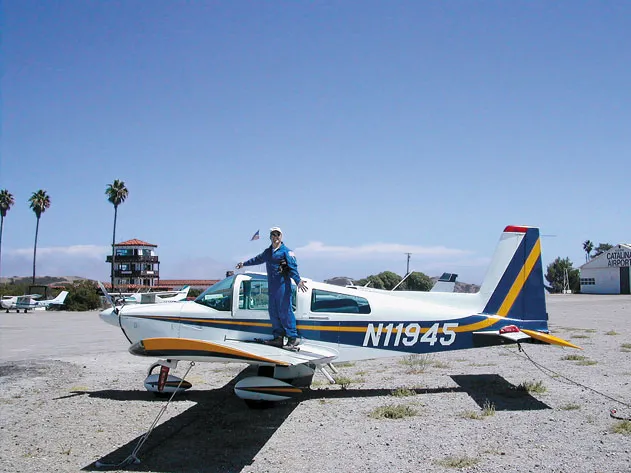 Garrett Reisman, his wife, and astronauts Steve Swanson and Paolo Nespoli decided to pool their resources and buy an American General Aircraft AG-5B (a variant of the Grumman Tiger). "The four of us owned it until Swanson's wife decided she wanted some new kitchen cabinets," says Reisman. Later, Nespoli sold his share of the aircraft.

"You can make the argument that [the AG-5B] is simpler than the Cessna 152" and less expensive to maintain, says Reisman, who left NASA last year and is now a senior engineer at SpaceX in Hawthorne, California. One thing he doesn't like: The previous owner had named the airplane Tigger, which is still on the canopy cover. "I can't approve of that," he says. "Sometimes it's referred to as Bad Kitty.
Tom Henricks - Boeing PT-17 Stearman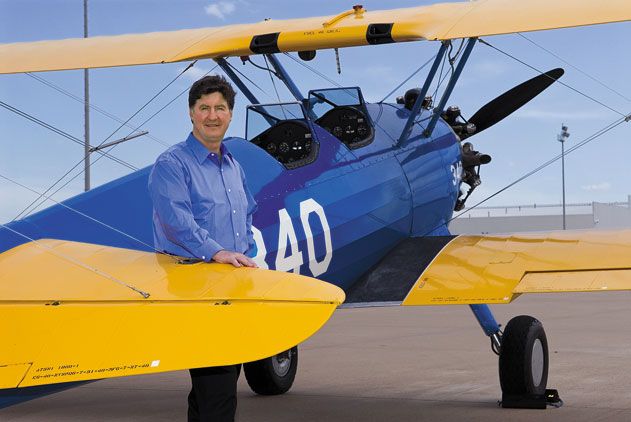 You'd think a space shuttle would have little in common with a Boeing PT-17 Stearman. One rocketed into orbit with a crew of up to seven and could stay in space for more than two weeks. The other is a two-seat, open-cockpit biplane that was used as a World War II trainer and whose flight time is limited by the size of the pilot's bladder.

To Tom Henricks, who became the first astronaut pilot to log 1,000 hours in the space shuttle, the Stearman is still a marvelous machine. He bought a one-third share of one for the pleasure of flying. And he discovered something it has in common with the shuttle: "They're both machines that can kill you," he says.
Michael Foale - Grumman American AA-5B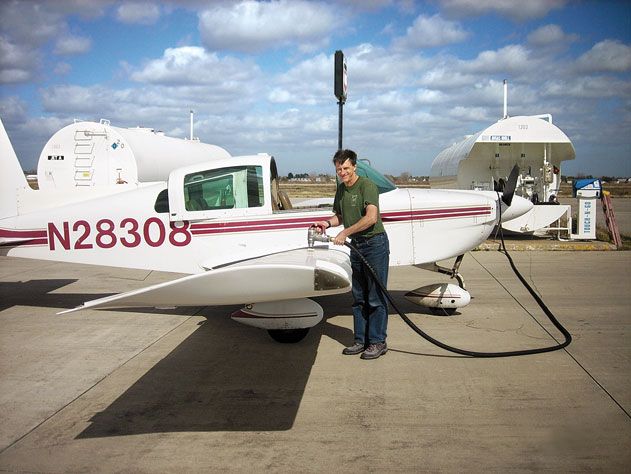 Why do so many astronauts own Grumman Tigers? They're simple and relatively inexpensive, and yet they have enough power to cruise at 130 mph. Michael Foale has a different opinion: "I think it has to do with the level of salary." Foale owns a share of a—yes—Tiger. He bought into his first one around the same time he started working for NASA, in 1983. "I bought a seventh share of a Tiger from Sally Ride," he says. "I wasn't an astronaut then, and I was extremely excited buying an airplane from an astronaut."

Foale, born and raised in England, decided to fly solo from Corpus Christi, Texas, to Houston one night. At 3,000 feet, an engine exhaust valve failed and everything grew quiet except the wind rushing past the canopy. Up ahead, he spotted a rotating beacon, and radioed a mayday. After what seemed a very long time—about 10 seconds—air traffic control responded. "Tell us your intentions," the controller said. Foale replied that he needed to land.

When he reached the airport and the wheels touched down, Foale saw flashing lights coming toward him: a fire truck. "I think, God, America is a great country—you roll to a stop on a dead airport, and they send out a fire truck," he says. "Then the truck whizzes by me. But then they come back, and they say, 'Hey, you got a problem?' I said, 'The engine quit.' They said, 'We're having a party, want to join us?' " So he called his fiancée, then partied until she arrived four hours later to drive him home. America is a great country.
Dan Brandenstein - Van's RV-7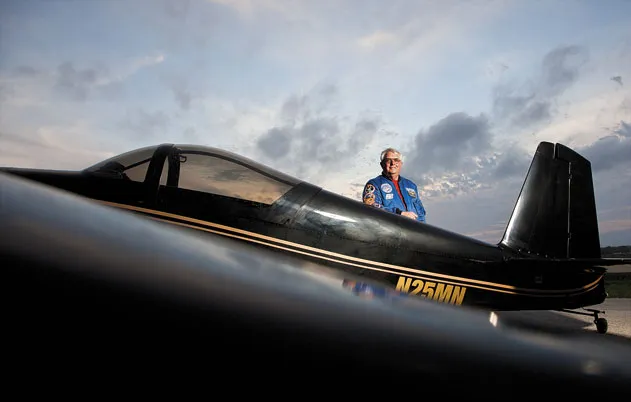 Dan Brandenstein stepped down as United Space Alliance's chief operating officer in February, but even before his departure, he was setting up his retirement so that the focus of it would be flying his own airplane. Brandenstein, who commanded three of his four space shuttle missions, moved with his wife from Houston to a gated aviation community outside of Austin. In front of his newly built house is a taxiway that leads to an airstrip. Best of all, Brandenstein has his own hangar, complete with an apartment and woodworking shop.

The sole occupant of the hangar is Brandenstein's four-year-old RV-7, which gives him an affordable way to fly aerobatics. "The plane didn't cost any more than a Porsche," he says. "And not even a high-end Porsche. And it's very economical: The fuel's a little more expensive than car gas, but not a lot."

Though Brandenstein was a Navy pilot with more than 400 carrier landings in A-6 Intruders before he joined NASA, he's still getting used to the flight characteristics of his RV-7. "I have very little tail dragger time, and I still don't consider myself the ace of the base in landing a tailwheel plane yet," he says. But his landings are getting better, he adds. "I'm obviously enjoying it. Three mornings a week, I'll get up while my wife's still sleeping and go out and turn and burn for a half-hour and come back and probably clean the house or something."
Steve Nagel - Cessna 172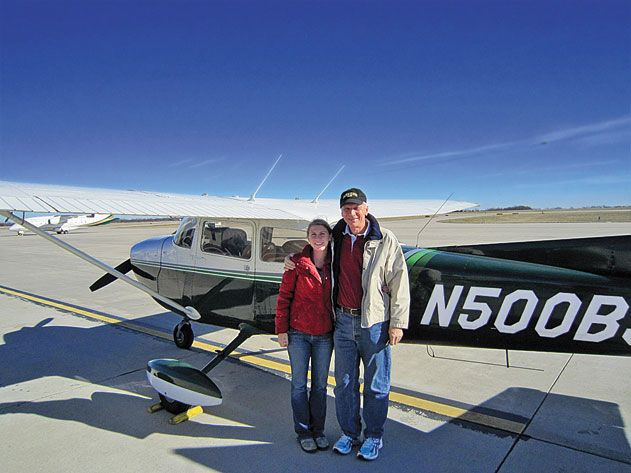 When former test pilot Steve Nagel married, his wife (retired astronaut Linda Godwin) was already a partner in a Mooney. The couple eventually sold the share, but later, when a good friend, a NASA flight surgeon, was looking for a partner for his Mooney 201, the Nagels bought in. "Mooneys are good airplanes—fast and efficient," says Steve.

When Nagel was born, his father owned a Piper Cub, and when he was 12 or 13, his dad bought a Taylorcraft, which Nagel learned to fly. "I soloed in the Taylorcraft, and it had no radios," he says. "Even in those days, when I was a teenager, I had to rent an airplane with radio equipment in it to get my pilot's license."

After several years in the Air Force, Nagel became a test pilot. At NASA, he flew on four space shuttle missions, then retired last June. He moved from Houston to Missouri, where he now teaches mechanical engineering at the University of Missouri at Columbia. He and his wife sold their stake of the Mooney last year, but Nagel now shares a Cessna 172 with one other owner. How does he like flying the Cessna? "It's fun, but it is a little slow," he says. "Nothing compares to flying [Air Force] jets. I miss doing that, but you have to quit sometime."