My Other Ride Is a Spaceship
How the Corvette became the car of astronauts.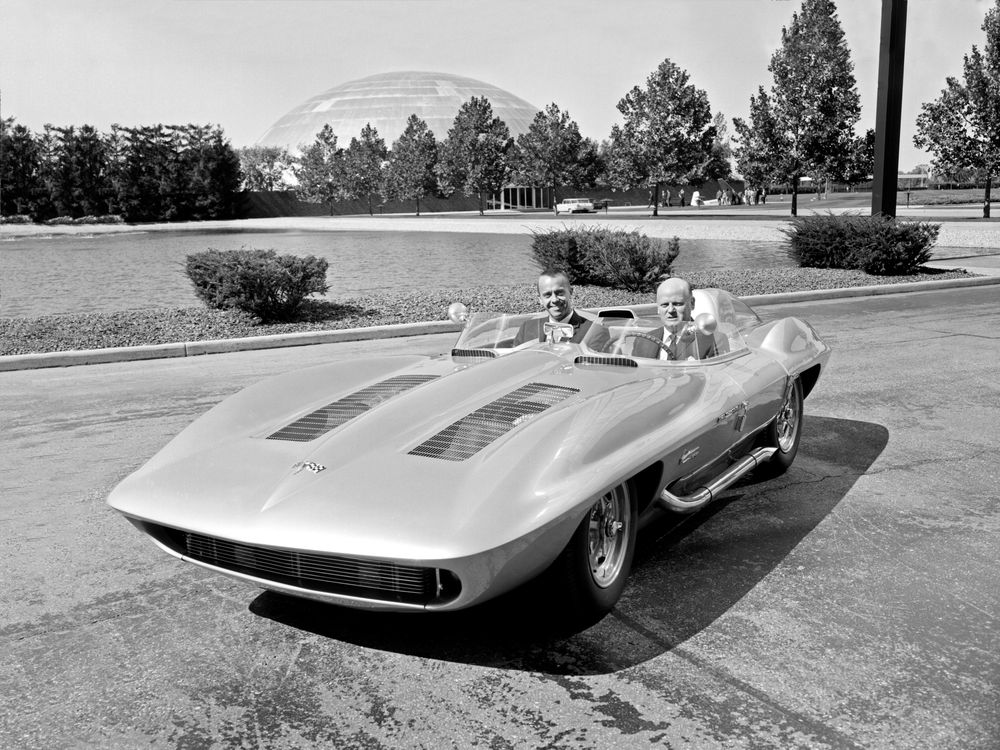 It all started with Alan Shepard.
He bought his first Chevrolet Corvette, a used 1953 model, from his father-in-law for $1,500 in 1954. Five years later, when he became one of seven men chosen for NASA's Mercury program, Shepard bought another used Corvette—this time a 1957 model.
Shepard bragged to Life photographer Ralph Morse that the car went "like a bat out of hell," and even wrangled clearance from the tower at Langley Air Force Base to charge down the runway at over 100 miles an hour to show what the car could do.
After Shepard joined NASA, he struck up a friendship with General Motors engineer Zora Arkus-Duntov, and soon after Shepard became a sensation as the first American in space, Arkus-Duntov persuaded the carmaker to give him a brand new 1962 Corvette. GM ordinarily didn't give away cars, but in the case of Shepard, the company recognized a terrific publicity opportunity.
Then Jim Rathmann, the owner of a Chevrolet/Cadillac dealership in Melbourne, Florida, took things further. A former Indianapolis 500 winner, Rathmann was as savvy at business as he was behind the wheel. In coordination with GM, he offered the Mercury astronauts a top-of-the-line car at a very reasonable lease—$1 per year. After the lease was up, the spacemen could buy the car outright, should they want, also at an astoundingly favorable price. Rathmann found he had no trouble selling a Corvette formerly owned by an astronaut.
Four of the Mercury Seven took Rathmann up on the offer: Al Shepard, of course; Gus Grissom, Gordon Cooper, and Deke Slayton. (Wally Schirra drove a Corvette for a short time before switching back to European sports cars, while Scott Carpenter favored a blue Shelby Cobra.)
And then there was John Glenn. He drove a German-made NSU Prinz with a 2-cylinder engine that produced more noise than power. It could do 60 mph, wide open, on a flat road. "My transportation was kindergarten level by comparison [to the other astronauts]," he wrote in his 2000 memoir, "and I took a lot of ribbing about it."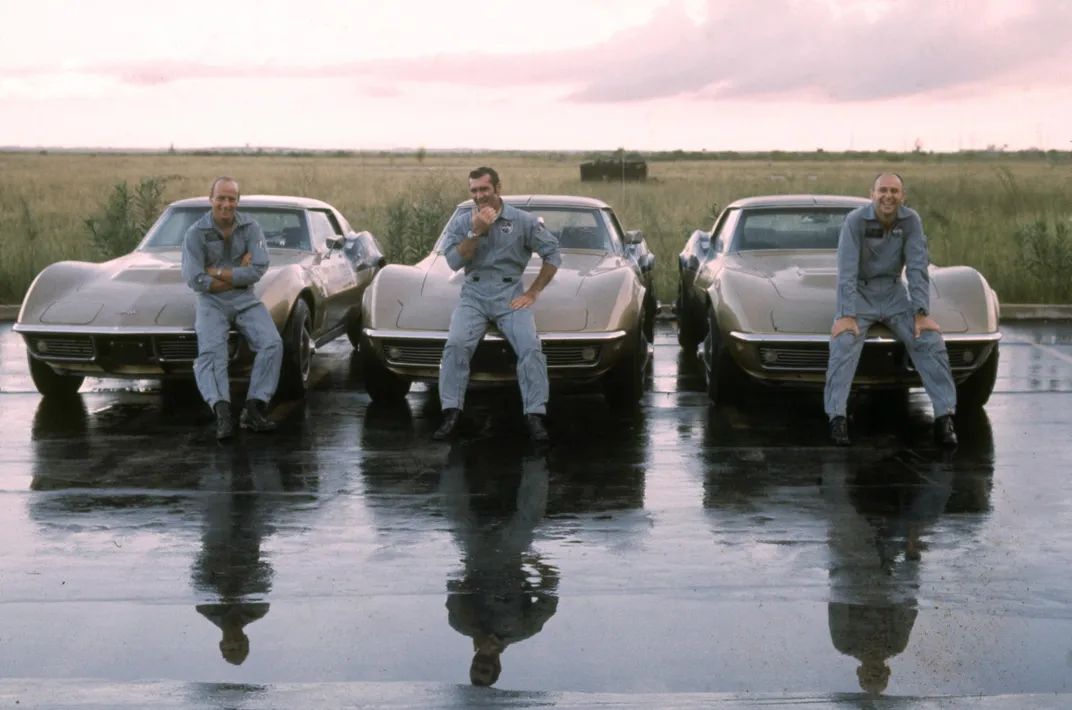 Cooper, Shepard, and Grissom raced their Corvettes along the flat beaches around Cape Canaveral. Shepard regularly won, at least at first. Eventually Grissom began to win, telling a fuming Shepard, "I guess you've lost your touch."
Shepard took his Corvette to Rathmann to fix the "problem" with his car, but nothing helped. After a few more races, writes Shepard's biographer Neal Thompson in Light This Candle, Grissom and Cooper let Shepard in on the joke. They'd had Rathmann adjust the gear ratios on Shepard's car so that it accelerated more slowly.
Shepard played a few pranks of his own. When Walter C. Williams, Project Mercury's director of operations, needed a car to get to a meeting at Cocoa Beach, Shepard threw him his keys and said, "Oh heck, take mine." "Really, you don't mind?" Williams asked. "I insist," said Shepard.
As Williams zoomed off, Shepard picked up the phone, and dialed security, saying "Some son of a bitch just stole my Corvette and is heading for the south gate." Shepard chuckled as he imagined the guards dragging Williams out of the car and onto the pavement.
When future Flight Director Gene Kranz first arrived at Patrick Air Force Base, pondering how he'd get to Cape Canaveral, a fellow passenger on the aircraft offered him a ride. Moments after Kranz climbed into the man's Corvette, the driver whipped the car into a 180-degree turn, punched it, and raced up the taxiway, plunging out onto the street in a four-wheel slide.
Rocketing through the security gate, the MPs didn't shout at him to stop or slow down…they saluted. On the highway, doing 80 or 90, the man finally turned to Kranz, stuck out his hand, and said, "Hi, I'm Gordo Cooper." As Kranz would later write, "I'd met my first Mercury astronaut."
Reporters covering the Mercury Seven felt it was only a matter of time before one of them died in an accident. Shepard spun out on a rain-soaked bridge and was nearly side-swiped by an oncoming car. Rathmann, with Grissom riding shotgun, flung Grissom's Corvette into the mud 200 feet off the road when he slid out of a rainy curve doing 80 miles an hour. A tow-truck pulled the battered car back to Rathmann's shop. Rathmann was always good for another Corvette."They would get a new car every six months, as soon as the ashtrays were full or whatever, then that was it, they would turn them in," recalled then NASA simulator instructor Francis E. "Frank" Hughes, in a 2013 oral history.
One of the perks for NASA secretaries was driving the year-old Corvettes from Houston to a half-way point and swapping them out for the new models. "The guys trusted us with them," said Jamye Flowers Coplin in a 2008 oral history, "which was probably a huge mistake."
Dazzling, or scaring, passengers was half the fun. Hughes recalls getting a ride from Grissom the day they met. "He puts it into gear, and he just floors it, and we go racing up this half-mile gravel road, and he's going about 85 miles an hour. When he turns onto the two-lane road, without any slowdown or stop, now he's got it up to about 120, going toward the freeway. He looks at me with a big grin and said, 'Are you having a good time?' "
Later, Hughes became a passenger in Deke Slayton's convertible Corvette on a quick jaunt from Houston to the Cape. "But there is a problem," Deke told him, "Somebody broke into my car and they cut the top."
"So we get in the car, and now we're going 90 miles an hour down Interstate 10 to go back home," Hughes related. "Periodically, this gray tape would come loose…[and it] sounds like a machine gun over your head.... We'd stop and tape it back up again.... Did we just drive at 60? No, hell no."
NASA's John H. Boynton, who drove a Jaguar XKE, recalled regularly encountering Shepard on the Gulf Freeway, headed to the office. "I would see him, I'd hit the gas, he'd hit the gas. We raced for about three, maybe four years. Each time I always beat him, until the last year that we raced. I remember he got that new 427.... He hit the gas and I hit the gas, and we were going side by side. I looked at my speedometer, and I was doing 133 miles an hour. The front end of my car was starting to float.... A car was way up ahead of me.... I backed off the thing, he went shooting on past. So he never did beat me, but we were tied at that point. I used to race Al Shepard. That's how we lived, 100 miles an hour all the time," he said in a 2009 oral history.
Everyone wanted to be an astronaut—or at least look like one. Soon, aviator sunglasses, Ban-Lon sport shirts, and huge watches were seen all over the Cape, and so were Corvettes.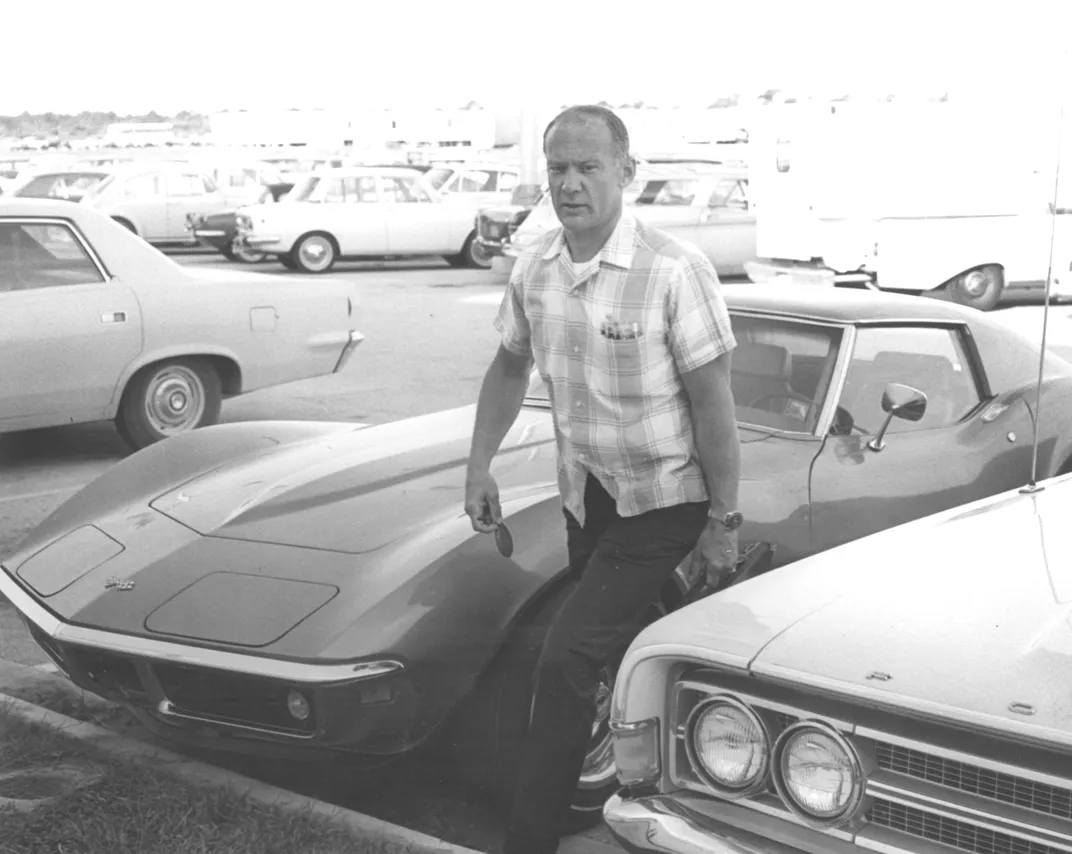 One of those enthusiasts was future U.S. Congressman Bill Posey (R-FL), who purchased one of Gus Grissom's former Corvettes in 1965. Just 16 years old, Posey immediately quit sports and began bagging groceries to pay for the fuel-injected Sebring Silver 1963 Sting Ray convertible. Posey would go on to work with McDonnell Douglas on the third stage of the Saturn V.
A former NASA employee recalls walking to the cafeteria in the Florida sun: "The parking lot was full of Corvettes. Looked like a Chevy dealer almost.... We just got so used to it. We didn't think anything about it, which is why I never took a picture of it. I wish I had."
Flight controller Dutch von Ehrenfried bought one of Shepard's outdated Sting Rays to be part of the club—and then shattered the fiberglass nose of the car against a guard's truck.
Much more somber was the day Betty Grissom returned a Lynndale Blue 1967 Sting Ray convertible to Jim Rathmann's showroom. Grissom had barely had time to drive the car before his death in the Apollo 1 fire along with Ed White and Roger Chaffee. The car survives today in the hands of a collector, as does Neil Armstrong's 1967 Marina Blue Sting Ray, and Jim Lovell's Silverstone Silver 1968 Corvette. NASA propulsion engineer Grady E. McCright nearly dinged Lovell's Corvette while dueling for a parking spot in Houston."Just a few weeks ago he was in a crippled spacecraft coming back from the moon and he successfully got home, and I almost hit him in the parking lot of Eckerd's Drug," he said in a 2000 oral history.
Periodically, one of these vehicles comes up at auction. In 1971, one collector located Alan Bean's 1969 Corvette at a GM lot in Austin, Texas. Each of the Apollo 12 astronauts—Pete Conrad, Dick Gordon, and Alan Bean—had matching "AstroVettes" painted Riverside Gold with black custom "wings." The trio, decked out in their spacesuits, were photographed leaning against their distinctive cars for Life magazine with a mock-up of the Lunar Module Intrepid in the background. Above the Sting Ray nameplate emblem, a special red, white, and blue insignia carried the initials CDR (Conrad, Commander), CMP (Gordon, Command Module Pilot) and LMP (Bean, Lunar Module Pilot). Only Bean's car appears to have survived and is today owned by car enthusiast Danny Reed, of Austin, Texas.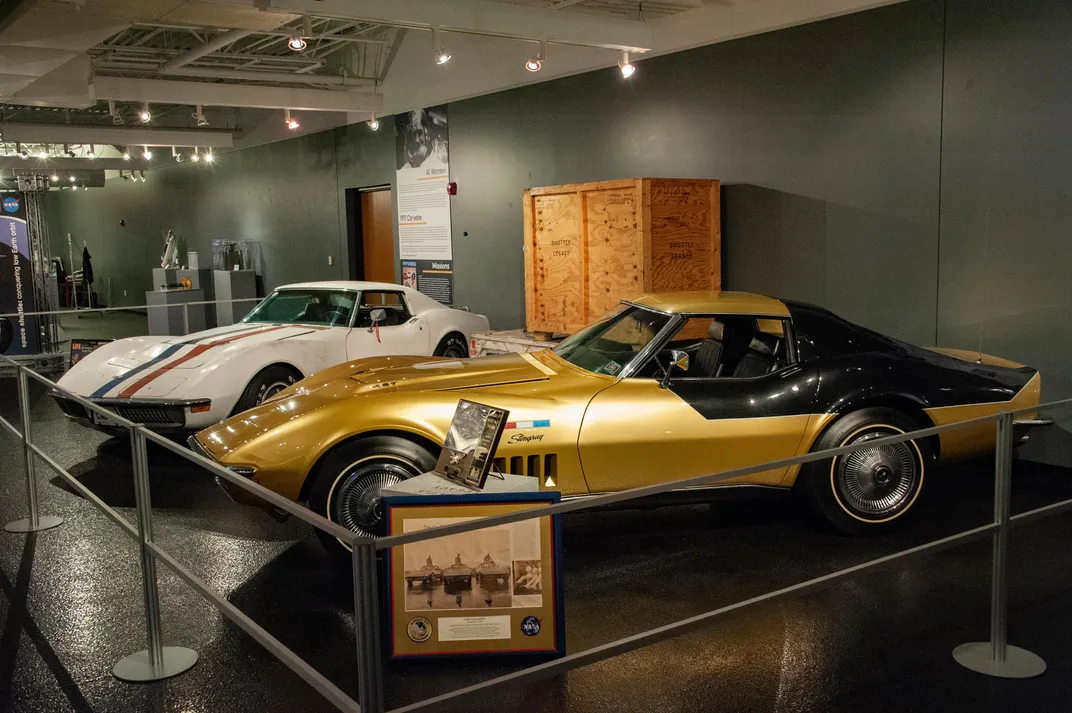 Sometime in 1971, NASA cancelled the one-dollar car program, fearing a backlash from the public. However, just under the wire, Rathmann bestowed a set of three 1971 Corvettes on the astronauts of Apollo 15, painted in Mille Miglia Red (Jim Irwin), Classic White (Al Worden), and Bridgehampton Blue (Dave Scott).
Apollo 15 was the first of three missions to bring a Lunar Roving Vehicle (LRV) into space, allowing astronauts to explore locations farther from the landing sites. The Boeing-built LRV by no means had the fearsome styling of a Sting Ray, but it did have an ounce of the Corvette's DNA. One of the major subcontractors on the LRV project that supplied systems including the wheels, motors, and suspension, was General Motors, the builder of the astronauts' sports car.
The LRV had real advantages for science, enabling astronauts to cover more distance and tote heavy equipment and bring more samples back home. But as retired NASA engineer Glynn S. Lunney said, "Oh, my God, they'd drive that thing too fast. You know, they're all Corvette drivers, and it used to just make me nervous as the devil. They'd be hot-rodding that thing around the moon. I was thinking, 'Oh, can't you go a little slower, please?'"