My Eye-Opening Flight With an Air Racing Legend
He didn't miss flying? How could that be?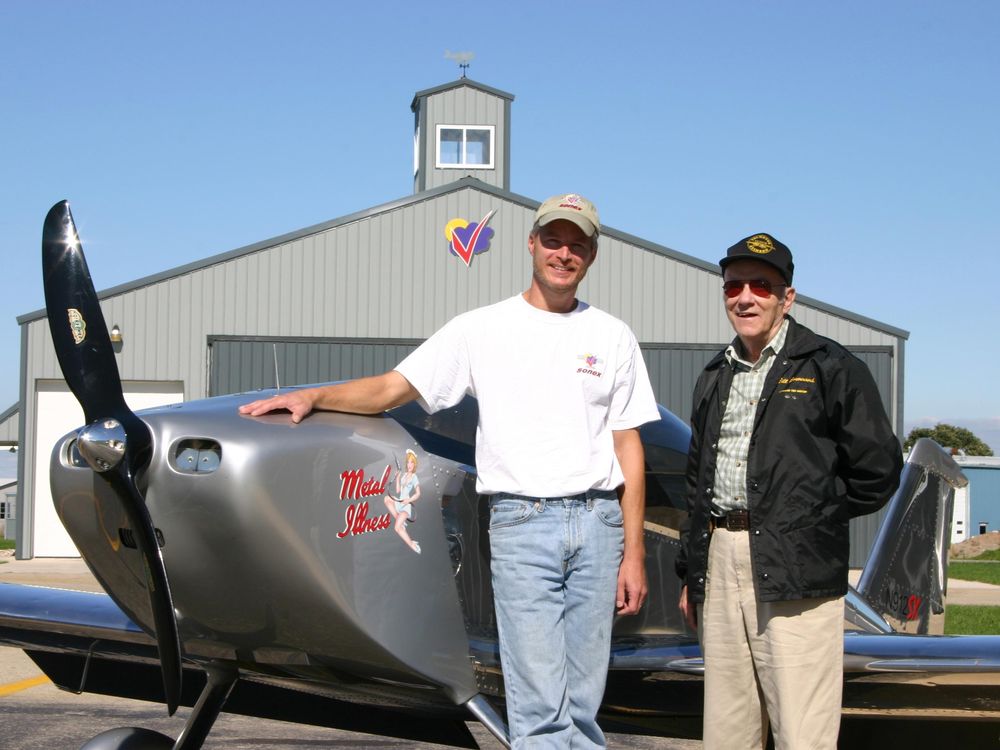 Bill Brennand's friend, Marybeth, gripped my forearm and looked straight into my eyes as she delivered the news: "Kerry! Bill has not stopped talking about the airplane ride you gave him!"
My heart sank. That meant Bill had lied to me two weeks earlier as I helped him off the wing of my airplane. It was September 2007, some six decades after 23-year-old William F. "Bill" Brennand had lowered his 100-pound frame into a midget airplane racer to fly at the 1947 National Air Races in Cleveland. Before I got to know Bill as a quiet man with a cutting wit, I knew him only by his accomplishments. The first time I approached him, in 1998, I held a heavy wood propeller, a marker, and a degree of anxiety about asking him to sign the prop. My hometown, Oshkosh, Wisconsin, is host to the Experimental Aircraft Association's annual fly-in convention, AirVenture, and is no stranger to aviation legends. But Bill was homegrown, raised on a farm that is now part of the Oshkosh airport. He was one of them, but also one of us. After my anxious introduction, our paths crossed frequently within the Oshkosh community.
Among Bill's competitors at the 1947 Cleveland Air Race was Tony LeVier, who competed in his first National Air Race in 1936 and won the Greve Trophy in 1938. In the 1946 Thompson Trophy race, LeVier had piloted a Lockheed P-38 to a second-place finish. LeVier was a seasoned pilot, accustomed to winning. Bill, a flight instructor, had never raced before. He and Steve Wittman had built his aircraft, Buster, from the bones of Wittman's pre-war racer Chief Oshkosh. Wittman had damaged the airplane in a 1938 crash, and its charred fuselage had hung from the rafters of Wittman's hangar during the war while Wittman trained pilots for the military.
In 1945, with the war over and time on their hands, Witt and Bill—who had taken a job with Wittman Flying Service two years earlier to pay for his flying lessons—rebuilt and rechristened the hobbled racer. Bill taught himself aerobatics in it, then modified it again to compete in the inaugural, Goodyear-sponsored, midget class (now known as Formula 1) race in Cleveland.
Buster, a truly homebuilt aircraft with a Continental C-85 four-cylinder, 85-horsepower engine under the cowl, would compete against racers like Lockheed's Cosmic Wind and Art Chester's Swee' Pea. Bill and Buster were clocked at 165.9 mph on the 2.2-mile course, leaving LeVier and every other racer in their wake.
Sixty years later, long retired from racing, Brennand maneuvered himself into the right seat of Metal Illness, my homebuilt Sonex aircraft. When I gave him the stick, he flew with the skill and confidence of a lifer. He was in his 80s, but there was nothing tentative about his flying.
If Bill was happy to be piloting again, I didn't see it. His eyes were outside the cockpit. Good pilots don't need instruments; their senses relay visual, aural, and physical messages to the brain and the brain subconsciously commands the controls.
While Bill's eyes were outside the cockpit, my eyes were on him. Not out of concern, but out of awe. I was thrilled to share Metal Illness with an aviation legend. If Bill had performed an aileron roll or pulled up into a stall and kicked in full rudder to spin earthward for a few hundred feet, I was all in.
When offered control of an airplane, many passengers, even pilots, demur. My logbook shows we flew for 42 minutes. I don't recall piloting the aircraft much myself, and I don't remember the landing so I must not have embarrassed myself.
Bill, however, remembered his landing in the final qualifying flight at the 1947 National Air Race. Buster's propeller broke, causing the aircraft to shake violently. Bill shut off the engine, pulled straight up to bleed off airspeed, then glided over the grandstand to an uneventful touchdown.
A rescue crew arrived as Bill opened his canopy. "What happened?" they asked.
"I don't know, I just got here myself," Bill replied. The following day, Bill flew his first race and recorded his first national victory with a borrowed propeller bolted to Buster. Today, Buster hangs in the National Air and Space Museum.
After shutting down the engine of Metal Illness and opening the canopy, I helped Bill up from the seat, out of the cockpit, and onto the wing. As he stepped off the wing, he said, "I really don't miss it. I did it for so many years."
That set me back. Millions of people fly in airplanes every day, but relatively few pilot them. My last airline flight left me wanting to give up flying, but piloting? I couldn't imagine life without it.
I was in fifth grade when I realized I had to fly. By my junior year of high school I was spending six years of yard-work earnings on lessons; one a day, every day. I soloed in two weeks. I flew an airplane before I drove a car. Poor eyesight meant flying would always be recreational for me, but it remained central in my life. When I couldn't afford to fly, I haunted Wittman airport, often spending an hour of my 30-minute lunch there. That's how I met John Monnett, founder of Sonex Aircraft, whose Moni design hangs in the Museum's Steven F. Udvar-Hazy Center. Just as I had to become a pilot, I had to build a Sonex.
I thought again about what Bill had said. He didn't miss flying? Bill's words hit me like an icy wave on a hot summer day, a brief shock followed by great relief. They gave me hope that when my skills and health fade, so too will my desire.
Two weeks after I took Bill flying, Marybeth told me that Bill had not stopped talking about our flight. Bill's biographer Jim Cunningham once quoted him as saying, "I was not one to ride around the patch very much; the flight had to have a purpose. I guess 65 years of flying was enough."
Or maybe it wasn't.
Kerry Fores is a freelance writer and photographer who built an airplane in his garage in Oshkosh, Wisconsin.