Musical Airs
Songs inspired by the early age of flight.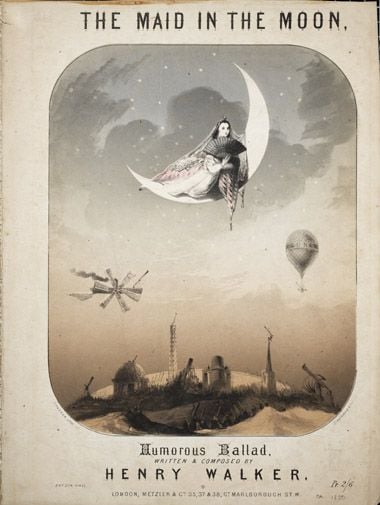 The term "collector" is perhaps too mild a description for Bella C. Landauer. Born in 1875, Landauer, the daughter of a corset manufacturer and the wife of a handkerchief tycoon, avidly gathered labels and bookplates, lottery tickets and handbills, calendars and cigar labels, matchbooks and menus. Her stash of advertising ephemera alone includes 800,000 items.

One of Landauer's most fortunate obsessions was her interest in aeronautical sheet music. The self-named "Lady Lindbergh-Landauer" first became interested in aviation when her son took up flying. Her extensive sheet music collection, numbering more than 1,200 items, was acquired by the National Air and Space Museum in 1968.

Pictured above: "The Maid in the Moon" (circa 1850), a typical mid-19th century comic song, features a balloon on its illustrated cover, along with a fantastical propellered ship. The Montgolfier brothers began their hot-air balloon experiments in Paris in 1782; some 68 years later, balloon mania was still going strong:

Of the Man in the Moon many people will tell,
But we mus'nt forget there's a Maid there as well!
A pretty young damsel whom poets delight
To hail as "Fair Luna, The Queen of the night."
For in truth she has charms, which tho' oft on the wane,
Their freshness and beauty as often regain;
'Till Earth's fairest daughters, tho' lovely as noon,
Are obliged to look up to the Maid of the moon.

Now, the Maid in the moon, living up in the sky;
In consequence, carries herself somewhat high;
And perhaps is addicted, a trifle or so,
To casting reflections on people below;
But she thinks mens' politeness has come to a pass,
When at her so rudely each puts up his glass,
And she draws down her veil of thick clouds very soon,
For a modest young lass is the Maid in the Moon!
The Balloon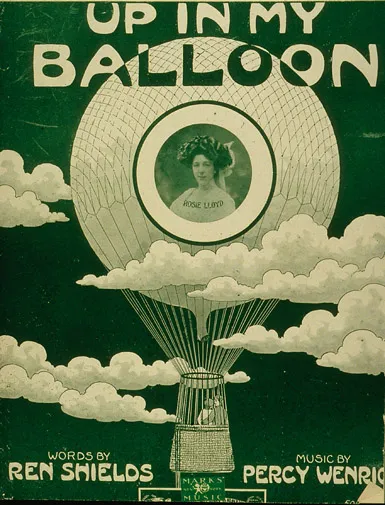 In 1935, the New Yorker covered a small exhibition of Landauer's sheet music at the Old Print Shop in New York City: "The oldest songs are mostly English, we found, and naturally they're about balloons. The very oldest air song, published in London in 1782, is called 'The Balloon'…. We thought the words of this insipid." By 1908, English songwriters were scarcely more inspired, as the lyrics to "Up In My Balloon" show:

Little Bertie Van Lear says to Maudie De Vere,
I have good news I want you to share,
Now I've a balloon and there's plenty of room,
So we'll go for a ride in the air;
Do your hair in a rat, get your best sailor hat,
Be on deck, we must sail promptly at nine,
As the Captain and crew, I'll take good care of you,
And I'll show you a real high old time.

Little Maudie De Vere says to Bertie Van Lear,
As the big balloon slowly arose,
We've been courting you know now for two years or so,
And you've never yet tried to propose;
You've had me in the air, now that I've got you there,
You must promise that you'll buy the ring,
If you don't take my tip, then your airship I'll rip,
So to no other girl you can sing.
Wright Brothers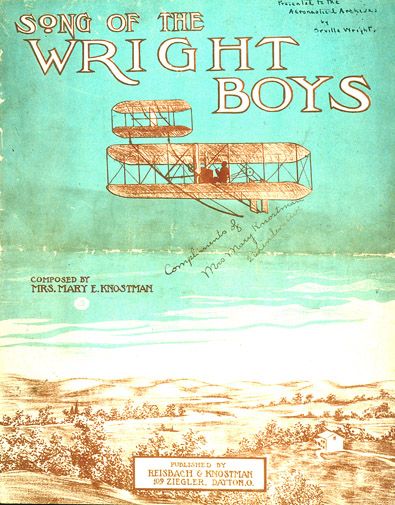 On August 8, 1908, Wilbur Wright made a controlled circular flight of one minute, 45 seconds before an enthusiastic group at the Hunaudières racetrack near Le Mans, France. The next day, it was reported, "Hundreds of people have turned up in the hope of a repeat of yesterday's performance. They will be disappointed: Wilbur is a devout Christian and never flies on the Sabbath." Just a few months later, on December 18, Wilbur would win the Michelin trophy (and its 20,000-franc prize) after staying airborne for one hour, 54 minutes, and 53 seconds:

It's Wilbur and Orville Wright
Who has shown the world their flight
In their aeroplane which made their fame
And gave the boys a name
Now Dayton she was slow,
But the whistles they did blow,
When the boys returned from foreign lands with honors of their fame. It's
Wright boys all right, who won the flight came the right
It's Wilbur and Orville Wright, it's Wilbur and Orville Wright

Now we hope that Uncle Sam will treat the Wright boys fair
That he will lend a helping hand to the conquerors of the air
They soon will make the test
To prove to all the land that they are worthy of the best
That to the Wrights can come,
It's Wright boys all right, who won the flight gained the right,
It's Wilbur and Orville Wright, it's Wilbur and Orville Wright

In 2003, the National Air and Space Museum recorded several of the songs in the Bella C. Landauer Aviation Sheet Music Collection for the exhibition "The Wright Brothers & the Invention of the Aerial Age." Click here to hear "Song of the Wright Boys," and other musical selections.
Airships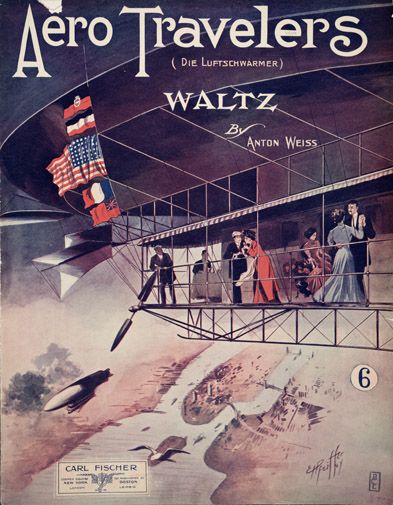 The era of the giant airships lasted from 1900 to 1940, when the last Zeppelin was dismantled. The behemoths were the first commercial aircraft, ferrying customers across the German countryside long before airplanes. In 1900, a 62-year-old inventor, Count Ferdinand von Zeppelin, arrived on the scene. At the time of his maiden flight, Zeppelin had no practical knowledge of powered flight beyond a few balloon ascents, and many viewed his invention skeptically. "I am not a circus rider who performs for the public," Zeppelin remarked testily. "I am doing serious work for my country." Dirigibles would eventually become synonymous with his name.
Women in the Air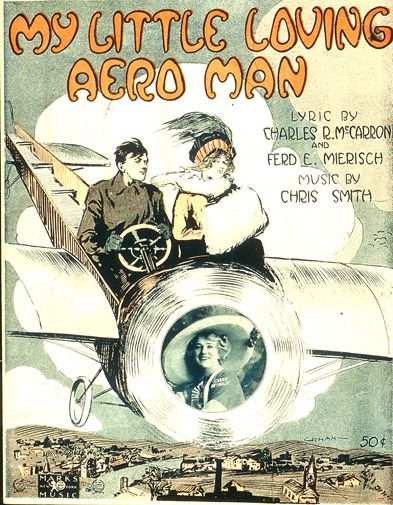 Women raced to get their pilot's licenses, including Elise Deroche of France ("Flying does not rely so much on strength, as on physical and mental coordination"); Russian Lidia Zvereva; the "Girl Hawk" Hélène Dutrieu of Belgium (who sparked a controversy by flying without her corset); and Blanche Stuart Scott, the United States' "Tomboy of the Air." The women met with opposition: Blanche Stuart Scott was told by none other than Glenn Curtiss—her teacher—that a woman's place was on the ground, while Melli Beese of Germany gained her license despite her male colleagues' sabotage prior to the test. Songwriters of the period seemed most comfortable depicting women as riding in airplanes as passengers, rather than being pilots, as in this 1912 song "My Little Loving Aero Man":

Pretty little witty little Mary Snow,
Went with her steady beau,
To see an "Aeroshow,"
And when she saw a pippin dippin' to and fro,
She sighed like girls will do;
Said she to him "I'm getting tired of motor cars,
They give you awful jars, I want to visit Mars;
So let's imagine now that we're among the stars,
In an aero built for two."

Pretty little witty little Mary's beau,
He went and got the dough and bought a Bleriot,
And after that to show her that he wasn't slow,
He bought a parachute,
Said he "I got it Mary dear in case we fall,
You won't get hurt at all,
So don't you dare to stall;"
Said she "I will be ready ev'ry night you call,
And around the moon we'll scoot."

In 2003, the National Air and Space Museum recorded several of the songs in the Bella C. Landauer Aviation Sheet Music Collection for the exhibition "The Wright Brothers & the Invention of the Aerial Age." Click here to listen to "My Little Loving Aero Man," and other musical selections.
Aero Ditty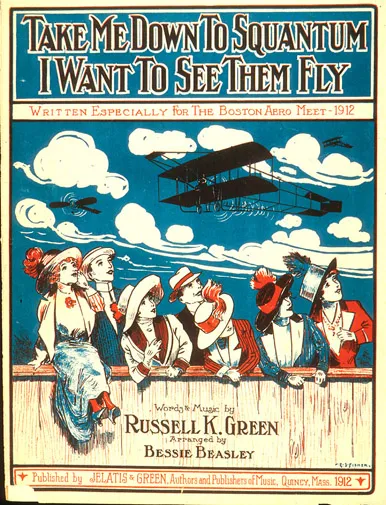 Written specifically for the Boston 1912 Aero Meet, this little ditty probably would not be remembered if Landauer hadn't gathered it into her collection:

Now there is a girl as bright as a pearl who's crazy about aviation,
To each aeroplane show she will go with her beau
She knows every airplane in creation.
Each day just as warned as o' the day dawns
She's waiting outside the field gates
Theaters and wine are not in her line
And this song she sings while she waits
Take me down to Squantum, I want to see them fly
Bleriot and Beechy, flying round so high
We'll eat peanuts and popcorn and watch them in the sky
We'll ride down in the car, or we'll walk it's not far,
If you'll take me to Squantum Field

An airman took the tip, took her for a trip
Away up above all the crowds
In the midst of their ride, he started to glide
When high up among the blue clouds
He commenced to descend, they both thought was their end,
When the engine blew up with a bang,
Then oh, such a drop, the ground was first stop,
but they both jumped up and both loudly sang:
Take me down to Squantum, I want to see them fly
Bleriot and Beechy, flying round so high
We'll eat peanuts and popcorn and watch them in the sky
We'll ride down in the car, or we'll walk it's not far,
If you'll take me to Squantum Field.

In 2003, the National Air and Space Museum recorded several of the songs in the Bella C. Landauer Aviation Sheet Music Collection for the exhibition "The Wright Brothers & the Invention of the Aerial Age." Click here to listen to "Take Me Down to Squantum, I Want to See them Fly" and other musical selections.
Battle in the Sky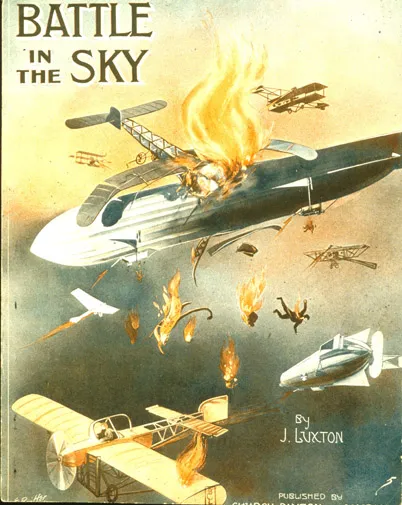 Flaming dirigibles—and burning men—adorn the cover of "Battle in the Sky" which, in spite of the depicted carnage, is actually a lively ragtime*. Canadian Reginald Warneford was the first to shoot down a Zeppelin on June 9, 1915. Hovering above the airship he released six bombs; five missed, but the sixth hit the mark, causing an explosion so great that it flipped Warneford over in his monoplane. The Germans launched 20 airship raids in 1915, killing some 180 people and injuring more than 450. The illustration accompanying "Battle in the Sky" brings to mind H.G. Wells' 1908 book War in the Air: "Quiet people go out in the morning and see airfleets passing overhead—dripping death—dripping death."
*The MIDI file of "Battle in the Sky" is used with the permission of Benjamin Robert Tubb ([email protected]) from his site at Public Domain Music (www.pdmusic.org).
Aces High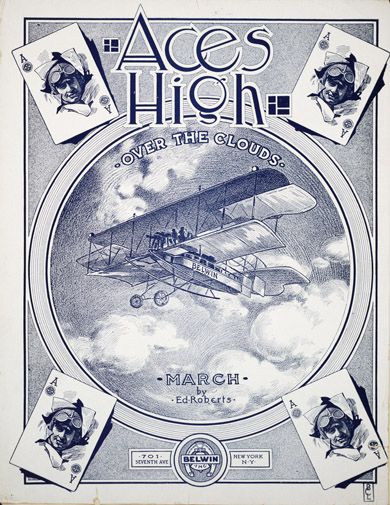 By 1918, the date of this march, Germany's "Red Baron," Baron Manfred von Richthofen, had been shot down over Le Hamel, France, while going after his 81st victim. Eddie Rickenbacker, the U.S. race car driver turned pilot, had almost achieved status as a "double ace," and Major Edward "Mick" Mannock, the top UK ace, died after his 73rd victory. He had recently told a friend, "I don't think I will last much longer." In short, aces were everywhere in the news, and the public was obsessed with the heroic men, who were the subject of films, books, songs, and games.

The term "ace" is unofficially bestowed on those pilots and weapon systems officers who have shot down five enemy aircraft. The label became popular among military pilots during World War I, when French newspapers christened Adolphe Pégoud as l'as after he downed several German airplanes.
Top of the World Two-Step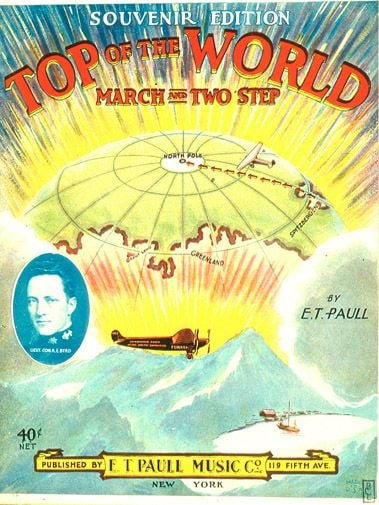 U.S. Navy officer Richard Byrd and his team circled the North Pole in their Fokker F.VII tri-motor Josephine Ford (named after the daughter of Edsel Ford, the expedition's co-sponsor, along with John D. Rockefeller), on May 9, 1926 (although his accomplishment was later disputed). The Landauer collection boasts a number of songs celebrating individuals in addition to this 1926 march and two-step honoring Byrd; the 1927 transatlantic solo flight of Charles Lindbergh is immortalized in at least 60 songs. Others are dedicated to such famous fliers as Eckener, Coste, Chamberlin, Levine, Earhart, and Blériot.
"Top of the World" (visit this page or link directly to the MIDI file to hear the song play)
Amelia Earhart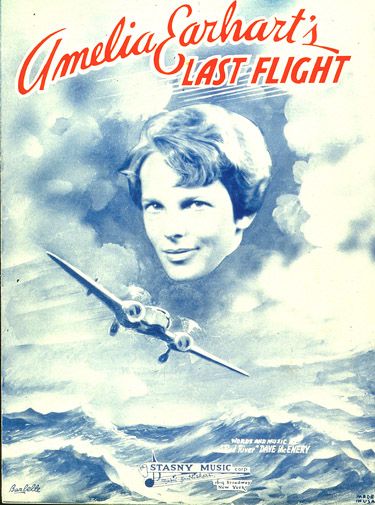 "When she vanished—70 years ago this July—she was as big a star as Greta Garbo," wrote Paul Hoversten in the July 2007 issue of Air & Space. "Is that why some are still driven to solve the mystery of Amelia Earhart?"

A ship out on the ocean sees a speck against the sky.
Amelia Earhart flying that sad day,
With her partner, Captain Noonan, on the second of July,
She went across the ocean far away.

She radioed position to say that all was well,
Although the fuel inside her tank was low.
She'd stop on Howland Island and refuel her monoplane,
Then on her trip around the world she'd go.

There's a beautiful, beautiful field
Far away in a land that is fair.
Happy landings to you, Amelia Earhart
Farewell, first lady of the air.
Just half an hour later an SOS was heard,
The signal weak, but still her voice was brave.
Oh, in shark-infested waters the small plane disappeared,
Amelia went down to her watery grave.

So now you have heard the story of that awful tragedy,
We pray that she'll fly home safe again.
In years to come as others blaze a trail across the sky,
We'll ne'er forget Amelia and her plane.

Click here to download the song.
From Frost to Flowers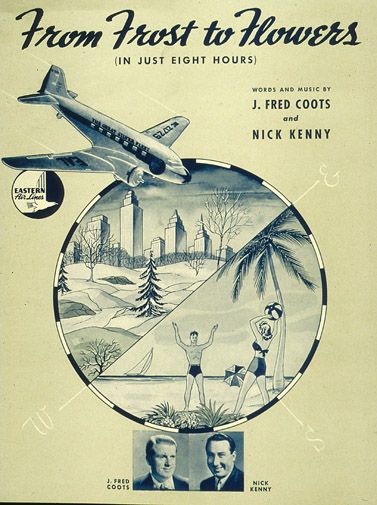 According to Kevin McCarthy, author of Aviation in Florida, Eastern Air Lines started by delivering mail between Miami and Jacksonville in a tiny biplane, years later inaugurating one-day service between New York and Miami with the motto "From frost to flowers in just eight hours." The motto was turned into a jingle for the company in 1941. By February 1944, Eastern's monopoly of the New York-Florida vacation market was broken, when National Airlines was awarded a route.
Rosie the Riveter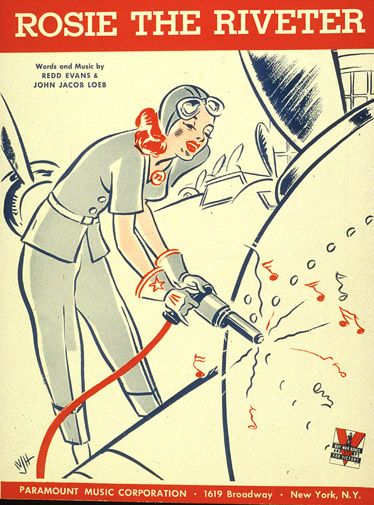 Millions of American women entered the workforce during World War II, eager to do their part for the war effort. Their images were plastered on posters (J. Howard Miller's famous poster titled We Can Do It! was based on Geraldine Doyle, a Michigan factory worker, while Norman Rockwell's illustration for the Saturday Evening Post featured Mary Doyle Keefe). The women were also celebrated in promotional films and song, such as 1942's "Rosie the Riveter," written by Redd Evans and John Jacob Loeb:

While other girls attend their fav'rite cocktail bar
Sipping Martinis, munching caviar
There's a girl who's really putting them to shame
Rosie is her name

All the day long whether rain or shine
She's a part of the assembly line
She's making history, working for victory
Rosie the Riveter
Keeps a sharp lookout for sabotage
Sitting up there on the fuselage
That little frail can do more than a male will do
Rosie the Riveter

Rosie's got a boyfriend, Charlie
Charlie, he's a Marine
Rosie is protecting Charlie
Working overtime on the riveting machine
When they gave her a production "E"
She was as proud as a girl could be
There's something true about
Red, white, and blue about
Rosie the Riveter

Everyone stops to admire the scene
Rosie at work on the B-19
She's never twittery, nervous or jittery
Rosie the Riveter
What if she's smeared full of oil and grease
Doing her bit for the old Lendlease
She keeps the gang around
They love to hang around
Rosie the Riveter
Bomber Pilots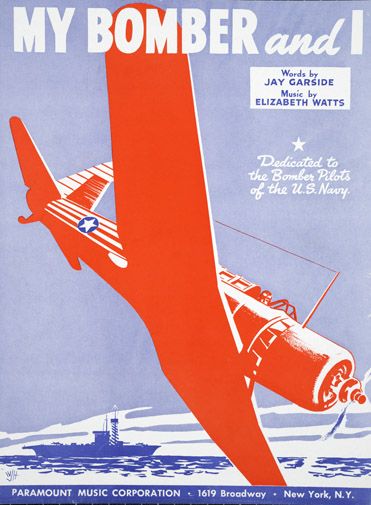 If you're able to disregard the fact that the airplane pictured on the cover doesn't resemble any known World War II-era bomber (maybe, just maybe it's a T-6 Texan), and that the song title, to be grammatically correct, should be "My Bomber and Me," you're left with a catchy tune "dedicated to the bomber pilots of the U.S. Navy":

We're out at sea on a carrier waiting for orders to fly.
So clear the decks, for we've got to scram
We're off to do a job for Uncle Sam.
So "contact" up in the air we go
Over the land over the sea after the foe.
"Contact" up in the air we fly
Higher and higher my bomber and I.
Bomber B-17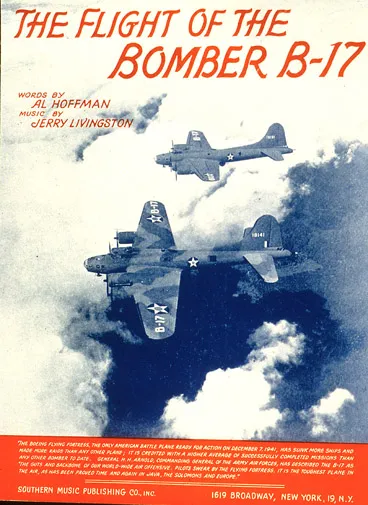 The Boeing B-17 would serve in every World War II combat zone, but is perhaps best known for its role in the daylight strategic bombing of German industrial targets. Who could have predicted that the Flying Fortress, bristling with machine guns and bombs, would inspire this 1948 tune with the immortal opening line: "Doodle-oodle, oodle-oodle, oodle-oodle, oodle-oodle."

The sheet music presented here is drawn from the Bella C. Landauer Collection, housed in the National Air and Space Museum branch of the Smithsonian Institution Libraries. To read more about the collection, visit the Libraries' Web site.