The Smithsonian Gets Its First Coast Guard Helicopter
The Seaguard arrives just in time for the service's centennial of flight.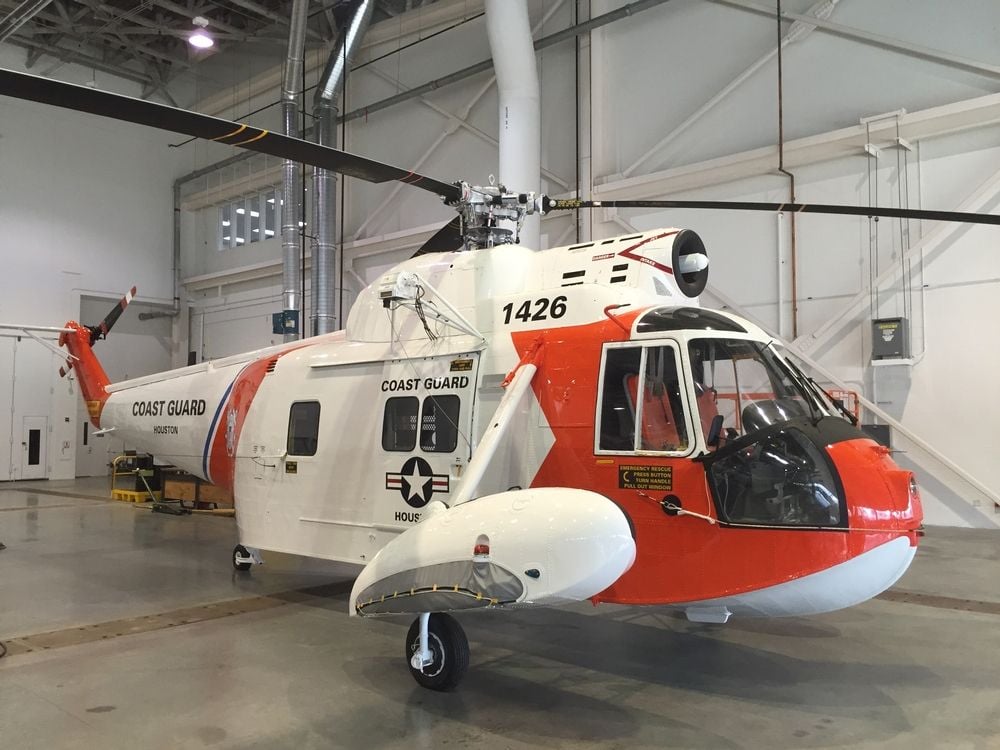 With the U.S. Coast Guard celebrating its centennial of flight this year, it's appropriate that the National Air and Space Museum welcomed its first Coast Guard aircraft to the collection today.
The Sikorsky HH-52A Seaguard entered Coast Guard service in 1962 and retired in 1989. Used primarily in rescue operations, the Museum's Seaguard, serial number 1426, has a storied past. During its 12,619 flight hours, the helicopter made significant rescues, including its role in saving 22 sailors from a two-ship collision in the Gulf of Mexico in 1979. When the tanker Burmah Agate collided with the freighter Mimosa, the tanker's 300,000 barrels of oil produced a tremendous fire. As Museum curator Roger Connor notes, "In three flights, pilots J.C. Cobb and Chris Kilgore, along with Petty Officer Thomas Wynn, rescued 22 survivors…. On the first flight, they rescued 10 from the Mimosa, in addition to the pair from the Burmah Agate. This load of 12 put the helicopter in a dangerous overload from which it barely recovered."
In 1988, as the Coast Guard was in the process of replacing its fleet of HH-52As, Lieutenant Thomas King was asked to find homes for almost 75 of them. The National Air and Space Museum seemed a natural location, but the Museum's Mall building couldn't squeeze one in. King retired the next year, joined the Coast Guard Aviation Association, and continued his work. Once the Museum's Steven F. Udvar-Hazy Center opened in 2003, the Smithsonian was able to accept a Seaguard. There was one catch: The aircraft had to be fully restored. In late 2014 the group acquired a helicopter—number 1426—from the North Valley Occupation Center, a vocational-technical school based in Van Nuys, California. In just little more than a year, a group of volunteers restored it, and now, at last, it's on display at the Udvar-Hazy Center in Northern Virginia.