More Than a Century Later, Lilienthal and Wright Gliders Fly Together for the First Time at Kitty Hawk
Reproductions of two of history's most famous aircraft share the sky in North Carolina.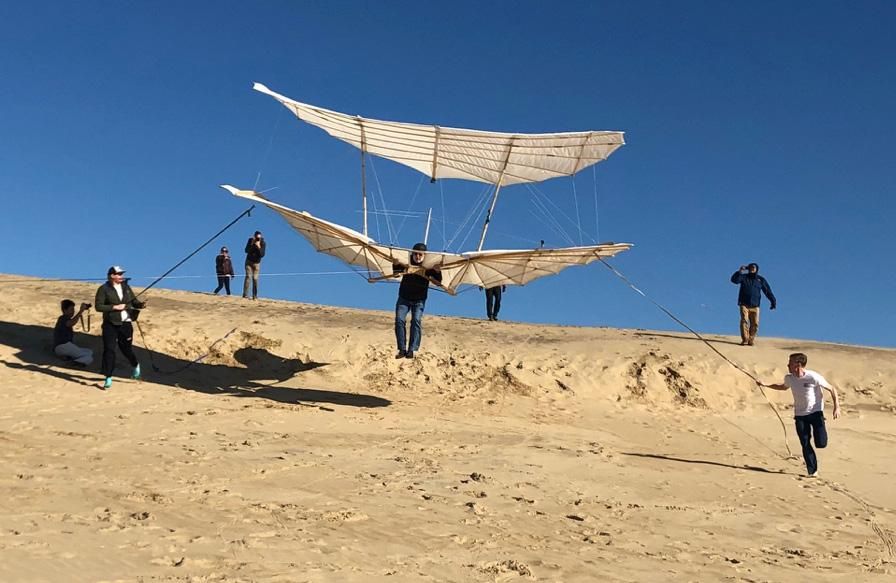 Their inventors could never have imagined it, yet there the two machines were: reproductions of the Wright brothers' 1902 glider and an 1895 Otto Lilienthal glider, side by side on the crest of a giant sand dune, pointed into the wind, and ready to launch.
The American aviation pioneers and their German predecessor never met, much less flew together. When the Wrights first launched their original glider 117 years ago, Lilienthal had been dead for six years. But on a beautiful December afternoon at Jockey's Ridge on the Outer Banks of North Carolina in 2019, a determined German aerospace engineer and a bi-coastal group of American hang glider pilots made the historically impossible happen.
Three years before, in 2016, Markus Raffel of the German aerospace agency DLR was involved in wind tunnel testing of a museum reproduction of Lilienthal's Normalsegelapparat ("normal soaring apparatus") to mark the 125th anniversary of the inventor's first flights. In studying Lilienthal's achievements, Raffel came to think the German pioneer was underappreciated. "If you look at the AIAA timeline of history, there's just one mark [for Lilienthal], that he died in 1896," he says. "The only thing that's said is that he failed. Lilienthal didn't only die. He did something before—he flew something like 2,000 times. Lilienthal was keen to give his knowledge further. And so I became obsessed."
Raffel decided to make his own Lilienthal glider, with special attention to authenticity. He was able to have a piece of original Lilienthal wing fabric (from a glider in Moscow) analyzed to determine its weave. "We found someone who has historic looms," says Raffel, "and they reproduced the fabric in the best possible manner. I haven't found another fabric which is that strong and that light."
Raffel took hang gliding lessons in France, then graduated to tethered flights of the Lilienthal glider on a rolling platform towed behind his station wagon. He moved on to short flights with a scooter-driven winch helping to pull him into the air, and followed Lilienthal's instructions. "Lilienthal said first you must run [with the glider]," he says. "Then run and jump. And then run, jump, fly."
Raffel's first opportunity to make free flights came in the summer of 2019, when he was on sabbatical at CalTech. After shipping the glider to California he teamed up with Andy Beem, owner of Windsports, a long-running hang gliding school in Los Angeles. Raffel and Beem made the first few tentative glides down the dunes at Dockweiler State Beach, but, needing a steeper slope to better match the Lilienthal's 3:1 glide ratio, they moved to Marina Beach in Monterey. "It responds beautifully in pitch and roll," Beem says. "I've never had so much fun as having the opportunity to fly that glider. When I fly a hang glider, I have an umbilical cord connecting me to the wing. But in the Lilienthal, I am the wing. It is a pure bird-like feeling."
In October Raffel visited the Kitty Hawk Kites hang gliding school in North Carolina and made tethered flights in the 1902 Wright Glider reproduction built by The Wright Experience for the 2003 Centennial of Flight. The idea of simultaneous flights of the Lilienthal and Wright gliders was hatched. "It's fantastic that somebody suggested that he check with us," said John Harris, the founder of Kitty Hawk Kites. "I'm really excited to see them side-by side. It's never happened before."
Raffel scheduled his return to Kitty Hawk in mid-December, just before the annual commemoration of the Wrights' first powered flights on December 17. On his way, he made a stop at the National Air and Space Museum's Steven F. Udvar-Hazy Center in Virginia and its Mary Baker Engen Restoration Hangar. With Chief Curator Peter Jakab's approval, he arranged for API Metrology of Rockville, Maryland to make a 3-D scan of the original 1896 Lilienthal Glider in the Museum's collection. It is one of nine that Lilienthal sold during his lifetime—this one to newspaper magnate William Randolph Hearst, who had it flown in New York in 1896.
Raffel will use the data from the original glider to aid in flight simulations and to compare with data taken from the reproduction. Malcolm Collum, NASM's chief conservator, sees a great advantage in having Raffel's insight, along with the 3-D scan. "It's a win-win," he says, "Markus gets to learn from a very original example of a Lilienthal glider, which enhances our understanding of our own artifact."
On the Saturday planned for the dual flight in Kitty Hawk, the forecast did not look promising. After Raffel and I gave talks about Lilienthal and the Wrights at nearby Jockey's Ridge State Park, the hang gliding school's manager Wolf Gaidis had a call from the instructor on the dune. The wind was up.
The gliders were carried out to the dunes and assembled. The Kitty Hawk Kites team, including Harris, helped Raffel and his PhD student Felix Wienke assemble the folded Lilienthal glider. The wing's willow branches pivot outward like fingers. Curved wooden ribs sit on the wing's upper surface to give it camber. As the gliders moved to the top of the dune, the grey clouds blew away to reveal a perfect blue sky.
Once they were fully rigged and checked over, the gliders were put into position, and pilots Andy Beem (Lilienthal) and Billy Vaughn (Wright), took their places and waited for a favorable cycle in the wind. The gliders were tethered, runners in place. Beem gave the signal: "LAUNCH!" The moment was brief but magnificent. Two seminal aircraft, both groundbreaking critical steps to the invention of the airplane, in the air, together. In that moment, it was obvious what each one represented: Lilienthal working directly from bird anatomy, the Wrights coming after, their design pointing to the airplane. As Raffel says, "The Lilienthal is an animal. The Wright is a machine."
Vaughn glanced through the Wright's struts for a second to see the Lilienthal in the air beside him. "I'll have that image in my head forever," he said, "I wish I could print it for you."
For Beem, it also was a special first. A hang glider pilot for 37 years, he had never been to Jockey's Ridge. "And my first flight here was in a Lilienthal glider."
After the cheers and hugs, the gliders were quickly taken back up for several more flights. The following morning they went up again, the wind having come up in defiance of the forecast. No more parallel flights were made, but several of the Kitty Hawk Kites pilots, including Harris, Gaidis, and my son Tim (himself a former "dunie" instructor) each had a turn on the Lilienthal.
The flights ended after an armrest on the Lilienthal glider came loose and Beem had a hard landing. Raffel's reproduction remains at Kitty Hawk Kites while next steps are being planned. He wants the public to see it fly. "This was always my intention," he says, "To bring it out to the world."