More Animals Aloft
Taking dogs and cats to new heights.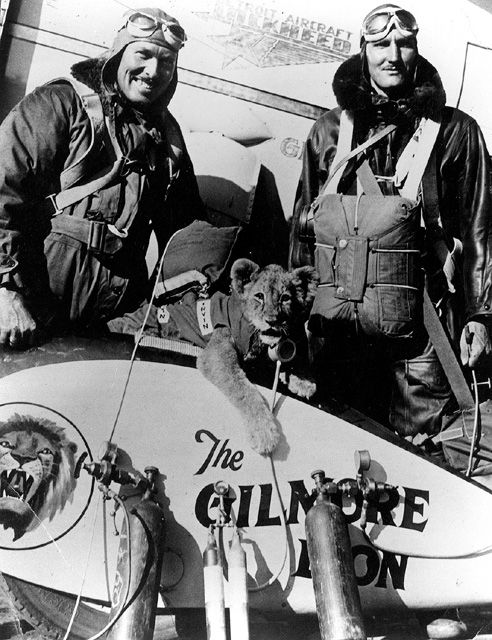 You're wandering through the National Air and Space Museum's Steven F. Udvar-Hazy Center when you notice the parachute. An extremely small parachute. This thing couldn't keep Anne Morrow Lindbergh aloft. So who was it for? Turns out it was made for a lion cub named Gilmore, the pet of air racer and showman Roscoe Turner.
Gilmore is just one of the creatures profiled in the Smithsonian Channel special titled Animals Aloft. (The book of the same name, written by Museum archivist Allan Janus, inspired the program.)
Turner adopted a lion cub in the 1930s, naming it after his sponsor, the Gilmore Oil Company. For two years Turner and Gilmore flew around the country, covering more than 25,000 miles. By all accounts Gilmore was a nervous flier, comfortable only in his owner's lap. That worked fine until the cub grew to 150 pounds, when his aerial career came to an end. (The lion lived to the age of 22; his remains are preserved at the Museum.)
With droll commentary, Janus highlights some of the celebrities, mascots, and animal pioneers of aviation. There's Kiddo the Cat, the first feline to attempt to cross the Atlantic by air in 1910, and Titina, part of a 16-man (and one dog) expedition that battled Arctic winds over the North Pole in the airship The Norge in 1926.
For variety of animal passengers, the Lafayette Escadrille of World War I takes first prize. The squadron's mascots included dogs, cats, a fox, and two lion cubs named Whiskey and Soda. (Whiskey was friendly and gregarious. Soda, not so much.)
Military mascots soared in popularity during World War II. We meet Skippy, a pitbull-pointer mix with 200 hours (and his own oxygen mask) in a B-17; and Stuka, the scrappy Scottish terrier from the Memphis Belle. There were even "Paradogs," flying Huskies that rescued downed pilots lost in the Arctic (the program continued in Alaska until the mid-1950s, when helicopters took over the task).
Over the years, animals have flown as mascots and pets, passengers and cargo, even as test subjects. Lafayette Escadrille member Edwin Parsons expressed the thoughts of many aviators when he wrote, "To all those dumb friends of ours, I, for one, am deeply grateful. They deserved a citation every bit as much as we humans, for they were our constant companions and comforts in all the black hours and endured every hardship with us cheerfully and uncomplainingly. Knowing that we loved and appreciated them, may their souls rest peacefully in animal heaven."
Animals Aloft is frequently shown on the Smithsonian Channel, and is also available on demand. Check your local television listings for more details. Here's a sneak peek: