Moments and Milestones: The American Way
Moments and Milestones: The American Way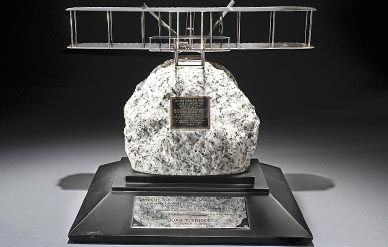 Every year, at a banquet that draws many luminaries from the aerospace industry, the National Aeronautic Association awards the Wright Brothers Memorial Trophy to an individual for "significant public service of enduring value to aviation in the United States." Last year, the award went to Norman R. Augustine, former chief executive of Martin Marietta and later, Lockheed Martin. The criteria for the trophy stipulate that it go to a living American. That ensures a live speaker at the banquet.

Notice, though, that the rule says "American," not "American-born." And when Gerhard Neumann received the Wright Trophy in 1993, few attending the affair may have been aware that Neumann was an American only because of an act of Congress.

Neumann was born in 1917 in Germany; with the encouragement of his father, he left school at a young age to become an apprentice mechanic under the tutelage of a stern and exacting Meister, who warned him at the outset never to expect thanks or praise in any form.
He spent that part of his formative years under automobiles, mud dripping into his eyes and dirty grease forming permanent black arcs under his fingernails. Throughout his life, he credited working with his hands and getting a feeling for machinery for his brilliant intuition and ability to visualize solutions.

Neumann was a natural, but he also benefitted from chance encounters with the right people. W. Langhorne Bond hired him to come to China and work for the Chinese National Aviation Corporation, but by the time he arrived, the CNAC had vanished. Luckily, Colonel Claire Chennault was there and recognized his promise; he made him a master sergeant and put him to work maintaining the Curtiss P-40 Warhawks that the Flying Tigers operated in China during the early days of World War II.

After being sent to Washington to report to the government on intelligence matters, he began looking for work but found his alien status an obstacle.

With the help of influential supporters, Congress fashioned a special piece of legislation granting him citizenship, and President Harry Truman signed it in 1945. Neumann was finally free to take a job offer he'd gotten from Douglas Aircraft before the war ended.

Neumann later went to work designing jet engines for General Electric. During his 32 years there, he made his greatest contributions, including the ones that earned him the trophy. When GE execs tasked him with designing a small, lightweight engine capable of driving a future fighter beyond Mach 2, he conjured the J79, a miraculous turbojet that would go on to power tens of thousands of aircraft. At the heart of that engine was a Neumann innovation: the variable stator. Stators redirect the airflow moving rearward in a jet engine's compressor so that at each stage the air meets the rotating blades at an optimum angle. Fixed stators were a compromise, like an airplane's fixed-pitch propeller. Neumann's stators could be rotated at their roots to change the angle at which they greeted the incoming air.

Later, Neumann was credited with instrumental contributions to the large high-bypass fanjets that have come to power jet transports of all kinds. GE's large TF39 fans powered the first Lockheed C-5 Galaxy military transports in 1964, and the CF6 engine still powers Boeing 747s and other wide-bodies.

Any question of whether the Wright Trophy could be given to someone who wasn't U.S.-born had been settled in 1954, when the NAA gave it to Theodore von Kármán, an aerodynamicist born in Hungary. Neumann got his trophy in 1993, just four years before he died.