Return to Normandy
On the 75th anniversary of D-Day, C-47s go back to France to honor those who crossed the Channel.
"I call it flying with ghosts," says Barry Fait. "Every time I climb in this thing, I can't help thinking about who's been in this airplane, what they did, and what they accomplished."
We're standing beside his Douglas C-47, Virginia Ann, one of three World War II transports parked on the grass strip at Flabob Airport in southern California's Riverside County. Against a backdrop of palm trees swaying in warm desert wind, the scene is about as far as you can get from the wrenching, dark hours of Operation Overlord, during which more than 1,000 Allied transports flew low across the English Channel around midnight on the leading edge of D-Day: June 6, 1944.
At an event this June 6, 75 years after C-47s like Virginia Ann spearheaded the Allied invasion of northern France, dozens of C-47s and their civilian counterpart DC-3s will reenact the airborne assault that marked the beginning of the end of World War II. Virginia Ann and two other SoCal locals—Flabob Express, owned by a group headed by Jon Goldenbaum, and D-Day Doll, flown by the Commemorative Air Force's Inland Empire Wing—are among a delegation of U.S.-based airplanes preparing to cross the Atlantic to join in the reenactment.
Before they depart for France, aircraft of the D-Day Squadron are making appearances on the U.S. East Coast in May 2019.
In June 1944, the thousands of young airmen who boarded their C-47s in the dark for the historic mission quickly discovered that the Germans were waiting. Russell Chandler was in the cockpit of a C-47 on D-Day, his transport filled with 27 paratroopers whom he was to release at one a.m. over Sainte-Mere-Église in German-occupied France. What weighed heavily on Chandler was knowing that his C-47 was unarmed and defenseless.
In an interview published in the July 2004 issue of Aviation History, Chandler vividly recalled his D-Day mission: "Once we crossed the coast [into France], the Germans started throwing everything they could at us. Flak was often heavy, and it was sickening to watch your wingman take a hit, nose over, and head down. There was no skill in avoiding being hit. You stayed in formation and prayed it wouldn't be you. Of my group of 27, I think we lost seven that first day. Those of us who survived knew it was the hand of God that had delivered us home."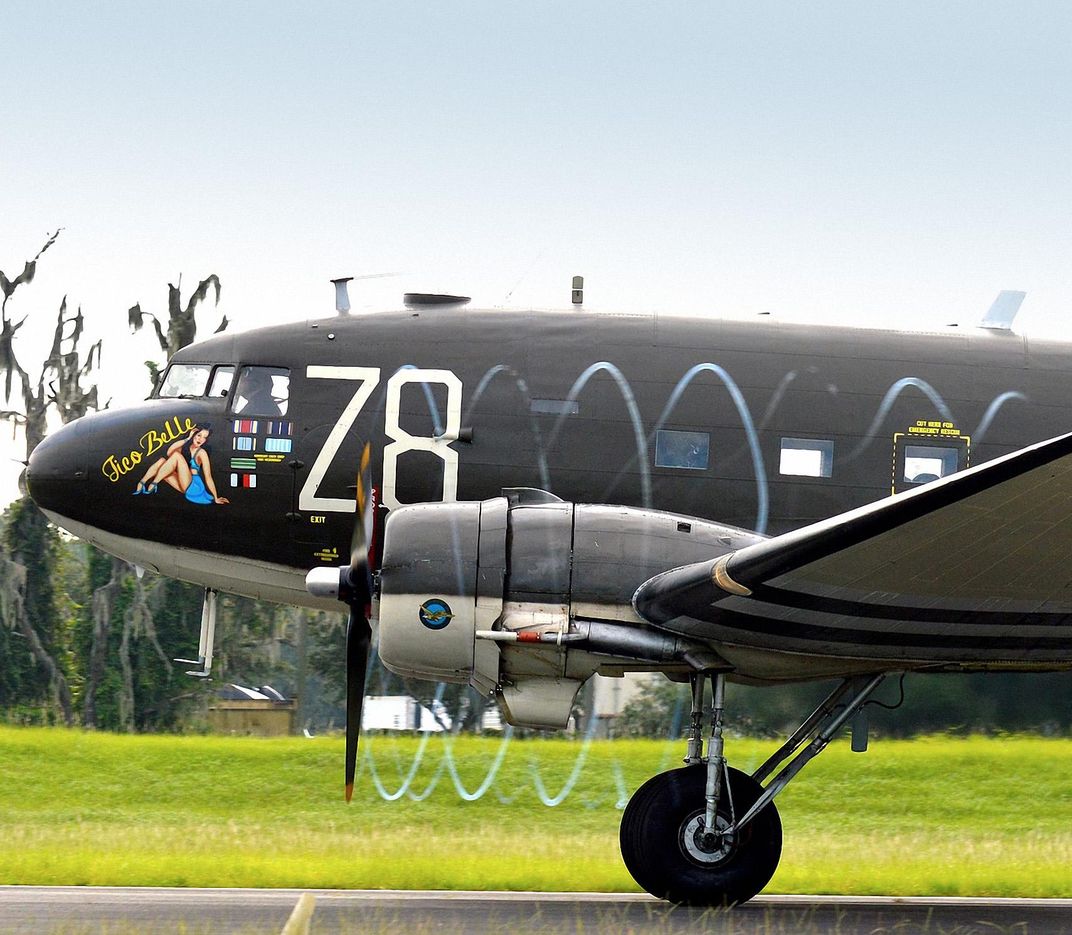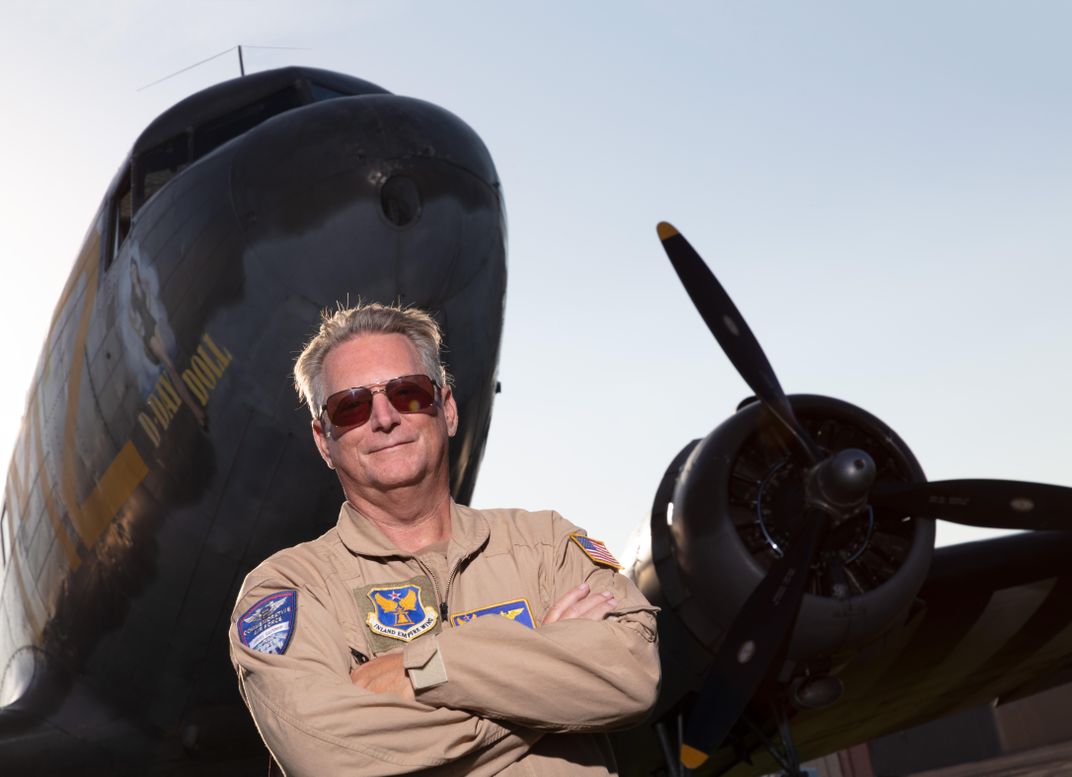 Three quarters of a century later, Flabob Airport has become an unofficial headquarters for owners of the vintage taildraggers that became famous on D-Day. Goldenbaum is a former U.S. Air Force fighter pilot who flew 161 missions in Vietnam and later commanded an F-15 squadron at Langley Air Force Base in Virginia. After being selected as a colonel, he retired and spent a decade as an airline pilot. ("Flying jet-powered, boring crap," he laughs.) He is also chair of the Tom Wathen Center, which operates the airport to create educational programs based on the history and technology of aviation principally for disadvantaged youngsters. Goldenbaum indulged his retro, prop-driven preferences after Flabob Express was donated to his nonprofit group 15 years ago; members of the group restored the aircraft and returned it to the air. "Flabob is now the place to bring a DC-3," he says.
Joe Garcia, considered among the most experienced U.S.-based DC-3 specialists—a rapidly vanishing breed—was recruited to relocate his maintenance operation here. Aspirants with round-engine dreams and an aversion to nose wheels also come to Flabob for hard-to-find training. As the self-described "resident old-man instructor," Goldenbaum trains pilot-owners to qualify for DC-3 type ratings granted by the Federal Aviation Administration. Now he's the ringleader of the trio of transports about to retrace their path in history.
In the 1930s, civilian air travel was revolutionized by Donald Douglas and his aerodynamically slick, all-metal airliners, culminating in the gleaming, game-changing DC-3. The twin-engine, 21-seat aircraft was credited with mainstreaming air travel for millions previously relegated to railroads by prohibitively steep air fares.
As war engulfed Europe, the U.S. Air Transport Command began impressing commercial DC-3s to haul troops and supplies. Stripped of passenger perks and initially flown by civilian airline pilots, the conscripted DC-3s decisively proved the value of military airborne transports, and pushed a purpose-built wartime version off Douglas drawing boards and into production.
Military variants of the DC-3—the C-47 Skytrain and C-53 Skytrooper—began rolling out in 1941. Douglas factories in Santa Monica, Long Beach, and Oklahoma City eventually manufactured more than 10,000 of the ultra-functional, no-frills transports.
On the night of June 5-6, 1944, 815 C-47-type transports were dispatched in two waves to drop paratroopers, artillery pieces, and vehicles, as well as to tow infantry-filled gliders, behind German lines in Normandy on the French coast. The aircraft took off from 20 airfields scattered across Britain in a sequence choreographed to unite all aircraft into a single stream crossing the Channel at 140 mph.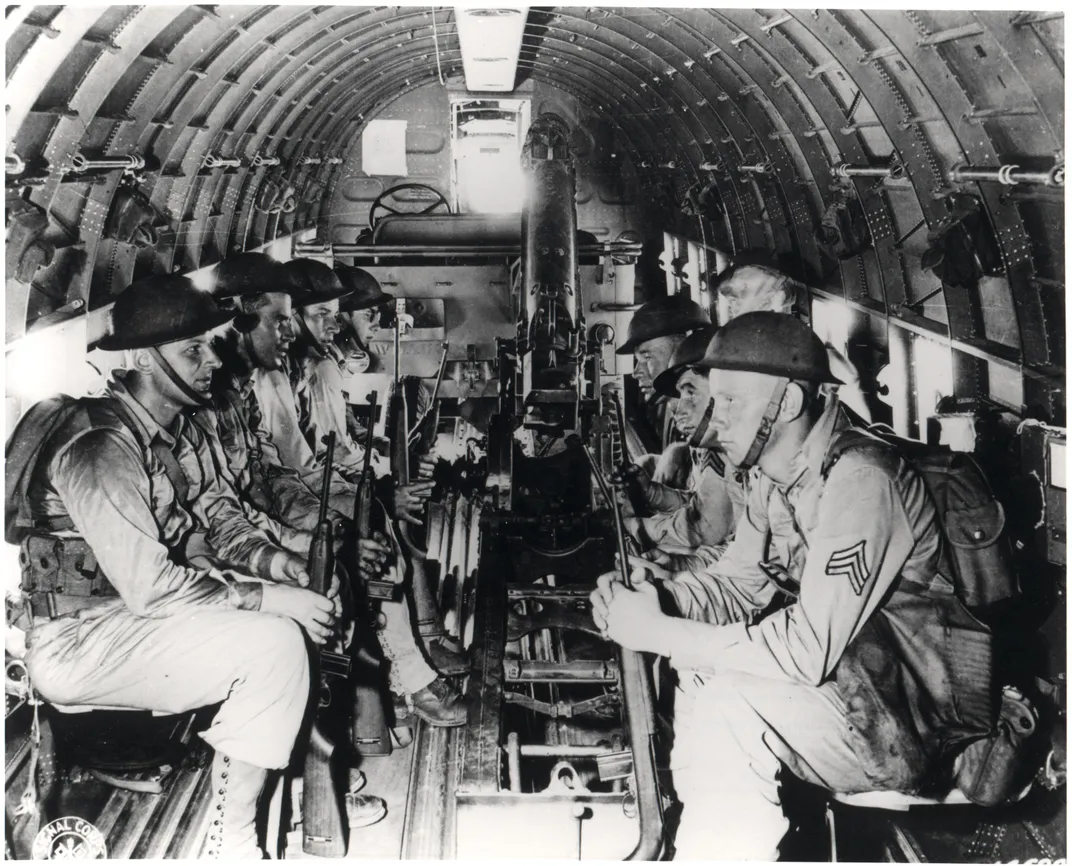 The idea for a dramatic 2019 D-Day reenactment originated with a group of Dutch history enthusiasts performing World War II-era "round canopy" parachute jumps. During a 70th anniversary commemoration in 2014, a few airworthy C-47s added authenticity to their show and proved to be a crowd-pleaser. Peter Braun, head of the Round Canopy Parachuting Team, set a goal to attract as many DC-3s and C-47s as possible for the 75th anniversary. "We'll provide the jumpers," Braun vowed. At least 200 paratroop reenactors are expected to participate. Daks Over Normandy is the European organization formed to facilitate the event. Stateside, the D-Day Squadron is the group soliciting and organizing U.S. aircraft owners to take part.
"It's going to be a massive undertaking," says Moreno Aguiari, executive director of D-Day Squadron. "About 20 airplanes are coming from the United States, another 15 or 20 from Europe, and some from as far away as South Africa and Russia." Aguiari keeps tabs on the aircraft via weekly email contacts. Though the age of the participating transports is at least 74, Aguiari says the soundness of the aircraft committed to the event is not in question. "Remember that the DC-3 and the C-47 have always been the workhorses of aviation," he says. "They're still flying in commercial use every day. So we have no concern whatsoever."
Some U.S. Army veterans who were airborne on D-Day have expressed interest in personally accompanying the flights. While their age and other factors make accommodating the men on the transatlantic span not feasible, "we're definitely taking them up in the air with us when we fly over Normandy," says Aguiari. "That's for sure."
In late May, participating U.S. transports will depart Oxford, Connecticut, to perform a flyover of New York City, down the Hudson River, and around the Statue of Liberty. After the first stop at Goose Bay, Newfoundland, the airplanes will take off an hour apart and retrace the North Atlantic route that thousands of C-47s followed to Europe, including stops at the standard World War II-era refueling stations in Greenland, Iceland, and Scotland. The longest over-water leg is 670 miles. The final destination—Duxford, England—will serve as the 2019 jumping-off point to cross the Channel, just as it did that June night 75 years ago.
"What we are going to do is replicate exactly what a 19- to 21-year-old C-47 pilot with 300 hours of flying time was required to do in World War II," says Goldenbaum. By contrast, the Flabob contingent are retired from military and/or commercial airline careers and have logged 20,000 to 30,000 hours of flight time. "We have the experience and capability to do the kind of preparation that those guys never got the chance to do," says Goldenbaum. "We're taking a year to go through all these airplanes with a fine-tooth comb."
Still. "You've got a 75-year-old aircraft here," says Pops Newman, crew chief on Flabob Express. "And, remember, there's no such thing as new parts." Fresh components for Pratt & Whitney R-1830 powerplants—last manufactured in 1951—are not gathering dust on a shelf somewhere. The continuing requirement for engine repairs and routine overhauls necessarily means all of the participating airplanes are flying on reconditioned parts.
Based on decades of personal experience with the DC-3, however, Newman maintains faith in its essential reliability. "You just don't tend to run into major problems," he asserts. "We've lost an engine before. But that's a no-brainer as long as the pilots know what they're doing. It's a very good airplane on one engine, so that would rarely turn into a major emergency."
Spare parts that might be needed on a trip like this will be available en route, and shared among participating aircraft. Bob Tymczyszyn (pronounced "Tim-CHI-zen"), one of several pilots who'll be flying Flabob Express, says: "We'll take the smaller spares with us—generators, magnetos, starters, tailwheel tire, and so forth." Plans are also in the works to have a spare rebuilt engine standing by. "Hopefully we won't need it, but it's more than likely that someone will," says Tymczyszyn. The engine and other large components will remain at Flabob, ready to be overnighted at a moment's notice.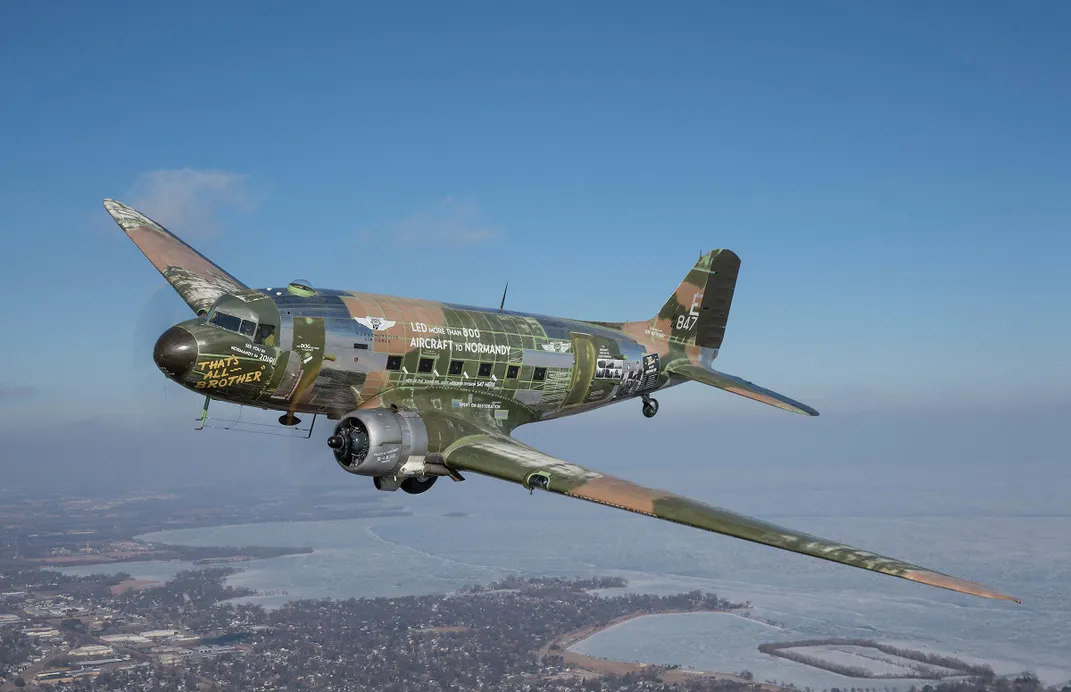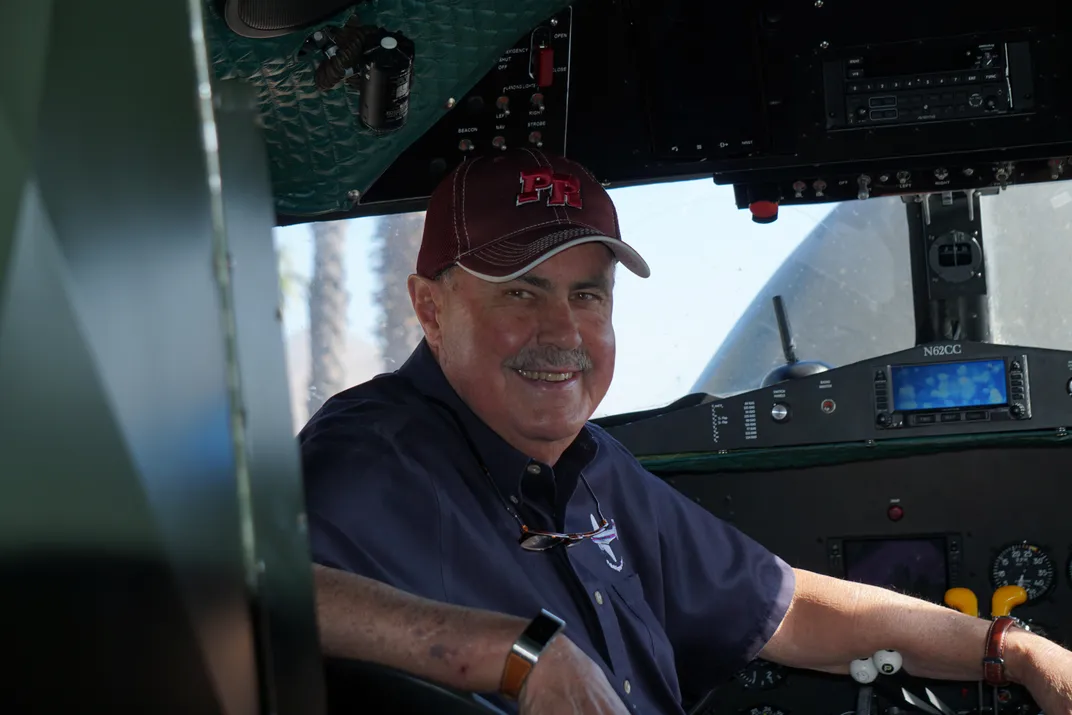 Planning for potential mechanical issues is one thing. Financing the trip is another. "Generally, everybody involved is paying for everything out of their own pocket," says Goldenbaum. "It will probably take well over $400,000 to fund a single DC-3, get it into shape for the trip, pay for the fuel, and do the other things required to get it across the ocean." Each transport burns about 100 gallons of fuel per hour at a current cost of $6 per gallon.
The DC-3 demands its own unique expertise, so crew training is an ongoing imperative. Goldenbaum has helped many pilots transition into the transport's left seat. But the process takes time. "It's almost impossible to take a guy who's been flying jet-powered, nose-wheel aircraft and get him to quickly pick up the skill sets needed to fly a 1940s airplane," says Goldenbaum. "It's just a very different environment."
Tim Tarris, a military liaison officer for the Commemorative Air Force and a member of D-Day Doll's flight crew, brings an extensive resume that includes piloting U.S. Air Force F-111s, A-7s, and F-16s, as well as commercial airliners ranging from the Boeing 727 to the 747. Even with that experience, "I have absolutely no credentials to fly the DC-3," he tells me. With instruction from Doll pilot Steve Rose, Tarris is advancing on the vintage-aircraft learning curve, but he said last September, "I'm not really comfortable with this airplane just yet."
All three transports at Flabob today were deployed to Europe during wartime. While Flabob Express didn't fly the D-Day mission, its history includes brushes with wartime drama and notoriety. After rolling off the Douglas Long Beach assembly line in 1943 configured as a C-47B Army staff transport, it was ferried to England to join the Royal Air Force 24th Squadron as one of four "Dakotas"—the British designation for the C-47—assigned to transport members of the British royal family.
Royal Air Force logs noted Prime Minister Winston Churchill as well as Princess Margaret among those who used the Dakota for wartime travel. Postwar, the airplane was flown by the governments of India, Canada, and Pakistan before returning to the United States for private corporate-executive roles.
Aboard Express, I sniff the air for the lingering whiff of Churchill's pungent cigars. Now outfitted for airshows, scenic tours, and memorial flyovers, the cabin is retrofitted into a civilian DC-3A theme with vintage 1950s airline seats, which have the comfy padding you don't get today plus ashtrays integrated into every armrest.
Up in the cockpit, however, 21st century upgrades stand out. "We're pretty serious about making this trip," says Tymczyszyn, who retired early from an airline career specifically to pilot this airplane. "You're not going to see another DC-3 like this unless they're preparing to do what we're about to do." A $75,000 investment in new instruments includes dual Garmin GPS receivers, electronic flight displays, and two iPads. "It almost looks like a freaking 787," he says.
Everywhere Flabob Express lands, people have a DC-3 story to tell. How it was their first airline flight as a child. How Dad flew one in the war. Recently, a former World War II pilot approached Goldenbaum with an item to cross off his bucket list. He wanted to fly a DC-3—just one more time. "We put him in the right seat," says Goldenbaum. "At 97 years old, he did just great. Only thing he had to say was, 'Hey, this aileron's a little stiffer than I remember.' "
D-Day Doll is flight-ready for its second mission to Normandy. "It's a return to the scene for this plane," says pilot Steve Rose. The C-53D, unlike its more common C-47 cargo cousin, was configured solely for paratrooper drops and glider towing. Built at Douglas in Santa Monica, it was delivered to the U.S. Army Air Forces by Women Airforce Service Pilots (WASP) in 1943.
Beginning around 0100 hours on June 6, 1944, Doll flew two glider-towing missions that brought reinforcements to the 101st Airborne on Utah beach. The next day, it flew back with another glider. In the weeks following, it continuously resupplied invasion troops as they forged into France. Acquired by the Commemorative Air Force in 2001, the authentically restored transport appears at CAF events, dropping paratroopers at airshows around the country.
A former U.S. Navy P-3 Orion pilot, Rose followed military service with a commercial career flying Boeing and Airbus airliners. Still, he says, piloting the DC-3 is a challenge: "Not so much a mental challenge, but an actual physical challenge." Hydraulics actuate landing gear and flaps. But cables, pulleys, and human effort—not fly-by-wire electronics—operate all other DC-3 control surfaces. "It's built to be a stable airplane, so the hardest thing to do is get it to turn," says Rose. Aerodynamic forces feed back through control mechanisms, so conditions such as gusty crosswinds add to pilot workload. "You have to actually fly this plane, and you can never say you've mastered it," he says. "But when you finally grease a landing, it's a blast."
Original equipment manufacturer accommodations for C-53 paratroopers included spartan metal bucket seats lining each side of the cabin, facing inward. Acoustics of the bare aluminum fuselage amplified the hammering of piston engines and, along with wind roar (the door was removed for missions), drowned out nervous pre-jump chatter.
As the 61st Troop Carrier Group prepared to transport troops of the 82nd Airborne in the second invasion wave on June 6, an assigned sequence number was chalked on the fuselage of every aircraft in the formation. On Barry Fait's Virginia Ann, that number was 1. "For reasons I don't know, Colonel Willis Mitchell chose Virginia Ann to lead the 61st group that night," says Fait. "Maybe it was because she was brand new, a virgin. D-Day was her first combat mission."
Two of the 14 paratroopers from Virginia Ann were killed in action upon landing, a tragedy that was repeated again and again in the early morning hours of June 6. Even decades after D-Day, many World War II vets find it difficult to talk about the carnage they witnessed. "I am here today," said C-47 pilot Russell Chandler in 2004. "Many of my friends aren't, and it is still difficult for me to reminisce."
Virginia Ann fell into Fait's ownership in 2012, "after I had talked about it for 20 years," he says. A civilian pilot with a commercial license and now about 200 hours in Virginia Ann, Fait has neither a military nor airline background. However, he has a longstanding respect for the revered transport which, he admits, not all present-day pilots share. "A lot of them would never want to touch a DC-3," he says. "They say to me, 'Why the hell did you get that thing? It's big, noisy, uncomfortable.' "
As DC-3s go, this one's very low-time—only about 15,000 hours. Postwar, Virginia Ann has experienced diverse incarnations. "Someone looked through the records and, apparently, Fidel Castro even had this plane for a while," says Fait. "But it spent most of its life as a corporate plane or an airliner."
The exterior color scheme is olive drab with bold white-and-black "invasion stripes." These markings, applied just hours before the mission—often slopped on hastily with old brushes and sometimes even mops and brooms—were added to clearly distinguish the Allied airplanes from enemy craft and prevent losses due to friendly fire.
"Only the paint job is June 6, 1944," says Fait. Everything else is pretty new. The stylish interior includes eight black leather first-class airline seats, a paneled bulkhead, and a comfortable sofa. Cockpit technology meets all standards for the European trip. "You're required to have two long-range navigation systems to cross the Atlantic," he says. "So we do have dual GPS. And I've got a few more avionics matters to deal with between now and then." Fait hopes to use a satellite phone to fulfill the requirement to update position at intervals while crossing the ocean.
Tim Tarris looks forward to the view from D-Day Doll, "when we're all together, flying that route over the English Channel and across Normandy," he says. "This isn't Lucas Films. This isn't Spielberg. Every piece of hardware up there with us is the genuine article. When I can look out the window at that place, and see these other planes and these other guys, that's about as close to the real thing as I'll ever get."
Computer-generated images of D-Day in feature films have striven to recreate reality. Yet nothing matches the visual impact of actually being there, in the same aircraft that flew a mission that very day. Seventy-five years ago, young American paratroopers stood at that open door with engines roaring in their ears and the fate of freedom in their hands. The red jump light in the compartment turned green, and history changed course.