Mile High Militia
Meet the members of the 120th Fighter Squadron, who protect the skies over Colorado.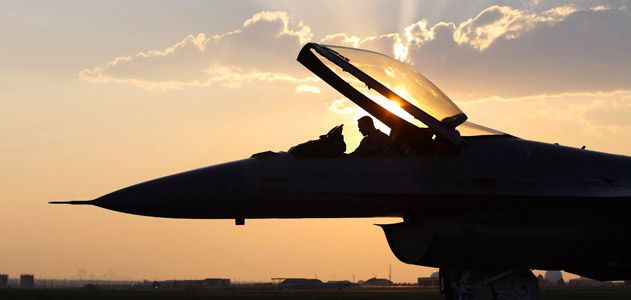 Ever since they were asked to patrol the skies over Colorado in the first few minutes after the September 11, 2001 terrorist attacks, the members of the 120th Fighter Squadron (the first federally recognized Air National Guard unit) have been flying a national security mission known as the Aerospace Control Alert. Meet some of the 120th's members in the gallery below.

Staff Sergeant Joseph Wertz (pictured above) is currently a crew chief. He finished his degree in just a little over four years while serving in the Air Force—on full-time active-duty, including deployments. As soon as his active-duty commitment was completed, Wertz joined the Air National Guard, hoping to become a pilot. He finished school in January 2010; after taking the officer qualifying test, he was selected to fly F-16s with the 176th Fighter Squadron in the Wisconsin Air National Guard. He'll start training in 2012.
Maintenance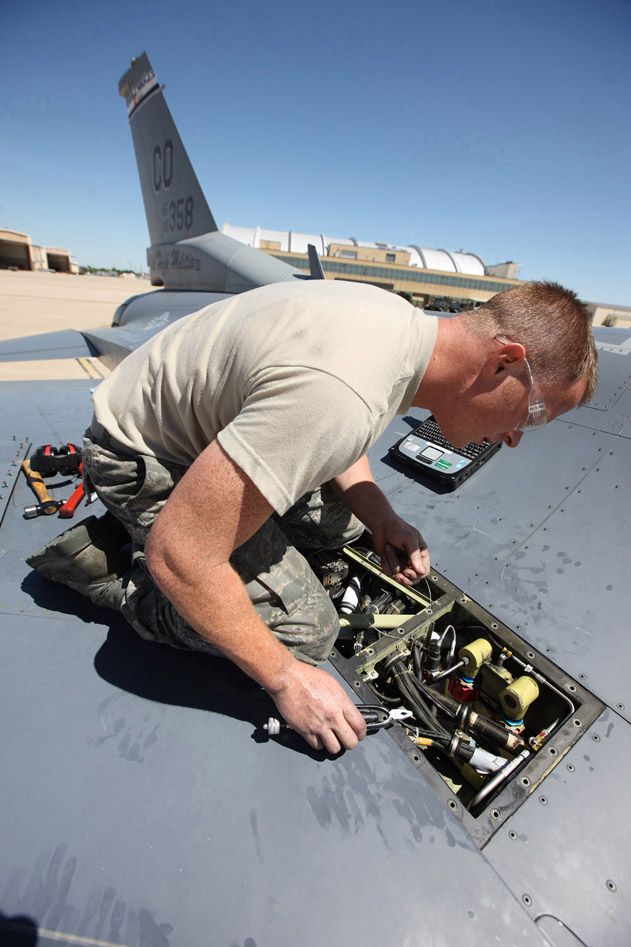 Staff Sergeant Travis Tanner (pictured) is a crew chief for the 120th. Every shift has four crew chiefs and weapons personnel, says Master Sergeant Mark Bond. "We treat every scramble the same way: when the horn goes off, we treat it as a real-world situation, even if it's practice. There are no deviations, no slowing down, nothing. And our job is to get the airplane off as fast and as safely as possible."
Advances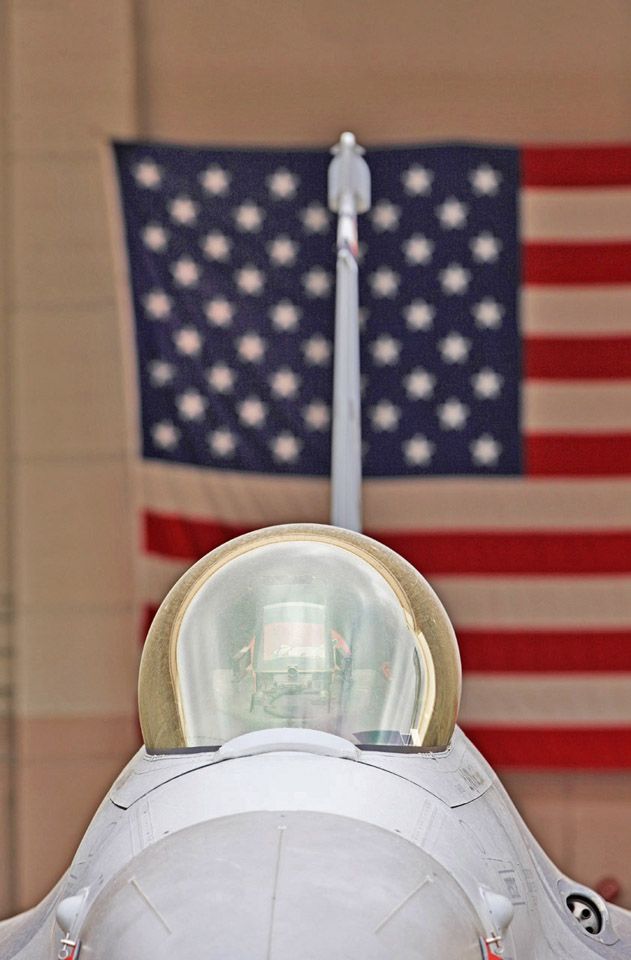 "Flying the F-16 never gets old, even if I do," says Lieutenant Colonel Tim Conklin, commander of the 120th. "I'm amazed at the advances the aircraft has made in the 22 years I've flown it. The jets I fly today are the same tails I flew in Desert Storm, but the combat capability is exponentially better. I'm hopeful our squadron can transition to the F-35, but the F-16 will always be my first love."
Response Ready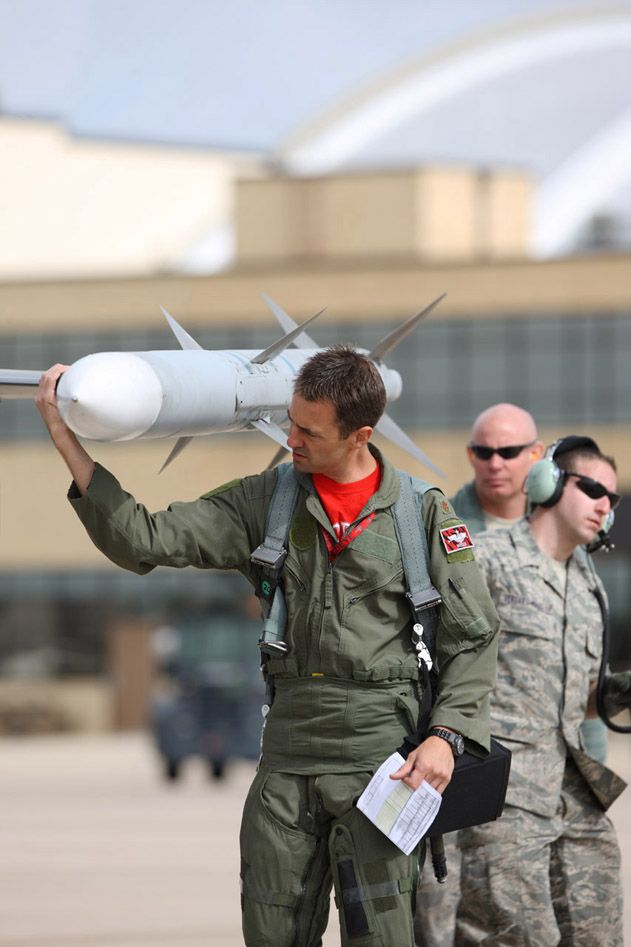 Major Chris Southard (pictured) inspects an AIM-120 Advanced Medium Range Air to Air Missile mounted on the wing of his F-16C. Master Sergeant Greg Noah (not pictured) is responsible for ensuring that the personnel and equipment of the 120th are able to respond at a moment's notice. Prior to 9/11, Noah was a part-time Guardsman working as an electrical engineer. On the day of the attacks he was in Houston on business, with no way to get back to Denver. He and a co-worker rented a car and drove the 19 hours back home; from the moment he reported on base, Noah became a full-time Guardsman. After the 120th deployed to "Base X" (the location is still classified), his most memorable moment "was seeing my jet come back with no ordinance for the first time," he recalls.
Lookout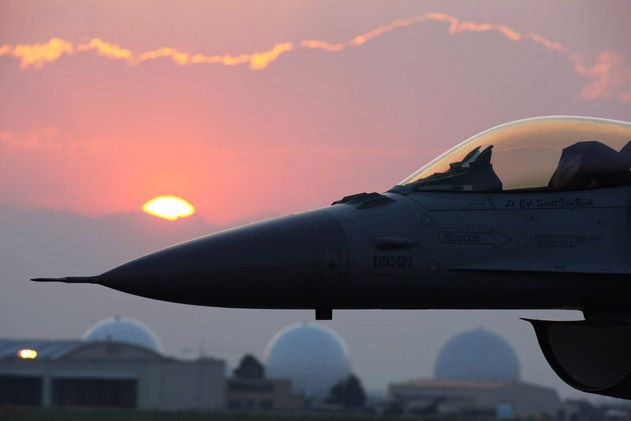 The nose of an F-16 hovers over three communication domes (referred to as "bubbles") of the 460th Space Wing, also based at Buckley Air Force Base. The 460th's mission is to provide missile warning and defense, and continuous global surveillance.
Practice Missions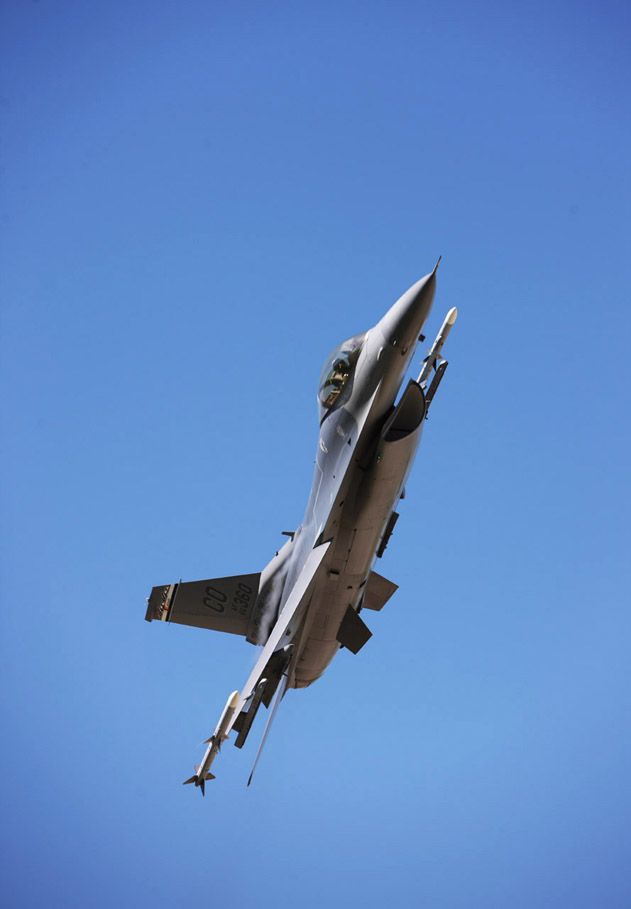 Pilots fly two to three times a week, focusing on different skills related to close air support missions, long-range strike missions, homeland defense, and dogfighting. It's not all fun and games, says Lieutenant Colonel Tim Conklin: "Pulling 9 Gs hurts. Watch how I walk down the hall; my body is bent."
Deployment Qualifications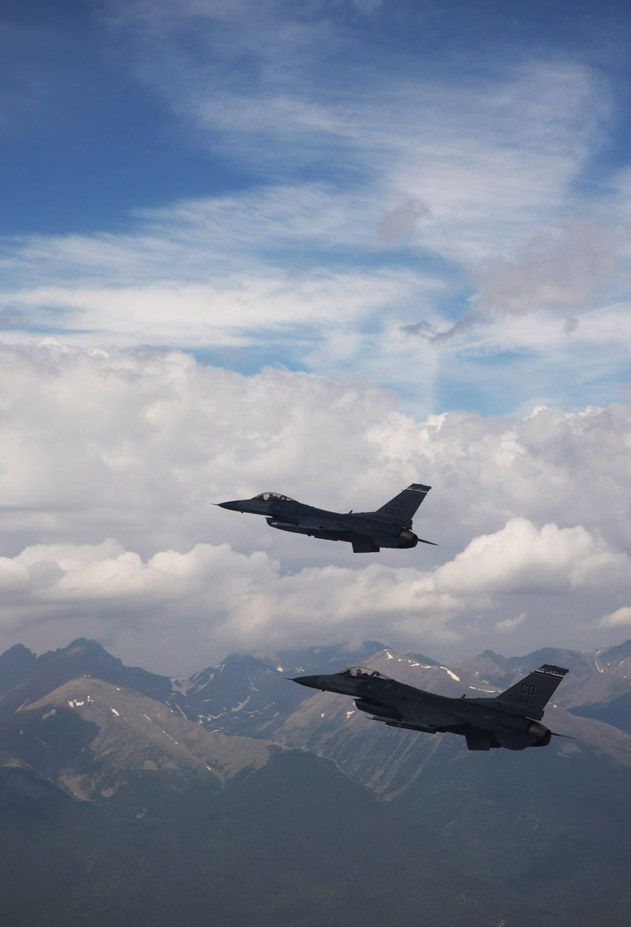 "When I joined the Colorado Air National Guard," recalls Major TenEyck LaTourrette, "the mantra 'One weekend a month, two weeks a year' held a lot more truth than it does today. At the time you were only called up when things got really bad. Today it's far more complex and it takes a lot more time to maintain the basic qualifications needed to deploy."
Constant Alert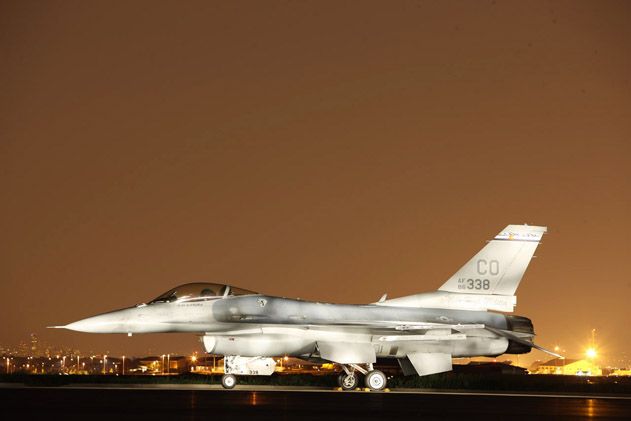 The attacks on 9/11 changed everything, says Lieutenant Colonel Mitchell Neff. "Having to constantly man and operate a 24-hour, 7-day-a-week job for the last 10 years has now become normal, but it wears on folks and the equipment. More time is spent away from family due to sitting 'alert,' whether day or night, or on the weekends. However, at least it is a 'local' deployment. I believe that the Aerospace Control Alert will not continue to be manned as it is currently, due to the budget, and that the Air National Guard will eventually blend with the active duty in some fashion. This is already happening in some states."
Civilian Guard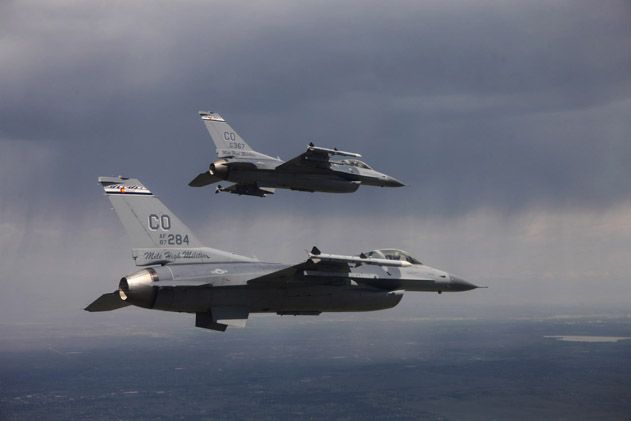 Each Guard Unit hires a mix: experienced talent leaving active duty, and civilian "Guard babies," explains Lieutenant Colonel Scott Van Beek. A "Guard baby" is a civilian that the unit hires and trains for the mission, and Van Beek is proud to be part of that group. He was first sent to flight screening for two months of basic Cessna flying to bring him up to a private pilot's level. Next he went to Officer School for eight weeks, followed by a year of jet pilot training. Then it was water and land survival school, followed by nine months of F-16 fighter training. "I finally returned to Buckley as a guy who is able to fly the F-16. Notice I said able to 'fly' the F-16. The home unit then puts the newly returned pilot in their upgrade program to get him ready for combat. At that point," says Van Beek, "the military had invested over two years and more than $1 million to get me to that most basic level of combat capability. The fact that the Guard will hire you as a civilian, invest in your training, and give you the tools you need to begin a civilian career is one that, unfortunately, most civilians don't know or understand."
Operation Iraqi Freedom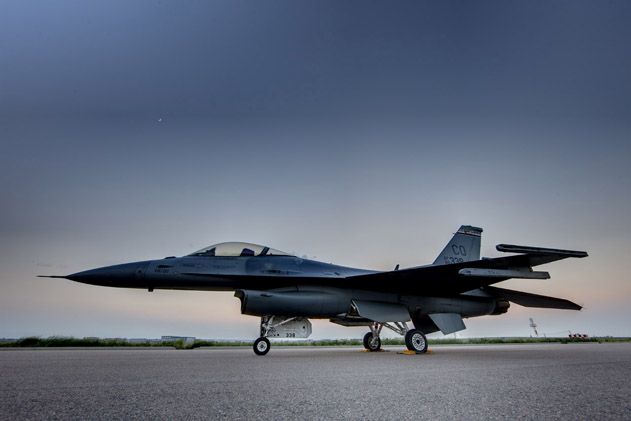 Members of the 120th have been deployed to Iraq in support of Operation Iraqi Freedom. Major TenEyck LaTourrett remembers going to the dining hall and asking the ground troops about their day. "The responses I got were unbelievable," he recalls. "The 18- to 20-year-old 'kids' that I ate with, who had just rolled in after leading a four-day convoy through the worst parts of the country, were amazing. The best was when you ran into guys who would ask questions like 'Were you flying Thursday morning over Fallujah?' When you responded 'Yes,' they would say, 'You really saved our bacon—just the jet noise overhead got the guys to stop shooting at us—we really appreciated having you guys there and knowing you had our backs.' It didn't matter if you were in the Air Force, Army, Navy, or Marine Corps—everybody had a role and everybody was working toward a common goal."
To the Discerning Eye
Says photographer Darack: "With my sun visor down, I took my portrait as a "fighter pilot." While most people might not know the difference, any F-16 pilot from that squadron will—by the name on my patch: "Jenny 1"—the "call sign" for all passengers on an incentive flight. I also forgot to snap my chin strap, an oversight no real pilot would make."