Meet the Grunts
Behind the scenes, they make airshow stars shine.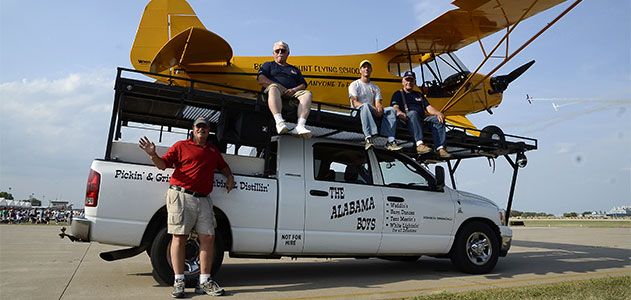 The airshow swirled around them, but they barely had time to watch. Two pumped smoke oil into Michael Goulian's Extra and John Mohr's Stearman. Several others filled pods with fireworks for Gene Soucy's Showcat and wired Roman candles to the wingtips of Bill Leff's T-6 for the night show. One had his head under the cowling of David Martin's CAP-232; another, on his cell phone, confirmed sunrise flights; and a pair of them strolled by dressed as country bumpkins.
If it keeps airplanes flying and performers happy, they do it. They are airshow grunts: the ground crews who work behind the scenes at every airshow.
Some grunts join a team for a season, then go back to conventional jobs and lives. Others make it a career, falling in love with the airshow life, or with the performers themselves.
A number of my friends have served as grunts for their husbands. My own favorite grunt married me, in 1978, when I was flying shows in Bellanca Aircraft's Super Viking and he was Bellanca's president.
Last summer, when the show crews rolled into Oshkosh, Wisconsin, for the Experimental Aircraft Association's week-long AirVenture fly-in, I was there to watch them work. Pilot Michael Goulian and helpers Carl Paris and Chris Porter covered the grass with plywood boards and non-skid tiles, raised awnings, and set out tables and chairs to build the hospitality area where they would entertain the guests of their sponsors. The performer hangar filled with grunts and showplanes. Extras, Edges, Pittses, CAPs, a Showcat, a Stearman, a glider, an MX-2: All got washed, serviced, polished, and preflighted by the grunts. The crews also brought support planes, motor homes, pickup trucks, and an 18-wheeler filled with baggage, tools, spare parts, and everything else it takes to keep their pilots and sponsors smiling.
It looked like the circus had arrived.
Showboys
At the performers' hangar, Greg Koontz's Alabama Boys lifted yellow wings into place while Koontz fastened them to his J-3 Cub. Then they hauled black-and-silver wings out of Kyle Franklin's trailer to help Franklin fasten those to his Super Cub. (Grunts from one team will help grunts from others, and some grunts work for multiple performers.)
The Alabama Boys—Fred Masterson, Walter Harvey, and Jason Hankins—drive Koontz's truck; take care of his Super Decathlon; and help out in his comedy act, playing the parts of Uncle Fred, Grandpa, and Instructor Bob. When Koontz pretends to steal the Cub, they chase and shoot him down, then coax him onto a truck-top landing platform and deliver him and the Cub to the crowd.
To crew for Koontz, Masterson takes time off from his full-time job as an electrical engineer; Harvey is retired; and Hankins, who used to do lighting and sound for concerts, works full time as a groundskeeper for Koontz's bed-and-breakfast.
"I used to go to airshows as a spectator, but I actually like working behind the scenes at the airshow more," Hankins said. "Being in the airshow business is like being part of a big family, and working with Greg is so much fun. It gets me out of the ordinary 9-to-5 job."
Later in the week, Koontz had a close call. In the middle of a low-level snap roll on top of a loop, his seat back broke and pitched him back onto the rear seat control stick. He managed to untangle himself and regain control of the Decathlon. When he landed, looking shell-shocked, his ground crew was there to help him troubleshoot the defect that could have caused a disaster.
Check and Double-Check
It was the end of the day, the crowds had left, and Chris Rudd was in the performers' hangar. The sun, near the horizon, lit up the flame-colored paint on David Martin's well-polished Breitling CAP 232 as Rudd checked its engine oil.
Rudd is a full-time aircraft mechanic specializing in aerobatic airplanes; he also is a part-time grunt for a number of performers. He likes to work when all the distractions of the busy day are gone.
"It minimizes your chance of making a mistake," he said.
At airshows, "airplanes get pushed to the maximum limits, so when I check these airplanes, I always focus on the controls," he explained. "There is a whole lot these pilots can overcome, but a control failure at low altitudes is not one of them."
Rudd started crewing six or seven years ago. "I was at Sun 'n Fun [in Florida] when Patty Wagstaff's crew chief hot-started her plane [restarted the fuel-injected engine after if was hot from running at full power], and it popped up on its tail and scared him," he recounted. "He got out and said he would never get back in it again. I happened to be standing there and had done work on her plane. She looked over at me and said, 'Think you can fly this thing?' I said, 'Sure I can.' Two days later I was in it on my way to Branson, Missouri."
Back then, he had only 250 hours of flying time. Now one of his favorite parts of crewing is the cross-country flying: seeing wild horses racing across the high plains, making a knife-edge flight above the Grand Canyon (photographed by Wagstaff), riding the extraordinary up- and downdrafts of a mountain wave in the Pacific northwest.
His grunt training with Wagstaff required meticulously following rules and a checklist every flight. When her grunts complete the list, they sign it, then make sure she signs it. It is her way to acknowledge the shift of responsibility from crew to pilot-in-command. "It takes the pressure off the grunt," Wagstaff told me. "Then if something happens, they can say, 'Well, she signed it off,' and they don't have to feel terrible the rest of their lives."
All of the ground crew I watched seemed solid, reliable, and compatible with their performers, but it does not always happen that way. "Sometimes you hire someone and they have a vision that it is going to be so exciting and glamorous," said Wagstaff. "Then after a few months they make friends and become sort of a star themselves and they forget to take care of you, especially if they are young, inexperienced, and haven't traveled a lot. All of a sudden they are part of this carnival/circus atmosphere, and it goes to their heads. I've had that happen a number of times."
The Baker and the Farrier
Tim Fowler and Denise Decker are two part-time grunts with careers outside aviation. Decker, who works in accounting and employee benefits, befriended the Blue Angels and many civilian show performers in 1995 at MacDill Air Force Base in Florida, where her father flew hurricane hunting missions, and afterward, she started arriving at shows with suitcases full of homemade cookies for the fliers. They gave her the nickname Cookie Lady and an invitation to help whenever she could. Since then, she frequently holds poles for ribbon-cutting acts, wipes down airplanes, helps wash and wax them, puts in fuel and smoke oil, or helps on a brake change or an aircraft assembly.
Fowler is a career farrier—he shoes horses; he met Wagstaff at a horse show. Like all grunts, his job is to keep his pilot safe. A couple of years ago in Honduras, that turned out to be a challenge. "The crowd control was crazy there," he said. "When Patty did her inverted ribbon cut, the crowds swarmed onto the grass, the taxiway, and the end of the runway. It was like a rock concert. Skip Stewart [a fellow show pilot] took a handful of brochures into the crowd and came back with pieces of clothing missing. The crowd swamped all the performers. It was claustrophobic. We had to isolate Patty because they would rush forward, grab at her, and try to pull her into the crowd."
One Sad Day
Brian Norris may be the quintessential grunt: He does just about anything a ground crewman can possibly do. In 1990 he saw airshow superstar Sean Tucker fly an aerobatic performance and said, "I've got to be part of that." He introduced himself to Tucker, who handed him a rag and a bottle of cleaner and pointed him toward his destiny. He began working part-time jobs and following Tucker to shows. He believed Tucker would hit the big time one day, and he wanted to be on hand.
During the first two years, he learned to fly and earned his pilot's license. When Tucker got his first sponsorship, he was able to pay Norris and buy a Cherokee 6 for a support plane. Norris was thrilled with the Cherokee, but as the sponsorships got better, so did the airplanes. Now Norris is operations coordinator for Team Oracle, handling contracts, press kits, scheduling, car rentals, and motel rooms. He flies the camera airplane, ferries the show and aerobatic-ride airplanes, and gives rides to the sponsor's guests. He has a long list of pilot and aircraft mechanic ratings, and every winter he helps tear down and rebuild the showplane.
Some years back, at the beginning of the show season, he was monitoring one of Tucker's practice flights when suddenly the aircraft had a control failure. A defective bearing was severed and the control stick broke loose in Tucker's hand. Using throttle, rudder pedals, and elevator trim, Tucker got the airplane above a farm field. Just before he bailed out, he said over the radio, "If I don't make it, tell Colleen and the kids that I love them."
When Norris got to the field, Tucker was fine, but the airplane was demolished. "It was awful," Norris recalled. "As I hooked chains to what was left of it and dragged it through this guy's dirt field, it hit me in waves and I broke down. We had spent 12 years perfecting that airplane, rebuilding it every year, always making it a little bit better. And now it was scattered in pieces for hundreds of yards."
Leader of the Pack
It was a few days into the show, and Carl Paris, a high-time jet pilot, was worried. He looked at the weather radar in Goulian's truck. "There's a lot of wind in those clouds," he said to Chris Porter and Matt Chapman, Goulian's mechanic. "Better get the plane out of here." They pushed the Extra through the crowd until Porter could jump into it to taxi toward the hangars. Chapman followed in the crew car.
Suddenly the sky darkened and the wind whipped up. Other crews leapt into action. Bruce Turner ran out of the Aeroshell Team's motor home to snag a billowing tent.
The rain fell in curtains. On the taxiway, Porter could not see past the Extra's nose, so he stopped, pivoted into the wind, stood on the brakes, and ran up the throttle. Still the airplane skittered, so Chapman hopped out of the car and onto the airplane's tail. Nearby, the wind was so strong it smashed two parked airplanes together, but the ground crews kept the show airplanes safe.
Chris Porter dreams of becoming an airshow performer himself. Before he hired on with Goulian, he competed in aerobatic contests and managed a flight school. Then he read a piece Goulian had written on how to have a career in airshow flying, and contacted him. Later that year, Goulian offered Porter a job as his media and sponsor relations coordinator, and Porter grabbed it.
Like everyone on the team, he does grunt work from sunrise until late at night: stocking the hospitality area, busing tables, emptying the trash, filming Goulian's flight, shopping for supplies. But he also ferries the Extra, and some of his happiest moments have been in the team's Bonanza, taking reporters and photographers on flights. By late July, he had been with Goulian for only six months, but already he had flown formation with Sean Tucker and Rob Holland, two of his heroes.
At the Dayton, Ohio show, he, Goulian, and a cameraman climbed aloft with the Blue Angels behind them. With constant speeds and steady hands, Porter focused on his mission: to be a stable platform for the camera and a solid lead for the flight. The Blues flew past, turned, and caught up again while the cameraman snapped away. "Mike was following me and the Blues were following him," Porter told me. "And suddenly it hit me that technically, for those few moments, I was leading the Blue Angels."
Bs and Ts
Grunts Bruce Turner and Teresa Beardsley specialize in logistics. For about 10 years, Turner, who is retired from the insurance business, and a group of other pilots owned and operated a hospitality motor home for the Aeroshell Team. They followed the team to shows, and over the years Turner found more ways to help the team at their biggest shows, AirVenture and the Sun 'n Fun Fly-In. The team has about 40 sponsors, and at these two shows they have an overwhelming number of things they need to do to satisfy the sponsors' requirements. As logistical director, Turner schedules autograph sessions at sponsors' booths, speeches and appearances, mandatory evening social events, rides for sponsors' guests, and the party they host during their Saturday night airshow.
He makes up a detailed schedule for team members, drives them from event to event, and shows up at their airplanes every morning at 7:45 a.m. with people who will go up for the morning's aerobatic rides. His favorite ride is in the slot airplane, the one behind the leader. "You see everything," he said. "All the other airplanes are right there, and you feel like you could reach up and grab the tail of the one in front of you. Then I watch the aileron move on Mark [Henley]'s airplane and the ground goes by overhead as we roll."
Teresa Beardsley is one of my favorite grunts. I worked with her and her husband, Big B (Bill Beardsley Sr.), when I flew the Bud Light Microjet. They were the ground crew from 1989 to 2000, having taken the job when Big B's son Burner (Bill Beardsley Jr.), a former Navy Blue Angel pilot, started flying the little jet for show pilot Leo Loudenslager in 1989. Teresa, who we call Little T, loves the logistics and administrative details, and Big B loved everything else, especially the long road trips from show to show, and teasing us all when we took ourselves too seriously. About 20 years ago he decided that the ground crews needed an identity. They needed to band together for power and strength—to form a union. He and Brian Norris spearheaded the United Airshow Grunts. It costs 25 cents to join. The members meet every year at the International Council of Airshows convention to—among other things—drink beer and make fun of performers.
The Beardsleys both retired from long careers in law enforcement. Big B was director of the Georgia Bureau of Investigation during Jimmy Carter's governorship, and Little T was a corrections officer and a parole officer for the Florida Department of Corrections. They managed the little Microjet, trucking it to shows and getting there early to assemble it in television studios, malls, and all kinds of places where they helped promote the airshows. In 2001, after the jet stopped flying in shows, both the Beardsleys went on to other ground crew jobs.
Big B died in 2011; Little T still volunteers at AirVenture. On Saturday evening, Little T joined us at show center, where she was one of the cooks and hosts for the performer party. We sat on the grass; near us, several grunts prepared for the night show, tweaking fireworks on Bill Leff's T-6 and Gene Soucy's Show Cat. Another couple checked the lights on the Aeroshell Team's tails, which illuminate the smoke trails like streams of fire.
Ground crewman Chad Rumchik custom-built the fireworks he loaded on Soucy's airplane. Rumchik is a contractor who builds bombs and is a research-and-development detonation expert at Eglin Air Force Base in Florida. Earlier in the day he primed the fireworks with electric matches and loaded them into pods mounted on the metal wingtips. Watching the other acts, he was tense, just as any performer is before he flies. He was waiting for Soucy to fly and for his fireworks to perform.
As we watched the show, Little T said: "The aviation community was such a revelation to Big B and me. Law enforcement is such a thankless job and aviation is exactly the opposite. It is always uplifting. Think of how many lives you touch and inspire at airshows. How many people do you think we talked to who were excited about going to visit prison?"
We both laughed. Soucy flew. And one by one Rumchik's fireworks ignited perfectly, showering fountains of silver and gold sparks behind Soucy's wings like fiery feathers.
Debbie Gary is an aviation writer and veteran airshow pilot. She was inducted into the International Council of Airshows Hall of Fame last year for her achievements, including being the first woman in the world to fly the wing position on a formation aerobatic team.
Caroline Sheen is the photography and illustrations editor at Air & Space.