Martians Among Us
In this rowdy assembly, you'll find at least one you know.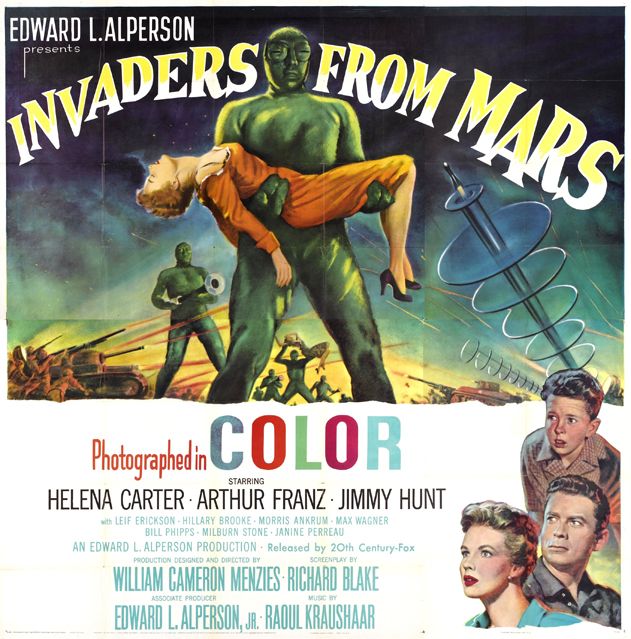 Thanks to science fiction writers, Hollywood studios, and TV sitcoms, many species of Martians have wandered into our space here on Earth. If we can take them as representative of what occupies their planet, we can assume that Martians can be aggressive, prone to identity crises, single-minded, and simple-minded. Certain Martian-inspired images are the stuff of nightmares; others come with a built-in laugh track. If evidence of life on Mars ever surfaces, it will never hold up to what our imaginations have already created.

Pictured above: Invaders From Mars, 1953. Martians turn Earthlings into zombies.
The War of the Worlds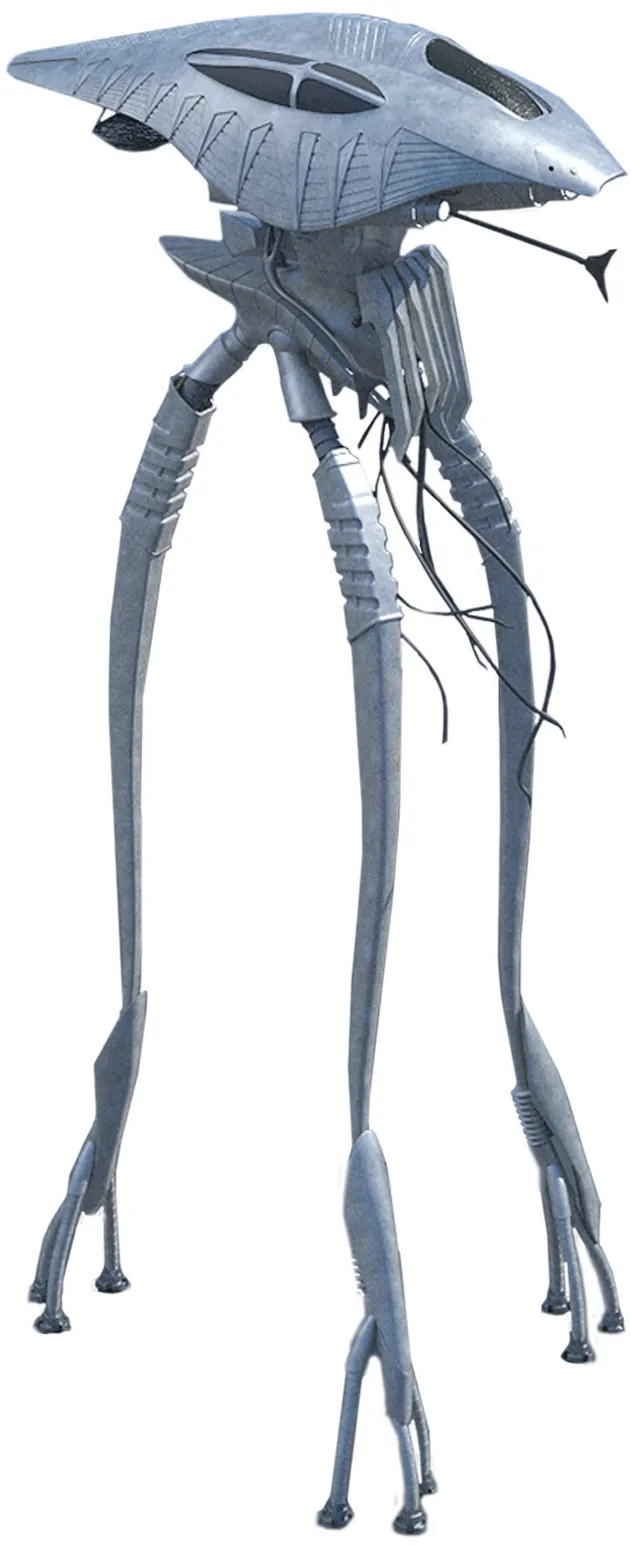 Herbert George Wells' 1898 story, The War of the Worlds, introduced three-legged "fighting-machines."
Mars Attacks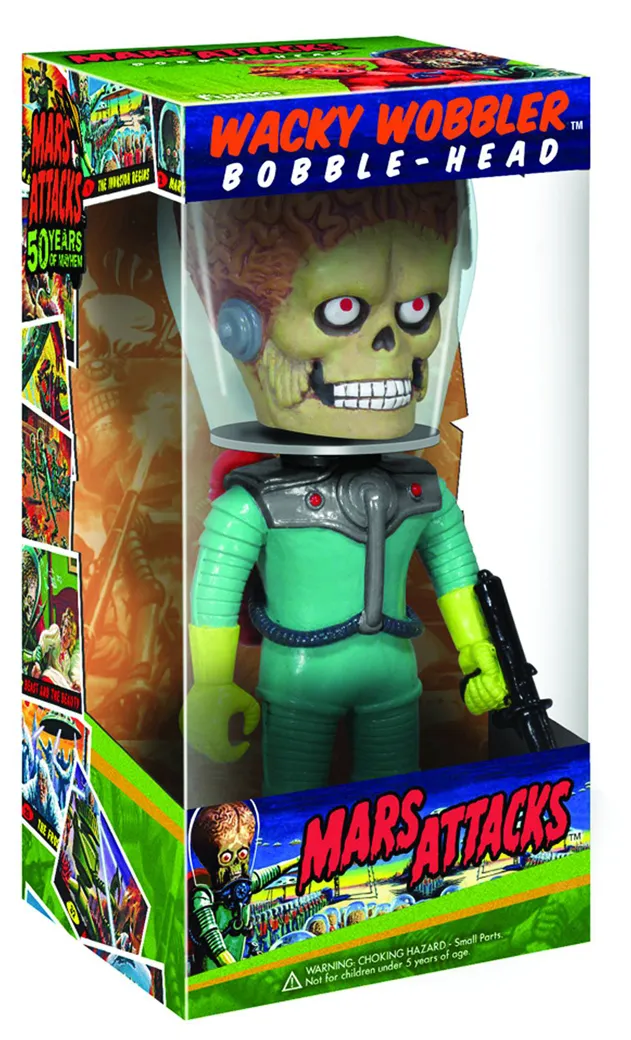 Director Tim Burton's 1996 take on alien invaders, Mars Attacks, spun off the Wacky Wobbler bobblehead.
John Carter
A Martian from John Carter (2012), Disney's version of the Edgar Rice Burroughs novel A Princess of Mars, serialized in 1912.
Total Recall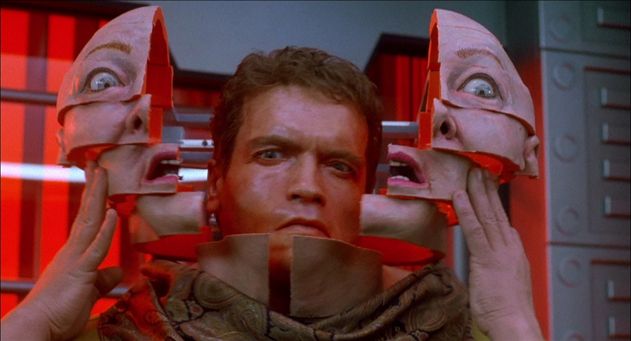 Total Recall, 1990. Arnold Schwarzenegger is a 21st century construction worker who returns to Mars to learn his true identity. A remake, starring Colin Farrell, is coming out this summer.
Master Mind of Mars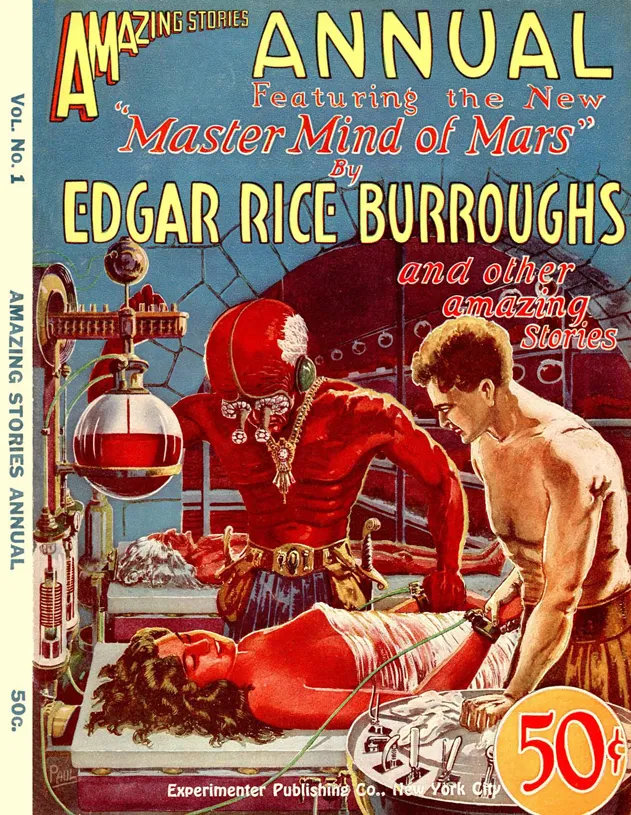 Edgar Rice Burroughs' sixth Martian novel, Master Mind of Mars, was published in Hugo Gernsback's Amazing Stories Annual in 1927.
Flying Disc Man from Mars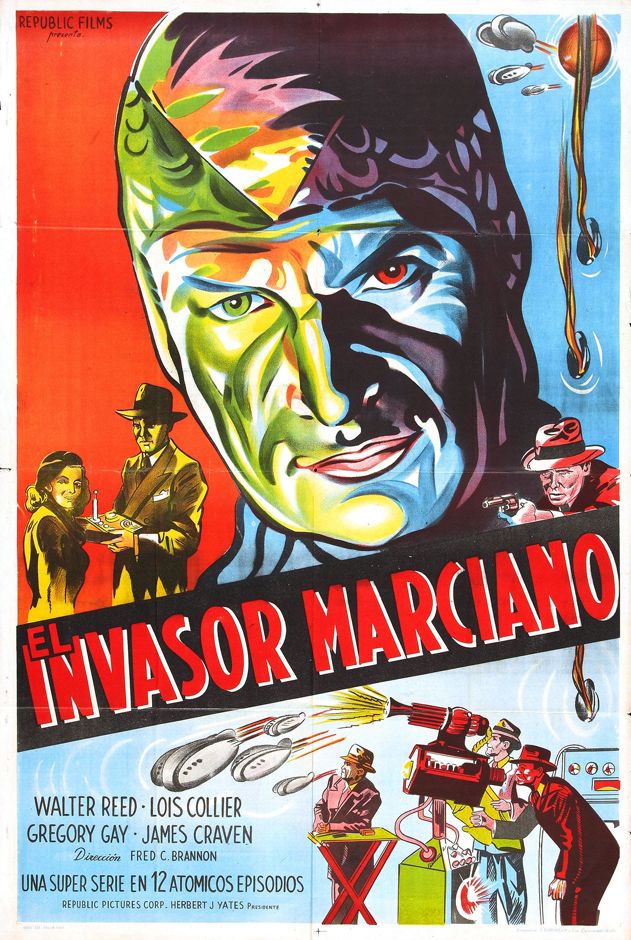 Flying Discman From Mars/El Invasor Marciano, U.S. premiere 1950. A terror serial from Republic Pictures.
Pajama Party

Pajama Party, 1964. A teenage Martian (Tommy Kirk), sent to Earth on a pre-invasion mission, falls for Annette Funicello.
"My Favorite Martian"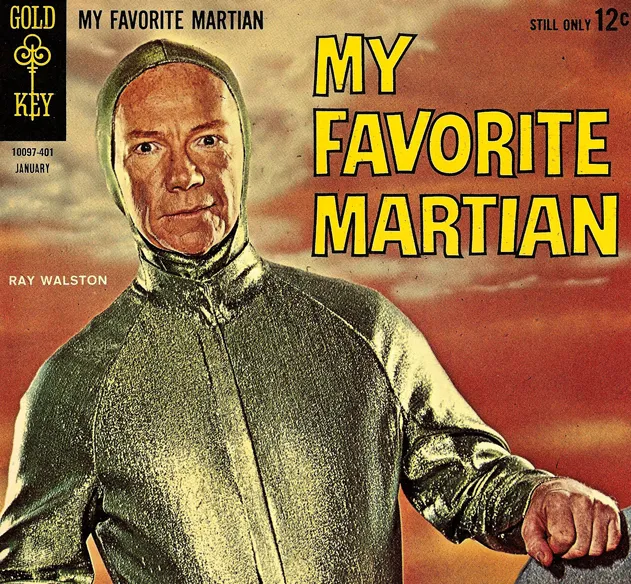 "My Favorite Martian," TV sitcom, 1963-1966. A newspaper reporter passes a Martian off as his Uncle Martin.
Spaced Invaders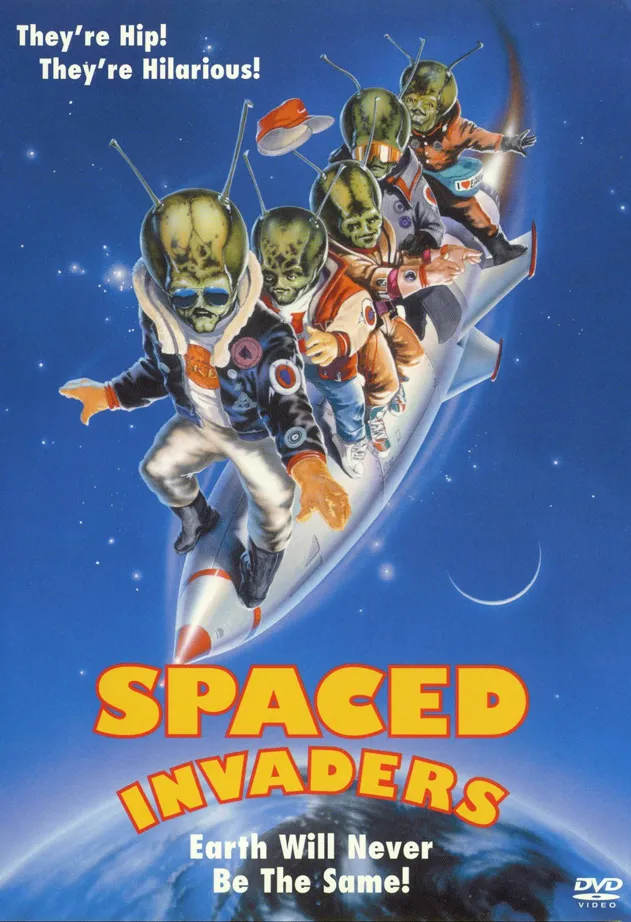 In 1990's Spaced Invaders, Martians invade Illinois.
Sesame Street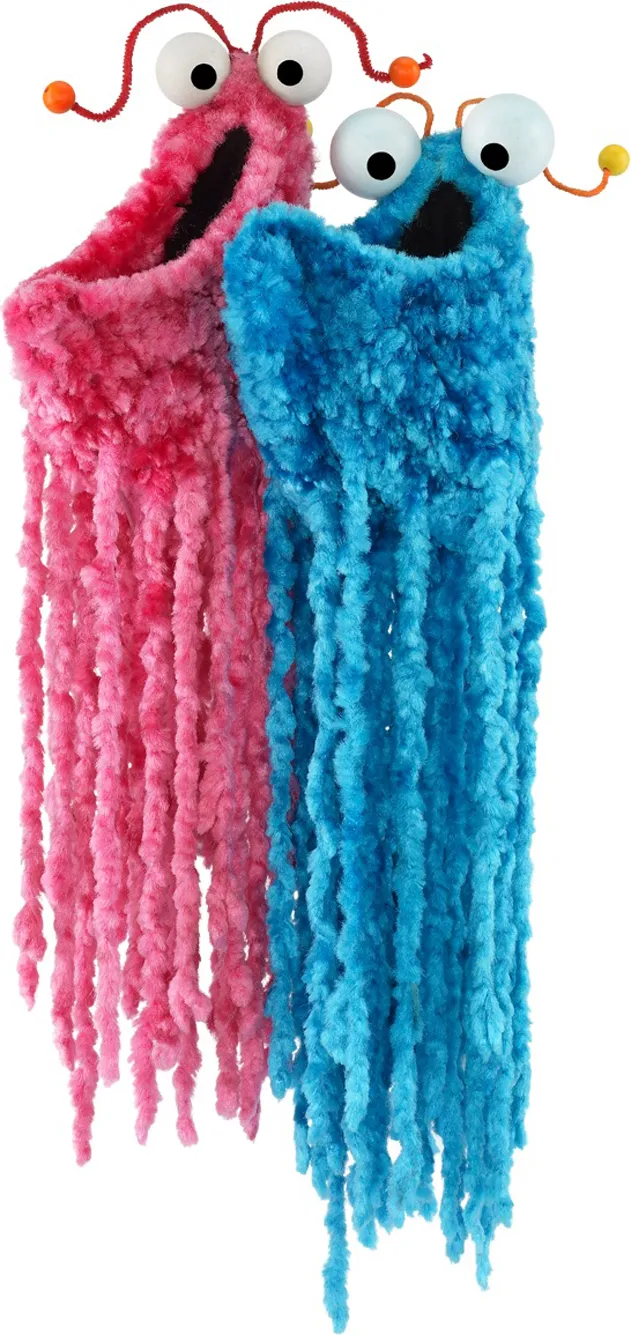 Sesame Street's Yip Yips are Martians terrorized by Earthlings' electronic devices.
Mars Needs Moms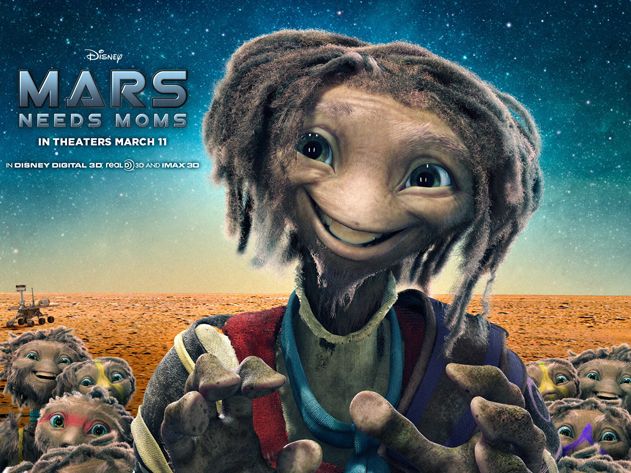 Wingnut, from Mars Needs Moms (2011), leads a tribe that lives in Mars' trash caverns.
Looney Tunes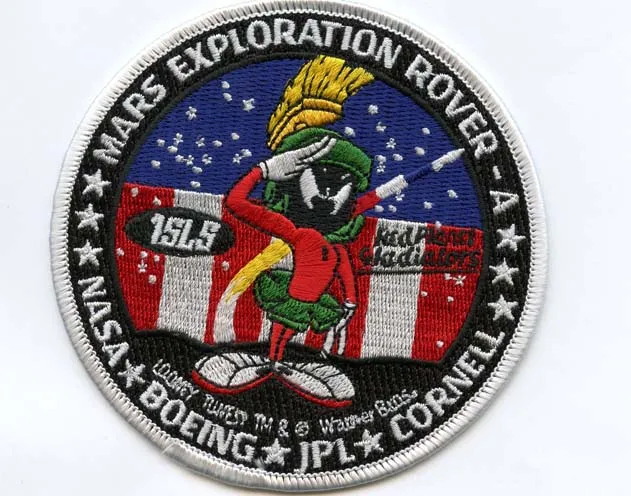 Marvin the Martian, a 1950s Warner Brothers/Looney Tunes cartoon icon, adorns a mission patch for the Spirit Mars rover.
The Martian Chronicles
Ray Bradbury, who died June 5, published The Martian Chronicles in 1950. As Mariner 9 orbited the planet in 1971, he said he hoped, when the dust cleared, to "see a lot of Martians...with signs saying 'Bradbury was right.' "