To Mars! (But Not the Way We're Going)
Hard advice in a new report on the future of human spaceflight.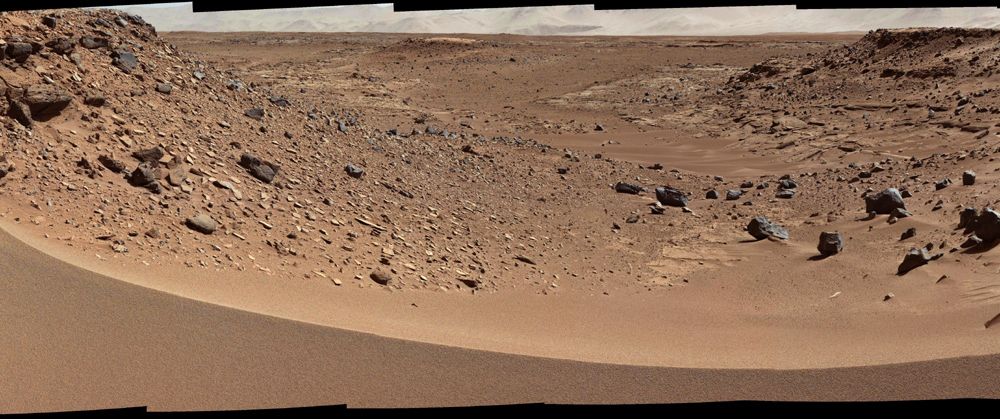 A new National Research Council report on the future of human spaceflight is, as you might expect from one of these blue-ribbon panels, measured and sensible.  There's no stirring call to shoot for the stars, nor is there a recommendation to fold tents and bring our astronauts home. The United States should continue sending people into space, the panel concludes, partly because many Americans find it inspiring. And the logical "horizon goal" is still Mars, mostly because that's about as far as we could reasonably go in the next few decades. So, um, yeah—there you have it. Mars. Some day.
Some have criticized the report as lackluster, and it's true, you won't find much inspiration or breakthrough thinking in its 285 pages. But sorting out the mess that is U.S. space policy is tough work, and the panel has done space aficionados a favor by injecting some clear-eyed realism in a discussion that often lapses into wishful thinking.  The future of human spaceflight is very much at risk, and in 2014 we're right to ask: Should we even keep doing it? And what, exactly, should we be doing? Here are some of the panel's conclusions:
NASA's on the wrong track
The agency is currently pursuing a "flexible path" for human spaceflight, developing a suite of technologies that would apply to either an asteroid mission, lunar mission, or Mars mission, while leaving undecided (for now) the ultimate destination for future astronauts. This is a mistake, says the panel, that may end up wasting time and money on unneeded projects. The nation should decide—and very soon—on a clearly defined "pathway" to Mars, set clear interim goals, then stick to the plan.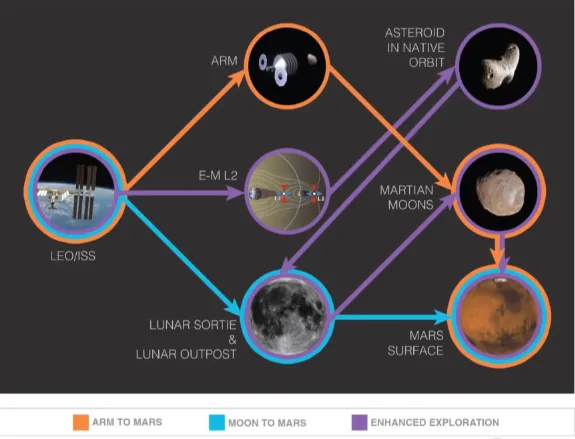 The panel was agnostic about which pathway is best. It may well include the asteroid redirect mission that is NASA's current Plan A. But, while this path has the fewest steps to Mars, it would leave some key technologies still unproven, according to the panel. The report sees value in the idea—currently out of favor at NASA—of establishing a small lunar base as a training ground for Mars surface operations.
NASA will need more money
Without a significant boost in the space agency's budget, we should forget about Mars, says the panel.  Sending humans to the Red Planet will cost on the order of hundreds of billions of dollars, and even though this will be amortized over decades, the nation should be prepared to pay that cost. Americans should also understand that people will likely die carrying out such an ambitious mission.
Spaceflight is popular, but only up to a point
This wasn't the typical committee of ex-NASA officials and aerospace engineers, repeating the same tired arguments. The panel included historians, economists (co-chair Mitch Daniels is a former head of the U.S. government budget office), and in Roger Tourangeau, one of the leading academic experts on public opinion. As a result, their analysis of public support for spaceflight goes far beyond counting Twitter followers and Facebook likes, or relying on quickie polls to show that people "like space." Basically, Americans want a human spaceflight program, but it's far from a priority. "At any given time, a relatively small proportion of the U.S. public pays close attention to space exploration," the committee wrote. Furthermore, "most Americans do not favor increased spending on space exploration"—which seems a serious problem, given the need to increase NASA's budget. But, said Daniels in a press briefing timed for the report's release, this may not be a showstopper. If the public won't demand more spending, neither is it likely to object if leaders invest more in space, especially if NASA can show tangible results.
The United States can't go it alone
If NASA aims to send people to Mars, the program will have to be international, and other nations will have to contribute well above the amounts they've historically invested in human spaceflight.  China should be included.
NASA needs an overhaul
NASA facilities that are obsolete or don't contribute to the mission should be closed. (This, of course, requires wise management by Congress, whose political patronage sometimes keeps NASA programs alive beyond the point of usefulness.)
If the report's conclusions sound blunt, they're meant to. As Daniels told reporters, "We recognize that many of our recommendations will be seen by many as unrealistic—to which we would only observe that, absent changes along the lines we are recommending, the goal of reaching Mars in any meaningful timeframe is itself unrealistic."
In fact, in discussing their recommendations, the panel members make a point of saying "if the nation wants to do this." The clear implication is that we may well drop the baton, and that government-funded human spaceflight—on the scale of Apollo or even the International Space Station—will simply fizzle out. Failure is definitely an option.
Either way, the Committee on Human Spaceflight has laid out our choices. From here on, we won't need more reports on what to do in space. Those who control NASA's future should just read this one, and follow its advice.