The Business of Aviation
Connor Duchen, Analyst, SkyWorks Capital, talks about data and deals.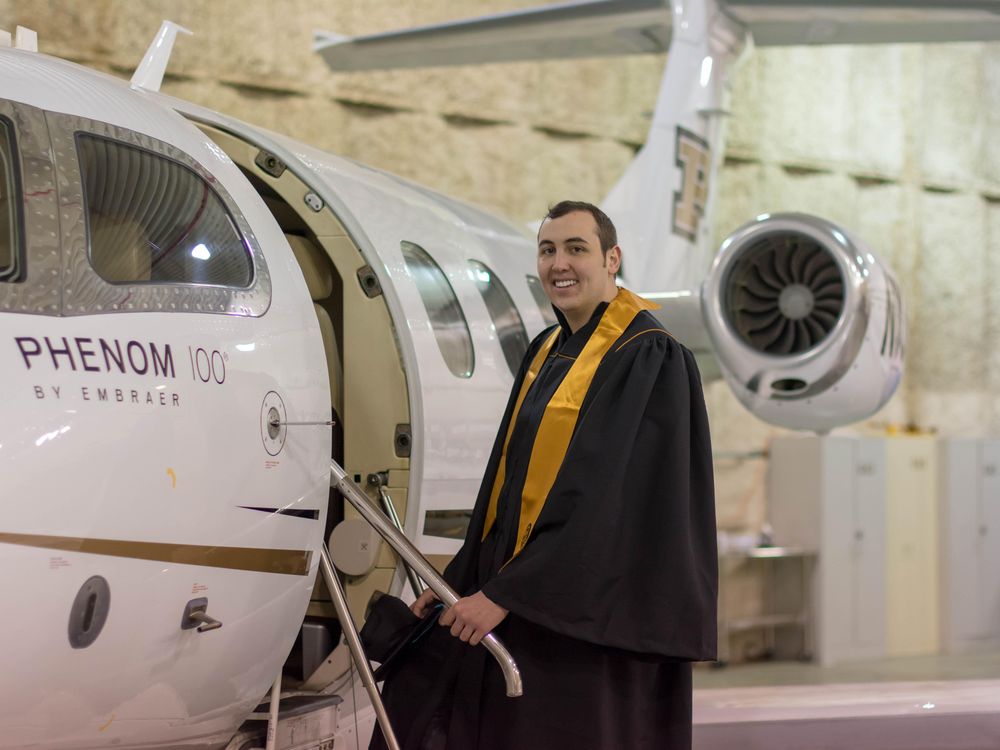 SkyWorks Capital helps airlines buy, lease, and finance aircraft and acquires and manages aircraft on behalf of financial institutions.
The job: Connor Duchen studies historical trends in the airline industry and analyzes the products of airliner manufacturers in order to advise his clients about managing their fleets.
Typical day: Duchen says there's no such thing, and in fact, no two days are the same. "The joke around here is 'What do you guys do in aircraft finance?' and our answer is 'What do you have?' SkyWorks is unique in that we have a lot of different pieces of the business. We model the returns on a particular aircraft being leased—that's one type of advice we provide. We work on aircraft order campaigns. An airline will come to us and say 'We're looking to renew our fleet. Help us run a process with the manufacturers and help us figure out what the best deal is for our future fleet.' " He has also done a route profitability analysis to help an airline decide on potential widebody purchases.
Which came first, your interest in airplanes or your interest in finance? "Definitely aviation." For Duchen, it started with flight simulators. He started playing with them when he was nine or 10. He says, "For whatever reason, I just got hooked on this notion that you can take a piece of metal and get it to fly from A to B." When he was 12, he took his first flight lesson, telling his parents that he just wanted to try it. They thought it would be a one-time thing. "I proved them wrong." he says. "But I made the decision pretty early on that I didn't want to fly for a living. It was something that I loved, and I didn't want it to become something that felt like work."
When it was time for college, he chose Purdue University because he believed he could have a "traditional college experience" there. He says, "I looked at the more aviation-centric type schools, but I felt that at Purdue, I wasn't necessarily boxed in to just aviation. I spent the first semester or first year in the aviation program, but I had a passion for business, so I decided to pick up a degree in finance as well.
"I graduated with two bachelor's; one in aviation technology and one in finance, two totally separate degrees." To earn those two degrees, Duchen was required to get 50 percent more course credits than one degree would have required, but he managed to finish in four and a half years. He adds, "I had a great time at Purdue."
How did you develop an interest in business? "When I was nine or 10, I started a lawn-mowing business in the neighborhood. I don't have an explanation. People have been asking me how I became what I am and I've never had a good answer! I've always been about 40 or 50 years old at heart!"
The path: "A few of my professors had mentioned ISTAT [International Society of Transport Aircraft Trading] as a great organization." His professors told him that people in the organization network by attending ISTAT events, so at the end of his junior year, in 2015, he joined and attended the ISTAT holiday reception in New York. "And I don't know anybody," he recalls. "I'm just going to start walking around introducing myself, see what happens. I ended up meeting a few people from SkyWorks that night, and the very last person I met—I said I'm going to introduce myself to one more person before I head out—was Matt Landess, one of the managing directors at SkyWorks. Matt was from Colorado, where I grew up, and he and I immediately hit it off. And I ended up interning at SkyWorks the following summer. Two and a half years since I started at SkyWorks as an intern, I'm having a blast."
Best thing about the job: "There's always an intellectual challenge. It's not just answering: What is the best airplane? It's what is the future of this company. What does the route network look like five, 10, 15 years from now? It's figuring out: If we do end up buying new aircraft how are we going to finance them? Is buying new the right choice vs. buying used aircraft? All these different pieces fit together. It's not as simple as a basic financing transaction where you just need to figure out what's the best deal. It's a holistic project where you're looking at all the different pieces of an airline."
What does the future hold for you? "I can see myself staying at SkyWorks for the foreseeable future. We have people who have been here for 15 years. I really love this company. I love my job here."